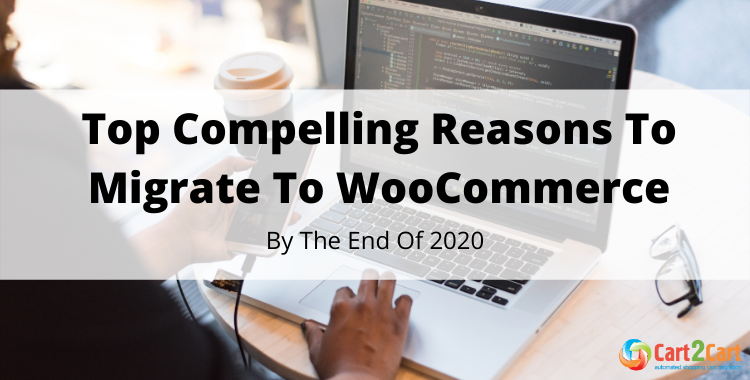 If you're thinking about expanding your WordPress project with eCommerce functionality, you might probably find WooCommerce to be one of the best go-to solutions. Read the post to discover amazing WooCommerce statistics, explore the reasons to migrate to WooCommerce, how it fares with its major competitors like Magento or Shopify, and many others.
WooCommerce has been an increasingly popular choice as an eCommerce engine for modern online retailers. From hundreds of shopping carts that are currently available on the web, it is considered to be a frontrunner for settling an online business in the last few years. According to the Cart2Cart inside statistics, WooCommerce takes one of the dominant positions that e-merchants are choosing to migrate TO in the current 2023.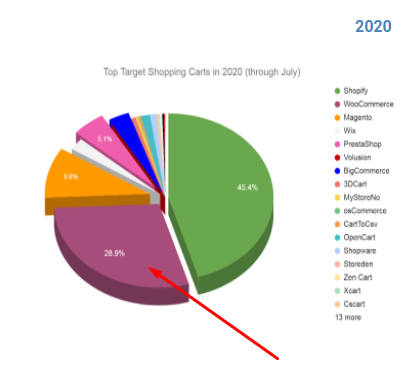 WooCommerce stats & facts
Let's dive into the statistics and facts of WooCommerce that demonstrate its tremendous popularity among e-merchants: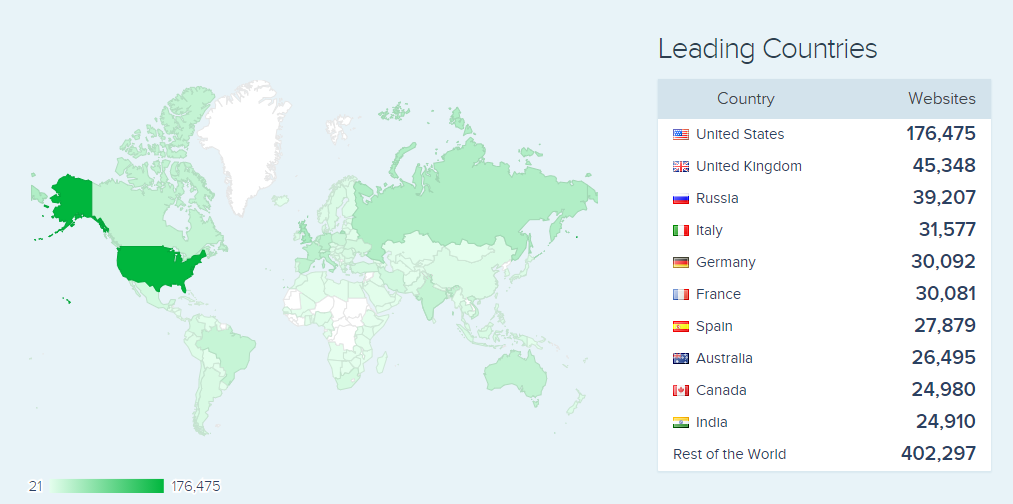 What is WooCommerce and how does it work?
In simple terms, WooCommerce is a WordPress plugin that has the required functionality for selling products and services online. Over the years, it has become the most popular eCommerce platform favored by small and large businesses all over the world.
Though WooCommerce is technically a plugin with basic built in functionality (like payments), it is still possible to add to it further plugins — named extensions (just to distinguish them from WordPress plugins).
To get started with WooCommerce, you first need to install and set up WordPress, and then install the WooCommerce plugin (you can download it for free from the WordPress repository). Once you've uploaded it to your site, you can extend your store with plugins and themes to make it look and feel as required.
Squarespace vs WooCommerce: Which Solution is Better in 2021?
What are the advantages of WooCommerce?
If you want to discover the main reasons to migrate to WooCommerce, let's look through some of the most popular positives of the software. The following 9 features that are given below make e-merchants all around the world gravitate towards WooCommerce:
It is built on WordPress, the most popular CMS in the world. WooCommerce inherits all of the strength and reliability of WordPress and following its footsteps allows building a world-class eCommerce experience for online entrepreneurs and their customers.
It is cost-effective. WooCommerce is free and open-source that means anyone can modify the software or develop add-ons for it.
It is user-friendly. The installing, configuring and managing processes with WooCommerce is accessible to anybody with the slightest WordPress or computer use experience.
It is fully customizable. You can customize your online store according to your specific business requirements. WooCommerce offers lots of themes and extensions, allowing you to modify the store with different styles and functionality.
It offers a lot of flexibility. With WooCommerce, you can sell physical, virtual or downloadable products. It can easily be adapted to all kinds of online shops, regardless of their market niche or their products.
It has optimal security. Security updates arrive quickly, and can easily be implemented with just one click. If you regularly update your WooCommerce platform and plugins, you'll have your store secured from cyberattacks.
It makes analytics easy. WooCommerce has very intuitive and simple built-in analytics instruments that help store owners understand their clients. Most popular products, sales by date, customer information - all these indicators are viewable in understandable graphs.
It has an active community. The platform's active and vibrant community provides a welcoming place to help users cope with any issues. Besides, you will find abundant documentation, articles and informative guides.
It is constantly evolving and improving. The platform is constantly getting shaped by thousands of developers and enthusiasts all around the world.

What about the WooCommerce disadvantages?
Not to mention about the disadvantages of using WooCommerce - there are three distinct cons that e-merchants should be aware of when searching for reasons to migrate to WooCommerce:
WooCommerce has little functionality out of the box. Therefore, if you want to increase the functionality and performance of the store, you should install many plugins that can sometimes lead to conflicts, site speed issues, and high maintenance costs.
WooCommerce isn't a complete eCommerce solution and thus is not suitable for large eCommerce stores. It requires many plugins to be competitive with other eCommerce platforms. Large eCommerce websites are settled usually on Magento, Shopify, BigCommerce, etc.
Just because the platform is open-source doesn't mean that you'll pay nothing for it. The reality is, there is a lot of work required to make WooCommerce scale and handle large spikes of orders and traffic, along with being as flexible as other DIY tools.
Who is WooCommerce best suited for?
As with each software, WooCommerce isn't for everyone. It would definitely be a good way to go for any small business owner that already runs a WordPress website and wishes to start selling online.
Besides, those e-merchants that are interested in launching an online business but are on a tight budget, can also give WooCommerce a try.
However, large, enterprise-level businesses might find it easier to go with an all-in-one eCommerce platform provider (like Shopify or BigCommerce).
What are the main WooCommerce alternatives?
When surfing for the reasons to migrate to WooCommerce, online retailers often get stuck with lots of its competitors. With so many alternative options out there, we've pulled together some of the top-performing WooCommerce competitors. Below is a quick rundown of the major competitive platforms (along with links to further posts) that our clients often choose to migrate to:
Questions to ask before choosing an eCommerce platform
Overall, choosing between WooCommerce and its alternatives usually depends on three things:
whether you already have a website, or are going to start one,
how many products you want to sell,
how tech educated you are.
Therefore:
If you haven't launched your online shop yet, then Shopify will be a good go-to option. It comes packed with all the necessary features for starting a successful online shop even by those with little to no skills.

E-merchants who have deep coding skills and are willing to develop an advanced enterprise-level online store, feel more comfortable with Magento.

If you already have a WordPress site and want to start an online shop with a huge catalog, then consider Bigcommerce as it fully integrates with WordPress. If the budget is your crucial priority, go with WooCommerce, as BigCommerce pricing is higher.

If you're familiar with PHP networks and want a standalone full-featured online store - OpenCart is an optimal solution that allows you to build any type of an online store.
If you're still hesitating between all these eCommerce engines, you can test them with the help of the Cart2Cart Migration Preview option. It allows you to play around and decide which one you'll be most comfortable with without installations.
However, it often happens that store owners find themselves dissatisfied with their current eCommerce solution and want to migrate to another one. It's not a problem any more - with tools like Cart2Cart you can migrate across various shopping carts in a fully automated way. The most popular migration directions are:
Bottom Line
There are no doubts that WooCommerce is an extremely powerful eCommerce platform in the right hands. It is fully packed with everything needed to sell anything, to anyone, anywhere. If you want to become a part of WooCommerce glory - migrate your current store to WooCommerce and enjoy the brand-new opportunities of the new platform.