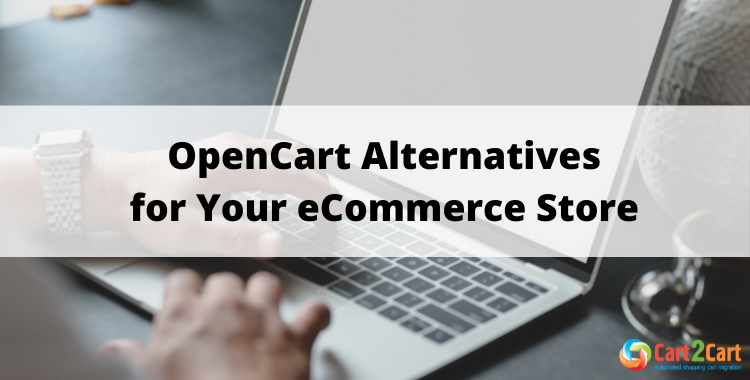 Looking for an alternative to replace your current OpenCart platform? Today we'll outline the potential capabilities of other shopping carts and describe the strongest OpenCart alternatives for running a successful and profitable online business.
Opencart is a fast-growing and well-known eCommerce platform. It was launched in 1998 by Christopher G. Mann for Walnut Creek CDROM and is perfect for starting a small or medium-sized e-business. The platform has all the features ever needed and is highly recommended for small eCommerce businesses.
Apart from the fact that our post is about OpenCart alternatives, it doesn't mean that this is an unworthy e-commerce solution. The number of essential features proves the robustness and reliability of OpenCart. If you want to sell more than 20,000 products online, this e-platform will handle the task efficiently. 978,356 current OpenCart customers prove its popularity among online retailers. If you are one of them, you are aware of a complete list of winning features of OpenCart. Some of them include:
Ease of use
The platform has a user-friendly and straightforward interface. With Admin Dashboard, all the important information is available at a glance. You can easily get a complete analysis of total orders, customers, sales, online personas, sales analytics, and even more. Even if you don't understand something, you will find a solution very quickly.
No cost
Is OpenCart free? Yes, it is an open-source solution, and the only payment you have to make is the development cost which is comparatively less than other eCommerce systems. And, of course, with programming skills, you can do everything yourself. OpenCart is written in the PHP programming language, so customization here is simply a pleasure.
Variety of themes
The unlimited choice of templates allows you to choose the best one and make your e-store the most attractive among the other conquerors. OpenCart offers both free and paid responsive themes. Check and choose the one that you like the most.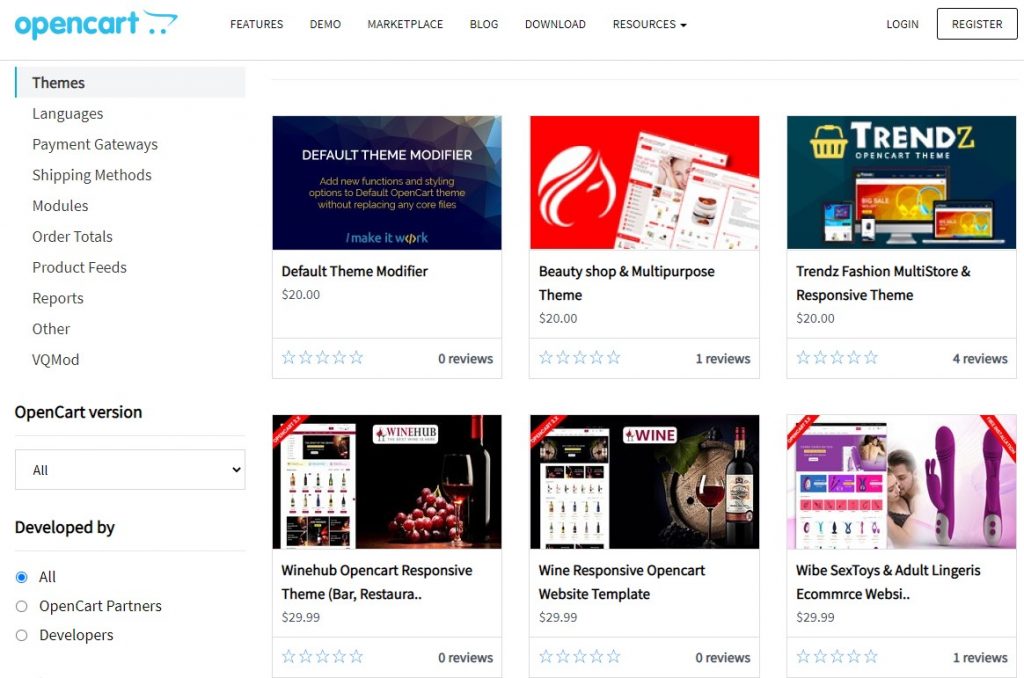 Everything under control
When you use OpenCart for an online store, you know that you are the only boss. It is also a very flexible online selling platform. You can easily manage all the people who deal with your buyers. If there is a need to show the user some website features, you will do it right away.
Magento vs WooCommerce vs Shopify vs OpenCart vs PrestaShop 2021 Review
Multicurrency
What can be better in online commerce than selling in any currency, anywhere on the planet? With automatic exchange rate updates and the ability to set up multiple taxes, OpenCart turns the entire process into easy entertainment in just a few steps. There are three default currencies available - Euro (EUR), Pound Sterling (GBP), and US Dollar (USD)

Multilanguage
OpenCart supports more than 40 languages, and that number keeps growing! It's easy to use Chinese, Japanese, Greek, or even right-to-left languages like Arabic or Hebrew.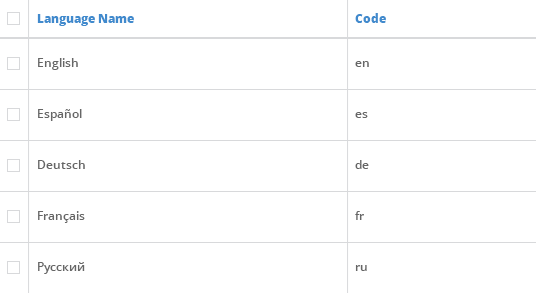 You can find a more detailed list of OpenCart's benefits here.
But there are no limits on the path to perfection, especially when it comes to shopping cart choices. OpenCart is good but not the best e-commerce solution. Its customers often complain about lack of event support - they can't make changes by coding. SEO friendliness is also a weak point of the platform. Quick search engine issues are familiar to any OpenCart user. It is a good place to open your website, but many difficulties arise when it comes to increasing the product. Here, the support for large websites is too slow. Yes, there are many more advantages, and OpenCart migration is widely used among users. You have great chances to succeed in e-commerce with this platform. In any case, you have to consider the number of strong competitors with even more great options.
Which eCommerce platform suits you best?
OpenCart Alternatives: 3 Most Popular Options
Option #1 - Shopify

Shopify is a complete cloud-based e-commerce solution for creating and managing a profitable online business. With this platform, you can quickly and easily get into online commerce and compete with the leading e-commerce merchants. Shopify is the most popular e-solution in the top 100k sites in the category Hosted Solution. This makes it one of the strongest competitors among the other e-platforms available. The following set of features proves the robustness and reliability of the platform. The reasons to migrate to Shopify are valuable enough to consider switching from OpenCart to Shopify.
It's a hosted e-solution
This means you don't have to worry about technical things like software development, upgrades, or web services maintenance. It gives you the ability to access and manage your e-store from any location that only has an internet connection.
Excellent customer support
With Shopify, you get top-notch support and help. The 24/7 service is the limit of all customers' dreams.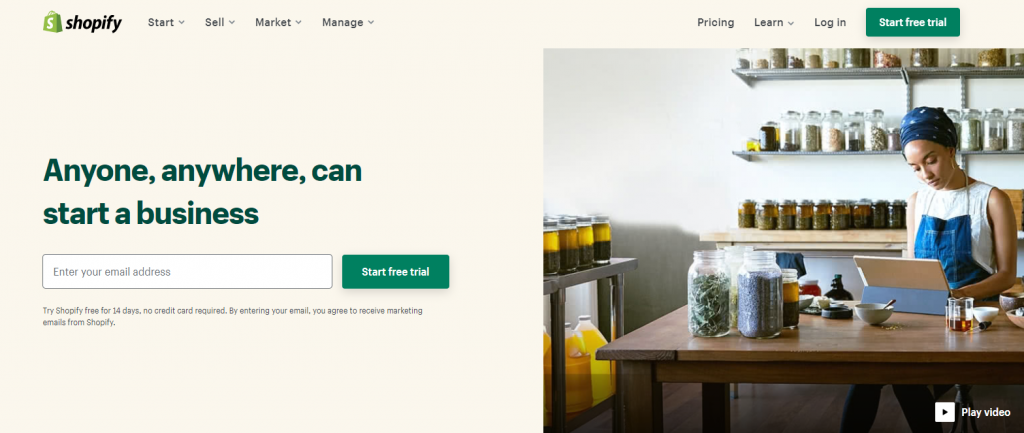 Powerful marketing
Everyone knows that it doesn't matter how good your product is - without proper marketing, it's worth nothing. Here you get powerful marketing features, easy-to-use reports, and the ability to run your payment gateway.
Sell in multiple places
This includes web, mobile, social media, online marketplaces, brick-and-mortar stores or pop-up shops.
Free trial
One of the most valuable features of shopping carts is the availability of a free trial. It attracts many customers because the opportunity to test the service in advance is the best chance to get a proper understanding of what to achieve.
Comfortable pricing plans
Shopify offers 3 main pricing plans for its customers. Each - with a separate set of features. The Shopify team has also developed the additional Shopify Lite pricing plan to basically sell on social media. But you can also do it in person, or on an existing website.

100% responsive themes
You are welcome to explore a beautiful and professional selection of free and paid themes to find the right one and make your store flourish. Here is the best opportunity to find inspiration, discover styles and build a unique brand.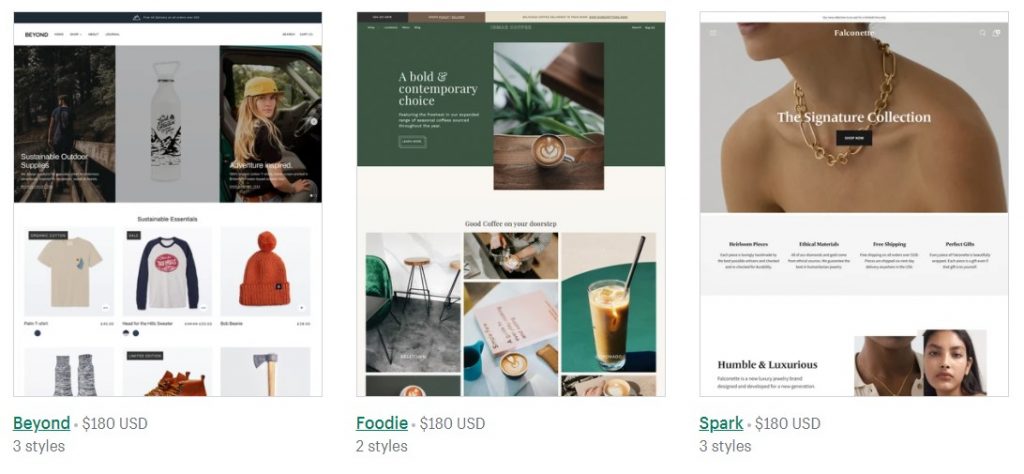 The more detailed information on Shopify responsive themes you'll find in Themes Store.
Option #2 - WooCommerce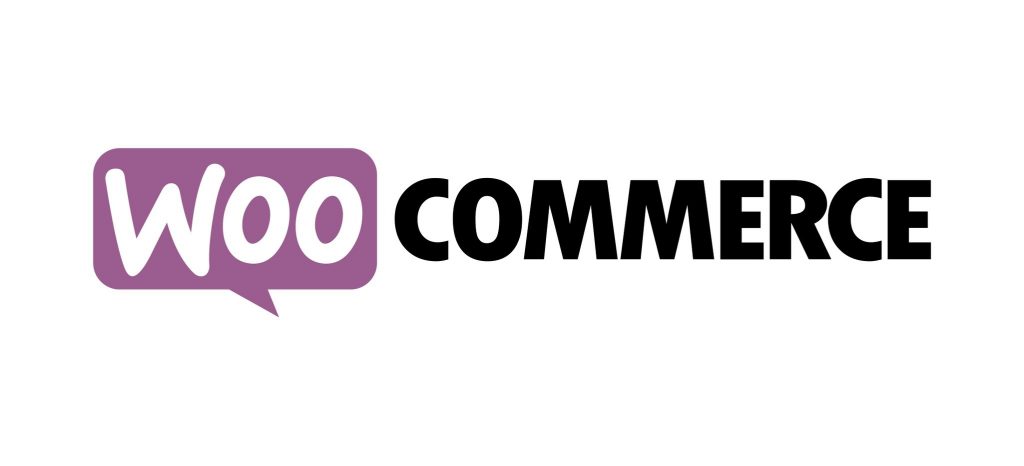 WooCommerce is an open-source WordPress-based e-commerce solution. It is a world-renowned, fully customizable e-platform that powers over 28% of all online stores. Let's look at the key benefits of WooCommerce compared to other shopping carts to illustrate why it's worth switching to this e-platform.
It's an open-source solution
This means that the sky's the limit. You can create an online store and make it look as unique as possible. Edit every part of your site - from the homepage layout to the buy button - to stand out from the crowd. You have full control and can add an unlimited number of products and users or accept an unlimited number of orders. No standards, no restrictions. Just your imagination and programming skills. Don't wait for a miracle - do it yourself!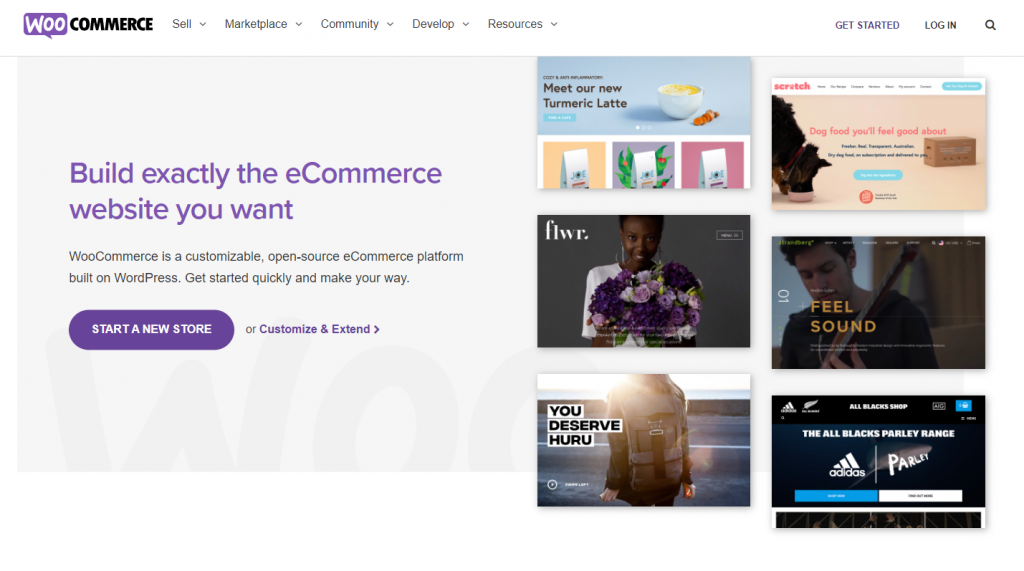 It's free
What can give you greater satisfaction than the word "free"? Yes, WooCommerce doesn't require any payments, and this is a winning solution for those who have a small budget but whose ambitions are big. But be careful and do not equate these two statements "free shopping cart" and "run an online store for free." Creating a profitable e-store means hard work, and the cost is a part of the whole process.
More details on WooCommerce Pricing: How Much Does it Cost to Run a Store?
There are countless themes
Besides all the elements of the Storefront created and maintained by WooCommerce core developers, you can choose any template from the WordPress collection. Sounds amazing, doesn't it? Say goodbye to all the difficulties in choosing the right theme, because here you have no chance to fail in choosing the one that best suits your store.

Built-in blogging
This option allows you to publish great content and declare your brand as strong. With WooCommerce, it's easy to integrate eCommerce with the world's most popular content publishing platform and profit from it.
Product variations
It doesn't matter what you want to sell - physical or digital products or even both. Everything is accessible. Shipping options and rates give customers the option of pickup, shipping, or even local delivery. You can set a flat rate or define specific rates, or calculate and display the correct rates at checkout for product variations.

It's professional
The prevailing thought of "good quality can't be free" doesn't work here. Detailed order tracking, customer engagement tools that allow store owners to manage past and open customer orders, update delivery status or apply discounts make WooCommerce one of the leading powerful e-commerce platforms. Don't forget about tax settings, inventory management, shipping options, coupon codes, and many other out-of-the-box features that can make your online commerce the easiest and smoothest process.
Opportunity for growth
A successful business is strong enough to develop and grow. This platform is ready for different types of expansion. With various APIs for creating extensions and an extensive documentation library, your users will have the opportunity to discover how WooCommerce works inside and out.
No more doubts? Migrateto this robust e-solution and let your store experience true prosperity.
Option #3 - Magento

Magento is an open-source CMS created for store owners as a way to expand their business in the e-commerce market. It is famous for its flexible, powerful, and easily customizable system, which is why it is ranked as the 5th most popular in the top 1 million sites in the open source category.
Currently, there are two Magento versions - Magento Open-Source and Magento Commerce. Both are widely used but are aimed at different categories of store owners.
The Open-Source version is free and is usually used by small businesses. Magento Commerce is a paid e-commerce solution, and this is the best option for medium and large enterprises.
If you're ready to perform OpenCart to Magento migration right now, click here or dive into more details if you are still not sure if it is the right choice for you.
Powerful and boundless
Is your business getting bigger, and you're tired of switching from one platform to another, hoping to find the one that can support a wide range of products? Then it's time to breathe a sigh of relief. Magento is ready to support up to 500,000 products on one site, and handle more than 80,000 orders per hour.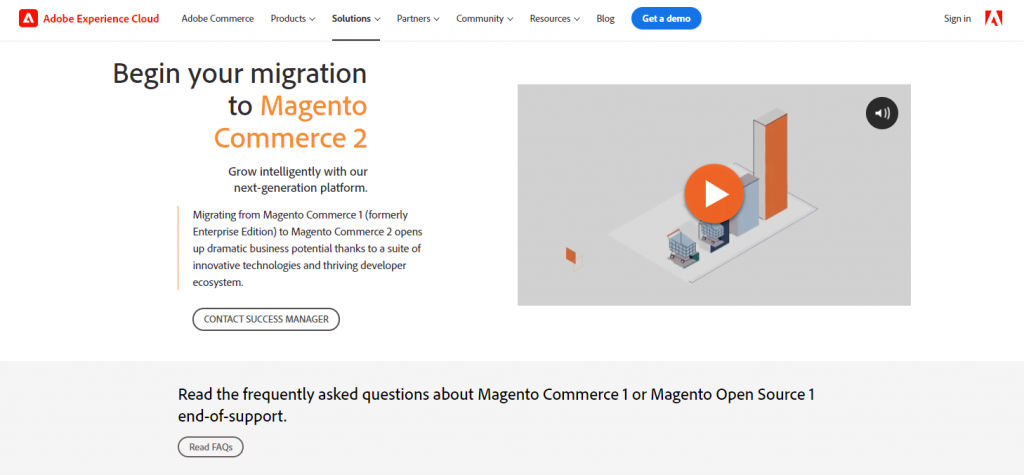 Mobile friendliness
Whether you own a smartphone, tablet, or any other mobile device - it doesn't matter. Magento works perfectly on all these gadgets. Forget about dependency and feel free with the convenience of running the e-store from any location. All you need is an internet connection.
Crazy speed
Magento was planned to be the platform for the fastest e-stores in the world. Now it's even better. With the lower HTTP requests than any other eCommerce platform, Magento is a real-time and effort saver.
Multi website features
This means that you can host two and more websites on just one backend admin. Pretty handy, right? This is the main feature Magento is most famous for, and that makes it the eCommerce CMS platform.
Freedom in hosting choice
Magento does not oblige you to use a particular hosting that is provided. You are free to choose another one that suits your preferences and requirements.

Multi-currency and multi-language support
It sounds unbelievable, but Magento supports over 200 currencies from all over the world. The multiple language feature is also available to allow e-businesses to expand the store and make it international.
3rd party integrations
Increase the scope for custom integrations across major web applications and payment gateways and sleep soundly. This is considered the most beneficial Magento feature that makes the platform one of the most reliable choices among other competitors.
What are you supposed to do next?
What kind of solution do you like the most? Stay with OpenCart or look over the horizon and try one of the best OpenCart alternatives is just YOUR decision. In the battle of OpenCart vs Magento vs WooCommerce vs Shopify, the winner is individual to each online entrepreneur. Weigh all the pros and cons and make the final judgment. In any way, Cart2Cart migration service is always ready to help and support you in the OpenCart export process. We offer you the smoothest data migration you have ever seen.
Benefit from hassle-free 3-step migration, the largest selection of transferable entities, fantastic migration speed, 24/7 support and help, 100% up-to-date store uptime and the main advantage - Free Demo Migration.
Don't waste your time! The e-commerce solutions listed above can be a valuable consideration if you are looking for new incredible store performance and profitable e-commerce alternatives. Try the new advanced platform right now and get one step closer to your dream online store.