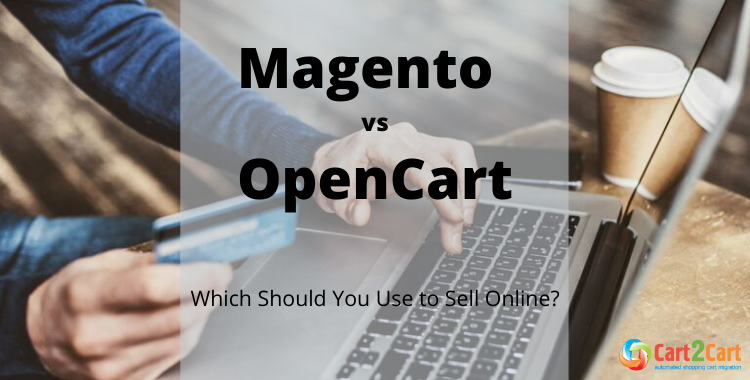 Needless to say that shopping cart is considered to be the key to an online store's success that's why it is so important to choose the proper one which will suit your business needs and requirements best. Making the right decision between Magento and OpenCart is a difficult task faced by many entrepreneurs, but it is an important choice. So take your time to consider the advantages and disadvantages of these two shopping cart solutions and once done, get ready to take your online business a level up to success.
Magento and OpenCart have established themselves as one of the most stable and robust shopping carts that are currently available at the market. They both have a potential for becoming if not perfect, then very approximate to this definition. There is a good deal of debate on which one is better, but we consider them to be not one-to-one comparison. There are benefits and pitfalls in each of these platforms, that's why the final choice between them is not an obvious one, and mostly depends on personal preferences and business requirements.
What are the key similiarities between Magento vs OpenCart?
Generally speaking, these two e-Commerce solutions have a lot in common. Both Magento and OpenCart are open source, developed in PHP, and free-to-download. Supporting multiple languages and currencies, each of them has gathered huge user & developer communities, which resulted in the creation of numerous custom extensions. Both platforms are powerful and functional enough to power stores of nearly any scale and fairly comprehensible.
What are the key differences between Magento vs OpenCart?
User-friendliness and capabilities
One of the greatest differences that set these two platforms apart is the management simplicity, or rather to say, the lack of it in Magento. Indeed, Magento's learning curve is steep enough to confuse an average user and requires some amount of programming knowledge and technical expertise. As a result, quite often store owners are forced to hire a developer.
But as soon as Magento gets into a skillful pair of hands, this shopping cart is able to do about anything an e-merchant can dream of. Fully customizable design, utter flexibility, unlimited SEO resources and a countless number of extensions - that's how Magento justifies its complexity.
On the contrary, OpenCart is considerably easier to use and manage. Straightforward and intuitive, it's able to get a business rolling within a few hours of setting it up. The lightweightness and simplicity of OpenCart, however, will cost you about 20% of functionality Magento users are so proud of.
This, basically, what lowers OpenCart demand among owners of big-sized stores, but gives an advantage in the competition for powering the smaller ones. Magento, on the other hand, is often considered to be "too much" for shops with a moderate product quantity, and a perfect match for bigger online retailers.
Popularity and community support
According to CreativeMinds, Magento powers nearly 30% of market share that makes it the largest ecommrce platfrom in the world. Google Trends provides the following figures regarding both cart's popularity: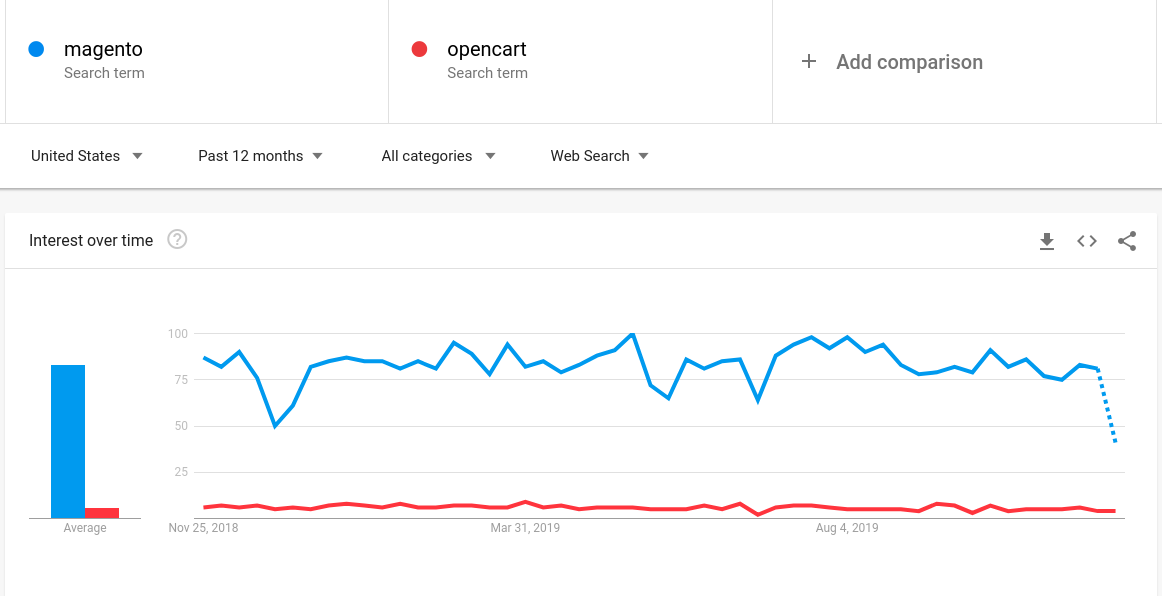 As for support, both Magento and OpenCart have nurtured robust communities always ready to help a merchant in need. The number of Magento specialized programmers is incomparably bigger though, which is related to high technical requirements this platform imposes. However, quantity has nothing to do with quality, right?
Hosting and extensions costs
Nothing comes for nothing. Even though Magento and OpenCart are free to download and use, you'll still need to pay for hosting, extensions and premium templates.
Magento, however, will cost you considerably more. Being a resource-demanding solution, it requires a strong (and expensive) hosting plan to support your store performance. Additionally, you'll need to pay from $79 to 179$ for most of the design templates and up to $1000 (!) for a single extension license. Such exorbitant price is, of course, more of the exception than the rule.
OpenCart, to the contrary, is much more lightweight, which means hosting expenditures will be less. Themes are also nearly twice as cheap compared to Magento ones, not to mention moderate extensions prices. This fact, however, results in a relatively humble variety of choice of the templates and plugins offered.
What are the Pros and Cons of Magento and OpenCart?
Roughly, we can narrow down the comparison of advantages and disadvantages of Magento and OpenCart to the following points:

Magento Advantages
Highly scalable and customizable
Matchless functionality level
Ideal for Enterprise usage
Extensive community
Magento Disadvantages
Costly extensions
Too many features useless for most stores
Steep learning curve
Performance much dependent on hosting

OpenCart Advantages
Very easy to use
Free and cheap extensions or themes
Responsive and nimble admin UI
Nice documentation
OpenCart Disadvantages
Limited caching and SEO functions (extensions required)
Tough to customize
Not so good for big-sized stores
Moderate community size
Which is better, OpenCart or Magento?
OpenCart is great if you're trying to build a store on your own with minimum financial infusions, Magento, alternatively, is a perfect choice for bigger stores with bigger budgets. However, both shopping carts are good for what they're designed to do - selling and bringing profits.
Already have an online retailer built with OpenCart but planning to move to Magento? Migrate from OpenCart to Magento swiftly and easily using Cart2Cart. Or are you willing to do vice versa by switching from Magento to OpenCart? Automated Cart2Cart is still exactly what you need!