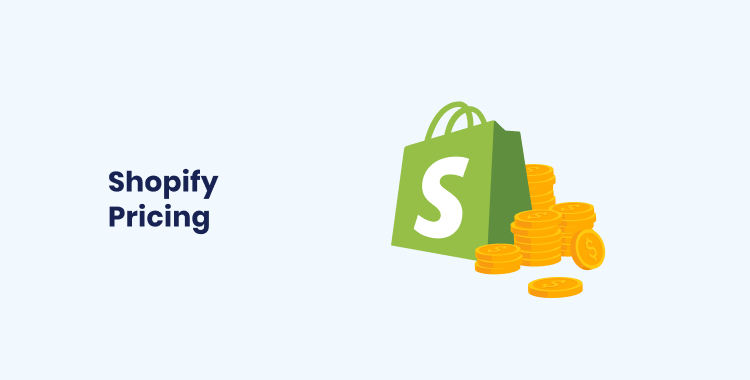 In this article, we'll help you see what you need to start a Shopify store online. What you don't need is advanced technical skills or a deep pocket. Whether you have a small or medium-sized business, plan a megastore, or just want to sell the odd item on your website, Shopify has the solution for you. Let's look at the particulars of the Shopify pricing tiers.
Shopify pricing plans: a brief review
Shopify is a popular eCommerce platform that hosts thousands of stores online. For a monthly subscription, you can create a website where you can operate a fully functional online store.
The online platform is the solution for today's merchants who want to sell wherever they are: online from their Shopify store, website and social media channels or in store, at a market venue, or pop-up store. The Shopify software lets you manage your customers, products, inventory, staff and admin from a straightforward dashboard. And you can have as many shops as you want.
There are five pricing plans to suit different purposes and different budgets. They include Shopify Lite, Basic Shopify Plan, Shopify Plan, Advanced Shopify Plan and Shopify Plus. The Shopify pricing for each plan differs in relation to the features offered. Shopify Lite is the cheapest option starting and $9 per month and Shopify Plus is the most costly at $2,000 per month.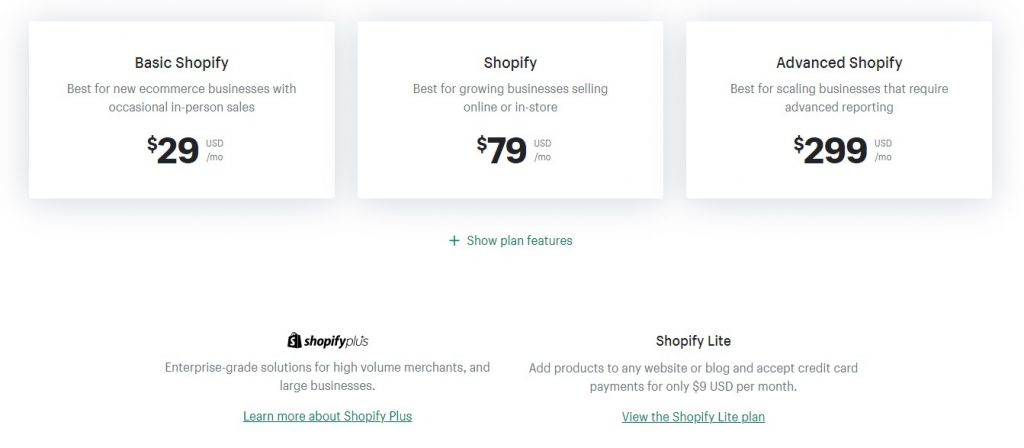 Shopify Lite
Shopify Lite is the cheapest Shopify pricing plan. This plan allows you to sell an unlimited number of products on Facebook or an existing website. It costs $9 per month, which doesn't include in-person credit card processing rates starting at 2.4% per transaction.
Don't hesitate - migrate your store with Cart2Cart today and benefit from it tomorrow! Run a free demo here.
Apart from selling on your social media channels, you can also sell in person via POS Lite. So you only need to add a sell button to your social media sites to sell there.
Shopify Lite is not an online store and doesn't have a shopping cart, but you can sell via a simple sell button. A neat feature that allows you to provide customer support is the connection to Facebook Messenger.
Shopify Lite is a simple and affordable solution if you have an established online presence and your website.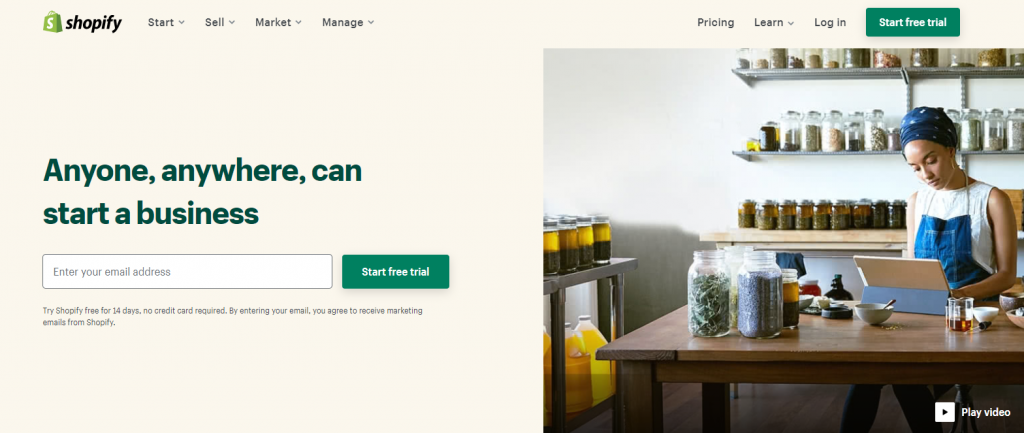 Basic Shopify plan
Basic Shopify is good value for money. At only $29 per month, this Shopify pricing plan is the cheapest option for someone who wants to start selling online. Even with a vast product range, you can go for Basic Shopify. This option offers unlimited file storage, abandoned cart recovery as well as telephone support.
This plan doesn't give you access to analytics, but you do have a fully functioning e-commerce store where you can sell an unlimited number of products. A great feature that helps you build rapport with your buyers and followers is the blog. This plan includes free SSL certificates, gift cards, and 24/7 support.
This is a great level to start your online venture. As soon as you require more advanced features like Professional Reports or Third-party calculated shipping rates, you can opt for the Shopify Plan.
How To Transfer Your Domain to Shopify in a Few Simple Steps
Shopify plan
At $79 per month, the Shopify plan puts you in the driver's seat when it comes to selling online. This Shopify pricing plan offers more features that make it possible for you to scale your online business. In addition, the lower credit card rate of 0.3% makes up for the somewhat higher monthly fee.
This plan gives you access to Gift Cards, Professional Reports, and the Advanced Report Builder. Analytics gives you a perspective on how your business is doing, helping you make informed decisions to increase your revenue.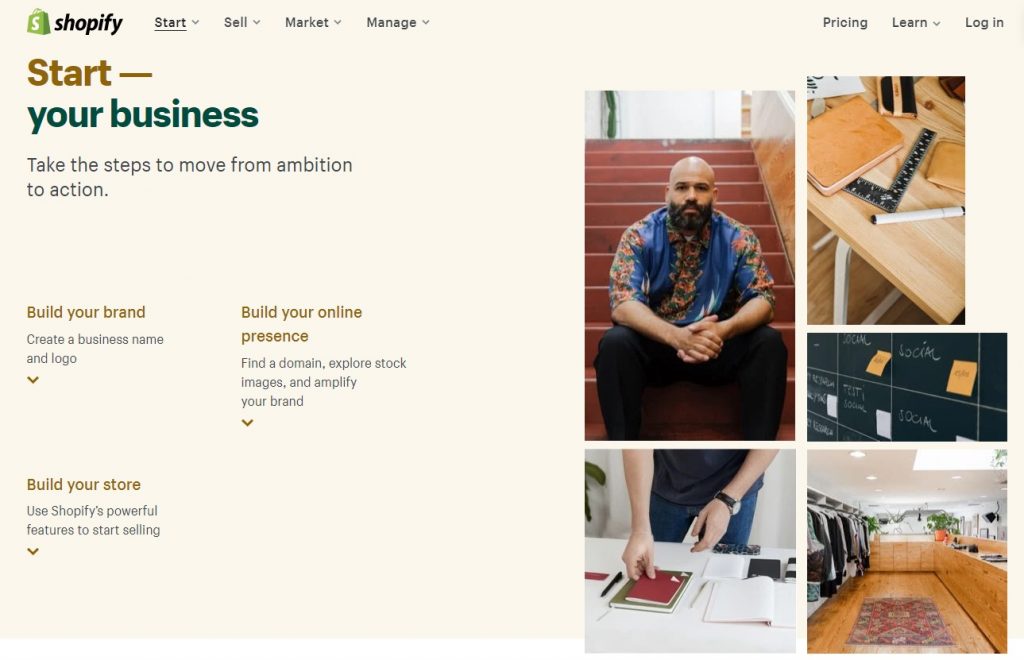 Advanced Shopify plan
The Advanced Shopify plan has all the features of the Shopify plan plus several advanced features. It offers the lowest credit card rates and transaction fees. This is an excellent option if your business is growing and you need analytics to streamline your business.
This Shopify pricing option costs $299 per month. Advanced features include Custom report builder, Advanced customer reporting, and Calculated carrier shipping. Calculated carrier shipping gives your customers more shipping options.
Advanced Shopify has a sophisticated reporting and analytics system that allows online merchants to create customized reports for their customers.
Shopify pricing: hosting and domain cost

Shopify doesn't offer any hosting, so there are no hosting fees. However, you can buy a domain name which will cost you $14 per year.
You can get a free domain with Shopify, which would read yourdomain.shopify.com. This is not recommended, though. A domain name that looks like this will promote Shopify, not our brand. Also, it is much better to have a unique domain name so your customers can easily find you online.
Shopify Lite Review 2021: Affordable Alternative for Your Business
You can register a unique domain name directly with Shopify for $14 per year, or you can buy a domain name on a domain registrar, such as Hostgator.com. So shop around for the best price. Of course, if you already have your website, you can use that domain name for your online store by connecting it to Shopify. This won't cost you anything.
Shopify has a nifty Shopify domain generator that helps you know if your chosen domain name is available and even generates some creative names.
Shopify pricing: design, themes, and apps
Shopify offers nine free themes designed by Shopify and 71 paid themes created by third-party theme developers. You can preview up to 19 of these to help you compare different themes before you buy. The paid themes cost $140 – $180. You are free to edit the themes before you buy them.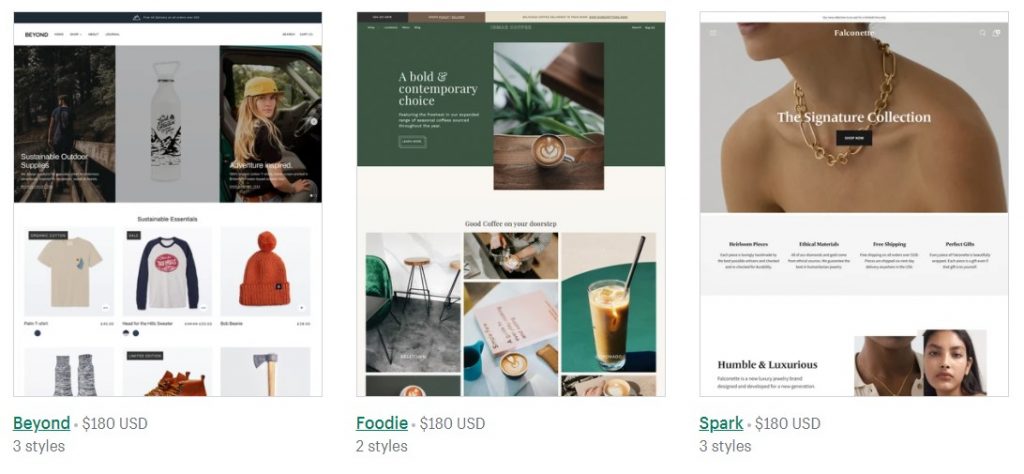 You can get away with paying less for a Shopify theme by shopping on the ThemeForest website.
Apps are indispensable to operating a Shopify store, but deciding on what apps to use is like trying to find a needle in the proverbial haystack. And adding apps can start adding to your costs as well. The top apps cost around $20-$39, with some marketing apps costing up to $99 and more.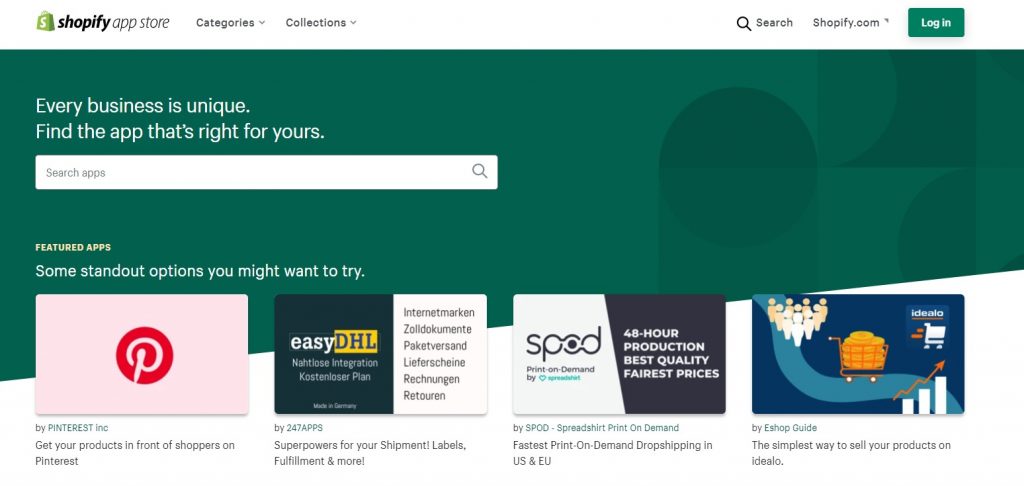 Fortunately, Shopify offers a host of free apps in a range of categories, including Shopify Email, ReConvert for upselling and cross-selling, Advoz for social media advertising, Promo.com to create product videos, Easyship, and many more.
Shopify pricing: Additional Costs
Apart from the monthly Shopify pricing, there are additional costs that you will be responsible for.
If you don't have your website, you'll need to pay $14 for a domain name. If you decide to use premium themes, you'll have to pay a once-off price of $140 -$180 for each theme. This is optional, though. You could simply go for the free themes. In addition, there will be transaction fees, credit card rates. Keep in mind that there is no fee for each transaction if you use the Shopify Payment portal.
Integrations, add-ons, and apps help your shop to be a fully functioning online store. It would be challenging to have a store that operates seamlessly without at least some of these. As mentioned earlier, there are free Shopify apps that won't cost you anything, but they might not be what you want. Keep in mind that you might spend quite a bit on integrations and apps.
If you want to sell offline in person, you will need to use a Shopify POS and card reader.
Shopify payments
Shopify has its payment provider, called Shopify Payments. This service integrates directly with every website checkout. Shop owners that use Shopify Payments only pay the credit card rate and no other transaction fees.
However, Shopify Payments is not available in every country. The service is only available in some countries and regions, including the USA, UK, Australia & NZ, Canada, Ireland, Singapore, Germany, The Netherlands, Sweden, Spain, Italy, and Japan. Here is the complete list of all the countries where Shopify Payments is available.

If Shopify Payments is not available in your country, you have the option to use a third-party payment provider that Shopify integrates with, in which case you have to pay transaction fees.
You can also avoid transaction fees by registering for Shopify Payments and operating your payments through your preferred payment portal like PayPal.
Transaction fees
You will be charged transaction fees according to the plan you choose. For example, on Basic Shopify, you'll pay a transaction fee of 2.9% plus 30 cents per purchase. The transaction fee drops with every subsequent plan.
With Shopify, you'll pay 2.6% plus 30 cents for every transaction. On Advanced Shopify, every transaction will cost you 2.4% plus 30 cents for each transaction.
Keep in mind that these exact rates may not apply in every country; you might pay a little more or less depending on where you operate your shop.
POS pricing
Shopify pricing includes a reliable point of sale system. For this purpose, you download your Shopify POS app on your iOS or Android device. Now you can sell your store items, or other products, to your customers in person. This enables you to sell over weekends at markets and other outdoor events. When selling through Shopify POS, credit card rates still apply.
The Shopify POS app syncs with your online Shopify store, helping you keep track of all transactions. The Shopify POS is included with all Shopify plans. In addition, Shopify POS allows you to use different payment options like credit and debit cards, cash, etc.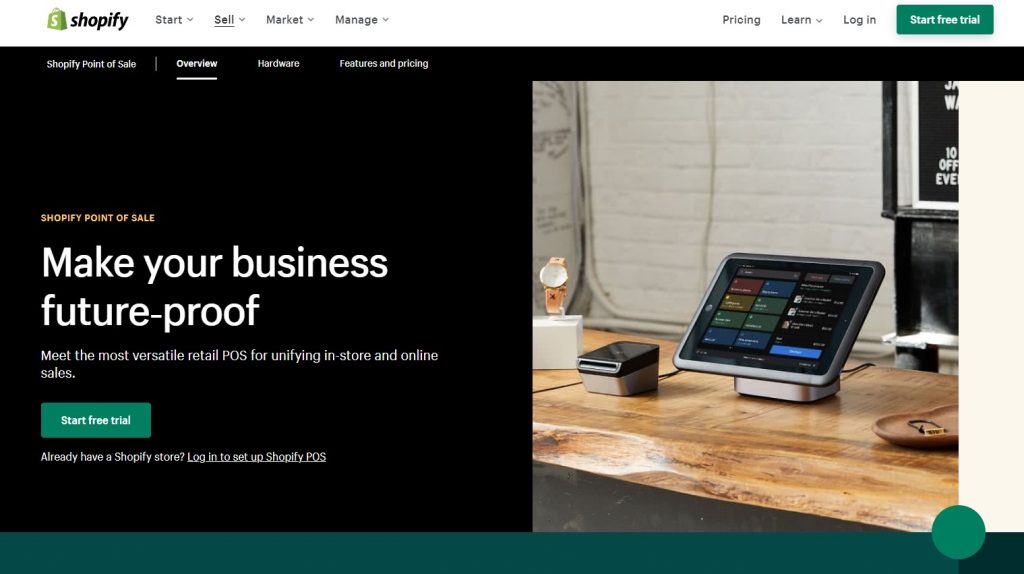 Shopify also offers Shopify POS Pro, an upgraded version with more features and greater functionality. You can opt for this version with any Shopify packages, but you'll have to pay $89 per month per location. So, if you want to use Shopify POS Pro for more than one outlet, the more you'll pay.
Keep in mind that you'll need to invest in some hardware to use the Shopify POS system. For example, you can order a Chip & Swipe or a Tap & Chip card reader from Shopify.
Shopify Plus Pricing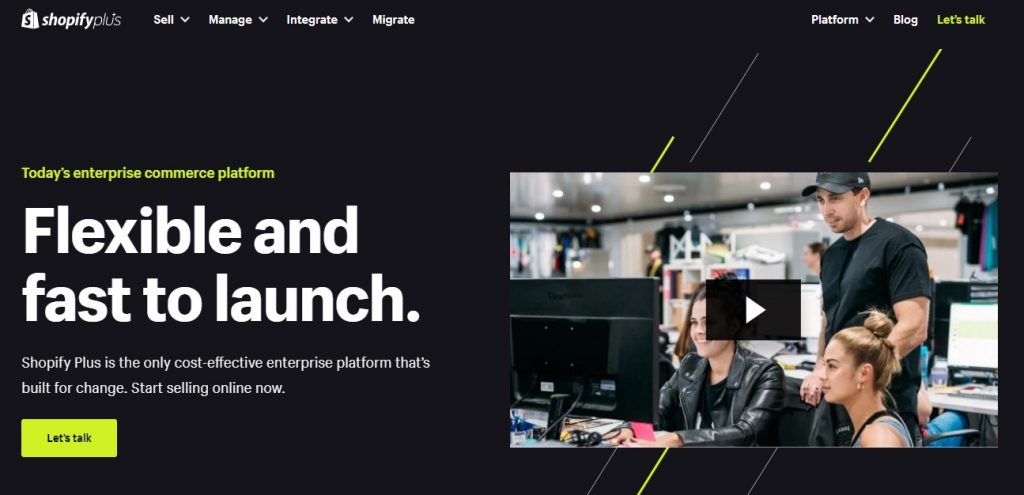 Shopify Plus is an eCommerce platform used by many fast-growing brands. The platform is set up to facilitate marketing, customer service, order fulfillment, and warehousing, especially for large enterprises.
Cost of website creation
While the Shopify pricing for Shopify Plus is $2000 per month for the standard setup and integrations, this is not the complete picture. First, you have to contact Shopify officials to negotiate what you're going to pay based on your projected sales volumes.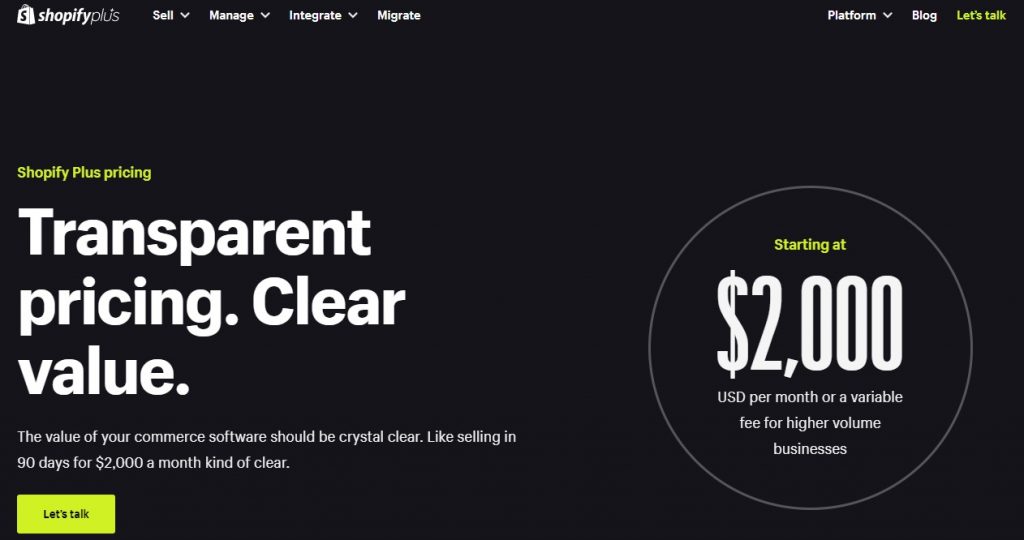 For instance, as soon as your sales reach or exceed $800,000 per month, the fee turns into a revenue-based model, and you'll be charged 0.25 % of your monthly revenue. In other words, you will pay, whichever is the greater of $2,000 or 0.25% of sales volume per month.
Payment processing
Shopify Plus plan also involves credit card rates and additional transaction fees. Different countries have different credit card rates – you can confirm these with Shopify Plus officials.
On Shopify Plus, retailers pay a fee of 0.15% on every transaction. However, when the sales volumes go up, this figure decreases. For example, on a sales volume of $800,000 per month, the fee will be 0.25%, but it won't exceed $40,000. The thing to remember is that you can leverage your sales volume and merchant history to negotiate lower transaction fees.
If you use Shopify Payments in the United States, each transaction will cost you 2.15% + $0.30 for each transaction on domestic Visa and MC. This goes up by 1% for AMEX and international cards. If you use a third-party payment gateway like PayPal, you'll have to pay 0.15% of an extra fee.
However, third-party payment gateways can be lower than Shopify Payments, even with the 0.15% charge. In addition, Shopify integrates with dozens of payment gateways around the world, and they all charge different rates. So it might be worth your while to compare rates.
Add-ons and integrations fees
As mentioned earlier, apps are crucial to running a professional e-commerce store. Shopify Plus requires a number of advanced tools and apps to optimize specific important tasks properly. From experience, you'll probably know what apps and extensions you need, but to make sure you buy the best on the market, consult with your Shopify Plus manager; that's what they are there for. Their expert advice can save you and your team hours of sifting through thousands of apps.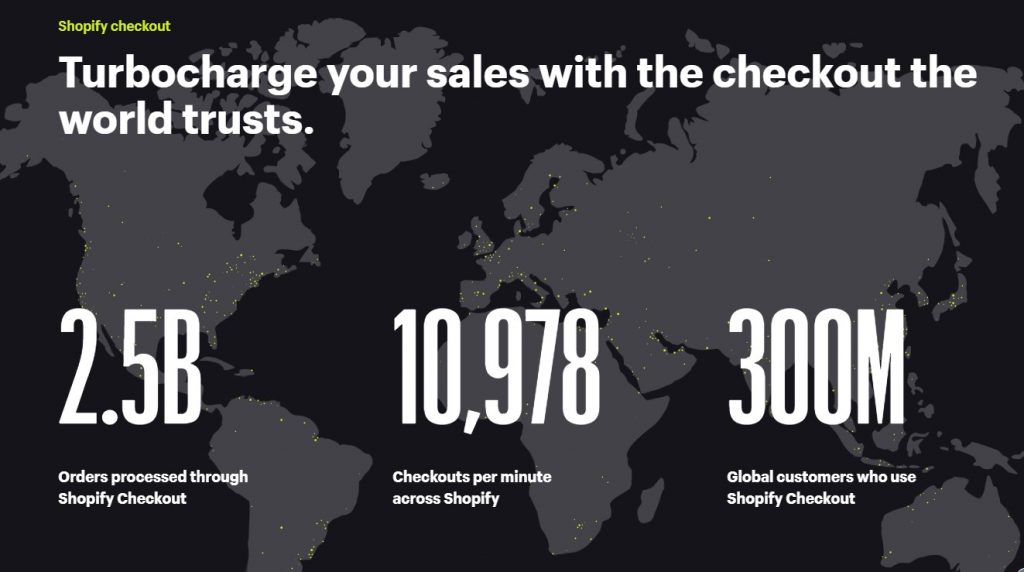 For instance, a sizable online enterprise that ships thousands of products per week needs an app like ShipBob to streamline eCommerce fulfillment, automate shipping and reduce logistics costs.
It's difficult to know what apps will end up costing you – it can be a few hundred dollars or thousands of dollars per month. However, some experts point out that Shopify Plus merchants often don't have to spend a lot on apps because, at the store's setup, the Shopify Launch Manager can build custom solutions into their themes.
Other extra costs
Shopify Plus merchants scale their businesses by opening multiple stores online. Shopify Plus allows for an unlimited number of online stores to sell different products and services in each store.
Your Shopify pricing fee for your main store includes nine additional stores. After that, each additional store will cost you $250.

Also, remember that Shopify has a limited number of free themes. Unfortunately, most of them you have to pay for, and they cost $140-$180, which can add up to quite a sum depending on your setup. To handle your tax responsibilities, you might consider the paid service Avalara AvaTax, which automatically calculates and files tax on your Shopify Plus plan.
Another additional cost you might want to keep in mind is website maintenance fees. While Shopify is a robust platform, minimal maintenance fees might be payable from time to time.
3 Affordable Alternatives to Shopify: Building Your Online Store on a Budget
After exploring the offerings and costs of the Shopify eCommerce platform, it's time to consider some cost-effective alternatives. While these options may not be dedicated eCommerce platforms like Shopify, they offer a range of eCommerce features necessary for a successful online store.
Wix: Competitive Pricing and Key Features
Originally launched in 2006, Wix is a renowned drag-and-drop website builder powering over 4 million websites. With its wide array of designs and templates, setting up a Wix store is quick and straightforward.
Key Wix eCommerce features include:
Secure online payment acceptance and transaction management from the dashboard
Unlimited product uploads with sorting and filtering options for customer convenience
Customer accounts for smoother checkouts, saving payment methods and delivery addresses
A free domain for a year
Abandoned cart recovery, sending automated reminders to customers with items in their carts
Wix's pricing starts at $17 per month for the Business Basic plan, $25 per month for the Business Unlimited plan, and $35 per month for the Business VIP plan.
Drawbacks: Although Wix offers an array of design options, once a theme is chosen, changing it becomes impossible, requiring thoughtful decisions beforehand. Additionally, using too many widgets may overload the dashboard, making it complex for beginners.
Weebly: User-Friendly Pricing and Key Features
Weebly stands out for its user-friendly interface, providing essential tools for building an online store from scratch.
Key Weebly features include:
Inventory management, keeping track of stock levels and displaying product availability
Flexible selling options, enabling the sale of physical, digital, and service-based products
Advanced product search filters for customers to find specific attributes
A fully integrated shopping cart for a seamless and secure checkout experience
Mobile management, processing orders and updates on the go
To set up an online store on Weebly, you'll need an eCommerce plan, with pricing starting at $12 per month for the Pro plan and $26 per month for the more advanced option.
Drawbacks: Weebly's eCommerce tools may be limited compared to other platforms, and its selection of pre-designed themes and templates is not as extensive. Additionally, its drag-and-drop design tool has limited customization capabilities.
Squarespace: Versatile Pricing and Key Features
Initially designed as a blogging platform, Squarespace now offers an integrated eCommerce solution.
Key Squarespace eCommerce features include:
Fully integrated eCommerce solution, managing products, inventory, payments, and shipping
Unlimited product listings
Customer accounts for faster checkouts
Abandoned cart recovery, sending automated reminders to customers for completing purchases
Advanced analytics to track store performance
Squarespace offers a basic store option, the Business Plan, priced at $18 per month. For more advanced functionality, the Commerce plans start at $26 per month for the Basic Commerce plan and $40 per month for the Advanced Commerce plan.
Drawbacks: Squarespace has a limited number of payment providers, restricting the customer base. While it offers well-designed templates, customization options are somewhat limited, and the number of apps and extensions available is also restricted.
Shopify Pricing. The Most Frequently Asked Questions
How much does it cost to have Shopify?
Shopify offers three main pricing plans to choose from. The Basic Shopify plan is priced at $29 per month, the Shopify plan at $79 per month, and the Advanced Shopify plan at $299 per month.
How much does Shopify cost in Europe?
Shopify Pricing in Europe For European users, the Shopify Basic plan costs 36 euros per month. Additionally, European credit card transactions are subject to a 2.1% + 0.30 euros fee per order. When using external payment providers instead of Shopify Payments, the transaction fee is 2.0%.
Is Shopify worth the fees?
Assessing the Value of Shopify's Pricing In terms of value for money, Shopify scored 3.6 out of 5 in our ecommerce website builder research. While it may not be the strongest area, the plans still offer reasonable options, scalability, and essential sales features even in the cheapest option.
Can I use Shopify for free?
Using Shopify with a Monthly Plan Though you can set up your store during the free trial, you'll need to choose a monthly plan to activate your checkout or remove the storefront password before selling products or services.
What is Shopify $1 dollar for 3 months?
Exploring Shopify's $1 for 3 Months Offer With Shopify's $1 for 3 months subscription plan, merchants gain access to the powerful eCommerce platform for only $1. This subscription plan includes everything needed to start selling online, such as an online store, all the features of the chosen Basic plan, and 24/7 support.
What happens if I stop paying Shopify?
You'll lose access to your store's admin area if you cancel your Shopify subscription. To regain access, you'll need to choose a new plan and provide credit card details. Also, you won't be able to create a new Shopify store using the same domain name used previously.
Is running a Shopify store profitable?
Store While there's no guarantee of profit, running a Shopify store can be a strong indicator of future success. According to Shopify data, 81% of merchants become profitable within two years, with the average annual revenue for a Shopify store being $155,000.
How long can I use Shopify for free?
Merchants can use Shopify almost free for three months. At the end of the third month, a decision must be made on whether to continue using Shopify or not. If you choose to continue, the monthly payment option is $29.
Shopify pricing: Closing remarks
As you can see, Shopify pricing varies significantly between the different Shopify plans. The monthly fee difference lies mainly in the size of the business. You need to pay a monthly fee for all options, plus to get your store up and running. In addition, you need to pay for domain name registration, themes, and apps. Other monthly costs include transaction fees and payment fees. Many of these costs are not fixed, and what you end up paying will depend on the number of themes and apps you choose and your sales volume.
If you still can't decide on the right Shopify pricing plan for you, give Shopify's 14-day free trial a try. You can play around to your heart's content and find out for yourself why so many people have chosen Shopify to start their online businesses. You can literally create a store and publish it in the trial version.
If you are already selling elsewhere online and plan to migrate to Shopify, you can consider the Cart2Cart automated cart migration service. Try the free demo now!