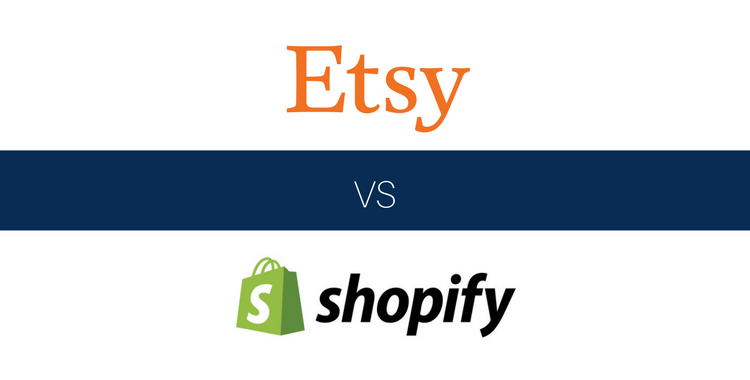 If you're on the way to kickstart your online business, a tricky question may be haunting your mind: what's the best pick - Etsy vs Shopify? Hopefully, we won't disappoint you with our answer because these are two completely contrasting ways to say none is good or bad.
Each of them may be a great solution and successfully fulfill your potential if you figure out the core difference between them beforehand. This discussion is not about starting an eCommerce holy war, but about setting up the priorities. That`s what we're going to do today. To help you to come up with an ultimate decision, let's make a detailed Shopify vs Etsy review - not a back-to-back comparison you're used to seeing - that will debunk all hesitations.
Etsy vs Shopify: Sheer Difference
There is one crucial, I would say the most deciding thing you should keep in mind.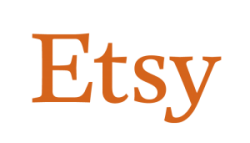 Etsy is a marketplace initially designed for artists, designers and crafters to sell on Etsy their exclusive hand-made, vintage goods, vintage items that fall into versatile categories: clothing & accessories, jewelry, craft supplies & tools, weddings, etc.
With this marketplace, you don't have your own domain but just an account from where you list your products for sale. No doubts, it`s super easy and prevents you from all tough work like a tedious website or a product page setting up. All you need are product images and descriptions. Everything is done for you but in its turn, you should play the game by Etsy rules too.
We won't be mistaken saying that Etsy is a perfect choice to start a business, acquire clients, start selling and make people acquainted with your products. If you have an insignificant number of products and wish to get a few sales to test the waters, Etsy store is your ideal place to start.
Now, let's turn to some stats. According to Etsy usage stats, currently there are 1.8 M active sellers and 30.6 M buyers. In July 2017 there were stunning 166, 000 000 visitors to Etsy marketplace.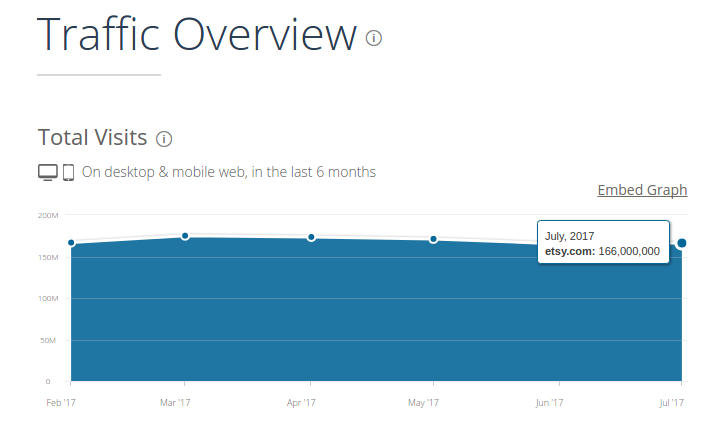 What about Shopify?
Shopify is a hosted standalone eCommerce platform that allows you to set up and run your online store on your own domain. In comparison to marketplaces, eCommerce platforms give you more power of control over your online business in terms of customization, flexibility, integration.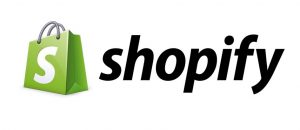 With a standalone eCommerce solution, you're the boss of your store and can tweak and twist it as much as you want with nearly no limit boundaries or tight restrictions. For example, it's completely up to you to define site structure or apply design.
But with opportunity comes responsibility. In comparison with marketplaces, having your own e-store means that you're in charge of shop maintenance, new client engagement (it's clearly easier to do on the marketplace), webstore conversion funnel building, etc. There is nothing wrong with that, you just need to keep it in mind.
What does stats say? According to recently released Shopify stats, it now powers more than 500,000 businesses in 175 countries.
Built With says that this eCommerce engine takes the second usage position over the entire internet after WooCommerce.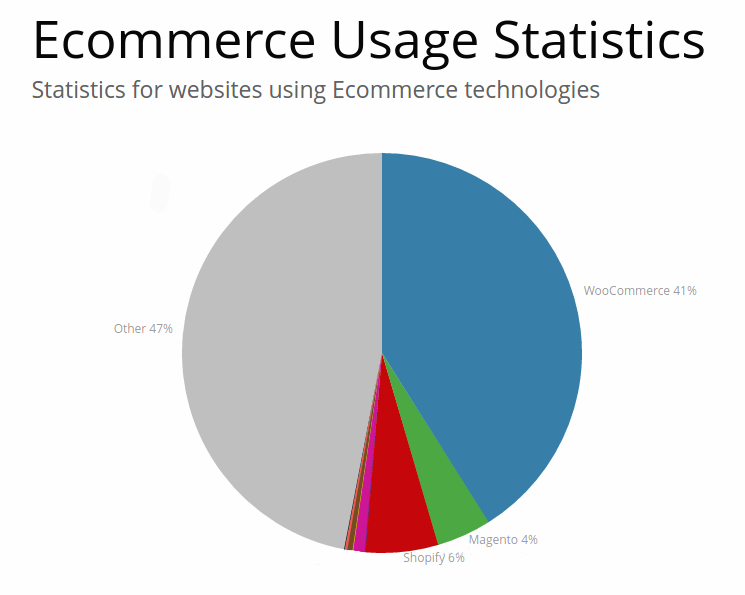 Now, it` s time to delve deeper into these solutions peculiarities, what do you think?
Shopify or Etsy: Features comparison
To reiterate I must say that it's nearly impossible to do a comprehensive Etsy vs Shopify comparison of every feature each platform may be proud of. However, I determined a few points that are vital to bear in mind when making the decision. They are:
Which solution will give my creativity free rein: Shopify or Etsy?
Where can I expect more exposure from Etsy vs Shopify?
Which solution has more reasonable pricing: Etsy or Shopify?
One more gentle reminder, the mentioned differences won't be pros or cons. Everything depends on your target, resources and as already mentioned - priorities.
# Design options
Shopify, offers you to set up your own design for your beautiful store. This eCommerce provider can be proud of its powerful theme store. It offers piles of free and premium templates that can be picked up and installed in a flash.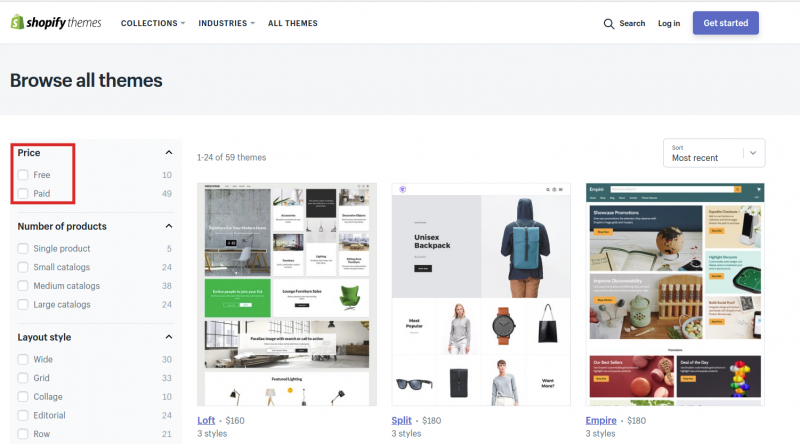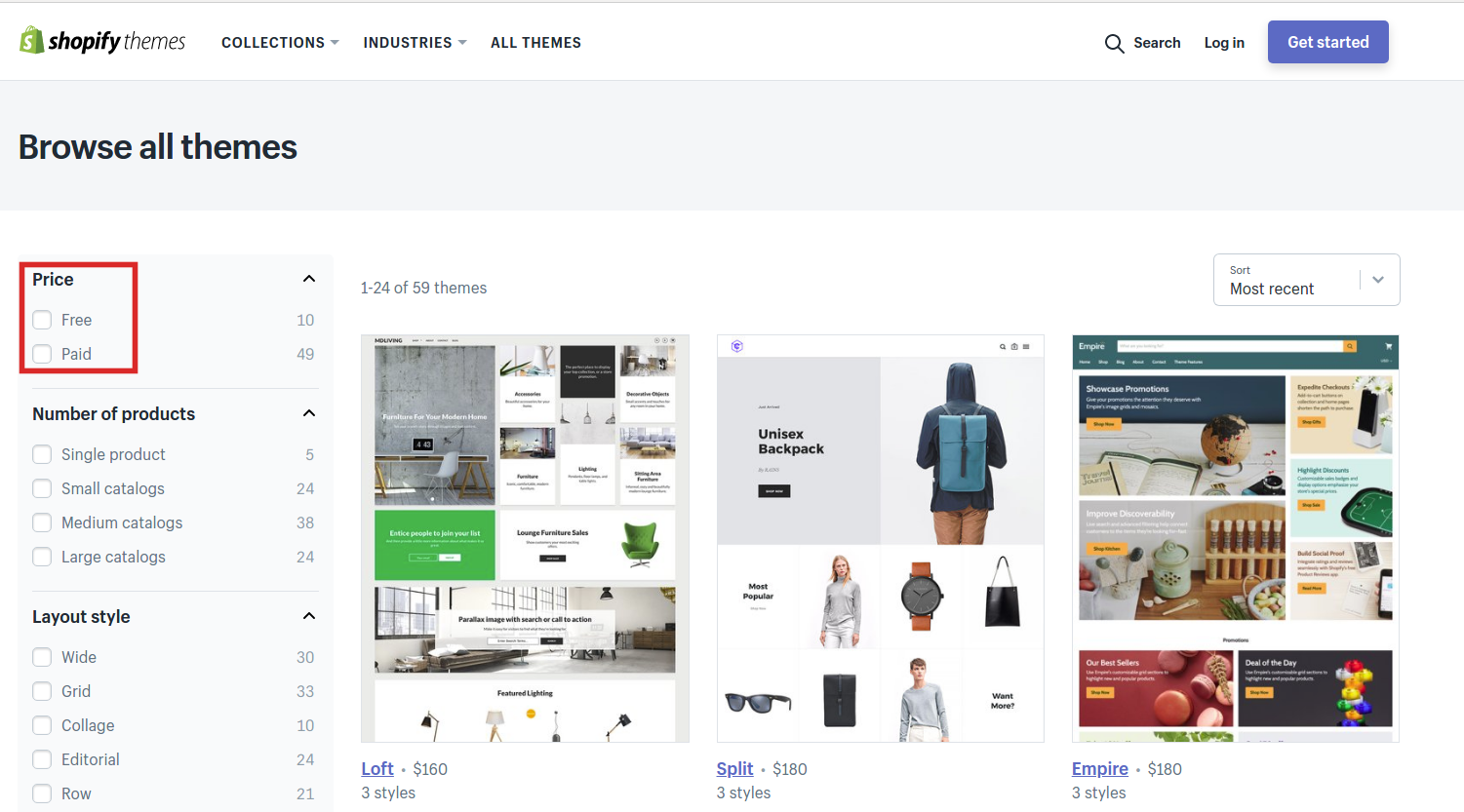 If you have a desire to unleash your creativity and apply a unique and recognizable design to your store, no problem, do it. Shopify's templates generate HTML/CSS allowing you to get any design of your dream.
On Etsy, you have a standardized Etsy shop design. You`re able to pick up colors and sort products to a degree, but the customization is within Etsy's parameters.
Yes, you can develop your own branding with the logo, layout, etc, but again, all that within Etsy's strict parameters.
Which conclusion we reach? If you don`t require independence of customization and feel that Etsy`s offered features are more than enough for your business size, you're on the right way.
Etsy vs Shopify Pricing Comparison
| | | | | |
| --- | --- | --- | --- | --- |
| | Shopify Basic | Shopify Professional | Shopify Unlimited | Etsy |
| Average item price | $100 | $100 | $100 | $100 |
| Number items sold | 1000 | 1000 | 1000 | 1000 |
| Credit card fee | 2,90% | 2,50% | 2,25% | 3,50% |
| Fee per item | $0.30 | $0.30 | $0.30 | $0.20 |
| Monthly fee | $29 | $79 | $179 | |
| Total monthly fee | $3229 | $2879 | $2729 | $3700 |
# Fees and Pricing models
Which solution won't hit you in the pocket? There is no static answer, everything depends on the number of products you sell online. Either Etsy or Shopify will charge you differently. With Shopify, you`ll have to pay a subscription for Shopify store + monthly fees ranging from 0.5 to 2.0 % except if you're using Shopify Payments. Your Etsy account along with storefront is costless but you'll encounter various transaction fees.
To deepen in details, Shopify has three pricing plans with a free 14-day trial period. They are: Basic (29$), Shopify Plan (79$) and Advanced Shopify (299$). The further you go, more enhanced capabilities and fewer transition fees you get.
Have a look at pricing plans descriptions and offered features to understand which one suits you best.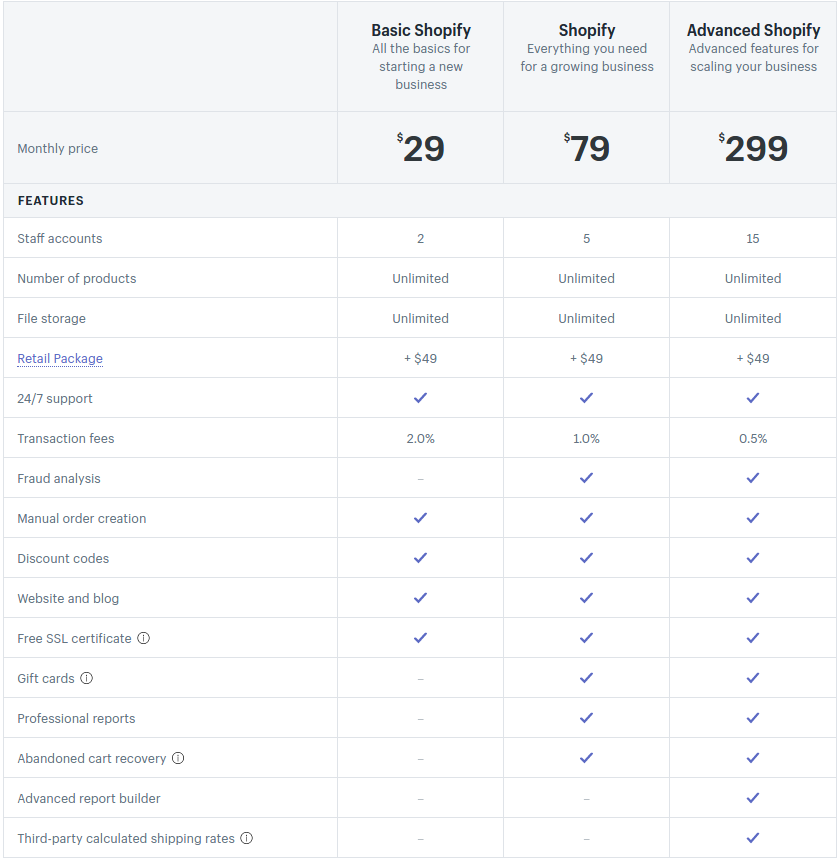 Etsy has other fees & payment policy. Etsy works with 2 versions of PayPal: integrated PayPal and standalone PayPal.
Taking into account Etsy listing fees, you'll pay $0.20 fee per listed product and 3 - 4 % fee per each sale depending on the location of your bank account.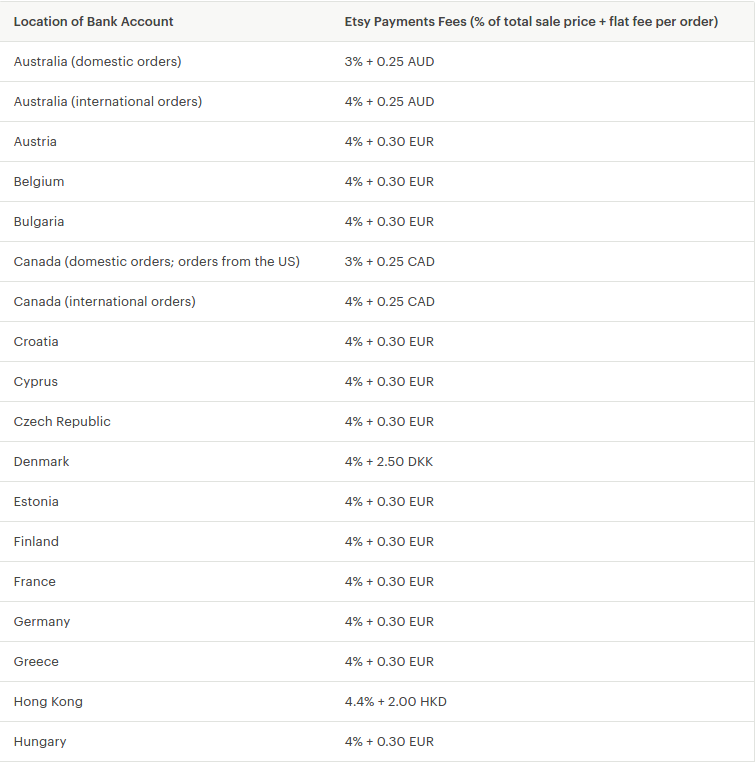 What kind of the outcome can we come up with taking into Etsy vs Shopify account pricing policy? If you just on the start of doing online business - Etsy is a worthy route to choose.
However, if your sales boost, the transaction fees can burn a hole in your pocket. If you have bigger profit margins, Shopify may appear to be a more affordable solution. But again, everything depends on your business size.
#Exposure
Is it easy to get high-level exposure? Obviously not! It`s a tough road that requires a tremendous amount of time and efforts of course.
Undoubtedly, when comparing Etsy vs Shopify, with the marketplace it`s much easier to get traffic than with eCommerce platform. And yes, partially it`s so.
It`s true that Etsy being a global marketplace ensures you a sufficient exposure. Your goods may appear in recommendations, top-rated positions can be found in the list of categories, etc. However, at the same time, all your items will be listed somewhere among hundreds of thousand worthy attention products of other merchants.
How to stand out from this crowd? Actually, there are nearly 2 things that may distinguish your brand from others, they are thumbnails and slightly tweaked headings.
Let`s assume that the user has already clicked on your product. Great! But is there a guarantee that your already "potential" customer won't succumb to the temptation of other "unique" neighbor items?
I doubt it!
As a result, such a powerful exposure can strip you of your uniqueness and drive up even more competition.
When it comes to a standalone store, Shopify, it's much harder to get your first visitors. But nothing is impossible! With the help of well-organized marketing strategies and consistent SEO efforts, it`ll be much easier to turn a simple visitor into a potential customer. To appear in the top positions in SERP is more effortless than to compete with hundreds of goods.
The shoppers are all yours since there are no other third-party "temptations" on your site. With own web store, if a person is already on your site, there are far bigger chances that he/she will remember your brand after the purchase and come back to your website ( not a marketplace) again.
What`s the takeaway? If you are selling products that can develop a new brand in eCommerce industry, Shopify may be a chance to reinforce your business. Click for 11 Innovative eCommerce business models you'll be able to integrate with Shopify.
But if you have a small number of products without much intention to transfer it into the large enterprise business, Etsy is a wonderful solution.
Go for Etsy, if you highly appreciate the following advantages:
Craft supplies: You can sell craft supplies and help the crafters to buy the necessary materials to create their products;
eBooks: Etsy allows you to sell eBooks and earn a lot of money at the same time. You can sell patterns, tutorials, and etc;
Low fees: For listing a new product you need to pay only 20 cents and your products will be listed for up to 4 months. Once the product is sold, you pay a fee of 3,5%;
Training courses: If you are a beginner and inexperienced in the Etsy environment, you can use the training courses and learn everything you need to know about how to run Etsy shop.
Unlike Etsy, Shopify is a more personalized website builder, not least because of the benefits listed below:
Hosting: the third-party company for your servers;
Security: PCI DSS Compliance;
SEO: Shopify scores 98 out of 100 in SEO;
App Store: thousands of add-ons to expand your store features;
Site speed: no downtimes and fast loads;
User-fliendly;
24/7 reliable customer support;
A wide range of free themes.
Etsy vs Shopify review: What's the bottom line?
After the comparison of Etsy and Shopify, I won't get tired of repeating myself that everything is about setting up the priorities. I can't say that one is better another one because both solutions perform different functions. All is up to you, depending on your profit margins and goals.
Of course, targets may change from time to time, don't be afraid to move on to achieve greater heights.
If you feel that Etsy gave you lots of considerable experience in business running and you have a desire to launch your own store, Cart2Cart may help you.
This automated shopping cart migration service will securely transfer all your data from Etsy to Shopify within a few hours.
Without tech skills, you`ll get a thorough database switch by means of step-by-step migration steps.
It won't influence your current performance on Etsy website, it`ll keep your items online and available during the Shopify import.
What`s more, Cart2Cart offers 24/7 support that is ready to assist you I any tech-related questions.
Ready to make a fresh start? Our congratulations! Start a Free Demo migration and enjoy your business growth instantly.