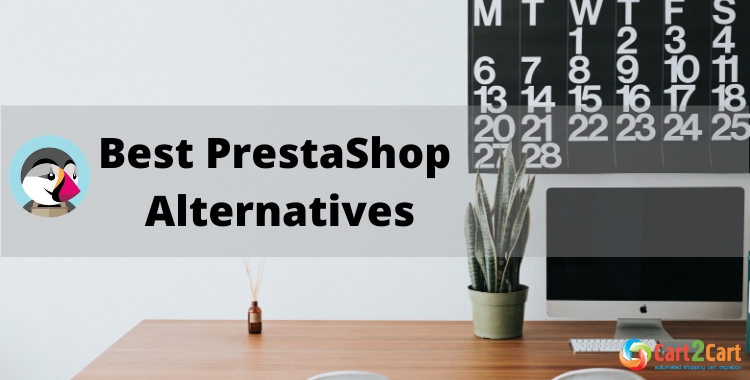 Nowadays, to run a successful online business, one needs to understand the benefits and drawbacks of the chosen eCommerce solution. It usually happens that stores outgrow the functionality of the platform, and merchants start looking for more advanced ones. It's not always an easy decision, especially taking into consideration the number of e-carts that are currently available on the market.
A few years ago, PrestaShop was among the leaders of an eCommerce world. Today it's popularity has somewhat decreased, but still, many business owners remain loyal to this reliable shopping solution. Currently, it powers 249,081 live websites. Like any other cart, PrestaShop has it's pros and cons. With so many aspects to compare, let's outline the primary features of other platforms, and define the best PrestaShop alternative that will help you reach the company's prosperity.
Why Look for PrestaShop Alternatives?
Being introduced in 2007, the solution is suitable for both small and mid-sized businesses. Prestashop offers efficient functionality to improve business processes and grow sales. But in case you lack programming skills and are not ready to spend extra money on hiring professional developers, want more scalability and professional design, it's time to start looking for something more suitable. Keep reading to find out the best PrestaShop alternatives.

First of all, let's take a look at the PrestaShop's advantages:
Open source solution provides you with an opportunity to own a store at no cost. Establishing an online shop is possible without any license fees. It is a great choice for those merchants searching to start up a business with a limited budget.
Easy-to-use platform obtains the simple design and convenient back-end interface. You can handle the e-store smoothly with minimal technical know-how. The user-friendly interface offers you user-friendly management and maintenance tools.
Customization options help you add or delete the features of solution to fit your business requirements. To create a unique presence of your website you can download the modules and themes from PrestaShop's Marketplace.
Demographic assistance is represented by the multiple languages and currencies that ease the localization process. The online shops that currently use Prestashop are located in Canada, the UK, the USA, Germany, Japan, etc. Although the support is available for only English and French versions of the software, the e-shop can be translated to around 75 languages.
So, no matter how much eCommerce vendor hypes up the shopping cart, nothing can be absolutely perfect. You may experience limitations, demerits or implementation issues. Speaking about the above-mentioned software, Google Trends shows that PrestaShop popularity has decreased over past years:
So, it's advisable to consider PrestaShop alternative in case you are:
looking for a more scalable platform. Since Prestashop is designed to fit small to medium-sized stores, it may not be suitable in case your business is looking to expand. The free platform can be an asset to enhance online business exposure with multi-vendor support but with limited advantages to help large or complex projects.
searching for more professional design. The solution offers a decent model to run a startup or low-budget store but is not good enough for large-scale online shops. Some users are not satisfied with the poorly designed statistics system and upgrading challenges.
in need of more robust capabilities. The free version includes a basic set of features, but that usually is not enough for enterprise-size businesses. You will need to purchase additional modules or extensions to meet advanced company demands. Therefore, be ready to spend a pretty penny.
If you prefer a fully-fledged store with advanced features for a large-scale project, you can analyze the eCommerce market and look for the Prestashop alternatives. Let's go through a list of the platform's counterparts, learn their functionality and discover the ways of PrestaShop migration.
PrestaShop Alternatives: In Search of Your Dream Platform
Since the eCommerce world is overwhelmed by various options, you can easily get lost in the diversity of solutions and fail to select the right-your-size platform. Hence, we've prepared a list of Prestashop alternatives:
Shopify: Power Business Ambitions with Efficient Cart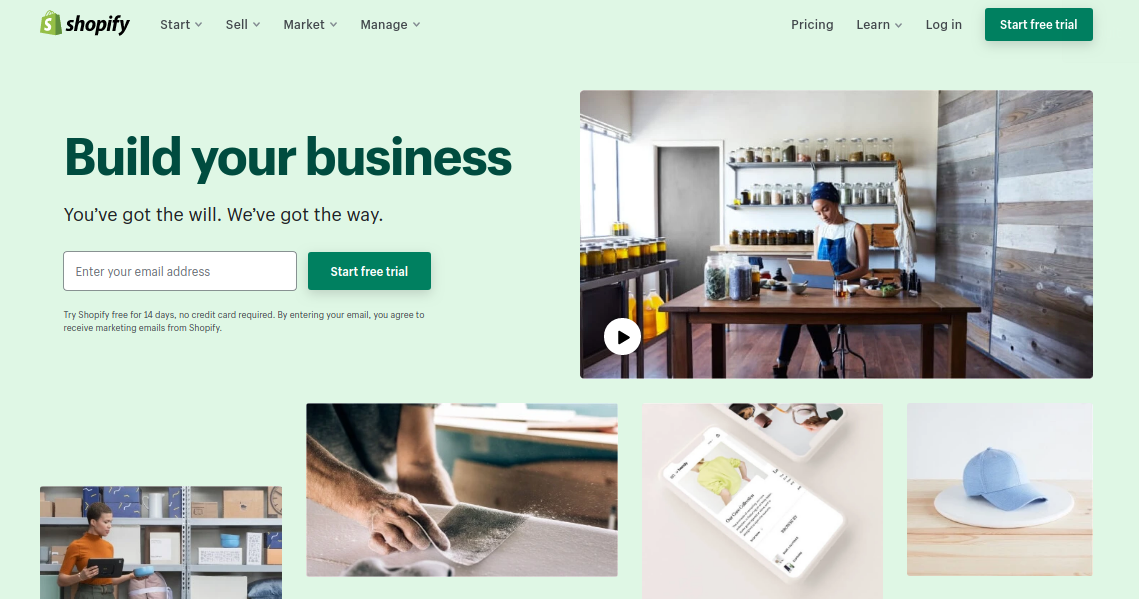 Launched in 2004, Shopify is considered to be one of the most flexible and popular platforms offering an extremely user-friendly interface. With no coding skills and e-store experience required to exploit the software, it can become an ideal choice for beginners and experts alike, so here is why:
Shopify App Store is full of free or paid plugins and apps that can be easily simply added to your shopping cart. Enhance business performance and boost platform's functionality by choosing required add-ons among over 1,500 options. Keep in mind that Shopify integrates with Amazon and eBay, so there's a possibility to add them as a Sales Channels in your e-shop.
72 feature-reach Shopify themes will help you build impressive and professional online shop that suits your business identity. Use the customizable, bug-free and responsive themes for company branding, product database and images on site. Categorize them according to your design or product your e-store is selling.
Dedicated support team is available 24/7 via email, live chat, and phone. The platform takes the upper hand in Shopify vs PrestaShop comparison. Take advantage of Shopify Help Center that offers you help in finding the answers to commonly asked questions, user guides, and tutorials. Take part in the community discussion forums and interact with other users.
Scalability matter is one of the main advantages over PrestaShop. Eliminate extra efforts in case the online shop outgrows your current expectations by opting for the most appropriate pricing plan. Choose suitable Shopify subscription to fit your business needs or test the solution with the 14-day trial:
Start a Free Demo Migration from PrestaShop to Shopify
WooCommerce: Customize Your eCommerce Platform to Boost Sales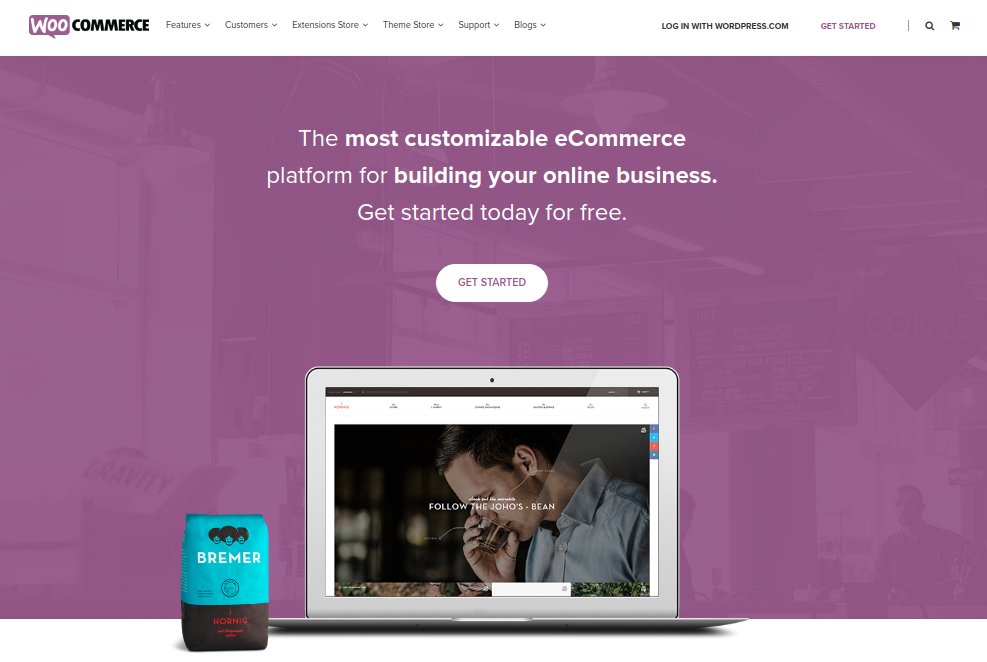 Designed in 2011, WooCommerce is an entirely customizable plugin created to integrate seamlessly with WordPress. Like PrestaShop, the platform can be efficient in handling small and medium-sized businesses. The solution is highly flexible and is supplied with a wide array of options, e.g., geolocation support, Ajax shopping cart, shipping and tax calculator, discount coupons. Additionally, it provides its users with:
350 official extensionscreated by the professional developers enable you to build the impressive and multi-functional website. Get the official template - Storefront or choose from the numerous WordPress themes that WooCommerce is compatible with and improve your business processes.
SEO capabilities of the solution considerably prevail over PrestaShop. WooCommerce is considered to be one of the best solutions that enhaces SEO practices. Benefit from the WordPress's blogging features and fast speed. Integrate with the various third-party applications like Jetpack, Yoast SEO or others to optimize the website in the more timesaving and efficient way.
WooCommerce support policy provides you with the information on where to find the answers to your queries. Benefit from assistance via email for any product purchased on WooCommerce.com or use the WordPress.org forums for the free. Explore the how-to documentation and video tutorials to learn more about the solution.
Cost index is an inevitable part to consider while choosing the desired shopping cart. Alike Prestashop, WooCommerce and WordPress are open-source and don't cost a penny. Build your online shop for free, yet save a buck for the domain, hosting, paid themes and applications to expand your store's functionality.
Start a Free Demo Migration from PrestaShop to WooCommerce
Magento: Choose Your Way to the eCommerce Success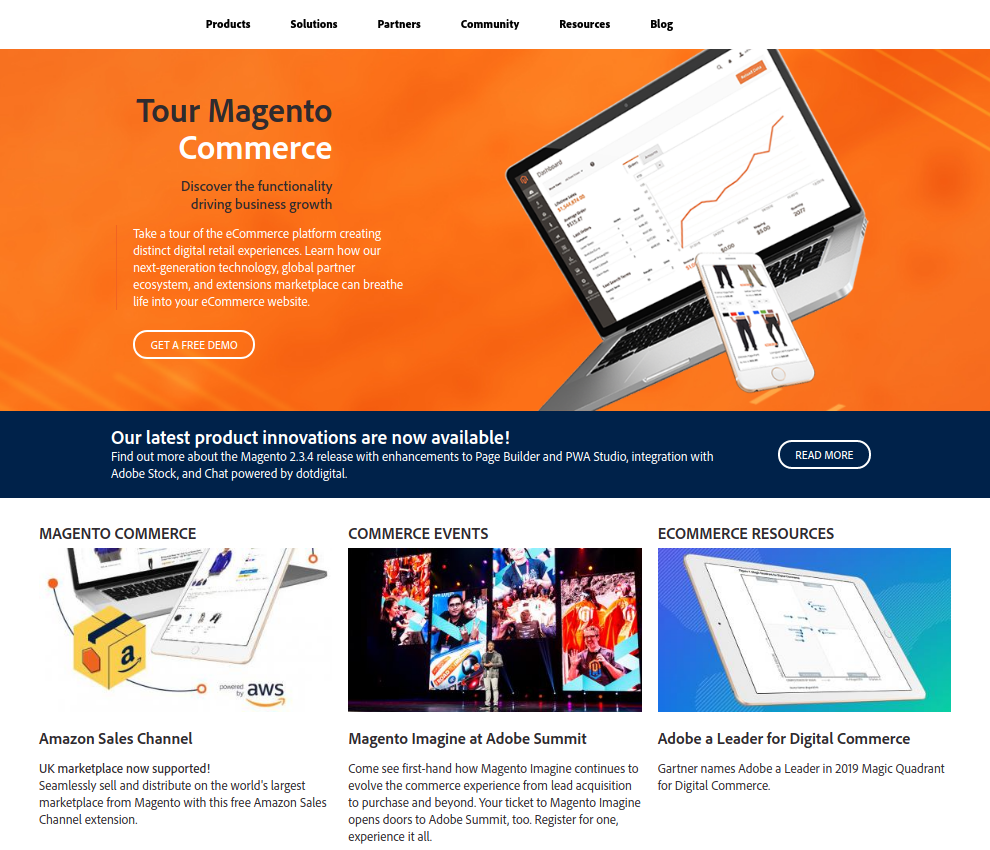 First released in 2008, Magento has grown popular among the companies of the various sizes. The platform stands out for compelling customization and security features. With Magento, you can set up an eCommerce store easily and adjust the solution to its full potential with the help of:
Magento Marketplace offers the world's largest selection of extensions. Explore the apps for all sort of categories starting from marketing, customer support, payment, accounting, analytics, sales, shipping, or site optimization, etc. Regarding the themes, choose among 17 themes available. Find more templates by visiting ThemeForest, and create your own Magento theme in case you have the required technical knowledge.
Splendid web design is represented by the tons of CSS customization choices that are ready to use in web design. Follow Magento's team hints on the latest web trends on responsive web design.
Magento Support is represented by the 24/7 client assistance together with the various tutorials, release information, security updates, etc. Create and maintain the efficient online store with the help of the development documentation. Register on Magento Forums to take part in the discussions with other Magento enthusiasts.
Pricing modelof the platform comprises the capabilities and tools to build the fully-functional online store. Skip the worries of paying for extra plugins or support spendings if compared to PrestaShop. Check out two subscriptions offered by the platform:
Start a Free Demo Migration from PrestaShop to Magento
OpenCart: Start and Run Online Store Effortesly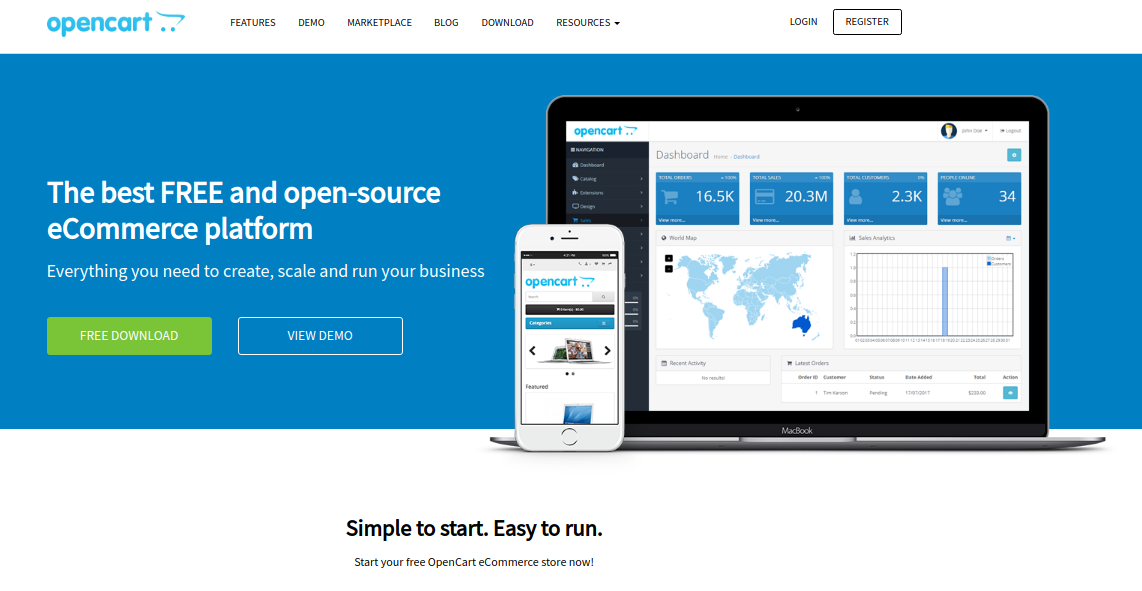 Developed in 1998, Opencart is aimed at the mid-sized and large online shops. The solution provides you with all the necessary functionality options to run the compelling store. OpenCart is famous for its unlimited products and categories, multistore support, digital goods, daily backup, and also the following features:
OpenCart Marketplace offers a great number of modules and themes that will assist in expanding your business. Investigate the comprehensive themes to cover any sector like payment providers, shipping methods, analytics, language packs, and so on. Download the templates from OpenCart Extension Store and get the themes with a possibility to customize them. Try out an opportunity to edit code to fit the e-store requirements, since the solution is an open-source.
Payment modes include cash on demand payments, live shipping quotes, money orders, discount management, multicurrency, and pricing per customer group. Take advantage of the 51 inbuilt payment methods: Amazon Pay, PayPal, etc.
Customer supportincludes assistance by phone and email, knowledge base, blogs, videos, online self-serve, and request form. You can participate in OpenCart Community Forum to learn more about the shopping cart. Additionally, customers make use of the dedicated support features
OpenCart is free of charge like PrestaShop. Remember about the extra spendings on the domain name, SSL certificate, web hosting fee, paid add-ons, and others.
Start a Free Demo Migration from PrestaShop to OpenCart
BigCommerce: Sell More with the Comprehensive Solution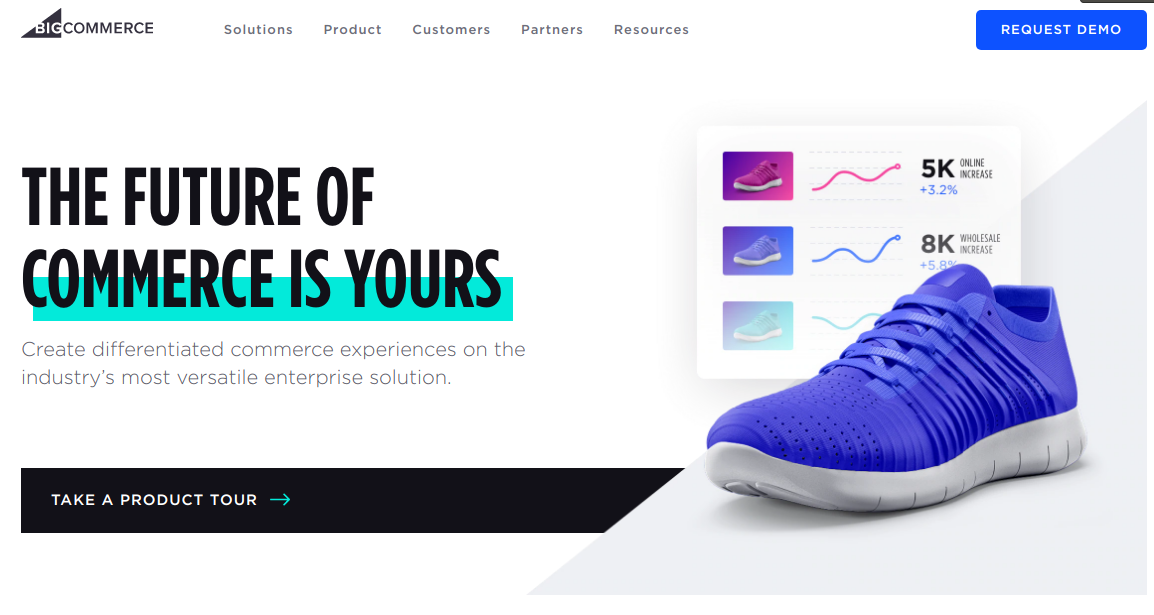 Created in 2008, BigCommerce satisfies the needs of fast-evolving companies. You can't host the solution anywhere other than BigCommerce. The solution contains the beneficial features required to build a comprehensive website including domain, reporting and SEO capabilities, warehouse storage, products accounting, and also:
Start a Free Demo Migration from PrestaShop to Bigcommerce
Closing Thoughts
When you are planning to set up the online shop or move data to a more advanced platform, it is advisable to perform a deeper dig into the eCommerce market and find the most suitable shopping cart. So, consider the information mentioned above and choose the PrestaShop alternative that will fit your store's objectives and needs. Get a chance to run the PrestaShop migration to the desired shopping cart with Cart2Cart automated migration service. Test the SaaS in action and run a free Demo Migration right now!