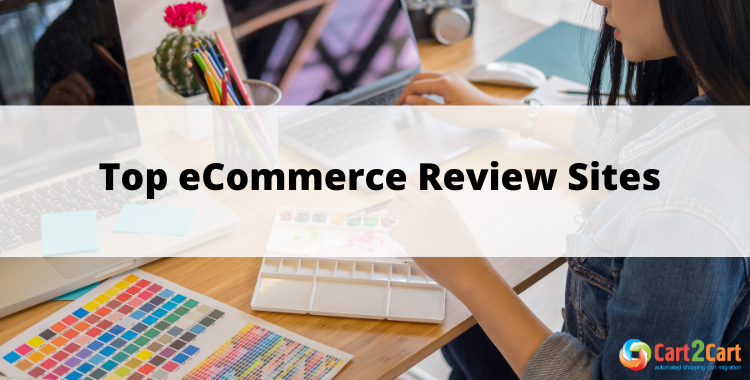 "Best eCommerce platform" is searched for in Google 4,300 - 6,500 times monthly. Based on these data-driven stats, we have to conclude, that many entrepreneurs are genuinely interested in expert advice from someone, who's really aware of promising digital trends. Besides, that eCommerce pro has to be skilled in turning complex tech data into simple and straightforward words. To help you through this process, we have chosen 10 Most Reputable eCommerce Review sites for you to consult.
eCommerceFuel
Not really a website, but the private community of doers, not wantrepreneurs. Here you can leverage the business strategy, share and get knowledge of 1,000 high-revenue store owners. Tap into a profound experience of peers from all over the world and learn how easily your problems may be resolved with the help of eCommerce Fuel.
The best thing about the private expert community is getting real-time feedback on your unique question. Besides, the professional experience is always much more insightful than the baseless theory beginners collect from the Internet.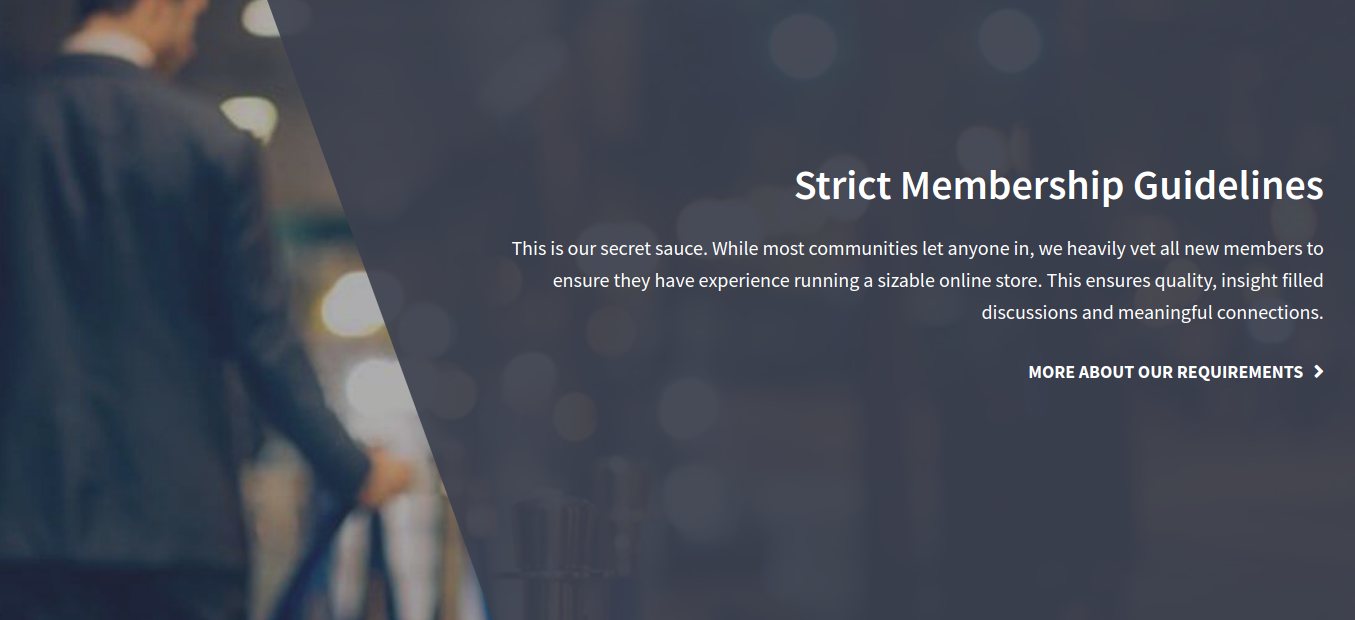 Does your business plan seem to be too high-flying? Nothing is impossible with eCommerceFuel. It's a one-stop solution to understand, that being successful as an entrepreneur depends exclusively on individuals' capacity. There's no magic button to bring you up on top of the eCommerce world...unfortunately. Launching a startup requires the full engagement of its founder, so it'd be helpful to decrease your guesswork using impactful, in-depth conversations with respected entrepreneurs. All eCommerce Fuel's members are heavily vetted, so it guarantees solely meaningful discussions and insight-filled connections.
ABLS (A Better Lemonade Stand)
Up-to-date, with over 30,000 subscribers on board, ABLS is usability itself. This website is all-in-one storage replete with real-life experiences, tips, and hacks. Founded by Richard Lazazzera, A Better Lemonade Stand is featured a professional-looking design, neatly organized interface, power-packed, practical articles, comprehensive case studies, and step-by-step guides to starting your eCommerce journey.
In terms of navigation, ABLS is an outspoken leader: everything here was made for hassle-free performance. Users can filter articles by the phase of project development, popularity, topic, time of publication, and customer engagement.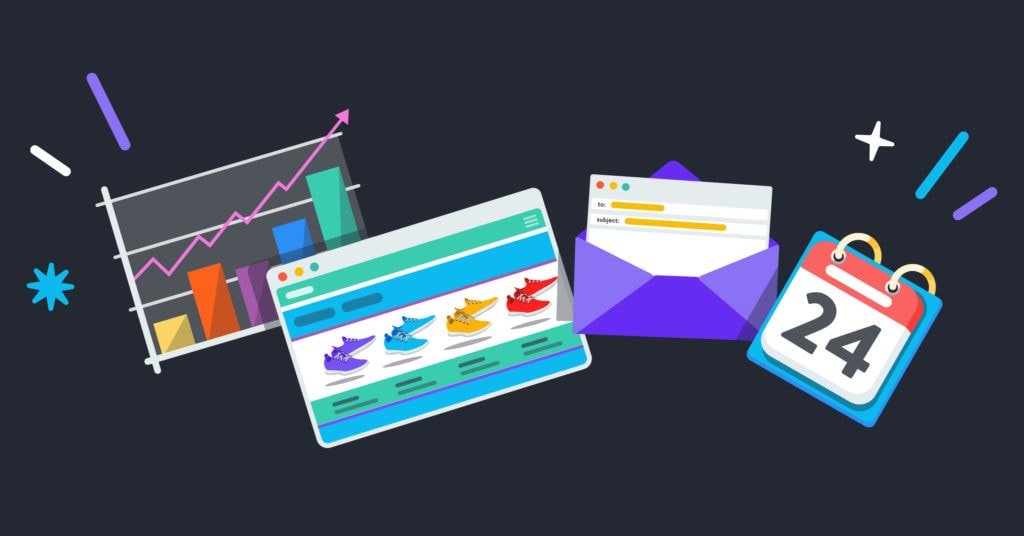 Starting his career at Shopify's Growth Team, Richard has a profound experience in marketing and growing business from exploration to launch. Thus both advanced entrepreneurs and beginners find inspiration and untold solutions here as well. He covers catchy, essential topics, including comprehensive and reliable advice, resources, personalized tools, branding, and SEO optimization, choosing a niche, leveraging shopping platforms, eCommerce innovations, and release notes. Entrusted by market-leading giants, like Shopify, BigCommerce, Forbes, Inc., and Entrepreneur, ABLS is critical to the success of your online business, especially, when it comes to a new shopping platform validation.
eCommerce Platforms
This website was started by Reeves and Sons Limited and located in London, United Kingdom. It's replete with pro selling advice, tutorials, and ebooks, exclusive resources, and unbiased reviews to improve your eStore performance.
"We strive to provide you with easy to read (and sometimes fun) objective reviews that will help you choose which ecommerce platform is right for you. We do get affiliate commissions from some of the solutions we're reviewing and comparing, but this doesn't influence our writings in any way!" - ecommerce-platforms.com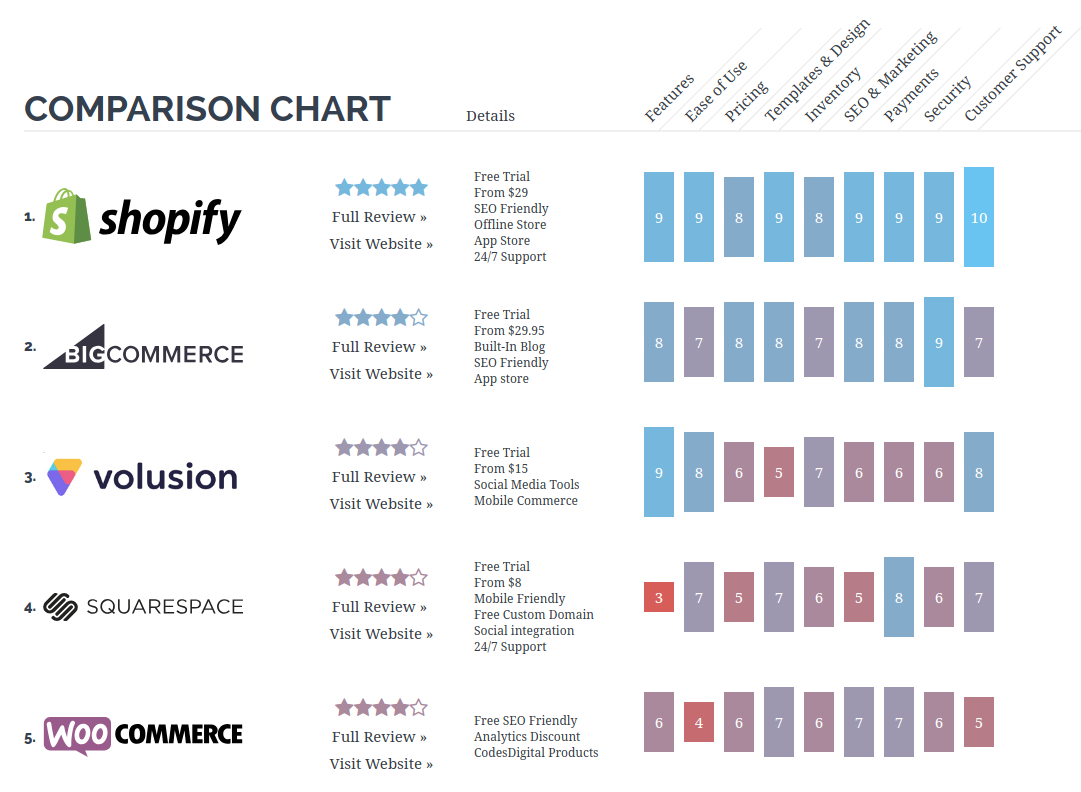 There's also an eCommerce quiz: just specify your country, intended payment method, the average value of your credit card transaction, the monthly payment volume. This automated tool will pick up a recommended merchant account for your individual business needs.
eCommerce Platforms authorizes you to view this site only for your personal, non-commercial use, provided that you retain all copyright and other proprietary notices contained in the original materials on in any copies of the documents.
Groove
Being around for 11 years, Groove Commerce knows precisely how to make your business goals a reality and deliver the best experience you have ever had. This company presents itself not just as a web agency, but as technology and marketing consultants. Are you thrilled with SEO optimization, improving customer journey or data-driven, outcome-oriented marketing? Obsessing over insights and uncovering the right strategies for your growth, Groove can literally fuel your site's success.
They partner with technology market leaders, including BigCommerce, HubSpot, Shopify, Magento, WordPress, and others.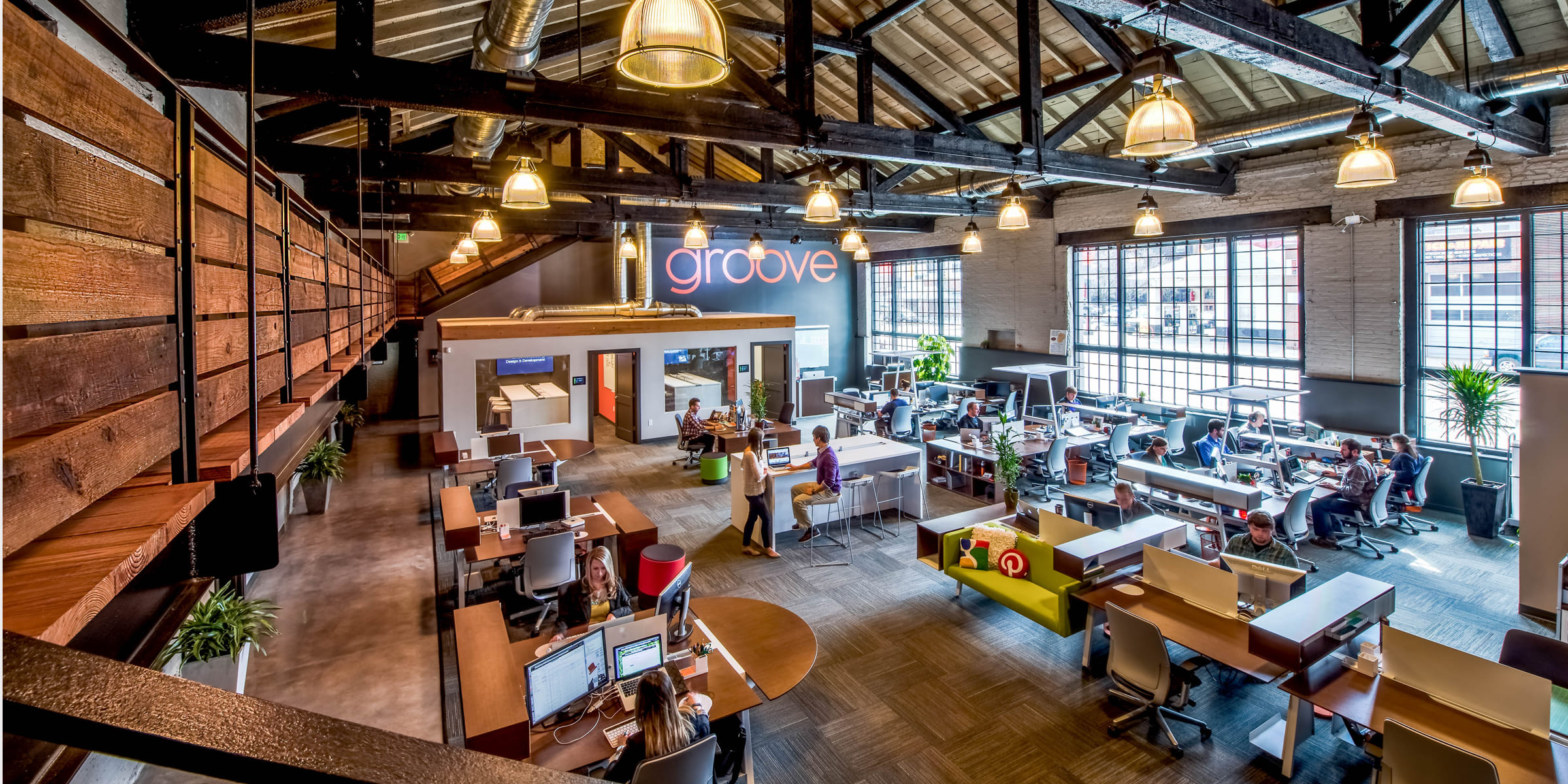 From eCommerce or lead generation strategy to custom app development and website design, Groove is an integrated solution, that helps you convert visitors into repeat customers and drive traffic to the website in a blink of an eye.
Besides, there are numerous themes and categories on their blog, like eCommerce, Inbound Marketing, Strategy, Website Design & Development, Magento, HubSpot, Bigcommerce, Groove News, Lead Generation, Shopify, and Sales Enablement.
Are you tired of mediocrity? Groove's team with all the designers, videographers, and animators create refined, authentic content that inspires action.
Digital Commerce 360
DC360 takes your eCommerce Intelligence up a level directly: it offers both free and premium membership for the readers. Going with the first one - you'll get exclusive access to all in-depth content, daily news, members-only insights & analysis along with Internet Retailer Magazine articles (20,000+). Just register your DC360 account and poof!...the complexity and mystery are taken out of eCommerce.
Premium membership is twofold: gold ($2995 per year) and platinum ($4995 per year) plans. Choosing one of them you can enter a vast library of charts and graphs filled with compelling facts and figures on the leading industries, website builders, and companies in digital commerce. You'll receive a weekly newsletter, containing industry reports.

Besides, DC360's blog itself proposes merchants a ton of value through its three brands: Internet Retailer, B2BecNews, and Internet Healthcare Management. In general, it contains more than 25,000 practical articles and charts, the latest insightful information on more than 10,000 digital commerce business on B2B and eRetailing, over 200 infographics on web sales, growth rates, market shares, and performance metrics.
Cart2Cart
Yes, you're not mistaken, we've included Cart2Cart (the publisher of this post) into this list. We're not too modest, are we? Well, during our 10 years on the market, Cart2Cart has dealt with thousands of ecommerce migrations and published hundreds of blog posts comparing, contrasting and reviewing all kinds of shopping cart platforms, providing tips and recommendations on their choosing, running and switching.
So, we dare to believe our insights do make a difference for merchants, especially those on the lookout for a new ecommerce "home" for their online business.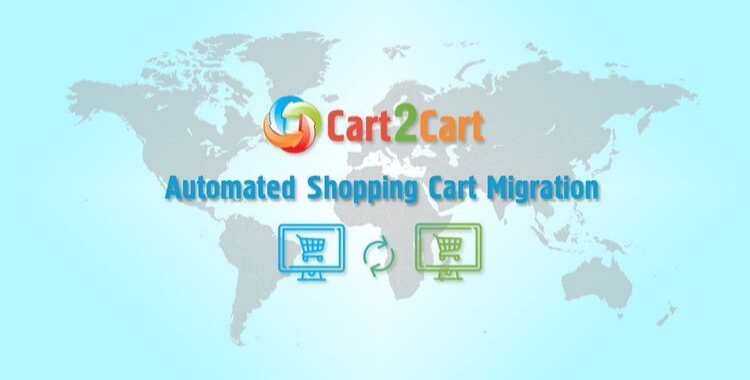 We also make forecasts as to the future trends of ecommerce platforms popularity based on our extensive database of performed migrations. A sneak peek of our future post on shopping cart migration trends - at present, the most sought after migration destinations are WooCommerce, Shopify and upgrading Magento 1 to Magento 2.
So, drop by, if you're one of those restless online entrepreneurs who can't help looking for ways of constant improvement (we mean store migration to a more progressive shopping cart, of course).
eCommerceCEO
Actually, a useful article is hardly something that really impresses website visitors in 2019. eCommerce beginners prefer interactive startup courses, step-by-step checklists, substantial guides, say, tools that can measure their expertise or progress immediately.
If you're intimidated with a dilemma: how to start a business and which shopping cart to choose, you're not alone. And that's where eCommerceCEO comes into the limelight. Starting an online shop is not so easy, there are far more things on a checklist to handle.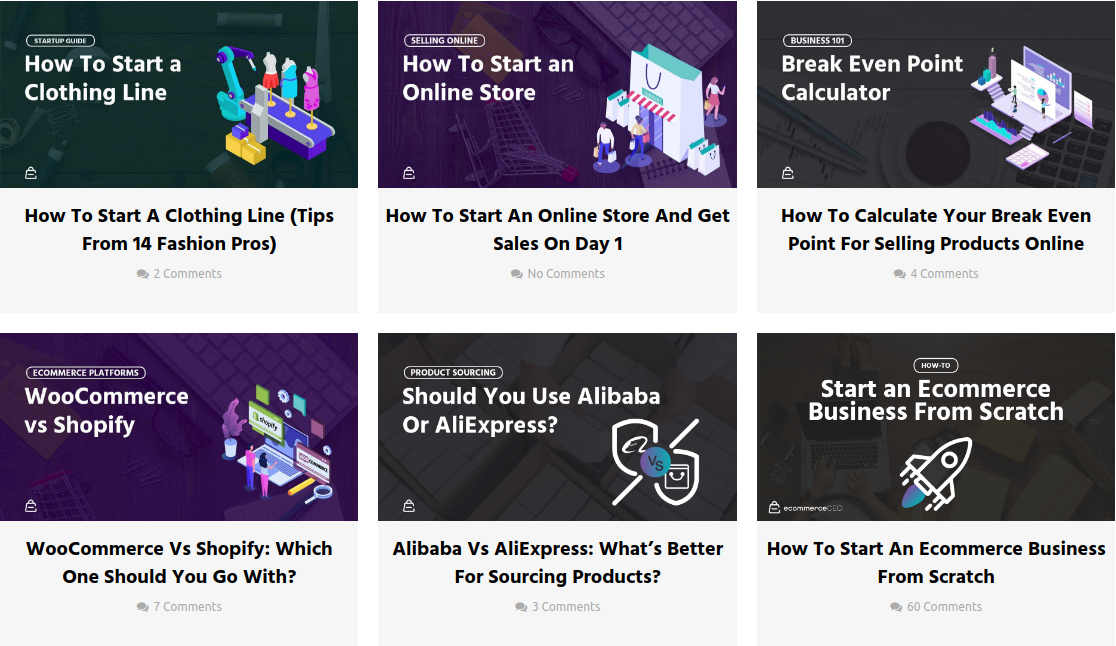 The prior goal of eCommerceCEO is providing you with well-organized content for every single step of creating an online shop with live examples. Sharing its valuable insights, eCommerceCEO lets you master everything from idea generation and manufacturing to marketing and fulfillment accurately.
Founded in 2013 by Darren DeMatas, this website caters to the needs of global Fortune 500 companies and small 1-man eCommerce niche brands.
eCommerce Guide
If you're constantly looking for fresh eCommerce trends in a dynamic environment, you'll know the frustration: spending hours and hours searching for new tools and products to grow traffic and increase revenue. There's a one-stop website that can guide you through all rough spots when relaunching an eStore and choosing the most appropriate shopping platform among the wide variety of prospectives.
Everything at eCommerce Guide was created to be straightforward and meaningful: top platform reviews, categorized by specific business size, free eCommerce guides, comparison charts of web hostings and website builders. You don't need to scroll through an endless tunnel of paragraphs before finally hitting on the actual nugget of useful information. All critical constants, such as minimal price, core features, and platform review, are highlighted and gathered in the table below.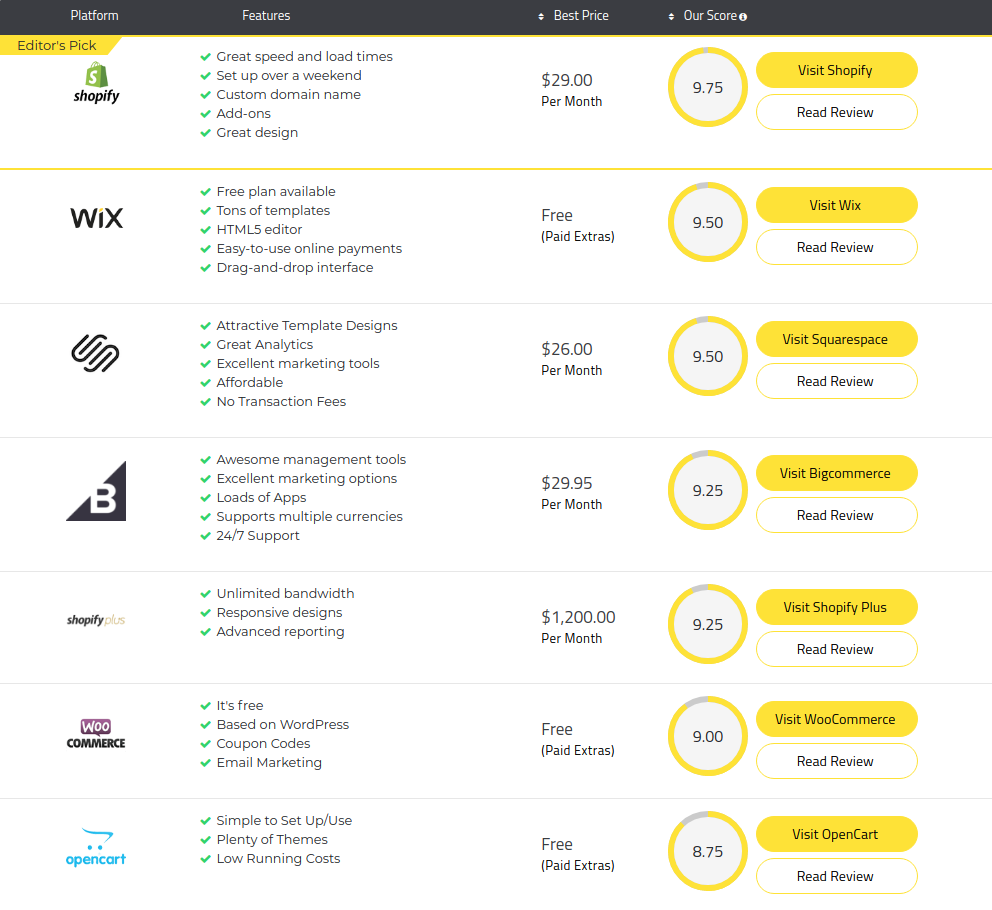 There's also the eCommerce Guide's Score, calculated due to the average score given by a panel of independent Ecommerce experts. Grades out of 10 are delivered for Price, Customer Support, Features, and Ease of Use.
Moreover, you can get a Shopify Plus Consultancy, through submitting a form, so they will match you with the most qualified expert or agency to suit.
Merchant Maverick
Merchant Maverick aims to report accurate information and independent financial advice to assists you in your eCommerce research beforehand.
Wondering how to keep up-to-date and be the first to know about all the latest developments and updates that matter to small business owners, managers, and entrepreneurs? Instead of endlessly web searching for eCommerce platforms reviews, ratings, comparisons of POS software companies, credit card processors, mobile payment services, you'd better subscribe for Merchant Maverick's newsletter.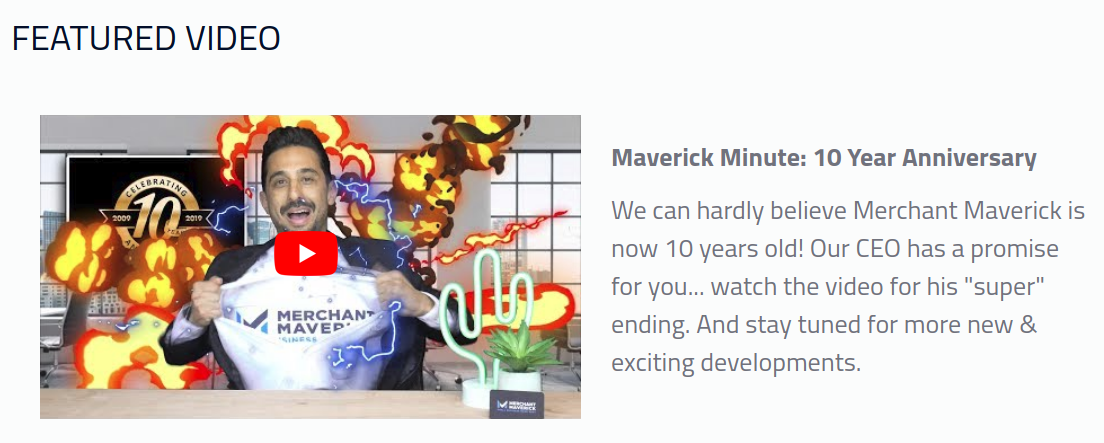 This trustworthy website provides retailers with insightful eCommerce articles, intended to persuade business owners to make an informed decision, based on profound data research, not on guesswork. You'll not find any paid promotion among Merchant Maverick's recommendations: if they offer a particular solution to use, that company has been tightly tested, and its approved high-quality is beyond questions.
Merchant Maverick's content is categorized into 18 basic groups, such as email marketing software, start-up business loans or small business credit cards, so you don't have to spend hours and hours trying to navigate a website.
Saving your time and money with these unbiased reviews, you can strongly focus on something you're really good at - implementing the creative ideas and monitoring effectiveness.
Website Builder Expert
Website Builder Expert (WBE) was founded by Jeremy Wong and Connie Wong and made up of developers, designers, software engineers, UX experts, SEO gurus, marketers, researchers, and more. If their motto were expressed into two words, it'd sound like Be Helpful.
What makes this website so well-known? At first, WBE's team was stuck with the same launching fears, challenges, trick questions kind of "where to start?" and "which platform to choose?", as all of us face when standing on the verge of new eCommerce venture. What's better, they're pleased to share their extensive experience of trials and errors with you, so you won't have to make wrong decisions and expensive mistakes, that can exhaust your budget immediately.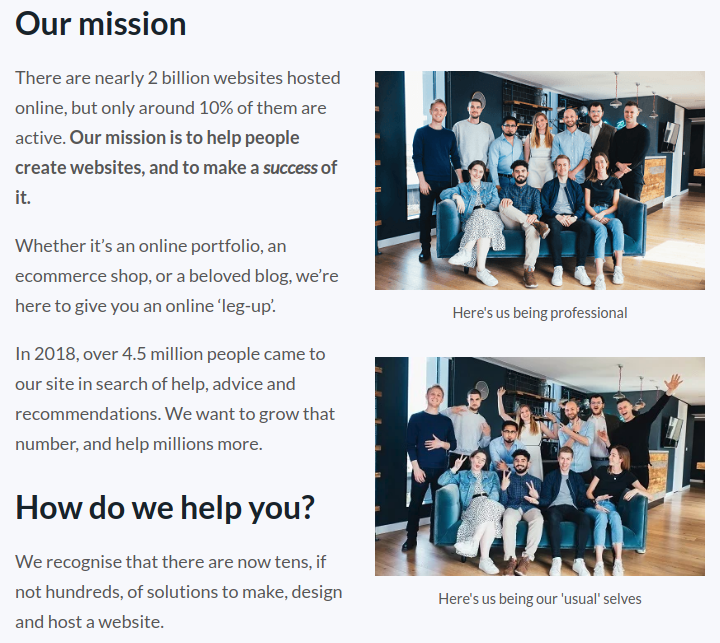 Luckily, there are many aspects to a good blog post that you can learn! Website Builder Expert is here for you to educate, inspire and give you a clue on how to build a website or an online store, how to design a website, how to evaluate best eCommerce website builders and web hosting services. Convinced that your issue is too specific? Don't jump to conclusions before exploring Website Builder Expert.
Closing Remarks
The process of replatfroming to another shopping cart is twofold:
First, to solidify your intentions, goals, and requirements internally and pick up a website builder, which fits you best, in a way that lets you examine and evaluate prospective solutions on your terms. That's where you need the listed-above review websites to consult with.
Second, to perform the data transfer itself with Cart2Cart. Set up the Source and Target Cart, choose wanted entities, additional options and Start Free Demo. Once you're satisfied with Demo results, proceed with Full Migration and get your brand-new store relaunched in a couple of clicks!