How do I get a Client ID and Client Secret to migrate nopCommerce?
While launching Demo Migration to/from nopCommerce, you will have to provide your NopCommerce cart URL, Client ID, and Client Secret.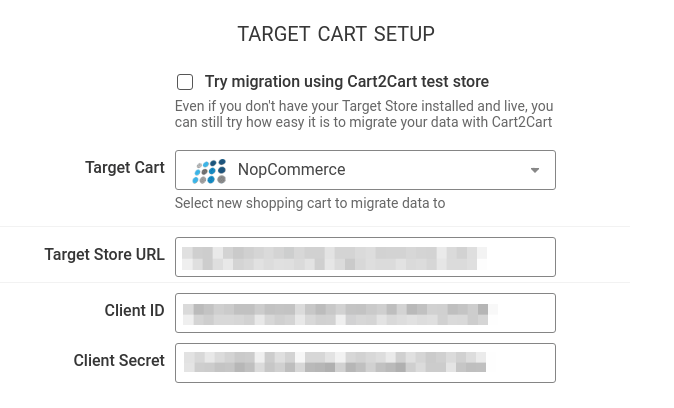 Please follow the instruction below to get information on Client ID and Client Secret:
Note: The instruction below works only for NopCommerce 3.70 - 4.20 versions. Otherwise, please contact our Support Team.
Download the API plugin here.
In order to install API plugin:
Upload it to plugins folder in your nopCommerce directory
Restart your app (or click Reload list of plugins button)
In the list of plugins find the newly installed plugin
Click on the Install link to install the plugin
The plugin is displayed in the Plugins windows (Configuration → Plugins → Local Plugins)
After plugin is installed you will see the new API field in your Admin. Tick the check mark near Enable API, and then tap on "Save" in the right upper corner.

Go to API →Clients →Add New Client
Name: create your own Client Name
Client ID and Client Secret will be automatically generated
In the field "Redirect URL" insert https://www.getpostman.com/oauth2/callback

Cart2Cart will ask you to provide your Client ID and Client Secret - copy it and pasty to Migration Wizard
Put "✓" near Is Active
Click "Save" button to finish the procedure.