How to Add Variable Products to WooCommerce?
Among all the WooCommerce offered features, Product Variation utility is one of the most important. Basically, if a T-shirt is a variable product, it means it's available in a certain number of alternating colors and sizes. In this tutorial, we'll get through the steps of its implementation and take a precise look at some interesting details of this feature.
Steps

Step 1 - Set a product type to 'Variable' for the target product. Go to your WordPress admin dashboard -> Products -> Add a Product and select the value for Product Data as 'Variable'. Once you're done with the selection, you'll notice a change in user interface as on the screenshot above.

Step 2 - Get to the Attributes Tab. At this point, you'll be required to define the attributes of the variable product. For this, go to WP admin dashboard-> Products-> Attributes tab. On clicking the 'Add' button displayed on the screen above, you'll be redirected to a new page.

Step 3 - Define Attributes for the Variable Products. The values assigned to attributes will appear as options for the respective variable product.When you're finished with attributes defining, select the 'Variation' checkbox for each attribute. This will inform WordPress that the attributes belong to the variable product.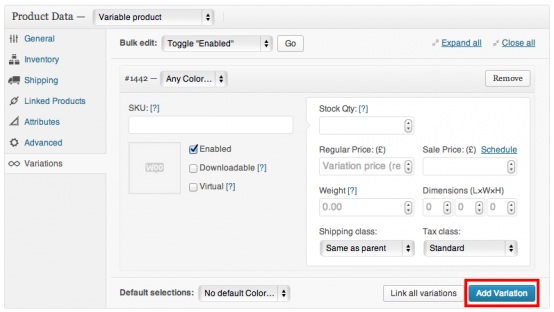 Step 4 - Start Adding Variations. After saving the variable product, you can continue with adding variations for the same. Get to WP admin dashboard-> Products-> Variations tab and finally click on 'Add Variation' button. When the values for each product are specified, click on 'Add Variation' button. With that, you're finished with displaying variations for the variable product.