Where can I get Shopify API Password?
In order to enable data migration from Shopify, you have to provide an API Password for your store. So, here is a step-by-step tutorial that aims to help you get this information on your own.
At first, log in to your store's admin area and go to Apps Menu. Then, scroll down the page and click Manage private apps link.
Click the Enable private app development button once you get the Private apps are currently disabled message.
Choose all the suggested options by ticking the corresponding checkboxes. Then, click the Enable private app development button.
Click Create a New Private App button.
Now it's time to enter the Title of the app and provide the Emergency developer email (The email address used for developer communication regarding your app). When done, you need to grant the Private app with permissions to enable data interaction with your store. To do this, click on all the drop-down menus and change permission status to "Read and Write". Now, click "Show inactive Admin API permissions".

When more entities are displayed, proceed with changing the permission status from "No access" to "Read and Write" as illustrated on the screenshots below:

Please note: you may grant permissions only to those entities that participate in migration. However, to ensure an accurate and seamless data transfer, we recommend setting "Read and Write" permission status (or "Read Access" if "Read and Write" is unavailable) to all the entities available. Also, it is strongly advised to choose the Latest Webhook API version.

Once done, click Save app.

When ready, API Password should appear. Click Show, copy the password and paste it into the appropriate field on the Migration Wizard.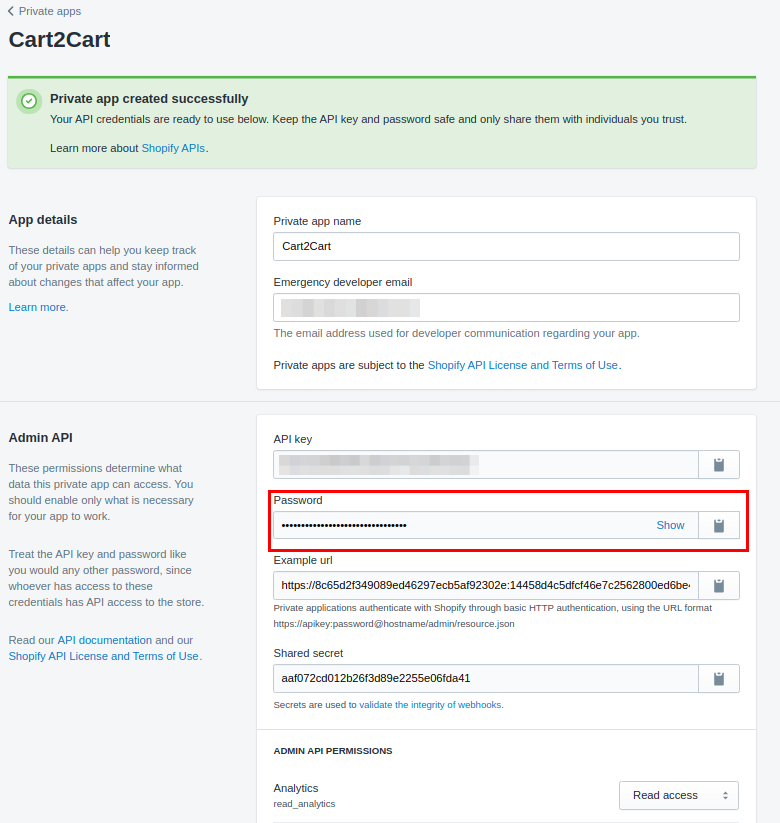 Note: Since Cart2Cart doesn't work with the storefront area but only with the entities transfer from one database to another, there's no need to grant access to the Storefront API.