How to disable notifications about new orders on Shopify?
After the migration of orders to Shopify, every order moved to Target Cart (Shopify) is considered by the platform as a new one. As the result, Shopify notifies you via email about the creation of the number of new orders that, in fact, were moved from your Source Cart.
Note: notifications are received by store owner only. Customers won't get any emails concerning their past orders.
If you do not want to receive emails with notifications about new orders, log in to your Shopify admin panel and go to Settings -> Notifications.
Then, scroll down to the Order Notifications section and hit disable next to the entry with your email address on it.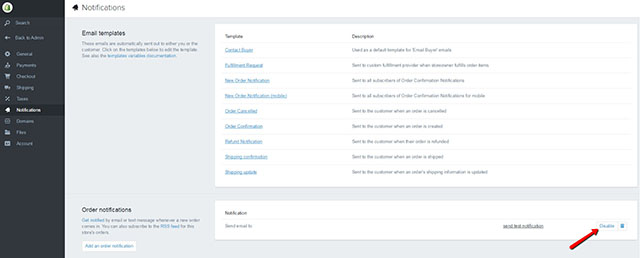 Note! In case you are using any marketing Shopify plugin such as Conversion, you should turn it off during eCommerce data import for disabling the email notifications on the creation of new orders.
Posted in: Shopify