How to enable Product Catalog?
Before you can migrate all of your product catalog data, you must first make sure that both of the catalog export files (catalog.xml and objinfo.xml) are enabled.
On the Store Manager front page, click "Search Engines" within the Promote section. This takes you to the Promote Your Site in Search Engines page, as shown on pic.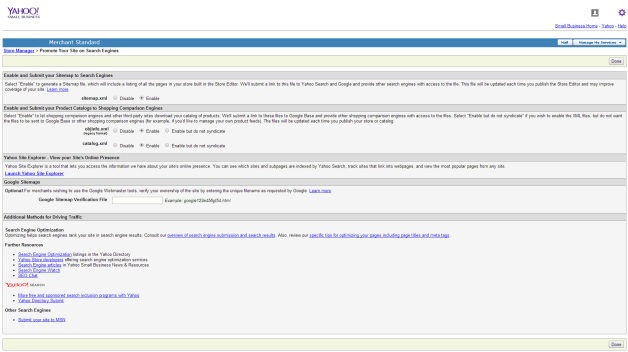 The Promote Your Site on Search Engines page contains links to learning more about search engine optimization, and it contains the Export of Store Contents section, which includes catalog.xml.
Make sure that the catalog.xml and objinfo.xml fields has the "Enabled" radio button selected, as shown on pic above. If it isn't enabled, select it.
Click [Done].
If you're curious about what this file looks like, you can view it by clicking the "Download" link.
Note: If catalog.xml and objinfo.xml are enabled, but not published (generated), the migration will be available only for data that is already in these files, without fresh changes.
To publish your product catalog and regenerate catalog.xml and objinfo.xml:
Go to Catalog Manager and click on Publish tab.
In the Publish tab, press "Publish Catalog".
The "Publish Catalog" button won't be active if there were no changes since the last publishing (generation).
Note: You have to install "Catalog Manager" to make migration possible.