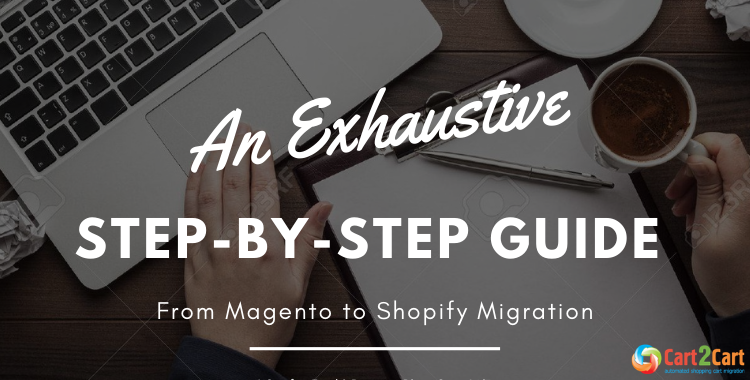 While Magento is a fantastic shopping cart solution with lots of great features, some online shop owners are willing to expand their horizons with the Shopify platform. The problem lies in how to perform the Magento to Shopify switch not only without any data loss but also with no business disruption and end-user confusion.
Ecommerce migration is a great chance to tidy the store data, remove the clutter, and possibly present things in a better way. Despite all the advantages associated with store migration - it is still an undertaking that most online shop owners prefer to avoid. If you still run your e-business with Magento solution and wish to migrate it to Shopify - we would like to meet you halfwFscenariosay and take you through the process of Magento to Shopify migration step-by-step. And if you're looking for other Magento alternatives, check out our post. Additionally, here's a list of ecommerce platforms for a small business.
Magento vs Shopify
The debate about Magento vs Shopify has raged for too long. Because both of them stand equal in popularity and efficiency, making the right decision is not a one-click affair at all.
According to Google trends, Shopify's popularity is rapidly growing with each passing day, leaving robust Magento far behind. Its flexibility and ease of use are those prominent features that make more than 1.000.000 users all over the globe gravitate towards the platform.

According to Cart2Cart statistics of performed migrations during January-October, 2019 - Magento to Shopify transfer route takes approximately 10% of all migrations, while the percentage of data migrations from Shopify to Magento constitutes only 1%.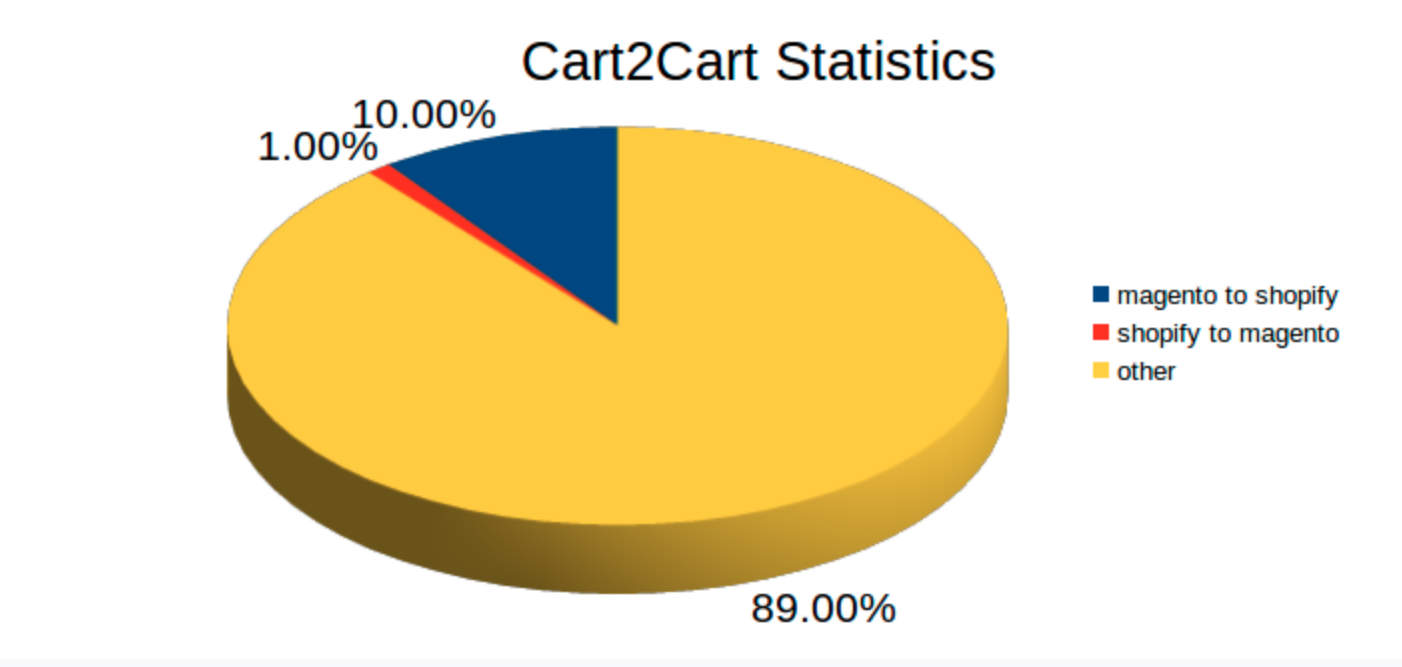 If the fear of switching Magento to Shopify keeps you off the "Go" button - keep reading. The post breaks down the migration process into manageable phases and provides some practical suggestions and recommendations for you to perform the switch as seamlessly and error-free as possible.
What Can I Migrate from Magento to Shopify?
Shortly, store migration is the process of transferring data, design, and functionality from the old store to the new one. In reality, merchants сan export only the database (products, customers, orders), and then configure the store appearance and install the necessary apps to expand the functionality.
Details on what is migrated from Magento to Shopify with Cart2Cart are
found here
.
That's why entrepreneurs usually decide to refresh the design and develop new and more exciting features.
How Can I Protect My Data?
For those unaware, Magento and Shopify have different data fields, which means there are product attributes in Magento that don't have the exact corresponding fields in Shopify. In this case, it is advised to map what data is being moved, and to what field, so you know where everything is located.
Will Migration Impact My SEO?
In fact, replatforming can significantly affect your traffic and search results, but that won't necessarily happen. Pay special attention to the new site structure and set up 301 redirects, which are recommended to preserve the SEO juice.
Can I Migrate Design?
If the design of an existing Magento store is good and there is no reason to change it, it is quite possible to recreate it with the help of a developer. Design migration is impossible from a technical side.
How to Migrate Shopify to Magento: 3 Migration Scenarios
Manual migration

This way means copying store data from Shopify and pasting it to Magento (in other words, import-export process), as well as manually uploading any related images and updating navigational links. It is quite a labor-intensive method of migration, expecting a high level of a tech background. Besides, it can not be applied to massive stores with, for example, 10,000 customers or products, because it's merely impossible to move everything by hand.

Assisted migration

Those Magento store owners having no proper level of experience should consider hiring a 3rd party agency to move their store across platforms. The way involves a developer or a group of techies who oversee the shopping cart migration process, keep track of the milestones, and cope with all of them. They usually break the entire Magento to Shopify product migration procedure into smaller phases (data, design, functionality) and delegate responsibilities to members of the team. This variant is much more reliable, however, as human capital is costly - the method is often treated as quite a time- and money-consuming.

Automated migration

As there's a growing tendency to automate any possible processes, data migration converters are getting more popular with each passing day. There are services and tools (like Cart2Cart) that have been developed to minimize human involvement in the process of data migration and transfer store entities from one shopping cart to another for a one-time fee. These providers offer a simple, self-service model where you choose the current shopping cart and the one you are moving to, and they automate the transition.
So, what migration method to choose?
Take your time to analyze the amount of your Magento store data, customizations, integrations, and determine an optimal migration method that will work best for you. Since the distinctions between Magento and Shopify are quite substantial, not all features can be transferred across them, so content such as landing pages may require manual configuration. Therefore, a hybrid approach is mostly needed, utilizing an automated service for transferring ecommerce data (like products, customers, orders, coupons, etc.), and then completing the new store configuration (tweaking the theme, installing additional modules, etc.) manually.
How to Prepare for Magento to Shopify Store Migration
Proper preparation and planning are vital to any project, and ecommerce migrations are no exception. Consider the following recommendations on how to spot the potential risks of migration and establish necessary activities ahead of time.
How to Prepare Your Magento Store
Backup data
Cart2Cart service doesn't delete store data from your Magento store during the switch. The information is copied and moved to the new Shopify store. However, to ensure data security and avoid any associated risks, it is strongly recommended to backup your database (e.g you can make use of a backup option provided by your hosting service).
Perform Magento store data audit
Conducting the store data audit aims to help you create an accurate inventory of all of the Magento data you have (like product details, categories, customers, passwords, orders, reviews, and others). Get ready to map out what data types exist and determine what should be kept, deleted, or rewritten.
Find Magento store access details
To establish the connection between your stores, check up your current Magento store credentials - the URL and FTP/SFTP/SSH/cPanel credentials.
How to Prepare Your Shopify Store
Get your Shopify store ready
Install your Shopify store without additional modules or modifications and make it available online. To get one, start a free trial at the Shopify store, during which you can perform the migration to the temporary domain (like https:/www.myshopify.com). It's fine if you migrate your data to a trial store using a free Demo migration to see how it works.
Choose a theme
It is recommended to choose the default Shopify theme and make no customizations until the migration completed (since it can interfere with the process). Once the Magento store data is transferred to your Shopify, you will be able to choose the theme you want.
Install the necessary apps/features
Product Reviews
If there are user reviews on your Magento which need to be transferred to Shopify, consider the Product Reviews app (free of charge), so we recommend that you install it. Check here to learn how to install the app without intensive hands-on.
Estimate the Exact Migration Price
The cost of store migration with Cart2Cart depends on the amount of data and additional migration options that you need to relocate from Magento to Shopify. Use the Migration Estimator feature to calculate the exact price of your specific Magento to Shopify migration case.
Magento to Shopify Migration. Cart2Cart Route
When you have everything ready for replatforming, it's time to start the website migration itself. So, click start Free Demo and follow the Migration Wizard.
Alternatively, you can give a try to the Cart2Cart Store Migration App to ease the Magento to Shopify replatforming even more.
Connect your Shopping Carts
Provide your stores info: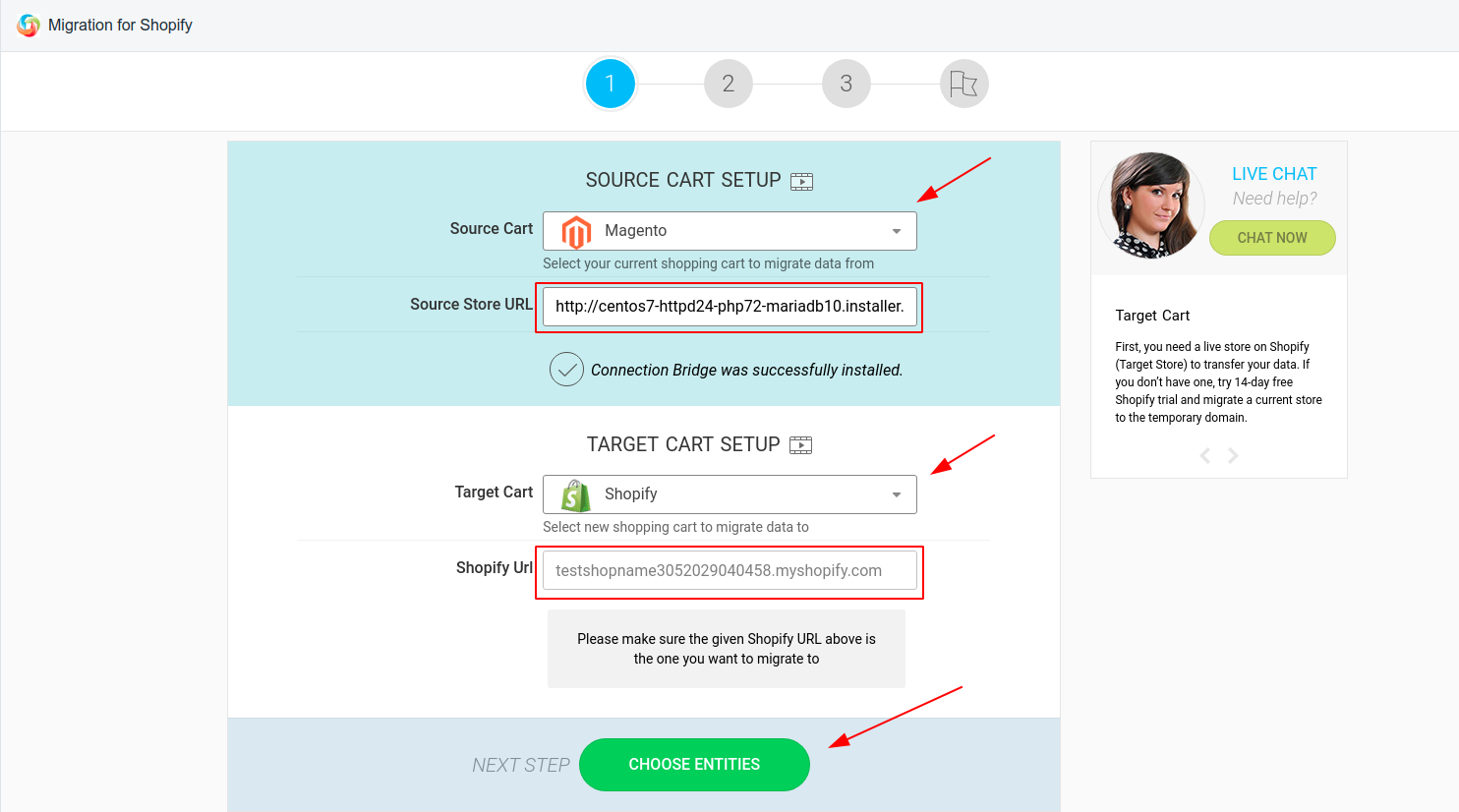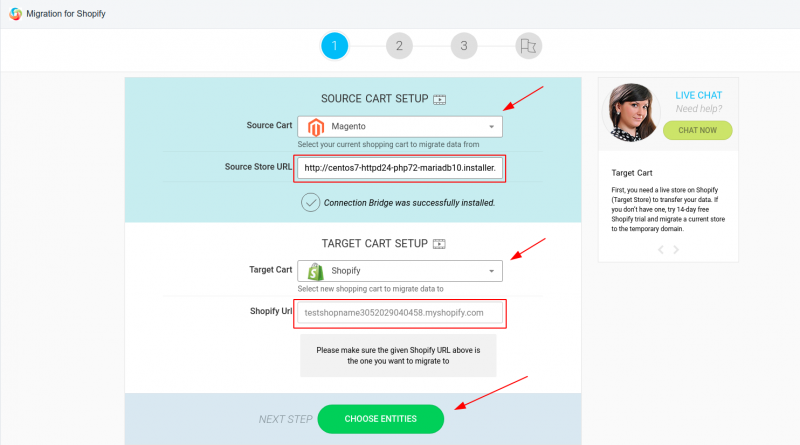 Select Magento from a menu. When done, enter your web store's URL. Then install the Connection Bridge on your Magento to enable data exchange between your stores. Once downloaded, extract the Connection Bridge from the zip archive and paste it to the root directory using FTP client. Watch our video tutorial to have a 360-degree view of how to install Connection Bridge.
Select Data for Migration
At the migration wizard, specify the entities you want to transfer from Magento to Shopify - products, customers, orders, manufacturers, reviews, etc. or everything all together.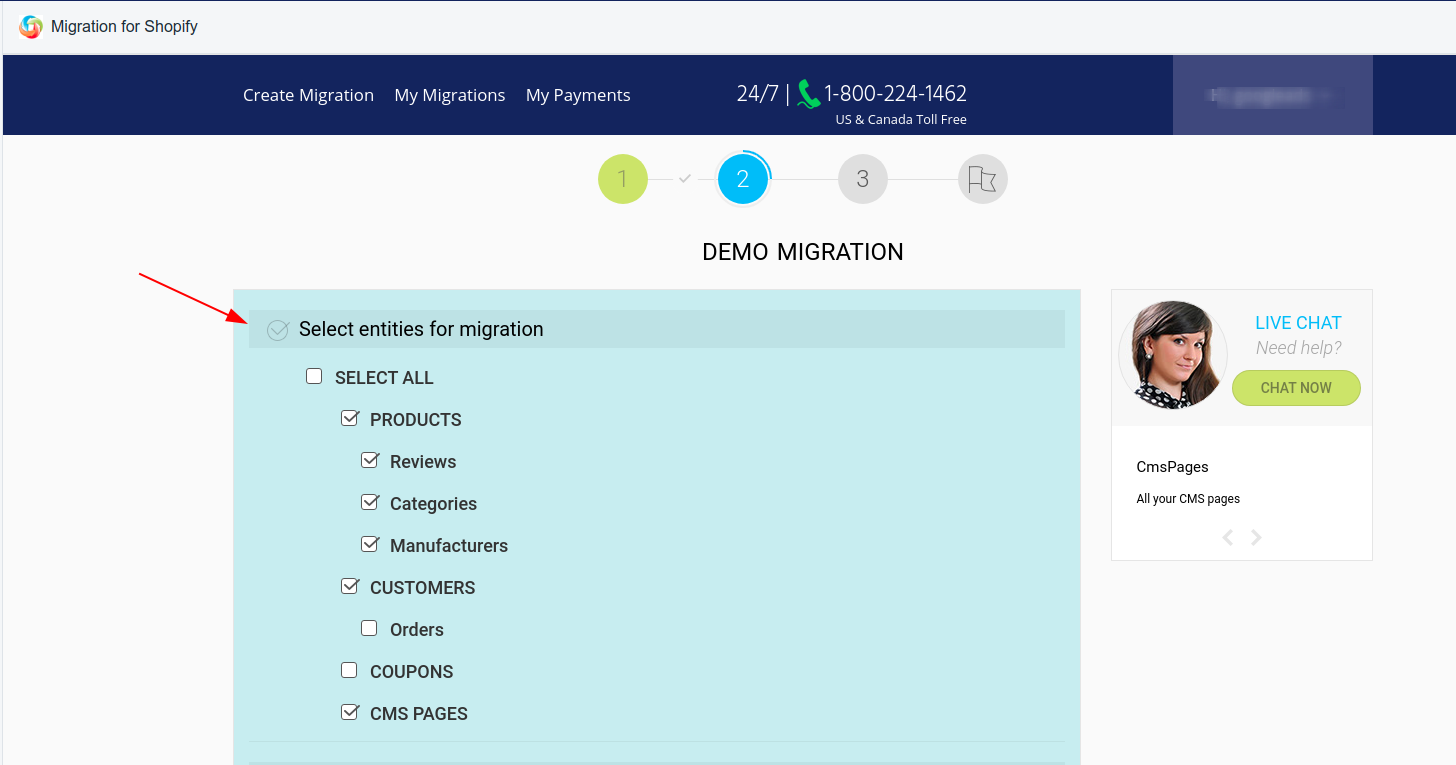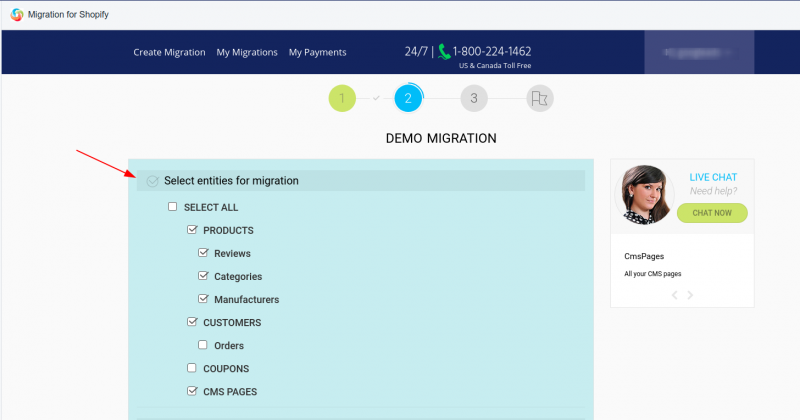 What data can I migrate products from Magento to Shopify?
The following types of data can be migrated from Magento to Shopify:
goods (product name, images, description, a number of goods in stock, price);
visuals related to the products (color, shape, size of the product);
the total amount of the purchase, a list of purchased goods, payment information;
static pages (like Contacts, About Us, Return Policy, Terms & Conditions);
images;
information about customers (name, email address, phone number, location, etc.);
SEO settings (including 301 redirects);
integrations.
What Are Additional Migration Options?
There are some additional migration options that you can choose according to your specific needs and requirements and in this way, make the transfer across ecommerce solutions more seamless.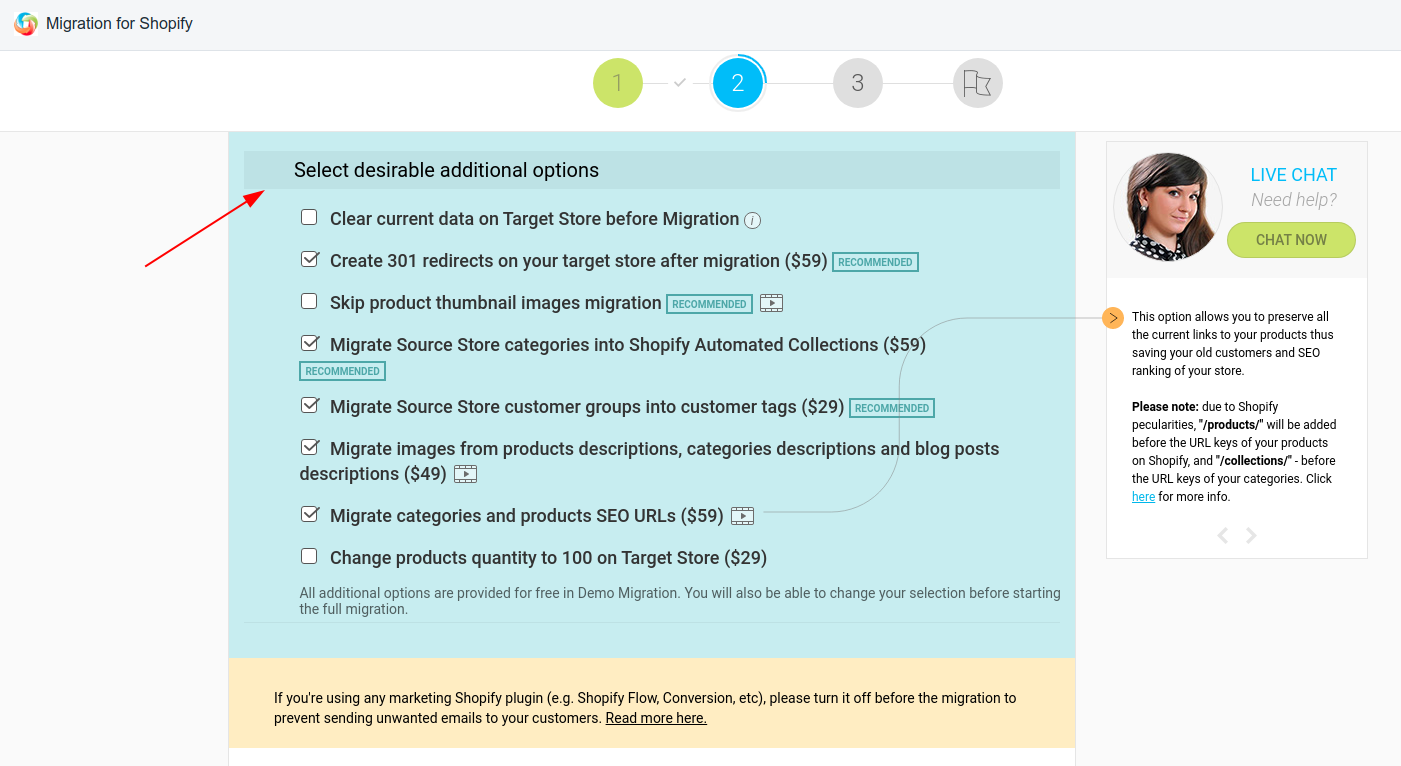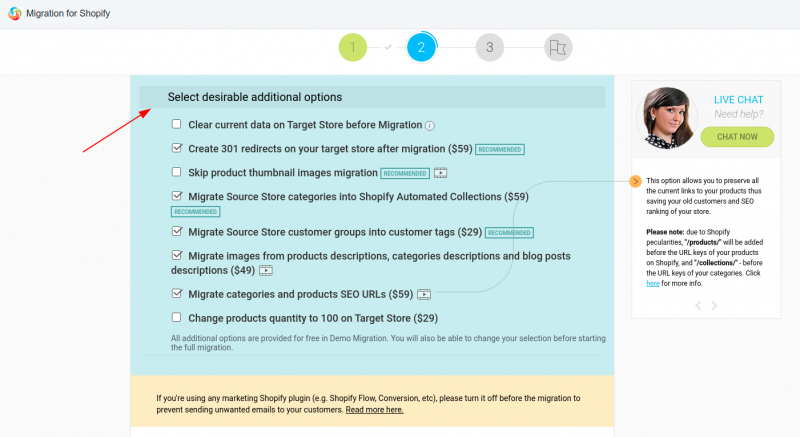 Since Shopify and Magento have different ways of organizing store entities (Magento categories are called collections on Shopify, while subcategories become product tags), it is recommended to select "Migrate Source Store categories into Shopify Automated Collections" option. This will let you define a single product as belonging to several collections and organize your store better.
Once you have the Shopify site set up (new server) and your domain pointing to that server, your old host is irrelevant. You can set up URL redirects in Shopify > Online Store > Navigation. Otherwise, you can take advantage of "Create 301 redirects on your target store after migration" option allowing you to keep old products and category URLs working at Shopify.
Choosing "Migrate categories and products SEO URLs" option will help to preserve all the current links structure to your products thus saving your old customers and SEO ranking of your store.
Map Customer Groups & Order Statuses
Cart2Cart doesn't migrate your Customer groups and Order statuses. Instead, it makes it possible to match your Magento store Customer Groups and Order statuses with the corresponding ones on your new Shopify store.
If there are no required Order statuses on the Shopify store, you can easily create them by clicking the corresponding buttons.
Note: During the migration of Customers to Shopify, the Cart2Cart migration tool automatically generates a new default "unknown" email address if customer email on the Magento store is invalid. The same default email will be created during the migration of Orders, if they are not linked to particular customers, and was made by guest users - not registered customers. Therefore, during the data migration, you'll receive email notifications about the creation of new orders, though in fact they were migrated. To get rid of these messages, log in to Shopify, go to settings->notifications and click "Disable" in the right bottom corner of the page.
Map Countries, Languages & Currencies
Shopify gives an opportunity to specify in shipping settings which countries you'll be distributing the goods to. And, if your Magento store's orders include countries other than the ones selected on Shopify - such orders will be skipped during migration. To avoid this, check all the Source store countries and configure them in the Shopify settings prior to the switch.
Besides, make sure to use the opportunity to map the corresponding languages and currencies of Magento and Shopify stores. Check if Shopify settings allow you to support multiple languages and perform the mapping in Cart2Cart wizard.
Run Free Demo Migration
Now you are ready to start free DEMO Migration. It allows transferring a limited number of entities in approximately 10-30 minutes. It is strongly recommended not to skip the Demo migration step to check the Cart2Cart functionality in progress. Don't close the browser window until the demo migration is finished.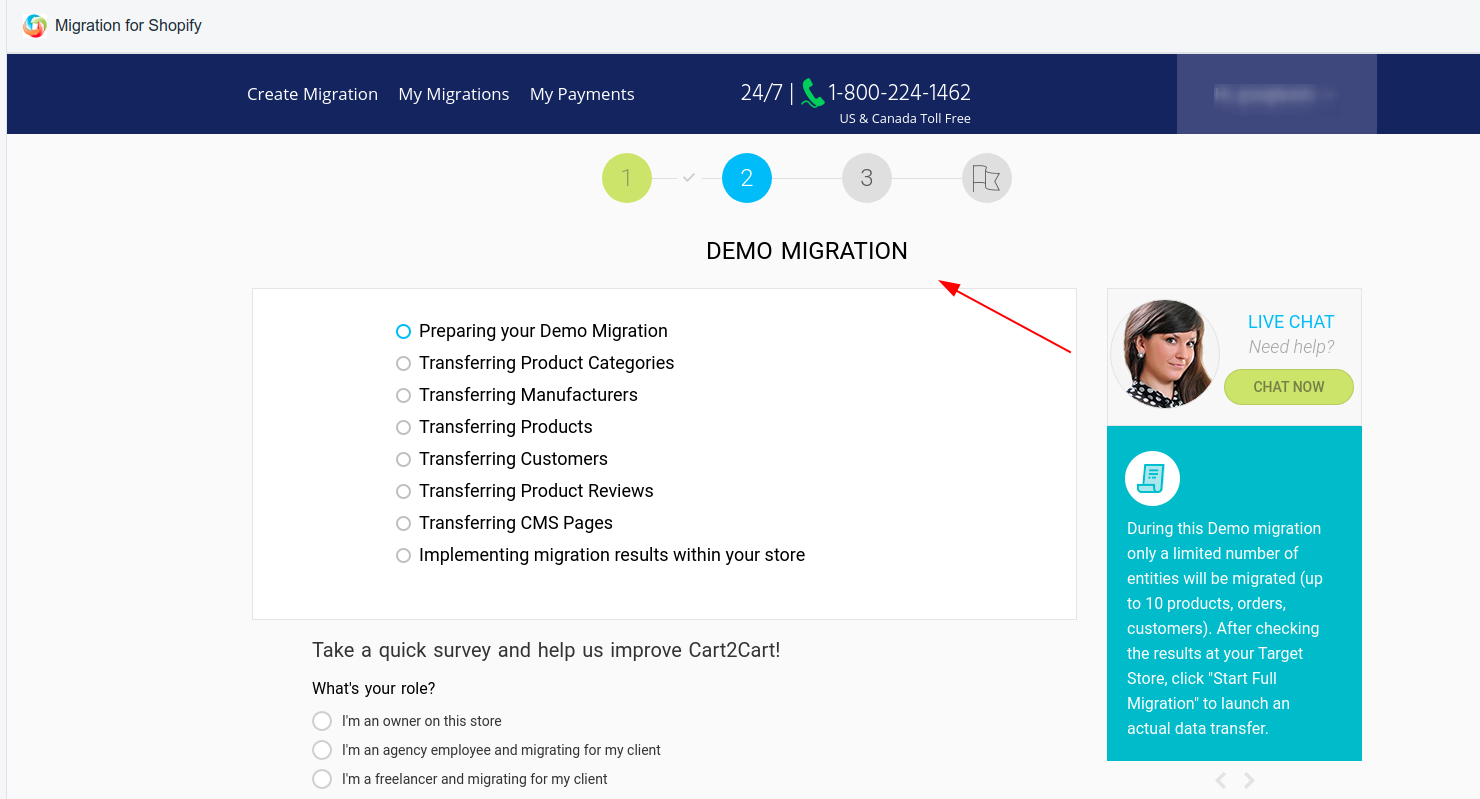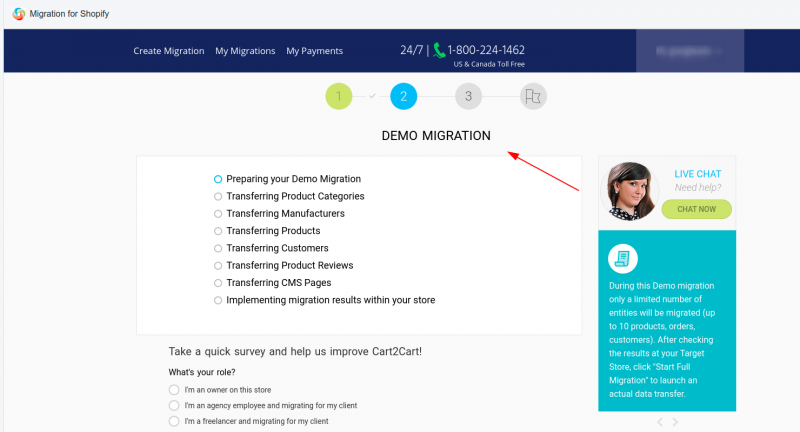 Once done, check the migration result on your Shopify store. Make sure you check the backend for the migrated data, as it may not always be visible in the store frontend. Also, you can use the file with the list of Product IDs that have been migrated (you can download it at the Demo results page) and check whether they are found on the Shopify store.
In case there are any issues during this step, feel free to contact our Support Team and get all possible questions answered in a short period.
Start Full Migration
At this point, you may start Full Migration. You will be asked to fund your account if there is not enough money to perform the migration. Provide a discount coupon if you have one in the appropriate field.
What Should You Do Once the Magento to Shopify Migration Is Completed?
Despite the fact that the Magento to Shopify migration is now finalized, your new store may still have a long way to go before it's "launch-ready." There are a few more steps necessary to take to ensure that your Shopify store functions properly, and no data is lost.
Test your Shopify store
Even if you've gone through the migration procedure seamlessly and error-free, you still need to perform a post-migration audit. Take time to check your new store for possible issues. Make sure the domain name is active, and the navigational links are working correctly. Then go to the frontend to see if the products are visible in catalogs, and onsite search is working. When done, go through links in menus, header, footer, and inside the pages. To finalize your new Shopify store testing, perform a test purchase to see if everything runs properly. Do that a few times to be safe.
Find the apps you need with Shopify store
There are over 1,000 apps provided within the Shopify's marketplace, so you shouldn't have much difficulty finding extensions to take the place of those that you've previously used in Magento.
Invite customers to reactivate their accounts
Firstly, notify your customers about the ecommerce platform switch and ask them to inform you of any glitches found – this way, you'll get your new Shopify store up and running very fast. Besides, it is necessary to invite customers to reactivate their accounts at Shopify. You can make use of the app called "Bulk Account Invite Sender" to send an invitation to all your customers.
Conclusion
With all that being said, we've compiled all the above-written must-do activities into a short checklist for you to follow. Surely, it's not a definitive list, you'll probably need to add some more points, but it's a great starting point.​ So,
Magento to Shopify Migration Checklist:
Pre-Migration Tips

Prepare your Magento store

Back up data
Perform Magento store data audit
Find Magento store access details

Prepare your Shopify store

Get your Shopify store ready
Choose a theme
Install the necessary apps/features
Estimate the exact migration price

Migrate Magento to Shopify Automatedly

Provide shopping carts' info
Select data for migration
Specify additional migration options
Map customer groups & order statuses
Map countries, languages & currencies
Run free Demo migration
Start Full migration

Post-Migration Tips

Test your Shopify store
Find the apps you need with Shopify store
Invite customers to reactivate their accounts
Well, that's it! Hopefully, this all-the-way guide will help you go through the process of replatforming from Magento to Shopify easily.Besides, you can take advantage of Cart2Cart Academy that is equipped with lots of useful tips, practical suggestions, and comprehensive tutorials - everything required to make your Magento to Shopify jump as trouble-free as possible. Now you can reap the benefits of using Shopify to help grow your online business in the best possible way.
Have you already made the jump from Magento to Shopify? If so, what were the difficulties that you issued during the switch? Share your story with us in the comments section below!