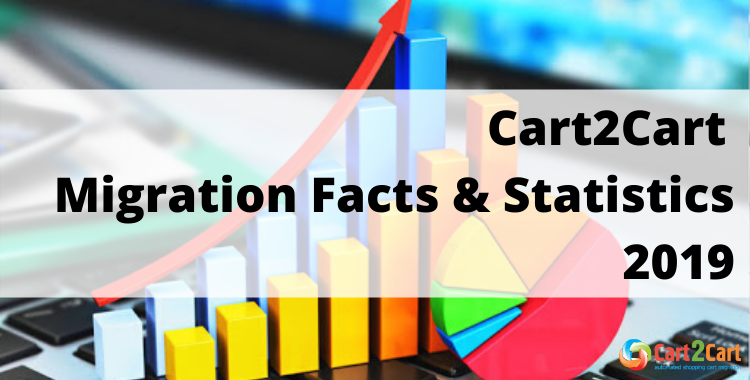 Having performed an in-depth analysis of Cart2Cart internal migration information, we're now ready to name the eCommerce leaders of the previous year, as well as the platforms that have lost the top market positions in 2019. The post doesn't intend to belittle or alter any of the shopping carts. The aim here is to simply provide valuable information about the migration trends and statistics for you to be aware of the current state of the eCommerce market and migration opportunities.
The technological landscape is constantly evolving, offering new and better products on a consistent basis. When it comes to eCommerce, there are currently thousands of shopping carts floating around the web each coming with its ins and outs. To stay on top of the competition, online entrepreneurs often leave one shopping cart in favor of another. And that's where Cart2Cart plays a major role allowing to switch across different shopping carts without any data loss and business interruption.
Therefore, today we've decided to delve into our inside statistics of the previous 2019 year about top ecommerce platforms migration data. As usual, we have broken down the numbers into categories, beginning with the main reasons for eCommerce replatforming.
Why Do Store Owners Perform eCommerce Migrations?
With the advent of various shopping cart migration tools, eCommerce migration has stopped being something that online entrepreneurs tend to avoid. Nowadays, it's a common procedure among store owners willing to take their web project a level up with a more sophisticated shopping cart.
In fact, there are lots of reasons why online store owners decide to leave one shopping cart in favor of another. However, the answers provided by the Cart2Cart clients can be grouped into major 3 categories:
Financial (21%). Upkeeping and maintaining the web project expects huge financial investments.
Technological (47%). There is no functionality required for further business growth or the current platform is out-dated and no longer supported by the developers.
Marketing (32%). You or your marketing department find it hard to effortlessly manage the store content and face the integration problems.
With all that being said, let's now clarify the shopping carts that e-merchants were migrating to/from in 2019.
The eCommerce Dominators of 2019
Having analyzed the in-house Cart2Cart statistics of the previous year, we've determined top shopping carts that entrepreneurs most frequently migrated TO and tried to escape in 2019. Let's start with the first ones.
Platforms the Most Migrated TO
As illustrated below, the most demanding shopping carts that merchants have chosen to migrate TO during the previous year, Shopify has proved itself as the most popular one with its 46%. Then comes WooCommerce counting for 32% and Magento with its 9%. OpenCart and PrestaShop end the top 5 with their 2% and 4% correspondingly.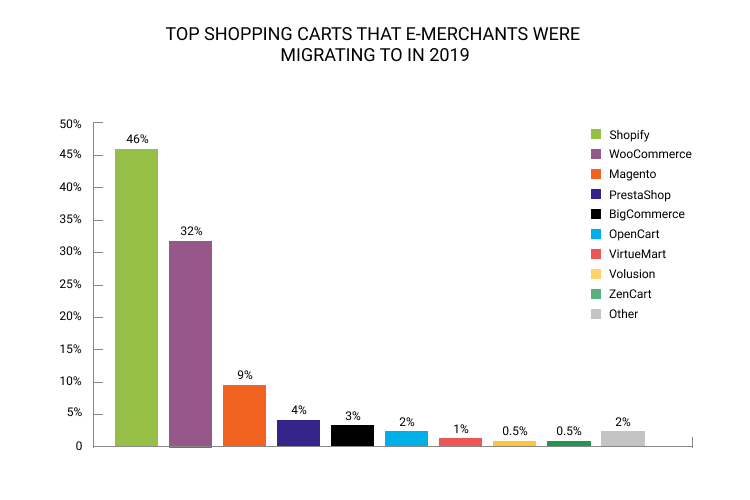 If compared with 2018 data when WooCommerce held the dominant position, in 2019 Shopify takes the cake being the target platform for the majority of store owners.
Why Is Shopify So Popular?
Started in 2004, Shopify is currently treated as the leading shopping cart that is trusted by more than 1,000,000+ active businesses of various shapes and sizes all over the globe. Below are the key reasons why merchants choose this shopping cart among dozens of other ecommerce solutions available at the web market:
Easy Setup;
Big Collection of Themes;
Great SEO;
Blogging Functionality;
Diversity of Add-Ons;
A Wide Range of Payment Gateways;
Cost-Effectiveness;
Unlimited Scalability;
High-Security Standards;
Professional Customer Support.
For more in-depth and detailed info on why so many entrepreneurs all over the world choose Shopify as a platform to power their online business - take time to read the post What Makes Shopify the Best eCommerce Platform to Migrate To.
Platforms the Most Migrated FROM
When it comes to the top eCommerce solutions that store owners were leaving in 2019, Magento turned out to be the prevailing migrated-from eCommerce solution. OpenCart, Shopify, and WooCommerce take the second position with 11%, 11% and 10% accordingly. Then go BigCommerce, PrestaShop, and Wix (9%, 8%, and 7%).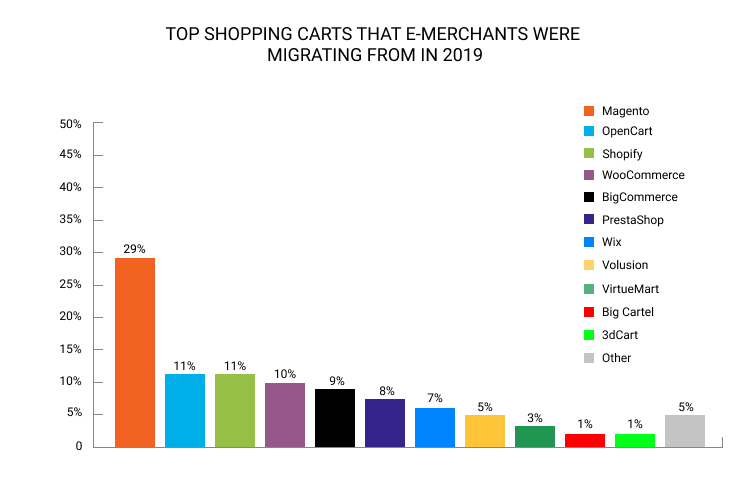 Note: Don't be deceived by what these numbers/percentages show - that doesn't necessarily mean that one platform is better/worse than another. In fact, deciding between various shopping carts depends not only on business purposes but also on the size of the business, the entrepreneur's expertise, budget, etc.
Open-Source vs Hosted
In fact, there are different criteria to decide between various shopping carts, but the open-source vs hosted principle usually brings the most confusion among store owners. Basically, both open-source and hosted shopping carts have all the functionality required to fulfill even the most demanding business requirements.
However, such benefits as greater customization possibilities and open access to the cart's core code have made 3 times more Cart2Cart users gravitate towards open-source eCommerce solutions than hosted ones.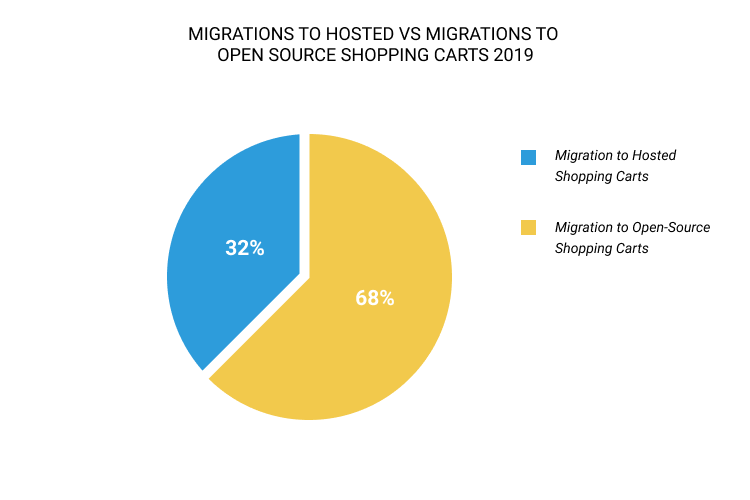 Despite the fact that most e-merchants still prefer open-source platforms to settle their online business on (68%), the latest trends reveal the fact that hosted platforms are constantly increasing in their popularity (if compared with the previous years, e.g. 2018).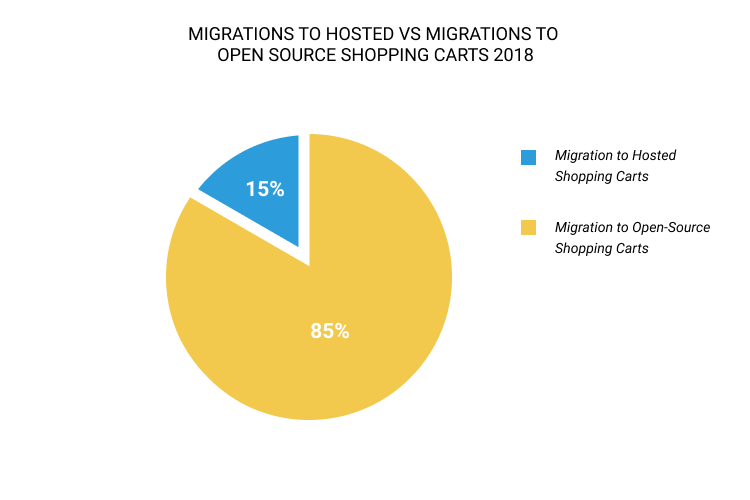 Generally speaking, hosted solutions are getting more popular with each passing day mainly because of Shopify market domination. Besides, lots of new platforms that currently become available on the web market are also hosted.
Final Slice
In our constantly evolving and changing eCommerce market online entrepreneurs often find it difficult to monitor the market situation. Therefore, we hope that the above-mentioned statistics will help you to be in the know, allowing you to make deliberate market decisions in the future.