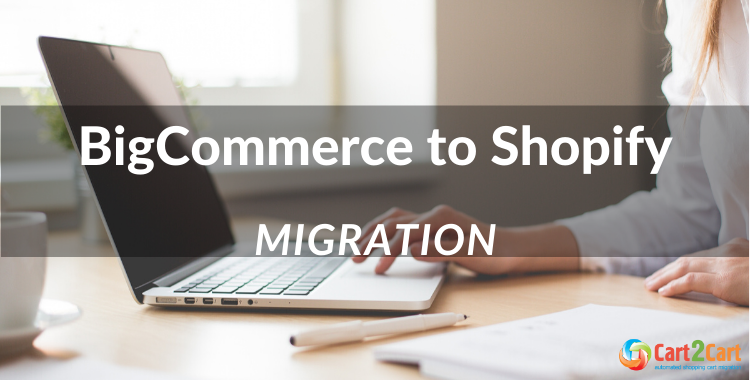 With the rapid improvement of technology, the eCommerce replatforming is an inevitable decision for every merchant.
Most entrepreneurs are afraid to transfer their store to a new eCommerce solution, considering it to be too risky. And therefore, try to avoid it as long as possible. But if you are among those who have already realized that time for upgrading has come - congratulations, that's the first step. In case BigCommerce to Shopify migration is on the horizon - our detailed step-by-step guide will help you overcome all the arising difficulties.
BigCommerce vs. Shopify
BigCommerce and Shopify are both powerful shopping carts that come equipped with tons of useful features for building an online business. Both are famous for their ease of use, competitive pricing, attractive web design, etc., therefore choosing the right-your-size solution between them is quite a complicated task.
Each of the carts has its strong and weak sides, as well as target customers. To be more specific, BigCommerce is an excellent choice for those looking for a platform with further scaling opportunities and custom features. However, since more and more business owners opt for simplicity, thus they tend to migrate to Shopify - the solution, which allows them to set up a good-looking store in a minimum period of time.
In terms of popularity, Shopify goes far ahead of BigCommerce, and currently powers 18% of global websites. While BigCommerce has 3% of market share.
The same is proved by Google Trends - Shopify's popularity has rapidly grown over the last five years. According to statistics, in October 2019, Shopify has surpassed one million merchants worldwide. Its total revenue in the third quarter was $390.6 million, a 45% increase from the comparable quarter in 2018
How to Migrate from BigCommerce to Shopify: Which Option to Choose?
When it comes to transferring a store from one platform to another, retailers usually consider the following options:
They can either do it themselves, i.e., by importing all the data from BigCommerce and exporting it to Shopify, and also additionally copying all the images and updating navigational links. In order to succeed and not to damage the overall performance of the store, one should possess at least a set of minimal tech competencies. This way of migration is considered to be time- and effort-consuming and does not always lead to the expected results.
Alternatively, you can hire a developer or even a whole team of professionals to get the job done. It's practically the delegation of authority in data transfer to a 3rd party. This option is an excellent solution for those store owners, who are not that tech-savvy and who are ready to spend some extra money on the development of their business.
Nowadays more and more people opt for automated migration, and ecommerce automation is among the Top 6 trends for 2020. The tech industry is rapidly growing and automated migration services (like Cart2Cart) are constantly developing. Its primary benefit is that it doesn't require deep technical knowledge and lots of human involvement. All you have to do is to choose Source and Target carts, decide on the entities to be transferred, go through Free Demo Migration and launch full BigCommerce to Shopify migration.
As you can see, each option has its strengths and weaknesses, and it's up to you to decide which type of migration to choose. Today we will focus on an automated migration, lead you all the way through it and try to explain its peculiarities and stumbling blocks.
How to Migrate from BigCommerce to Shopify. The Most Common Questions
As we've already mentioned, many entrepreneurs consider the process of ecommerce replatforming overwhelming and time-consuming. Thus, prior to making the final decision they usually ask the following questions:
Is there a chance I could lose some data?
If you've been running a store for some period of time now, then you've probably collected a considerable amount of data. Usually, merchants do risk losing some of the information in the process of manual migration. But Cart2Cart offers its customers a service that aims to transfer all the selected entities automatedly. At the same time, we strongly recommend reviewing your store's content and deleting all the unnecessary information. This will ease and speed up the replatforming.
How long will it take to migrate my store?
Needless to say that ecommerce migration/replatforming is not a one-click affair at all. However, turning to automated tools (like Cart2Cart) to get the job done will spare you the unnecessary troubles of doing it all by yourself. At the same time, one should understand that the speed of migration depends on the number of entities to be transferred and the current Shopify's pricing plan.
Will my SEO be damaged?
Moving from BigCommerce to Shopify may sometimes influence the traffic and search results of your store. To avoid that one should focus on the structure of the future website and set up 301 redirects. Also, feel free to take a look at our post on SEO Migration.
When will my redirects start working?
Almost all retailers worry that redirects on their future Shopify store won't work. It is important to understand that these redirects are being created in the process of Cart2Cart migration and they will become active once the transition is over. Also, we recommend you to use the additional option "Create the 301 redirects on your target store after migration" that ensures the safety of all the redirects.
How to Migrate from BigCommerce to Shopify Automatedly?
In short, automated migration includes:
Setting up Source and Target stores
Choosing data you want to migrate
Running Demo migration
Launching Full migration
The whole process of switching platforms may seem time-consuming and complicated. However, following these simple steps will help you perform the migration from BigCommerce to Shopify seamlessly and risk-free:
BigCommerce store preparation
Perform data analysis
Ecommerce systems have the tendency to grow over time, therefore, your store may contain outdated or incorrect data. The migration process is a perfect time to audit all the information (e.g., product detail, categories, passwords, orders, reviews, etc.) and edit or delete everything that you consider to be unnecessary.
Prepare BigCommerce access info
Make sure you have all the necessary BigCommerce credentials - the URL, API Path and API Token.
Shopify store preparation
Set up an account
Get your Shopify store ready by creating an account and starting a 14-day free trial. After filling in all the necessary information, the system will assist with the migration process and provide all the needed tips.
Choose a theme
Keep in mind, that you won't be able to migrate your BigCommerce store design. Although, Shopify has a variety of themes (both free and paid ones) to choose from. You can either select it before or after the replatforming. But remember, it is advised to use a default Shopify theme at the very beginning of the setup process and make no customizations to it, since such actions may interfere with the migration process.
Calculate the migration price
The price of BigCommerce to Shopify migration is flexible and will depend on the number of entities to be transferred, as well as other additional options. Our Migration Estimator will help you calculate the exact cost of a specific shopping cart replatforming.
BigCommerce to Shopify migration. Cart2Cart Step-by-Step Scenario
If you've followed the above-mentioned steps, get ready to start the migration process. First of all, go to the Cart2Cart web page and launch free demo migration.
Alternatively, you can benefit from the Cart2Cart Store Migration App to facilitate the process of BigCommerce to Shopify migration even more.
Setup Your Shopping Carts
Adhere to the Migration Wizard and set up your BigCommerce and Shopify shopping carts.
First of all, choose BigCommerce from the drop-down menu and paste your current store's URL.
Also, to perform BigCommerce migration you have to provide the Client ID, API Path and API Token from the admin account. Please, find a detailed guide on how to do that in our FAQ.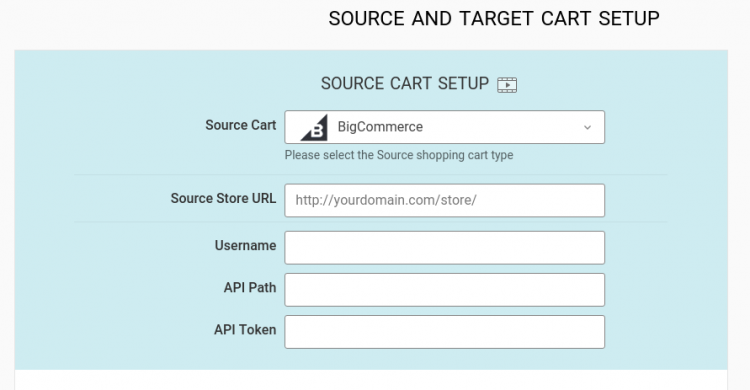 To set up your Target Cart, choose Shopify from the pop-up list and click the "Install Plugin" button. Then you will be transferred to the Shopify website.
To complete the login process, please, provide your store's URL and proceed with the app installation.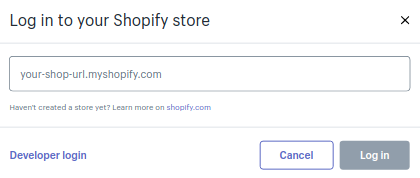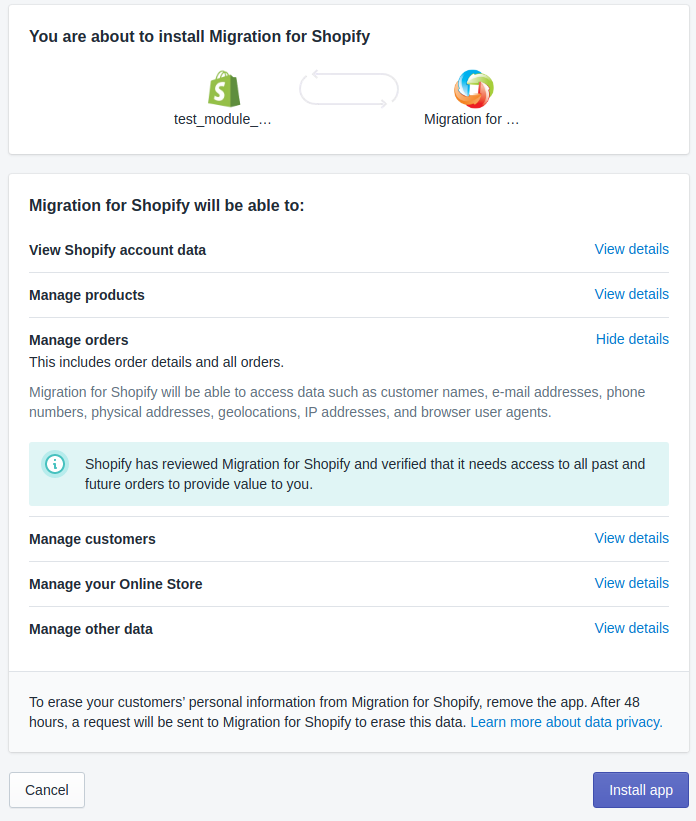 Pay attention that Shopify's Shipping Settings allow users to choose countries they're planning to sell goods to. So, if your BigCommerce settings include countries that are not specified on your Shopify's account, keep in mind that some orders will be omitted during the migration. To avoid that, follow the guide and add all the necessary locations to Shopify's configurations before the replatforming.
Choose entities you wish to move from Bigcommerce to Shopify
Now you have to pick entities you wish to transfer to the new Shopify store (you can either choose to migrate separate items like Products, Customers, Orders, Blogs, Coupons or click on the "Select All" box).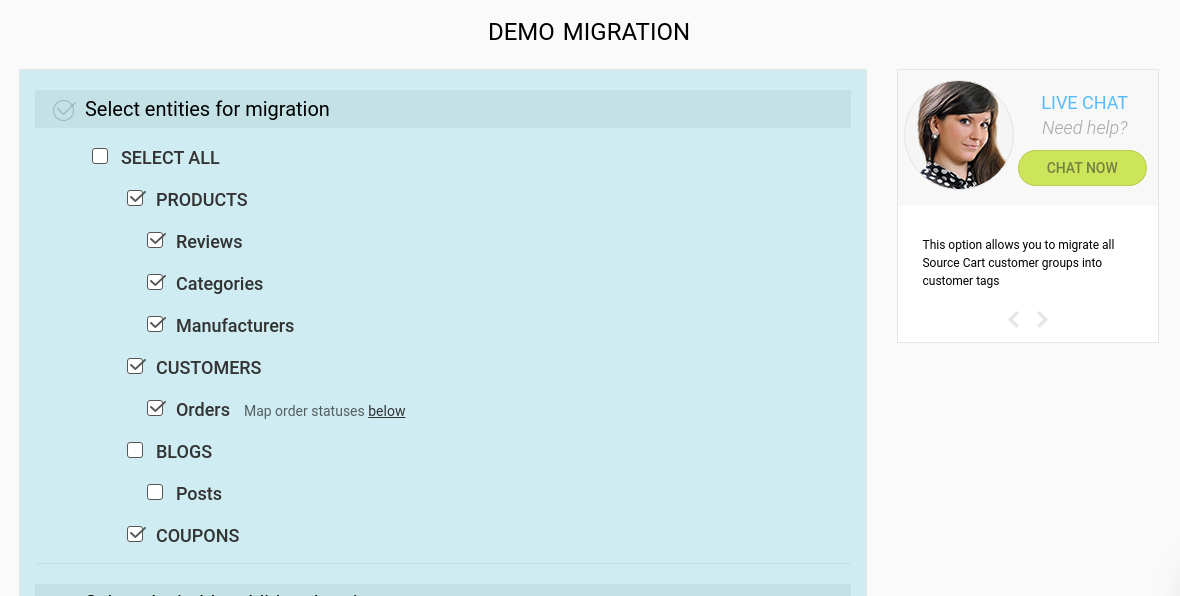 What can be migrated from BigCommerce to Shopify?
Cart2Cart can transfer the following types of data:
Products (names, descriptions, base and additional images, statuses, prices, meta titles and descriptions, etc.)
Product categories (names, descriptions, statuses, images, meta titles and descriptions, etc.)
Manufacturers
Customers (names, emails, shipping and billing addresses)
Orders (IDs, statuses, prices, comments, emails, billing and shipping addresses, etc.)
Coupons (names, codes, discount types and amounts)
Reviews (date created, rates, user names, comments, products, titles)
Blog posts (titles, full and short descriptions, tags, SEO URLs, authors, redirects, images)
Additional migration options
To make the transition process from BigCommerce to Shopify more flawless, users can choose additional migration options. Please note that some of them are provided for an extra cost (in case of Full Migration).
Migration from BigCommerce to Shopify supports the following options: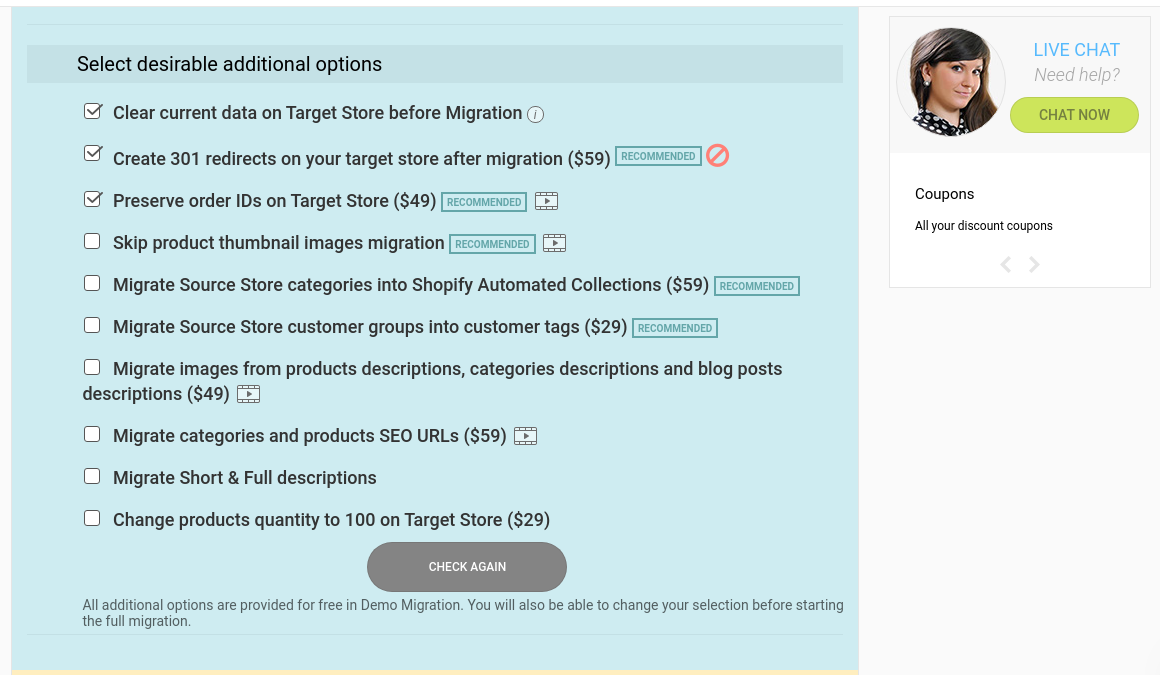 The two shopping carts differ in store organization, namely, Shopify has a specific system of categories (collections) and subcategories (tags). Thus, your source categories will be transferred into Shopify collections, and products will receive tags according to the subcategories of the source store. That is why to guarantee the proper arrangement of entities in the Target Store, it is strongly recommended to choose "Migrate Source Store categories into Shopify Automated Collections" option.
Due to the same specific system of Shopify's categories it is impossible to transfer URLs unchanged. Hence, it is better to choose "Create the 301 redirects on your target store after migration" option, thereby ensuring 301 redirects for the links to your old store.
In case you want to keep your current store's URLs after the migration, you can choose the option "Migrate categories and products SEO URLs". By doing so you will save your old customers and store's SEO. Be aware that the overall look of Shopify's store URLs will be slightly changed.
In order not to mix and duplicate data during the transfer Cart2Cart provides its customers with the "Clear current data on a Target Store before migration" option. If you decide to use this option, please note that the deleted data can not be recovered.
Map languages
Unfortunately, due to its peculiarities, Shopify doesn't support the migration of languages. But, at the same time, this solution has a few applications that allow merchants to make their stores multilingual.
Map currencies
Due to Shopify's technical capabilities, the migration of currencies is not possible. All the prices will be set in the default currency established in Shopify, regardless of the currency in the Target store.
Map order statuses
If you decided to transfer your orders, you can map certain order statuses from your Source cart to the Target cart. BigCommerce and Shopify have different names of Order Statuses. But Cart2Cart customers have an opportunity to go through all of them and specify the variants they should be converted to.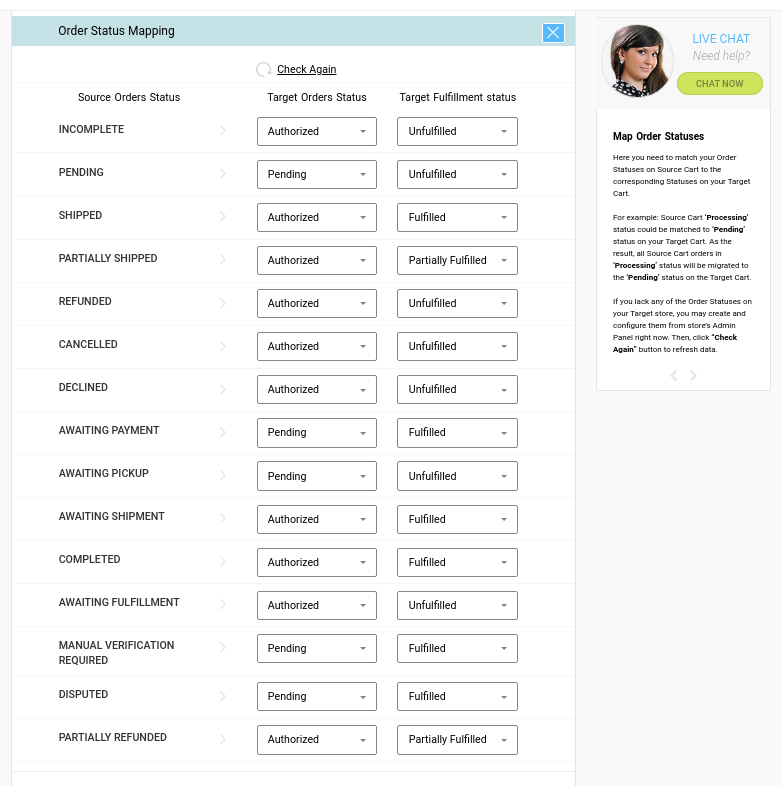 Map customers and accounts
Cart2Cart can transfer all the customers from your BigCommerce store, but in order to avoid mass notifications, their accounts will not be migrated. This guide will assist you in sending the invites to the existing clients, so they could restore their accounts.
Please, keep in mind that during the migration of Customers Cart2Cart Service will create new default unknown email address if the customer's email on the BigCommerce store is not correct. The same will happen during the migration of Orders if they are not linked to certain customers or were created by "guest visitors".
Launch free demo migration
Now it is time to start free Demo Migration. You will have the possibility to transfer a limited number of items in a short period of time (approximately 30 minutes) and check the efficiency of our service and its compliance with your requirements. We recommend you not to skip this step. Also, please do not close your browser window until the demo migration process is over.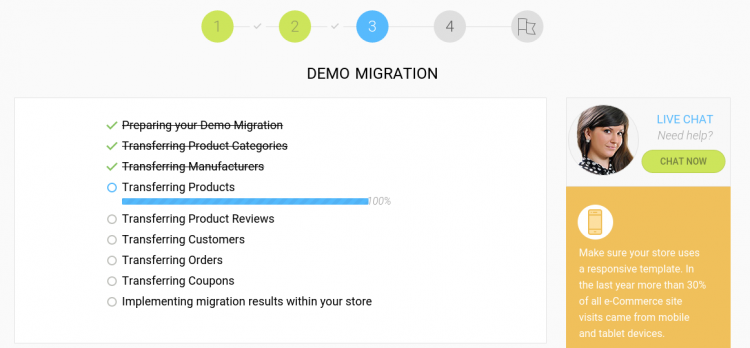 Once the demo migration is finished, check whether all the items were transferred correctly. Remember to check the backend of migrated data, because it may not always be visible from the frontend.
Should you have any additional questions, feel free to contact our Support Team.
Proceed to Full Migration
After completing all the steps mentioned above, you can start your Full Migration from BigCommerce to Shopify. Make sure you have enough money on your account, otherwise you will have to fund it. Also, In case you have a discount coupon, don't forget to use it. You will receive an email notification after the full migration process is over, so it's safe to close your browser window.
Please note that if you have issues with initial migration (e.g., improper shopping carts setup, migration data is damaged, problems with additional modifications, etc.), please request Remigration Service. Thus, you will be able to perform the transition from BigCommerce to Shopify from scratch. This service will cost only 50% off the price of your initial Full Migration.
Post-Migration Tips
Once the migration process is over, you will have to go through your new Shopify store, examine its performance, and determine possible issues.
First of all, check the frontend for consistency and random errors (e.g., whether all the products are visible and categorized, and whether the onsite search is working correctly).
Make sure your domain name is active, also go through all the links (menus, header, footer, and internal pages).
To increase the functionality of your store, consider installing Shopify's apps. The App Store provides users with a wide variety of both free and premium apps that would meet the needs and requirements of the most demanding merchants.
Make a few test purchases to check that everything works properly, and your customers won't face any issues in the future. We advise you to try out the capabilities of your store for several weeks and do not disable your Cart2Cart account right after the migration is finished.
If new products, customers, or orders have appeared on your BigCommerce store during or after the Full Migration, you can use the Recent Data Migration Service, and we will ensure that not a single entity is lost and will transfer it to Shopify.
Another essential thing to remember is that due to Shopify's peculiarities, each transferred order is considered as a new one. Thus, store owners receive numerous alert emails about orders' creation. If you want to turn off these messages, login to your Shopify account, go to Admin panel -> Settings -> Notifications, and press the "Disable" button.
In case you're looking for a platform for a small business, we advise you to check out this post.
BigCommerce to Shopify Migration Checklist:
Pre-Migration Tips

Prepare your BigCommerce store

Perform BigCommerce store data analysis
Find BigCommerce store access details

Prepare your Shopify store

Set up your Shopify store
Choose a theme
Calculate the migration price

Migrate BigCommerce to Shopify Automatedly

Provide shopping carts' info
Select data for migration
Specify additional migration options
Map languages, currencies & order statuses
Map customers & accounts
Launch free Demo migration
Start Full migration

Post-Migration Tips

Check your store for random errors
Install all the necessary Shopify apps
Perform recent data migration (if needed)
Conclusion
We hope that our detailed guide has helped you make up your mind and perform the migration from BigCommerce to Shopify without any difficulties. Also, if you want to get more useful tips, guides, and tutorials, please check our Cart2Cart Academy web page. We believe that you will enjoy the benefits of using this perfect out of the box solution, and will build a good-looking and reliable store that would bring prosperity in the future.
But if you're still hesitant, remember that one cannot succeed without running a risk. Go ahead and try!