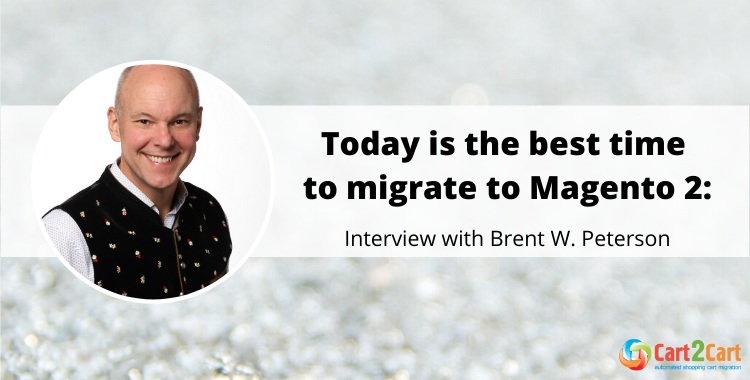 Today we're happy to continue our series of interviews and present you the conversation with the Co-Founder of Wagento.com, Magento Master, and Adobe Insider Brent W. Peterson. He talks about his career path, shares the experience of working with the Magento platform, and provides us with insights on the future of eCommerce. Please, enjoy the interview and do not hesitate to share your thoughts and ideas in the comment section below.
Hello Brent! We are really pleased that you've agreed to answer a couple of our questions. So, you are a Magento Evangelist for Wagento.com. What reasons made you choose such a career path? Tell us a bit about yourself and your company.
I started in the computer hardware business in 1989 and opened my first company in 1992. By 1998 it was clear that it would be difficult to compete against companies like Gateway and Dell computers. I decided to go into programming and started learning ASP + MSSQL.
My first job was with a website called UK homes and I worked 20 hours a day to get ASP to work with Microsoft Access (They said you can export to ASP and it didn't work so automatically).
In 2009, I had a client who said that I could keep doing ASP.NET work or learn this new platform called Magento. I jumped in and the rest is history.
You're an active Magento Community member. What impact did the Community have on your career? What are your thoughts on the empowerment of the Magento community and its contributors?
The Magento community has allowed me to expand my thinking, my attitude, and my knowledge around Magento and open source in general. Because we are all working off a common platform and have a common goal of making it better, we tend to innovate and collaborate. In addition, it is ok to work with others who could be viewed as competitors because we always have the client as a common interest and goal to be happy.
As an experienced ecommerce enthusiast, what kind of challenges did you face in your professional Magento career? What advice would you give to the Magento newbies who consider this platform to be way too complicated? Is Magento the best option to set up an ecommerce store? If so, why?
Learning Magento is the biggest challenge today. M2 is more complex than M1 and the learning curve is greater. I always stayed in touch with what is happening with the product and with the community. I take part in community events like Hackathons and Meetups. Everything is complicated when you first look at it. Once you start playing with and making solutions happen the complication factor is reduced. Magento is the best option for a store owner because you can see it as a quick launch product or a highly scalable, customizable enterprise commerce platform.
More and more merchants tend to switch Magento for more user-friendly solutions. What are your thoughts on the topic? In your view, what is the biggest challenge for Magento these days?
Watch my video
Have you ever worked with some other carts? Maybe you have favorites among the other shopping solutions (apart from Magento)? Which platforms do you consider to be the main competitors of Magento?
I have worked in BigCommerce, Shopify, and Shopware. Every platform is as easy as you want to make it. What makes Magento "seem" difficult? Because you can do anything you want?
The Magento 1.x era is coming to an end. What would you suggest to those store owners who consider upgrading their stores? What are the advantages of switching to the Magento 2.x?
Today is the best time to migrate to Magento2. The feature set and community support is second to no other eCommerce platform.
Nowadays, store migration has become a common activity for almost all merchants. The reasons for that are simple - the desire for advanced functionality, user-friendliness, and the possibility to take their business a step forward. Have you got any experience with an automated ecommerce migration? What's your attitude towards it? Have you ever used Cart2Cart? What would you recommend to a person who's planning to switch platforms?
We have used Cart2Cart many times and found it a great asset in any store migration. I would highly recommend using Cart2Cart for your migrations from Shopify to Magento.
As Cart2Cart is closely connected with the eCommerce world, we would like to know your thoughts on the current state of things there, especially taking into account the present situation with the global pandemic and the upcoming economic crisis. What are your predictions for the future?
The future of ecommerce is very bright. Today's times are teaching us that we can do business from home and we can order nearly everything online. If you are a small store owner, then having an online store is another valid outlet for your business and you should view it as another storefront. You should invest as much money in your store as you would on a store lease (Monthly rent) + plus all the build-out costs of your store + all the marketing you put into trying to bring people to your physical store.
We'd like to thank Mr. Peterson for taking his time to answer our questions and wish him the best of luck in all his future endeavors. This way of sharing knowledge with our readers is very valuable since it helps them to look at the eCommerce world through the eyes of an expert.
In case you're planning a store migration, we encourage you to take advantage of our free Demo Migration option and move your store's data to another platform risk-free and with minimum effort spent.