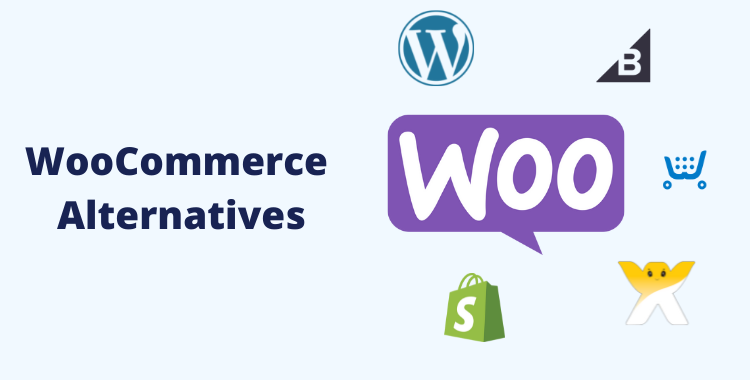 WooCommerce is an ecommerce plugin for WordPress that you can use to build all kinds of online stores. WooCommerce is a hugely popular choice for online stores, with a market share of 28% in 2021. However, there are many excellent WooCommerce alternatives you might want to look at before committing to a platform for selling online.
What Is WooCommerce Alternatives?
The online retail industry is highly competitive, with literally hundreds of ecommerce platforms that power millions of online stores. In this article, we will discuss a few of the more prominent ecommerce platforms that the bulk of websites are built on.
We'll discuss the following WooCommerce alternatives for you to consider. They are all excellent in their own way. We will be looking at Shopify, WordPress, Wix, BigCommerce, and Ecwid.
Don't miss the unique opportunity to test-drive new platform with a free demo migration! Move some of your store's data to see how the service works.
Shopify

Shopify is a hugely popular ecommerce platform that allows individuals to start, run, and grow an online business. Shopify offers user-friendly tools that anyone can use to build a unique online store. Shopify is a prominent ecommerce platform boasting 2,297 million active websites. As an alternative to Woocommerce, the platform does not have much to prove.
Shopify is a software as a service (SaaS) tool that runs in the cloud, so you don't download it. As long as you have access to the internet, you can manage your store from anywhere.
Shopify pros and cons
Pros
The platform is easy to use, with a straightforward interface – even people with no technical background can use it.
Shopify has a fantastic range of really beautiful shopfront themes, including free and paid themes.
Shopify has more than 1,200 apps that can help to automate tasks like accounting, customer service, reporting, inventory, shipping, and more.
Shopify offers 24/7 dedicated support via phone, live chat, and email.
Shopify vs WooCommerce Comparison
Cons
Shopify is an excellent platform for less tech-savvy people, but that means it's not very flexible, and people who need more functionality might prefer alternative ecommerce hosting platforms.
There are only ten free theme templates. For the others, you'll have to pay a one-time fee.
There is a fee involved with using the Shopify apps, but the alternative is to manually do the tasks or get someone to do it for you.
When you have technical issues, you might not get support immediately, but waiting times are generally not long.
Shopify features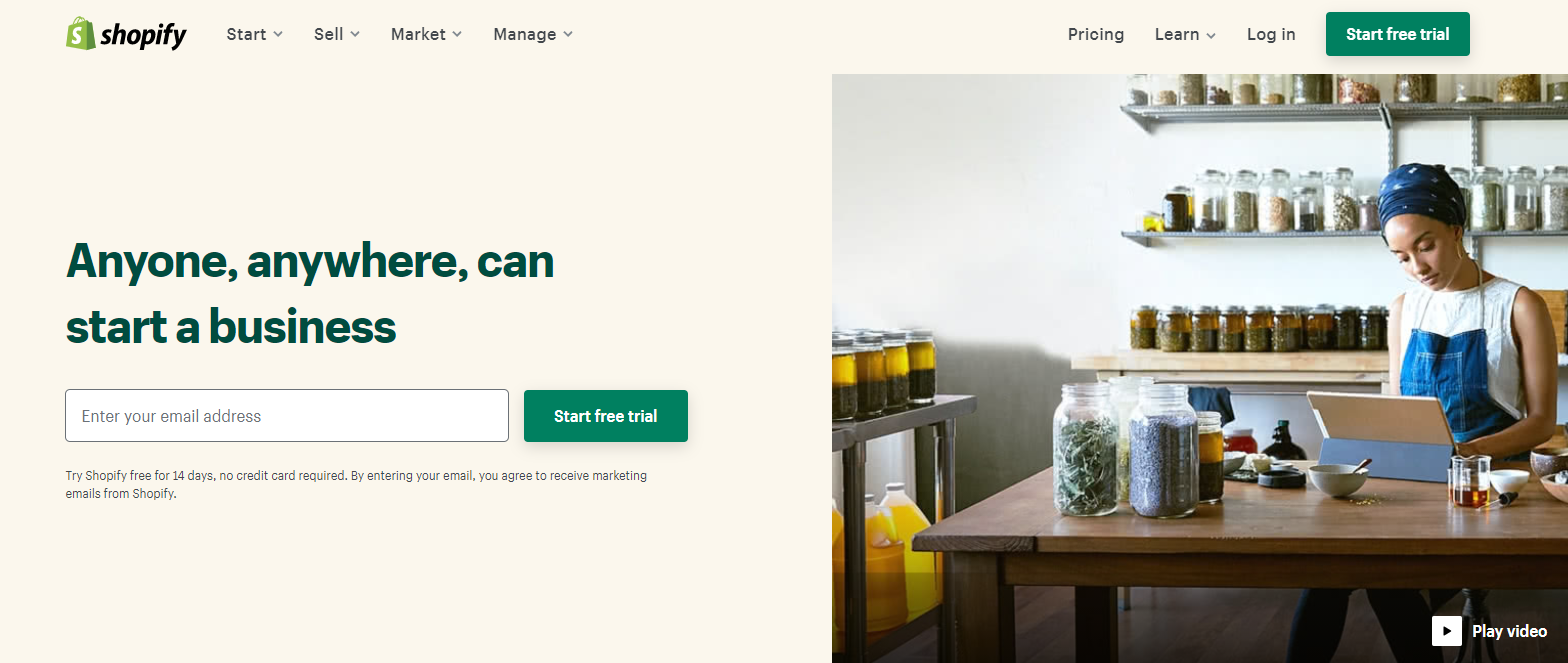 Shopify has a long list of features that enables selling online in a streamlined fashion. Every Shopify plan has the following features:
Unlimited products.
Unlimited bandwidth and online storage.
Shopify point of sale (POS), so you can sell anywhere.
Gift cards that customers can buy and redeem on any device.
Add online sales channels.
Fraud analysis.
Order creation, including manual order creation.
Discount codes as a powerful marketing strategy.
Staff logins so they can perform necessary tasks.
Overview dashboard giving you a bird's eye view of how your store is performing at anytime.
Finance reports for key financial information about your business.
Shopify Pricing
Shopify pricing is as follows: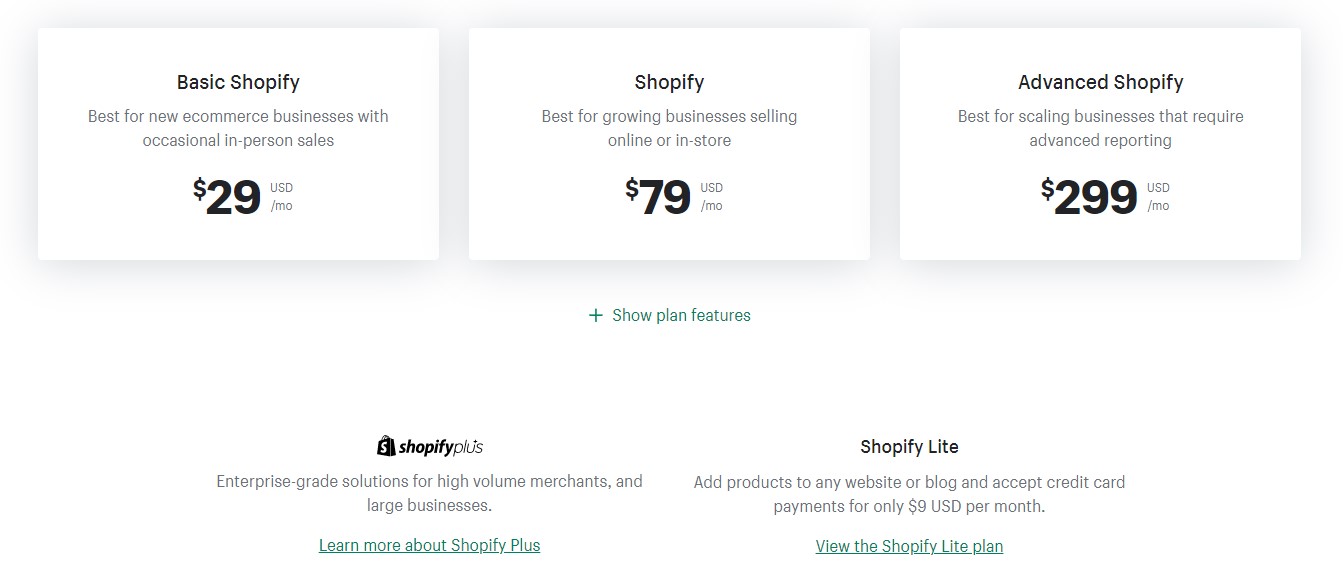 Shopify Basic: $29 per month plus 2.9% + 30¢ per transaction.
The Shopify plan: $79 per month plus 2.6% + 30¢ per transaction.
Advanced Shopify: $299 per month plus 2.4% + 30¢ per transaction.
Shopify Plus: starts at $2000 per month.
Always sign up for Shopify Payments; it is free to set up and involves no monthly cost. Shopify Payments eliminates the Shopify fee, so even if your customers pay through a third-party payment portal like PayPal, you won't be charged an additional fee.
Shopify Customer Care Services
Shopify Customer Care Services comprise Community forums, the Help Center, and Contact support.
Be warned that although you may find answers to your questions on one of the many Shopify forums, the answer may be lost among thousands of responses. It might be less frustrating and more effective to join one of the Community forums. Make use of the advanced notifications and keyword subscriptions in Shopify Community to connect with ecommerce experts worldwide and receive the answers you need.
Access the Shopify Help Center to access all the information you need to help you set up your store.
WordPress

Hosted WordPress, available at wordpress.com, is a SaaS tool with a broad range of features that enable users to build and maintain a personal blog, website or e-commerce site. Almost half of the web (42%) runs on WordPress, including major brands like TIME, TED, USA Today, CNN, Fortune.com, and Spotify.
There is also a self-hosted version with the necessary software available for free at WordPress.org. This requires purchasing hosting through another provider like GoDaddy and installing WordPress software on it. In this article, we'll focus on the hosted option.
Because WordPress is a SaaS tool, you don't have to download any software. With hosted WordPress, you don't pay for hosting or manage a web server. Publishing your website on WordPress.com is free. You can upgrade to a paid version, which allows you to customize your site and choose a custom domain, i.e., https://www.yourwebsite.com
WordPress pros and cons
Pros
All the hosting is done for you, and your domain is registered on your behalf.
Works like a website builder with all the tools you need for a WordPress site.
Requires no coding skills to build a site.
Provides a basic free account with opportunities to upgrade.
Easy for beginners to use.
WordPress is optimized for search engines right out of the box.
Extensive collection of customizable themes to choose from.
Shopify vs WordPress Review
Cons
Since WordPress.com is the hosting platform, users are limited to the wordpress.com URL attached to their domain name.
Limited options to customize your website.
Limited access to plugins; more available on upgrades, but expensive.
Limited ecommerce options unless you sign up for the eCommerce plan.
Limited options for themes, can't add third-party themes on the free plan.
To be able to use some of the more advanced features, you have to choose the Business or the VIP plan.
Only users of the Business plan can benefit from Google Analytics.
WordPress features

WordPress has many features, especially on the paid versions.
Free domain for one year on the Personal plan.
Pre-installed SSL certificate.
Unlimited email support.
Dozens of free themes.
Basic design customization on Personal plan.
Monetization with Premium and Business plans.
Live chat support with Premium and Business annual plans.
Google Analytics integration with Premium and Business annual plans.
Integration with social media platforms.
Sharing, stats, comments, and polls included, no need for plugins.
WordPress Pricing
WordPress has a free option plus four paid plans.

Personal: $4 per month, billed yearly.
Premium: $8 per month, billed yearly.
Business: $25 month, billed yearly.
eCommerce: $45 month, billed yearly.
WordPress VIP: Starts at $2,000 per month.
WordPress Customer Care Services
Being the most popular open-source content management system (CMS) on the web, WordPress has an enthusiastic and helpful community available online. Users have access to support forums and learn more about WordPress by attending a WordCamp or Meetup. There are also loads of blogs posts and tutorials online that can help you.
The WordPress.com blog is also a great source of information on the latest developments and courses, summits, and WordCamps. With the paid versions, live chat support is available 24/7/360.
Wix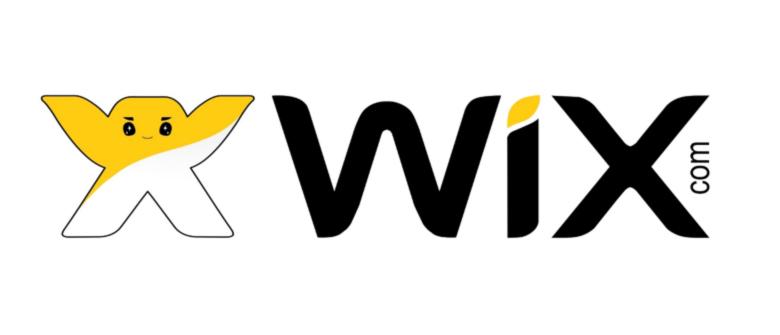 Wix is a drag-and-drop website builder that turns anyone into a website designer. You can use Wix Editor to design your website with total freedom, customizing it as you go, or you can choose from hundreds of stylish designer templates. Wix is an extremely popular website builder used by more than 200 million people worldwide. Wix provides its web hosting.
Wix is known for its excellent drag-and-drop site builder that's fun and easy for anyone to use. If your needs are basic, you can sign up for the free version, and you'll never have to pay for anything. Yet, even your basic website will look stunning thanks to their wide range of professionally designed templates.
If your needs are more advanced, you can go to the App Market for photo galleries, booking forms, and more.
Wix pros and cons
Pros
Wix has both fast site-building capabilities and fast loading speeds. It performs well on all site loading tests.
A wide range of beautiful templates (+500) in many categories, including online stores.
Intuitive drag-and-drop feature that includes a mobile editor so you can see how your site will look on a mobile device.
Very extensive Wix App Market.
The built-in SEO features let your site feature prominently on search engines.
Extensive range of additional features.
Solid customer support in the form of Wix Answers and Wix Videos.
WooCommerce vs Wix In-Depth Comparison
Cons
The free option comes with Wix branding that you can't avoid.
If you want to enable Google Analytics, you must upgrade your plan.
You can't quickly look at how your content will look on another template; you have to manually transfer all your content to see how it will appear.
You can't sign up for the Premium Plan and use it for multiple sites.
You can't change hosting – Wix hosts your website on its servers.
Analytics and tracking require a paid plan.
Wix features

Wix has many features that enable the creation of stunning websites in a short time.
Free HTTPS for more favorable rankings in Google search.
Wix offers two editors: Wix ADI and Wix Editor. Wix ADI (Artificial Design Intelligence) is for complete beginners. You answer a few basic questions and Wix ADI does the rest for you. Wix Editor lets you choose a template, edit fonts, add blocks, drag and drop elements, etc. so you can create your own unique.
More than 800 professionally designed templates.
A good suite of built-in SEO features.
Wix app store (some free).
Comprehensive third-party app store.
Powerful Wix mobile app.
Ascend is the Wix marketing & customer management suite for businesses, available on the Business plans.
Logo maker.
Built-in tool for creating quotations for customers.
Integrated payments.
Automated responders.
Wix Pricing
Wix has a free version and six paid plans.

Free – website comes with Wix banner, and you don't get your own domain name.
Connect Domain $4.50 per month – with Wix banner, but you can get your own domain name.
Combo $8.50 per month – personal use.
Unlimited $12.50 per month – entrepreneurs & freelancers.
Business Basic $17 per month – accept online payments, 24h customer care.
Business Unlimited $25 per month – for growing your business, 24h customer care.
Business VIP $35 per month – priority support.
Wix Customer Care Services
Wix has a separate company, WixAnswers, that is dedicated to customer support. You can get in touch via live chat, use the call-back phone line, or submit a ticket.
BigCommerce

BigCommerce is a SaaS product that offers hosted online ecommerce capabilities. This online store builder powers thousands of online stores in multiple countries across multiple industries. A SaaS platform combines the functionality of ecommerce software with the support of an ongoing service, which entails technical support, hosting, and security maintenance.
BigCommerce pros and cons
Pros
Rock-solid platform stability.
Caters to businesses of all sizes with dedicated consumer and enterprise platforms.
Allows unlimited products (both physical and digital).
Comes with built-in features that eliminate the need for third-party apps.
Supports a legion of payment options.
Comprehensive reporting and analytics.
Good customer support.
BigCommerce vs WooCommerce: Which platform to choose?
Cons
Website design is not user-friendly – there are better alternative options.
Some extra features can be pretty pricey.
Limited free template designs.
App extensions are not always easy to implement.
The WYSIWYG editor is hard to work with and doesn't provide the expected look.
BigCommerce features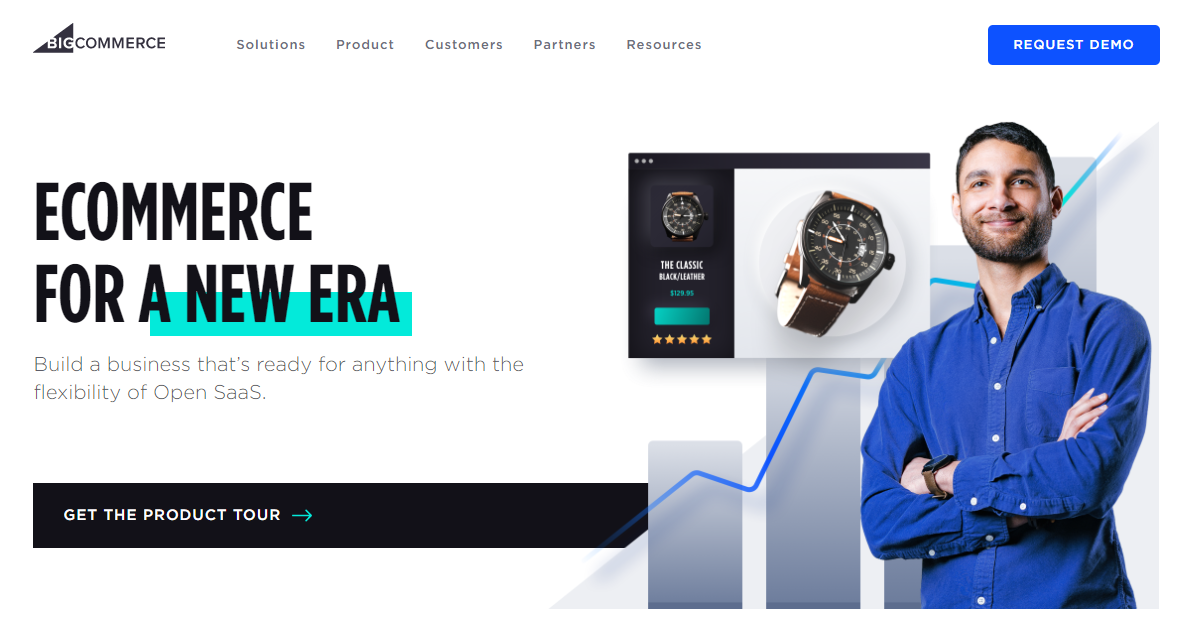 The BigCommerce features are optimized for the creation of reliable online stores.
Unlimited products, file storage, and bandwidth.
Streamlined Checkout.
Flexible discount system, coupons & gift certificates.
Store owners can add product videos.
Bulk discounts.
A simple system for ratings & reviews of products.
Use dropdowns, checkboxes, and size selectors to display different options of the same product.
Abandoned Cart Saver allows for automated email reminders.
Persistent Cart – the shopping cart displays the same on all devices.
Full social media integration.
BigCommerce Pricing
There are four plans:

BigCommerce Standard: $29.95 per month
BigCommerce Plus: $79.95 per month
BigCommerce Pro: $299.95 per month
BigCommerce Enterprise: varies depending on requirements
A 10% discount is applicable on the BigCommerce Plus and BigCommerce Pro with an upfront payment for a year. BigCommerce also offers a 15-day free trial.
BigCommerce Customer Care Services
BigCommerce offers a Help Center where users can type in any question they might have. Support is also offered through phone, live chat, and email.
Ecwid

Ecwid is a SaaS tool for building your own online store. Ecwid is designed to allow users to add an online store to an existing website or on a social media site like Facebook.
Ecwid is short for ecommerce widget. It comprises a few lines of HTML code that you can add to an existing website or social media profile, which then displays a store once the code is inserted.
Ecwid pros and cons
Pros
The free plan is ideal if you have just one or two products that you want to sell on your website.
Adds eCommerce capabilities to any website with a few lines of code.
Very straightforward interface.
Multiple payment gateways available.
Ecwid vs WooCommerce Detailed Review
Cons
The Venture plan is quite restrictive.
Phone support is only available on the Business and Unlimited plans, as are multilingual features.
The POS feature is iOS only; Android users are not catered for.
Limited third-party integration options.
Ecwid features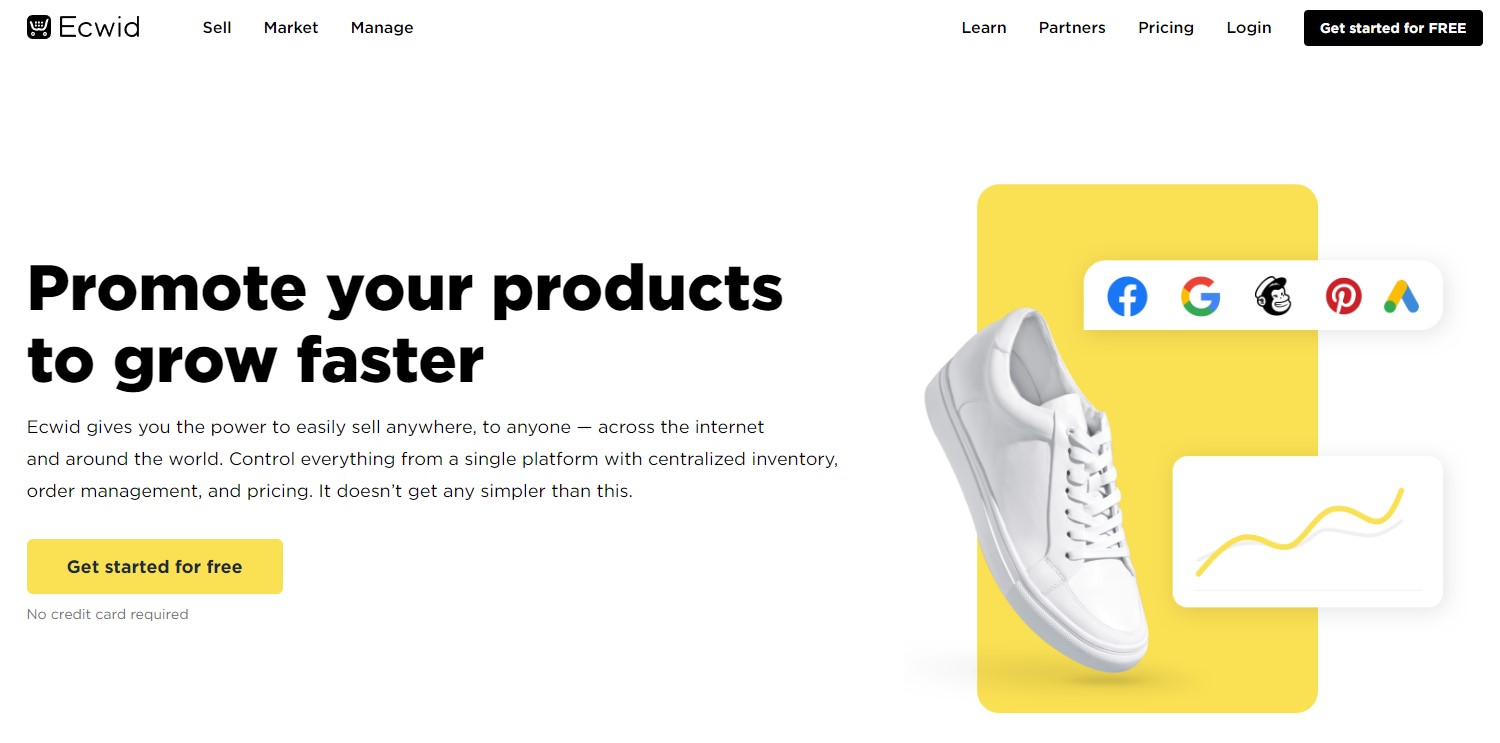 Ecwid comes with all the features you need to create an online store in a jiffy.
Point of Sale (POS) functionality – sell everywhere, online and at physical locations.
Credit card payments via Paypal at no extra cost except for the PayPal commission.
SEO capabilities – easily edit the title of your page and its meta description to suit your SEO needs.
Dropshipping through third-party apps that give access to reliable dropshipping suppliers.
Ecwid "Instant Sites" now enables standalone stores to be set up, useful to start selling before your online store is fully set up.
Charge the correct tax – Ecwid automatically identifies a buyer's country of residence through their IP address and applies the relevant tax rate.
Allows multi-currency selling through the ''Currency Converter'' app.
Provides a comprehensive range of shipping options with real-time carrier quotation functionality.
Ecwid Pricing
Ecwid offers a free forever plan and three paid plans. No credit card is required for the free plan, which allows you to sell up to ten products. All of them have no transaction fees.

Venture: $15 per month / $150 annually – sell up to 100 products
Business: $35 per month / $350 annually – sell up to 2,500 products
Unlimited: $99 per month / $990 annually – unlimited products
Ecwid Customer Care Services
Ecwid offers the following support avenues:
Help Center – an extensive source of information.
Ecwid Support team, where you can send an email and expect an answer within 24 hours.
Hire an expert – users can state their needs and get a free quote on how much a custom feature will cost. If you sign up for the annual Unlimited plan, twelve hours of custom development are included.
Conclusions
When going over these ecommerce alternatives, it's clear that it would be just about impossible to appoint a clear winner as an alternative to WooCommerce. That is because your choice of ecommerce platform would depend on your needs and why you are considering an alternative to WooCommerce in the first place.
All the options have advantages and disadvantages, and they all allow you to build a dedicated website and start an online business.
If you are currently operating on WooCommerce and want to migrate your store to another ecommerce platform, you can easily do it with a free Cart2Cart demo migration. Cart2cart is an automated tool, so you need no technical experience.