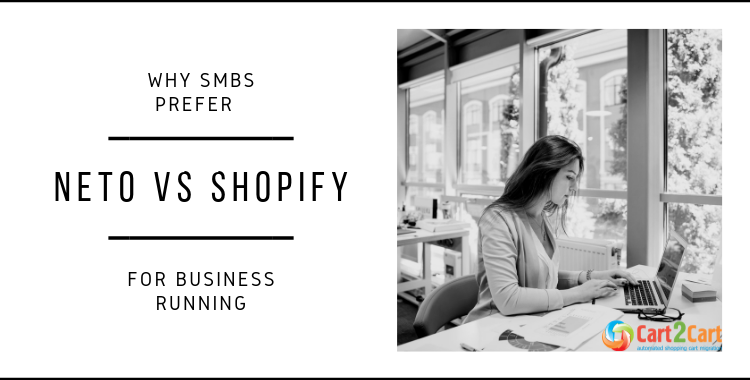 Technologies keep turning our lives upside down. The number of plug and play services is booming, and it shows no signs of stopping. On the flip side, with the variety of the platforms, like Neto vs Shopify, the small and mid-sized businesses can find their eCommerce match.
While Shopify enjoys its hype, so far not many people have heard about Neto. Apart from the essential features of shopping platforms, those two also share scaling and customization options. Those and a list of other things makes Neto vs Shopify a buzz topic for many online merchandisers.
A quick question. Do you believe in love at first sight? Believe it or not, when it comes to eCommerce platforms, it is usually the case. You either like it and keep running your store or migrate to the more convenient one . That's why it's so important to weigh all the pros and cons of Neto and Shopify before the purchase or platform switch.
The ultimate question is twofold: a) where to look? and b) what to evaluate? There are dozens of reviews and "why the X platform is a winner" out there. But stop for a moment. This article is about Neto vs Shopify value for SMBs. We're going to figure out which eCommerce platform will be useful for small and mid-sized businesses.
Neto vs Shopify: What You Need to Know About Selecting an eCommerce Platform.
Let's admit it. Once in a while, we wish our online store took less time and efforts. And we were productive without burning money on platform setting and maintenance. Nowadays, SaaS platforms handle server and security management. But the user interface, setup, and customizations differ more than you could think.
To kick things off, a word of advice – stop creating strategies, to have a strategy. In that way, you will have a clear understanding of your tasks and tools you need to fulfill them. Your next step is to get the testing a platform. The vendors enable a 14 (or more) days trial, so you can see the user interface, try setup product configuration, and see you can work with software.
Then get the rough calculation of overall costs, setting up time, and integration capabilities. Another handful of things to check is inventory management, payment gateways, shipping, mobile responsiveness, customer, and content management.
Probably many online store owners would say that in Neto vs Shopify comparison, Shopify is far ahead. This might sound overly confident, but Neto sparks such an interest as Shopify alternative due to making changes in the functionality based on customers feedback and requests.
A Quick Peek into the Neto's Story
Neto is an Australian-based platform that grows and increases the number of clients. In 2009, it hit the market and supposed to fulfill the founder's - Ryan Murtagh - eCommerce needs. The shopping cart isn't a phenomenon, but it focuses on Australian market requirements and the success of the product from a business perspective.
The general idea is to handle the maintenance, updates, and backups. So you focus on selling and interaction with customers instead of worrying about the website development. To save your potential headache, Neto delivers a point of sale (POS), online package, and integration (via apps and extensions) with other sales channels. The Australian business owners enjoy the most benefits of this platform as Australians built it for Australians.
How Shopify Became a Market Leader
Tobi Lutke, a Shopify's founder, initially strived to sell his snowboarding products online but could find the platform customizable enough to embody his vision. This is how was born the idea of building a customizable, reliable, and affordable eCommerce platform for small businesses.
Since 2004, this plug and play solution got many features and improved many functions. Currently, Shopify is a multi-channel solution that keeps its focus on reducing costs and efforts of maintenance. Once the platform went to international markets, the number of clients hit the 800K business owners around the world.
Shopify doesn't put hands down and works on expanding the markets and offer pricing plans for SMBs and enterprises. Chasing the technology advancements, this eCommerce software allows you to apply Augmented Reality for showcasing your products.
Neto vs Shopify: Choosing a Small Business Platform
Neto vs Shopify has more in common than just eCommerce functionality. The platforms share the idea to provide user-friendly and efficient product for small and enterprise-level companies. However, the shopping carts differ in the functionality. In comparison to Neto, Shopify is more popular and attractive due to the price-feature offers.
The requirements vary, and that depends on strategy, product, and your understanding of where to sell. Some merchants use online store and social media. Others look for a higher margin and add more channels, for example, the marketplaces like eBay and Amazon. Informed means armed. Let's find out what these vendors can provide for small but growing businesses.
Pros
Cons
Neto

Easy to register
Third-party integrations
Reliable support
In-depth analytics
Reliable customer management

Expensive
No dropshipping support

Shopify

Easy to register
Support different eCommerce models
Supports third-party apps and platforms
Reliable analytics
Reliable customer support
Reliable customer management

Most third-party apps are expensive
What Can Neto eCommerce Bring to Your Table?
Neto Medium plan that goes with $199/month provides functions to meet the requirements of small and growing businesses.
If you are intimidated by the limitation on products listing, don't be. Neto canceled this requirement. But you still have to pay a monthly fee ($49) for sales channels as Amazon or eBay.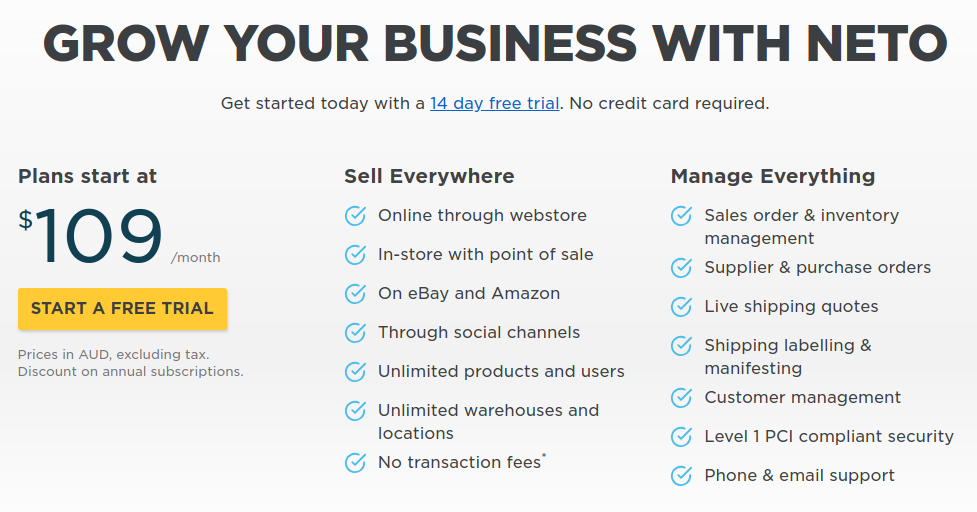 The platform doesn't have transactional fees. Credit card checkout will come with the fees of payment gateways have themselves. Another a bit tricky thing is capped sales (aka an expected annual income). Neto sets $250K per year for this plan. That actually can become a bottleneck for your growing business.
And now let's go to the brief feature overview. The platform has built-in customer, content, and returns management options. If you have multiple warehouses, the multi-location inventory control will serve you great. With Neto, you can send emails to abandoned cart customers, cross-sell and up-sell products, as well as provide gift vouchers and gift messaging.
Having the full access to the HTML, CSS, and JS of your store, you can embody your vision of an online store. Besides, the vendor provides free templates that are HTML-compliant and SEO-friendly.
Neto also has integration with 23 third-party apps (Google Analytics, Zapier, Salesforce, Zoho, Zendesk, Shipwire, MailChimp, PayPal, Stripe, ZipPay, PayMark, and others) to streamline the performance. In terms of security, Neto guarantees 99.9% uptime and an SSL secure shopping cart.
Why Should Shopify Be Your Choice?
Shopify package for a growing business will cost you $79/month. That comes with five employee accounts and selling on marketplaces and social media without extra payments. The single restriction is the availability of the channels in your country.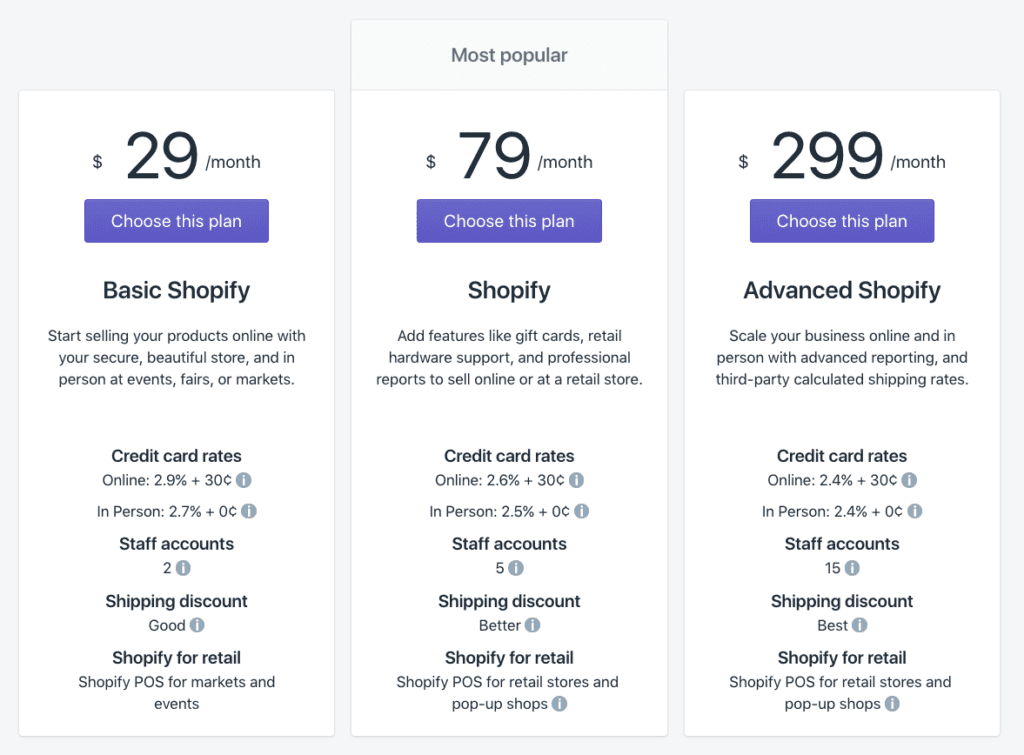 The clients of Shopify have no idea about product listing limits or capped sales. And they can use native and third-party POS at their discretion.
Shopify store includes the website and blog. In the competitive market for winning customers eyeballs, the built-in theme editor and blogging engine will provide you tools for standing out of the typical stores. Shopify theme library is richer in the choice than Neto's.
The essential eCommerce management tools will enhance customer relationship management, abandoned cart, and inventory management (up to 5 location). The standard and custom reports will collect all the insights you need into the processes and performance.
Winning your customers means understanding their needs and foreseeing their desires. That's why discount codes and gift cards on your online store can make a great impact on loyalty.
Shopify App Store has dozens of extensions in multiple categories: places to sell, store design, marketing, sales and conversion, orders and shipping, inventory management, customer support, finances, productivity, and reporting. So you can find your favorite tools and integrate them with your new store.
As for the security, your online store will get an SSL certificate to ensure your and customers' data protected. Shopify delivers a built-in fraud analysis too.
The payments are two-folded: you can use the native solution - Shopify Pay - or add third-party gateways like PayPal, Stripe, Amazon Pay, and others. Thus, every time a customer purchases from you will pay transaction fees.
Neto vs Shopify: Which Is Your Call?
If you are looking for a shopping platform that will aid your business growth, then Shopify turns out to be a good choice. The running costs of Neto and Shopify are a bit different. Despite the lower price, the functionality and performance quality of Shopify is higher. This eCommerce platform was tried, tested, and praised by 800K of business owners around the world. That's a hard fact.
Setting up an Account
The registration on both these platforms is the same. You provide your information, email address, and go to designing your store, importing products, customization, set up payments, and so on.
Neto and Shopify meet you with the left-handed menu. In Neto, each option has its submenu. In the beginning, that might be confusing, but it is quite intuitive. The basic statistics on daily sales or pending orders are at your fingertips. Shopify provides a quick explanation of each function to streamline the workflow.
CRM Management
Neto enables contact management options so you can view and sort out the customers, create campaigns, or run loyalty programs. Besides, your clients can log in and see their orders list. From the third-party apps, it supports only Salesforce, Zoho CRM and Microsoft Dynamics.
Shopify helps you to manage customers information. Once a person has bought something from you, the information provided is stored in a customer list. You can modify the list and each contact. There are also integrations with third-party CRM so you if you already have a CRM, you simply connect it to your store.
Reporting and Analytics
Neto will help you to gather insights into the performance. There are nearly 40 standard reports that cover sales, customer behavior, stock management, staff, and accounting aspects.
As the add-on, Neto offers Analytics Studio. This tool strengthens the necessary reports with
deep level product analytics
cost of goods sold reporting
customer value analytics
performance management
automated reporting
Shopify brings detailed analytics to deliver you data for processes and ROI improvements. The dashboard provides a quick view on
live reports
total sales
sessions
average order value
average conversion rates
You can gather information on customer acquisition, customer behavior, and marketing reports. In case, that isn't enough for you, Shopify App Store has a separate category for reports add-ons. There are available free and paid tools you can use according to your discretion.
Neto vs Shopify - FAQs:
What is Shopify?
Over one million stores are powered by Shopify, the world's most popular eCommerce platform. For beginners, this platform is an excellent choice, since you don't need coding or website design experience. In this way, you can get started quickly, avoid complicated development processes, and focus solely on building your eCommerce business instead.
What is Neto?
Neto is a B2B and multi-channel eCommerce platform that offers users an all-in-one solution for eCommerce, POS (point-of-sale), order management, inventory management, and shipping labels. In Australia, this platform is the only one of its kind.
Neto vs Shopify: The Bottom Line
It all boils down to the fact that groundwork is a way to see the pros and cons more clearly. And in the context of small business running, Shopify proves to be more useful, cost, and efforts-saving. Either way, doing the homework always pays off in the end. So you select the most suitable eCommerce platform for your business needs.
If you are ready to switch your eCommerce platform, then Cart2Cart can help you with migrating from Neto to Shopify. Contact the sales manager to get expert assistance in planning and performing this process automatically.