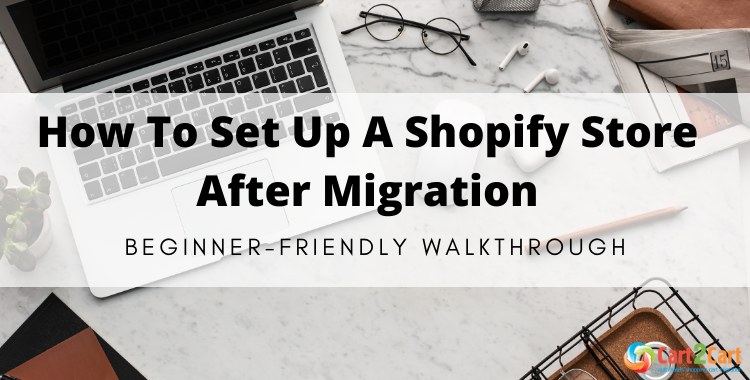 With Shopify being the dominating Target platform according to Cart2Cart migration statistics, we're often asked by our clients what they should do next after migration, and how to get ready to launch their new Shopify store. To help with this, we've put together a beginner's guide with tips on how to set up your new Shopify store right after you've transferred the data from your previous store into it.
We're going to focus on just the most important things and skip the less critical aspects so that you can start selling as soon as possible.
Start customizing your new Shopify store
Configure payments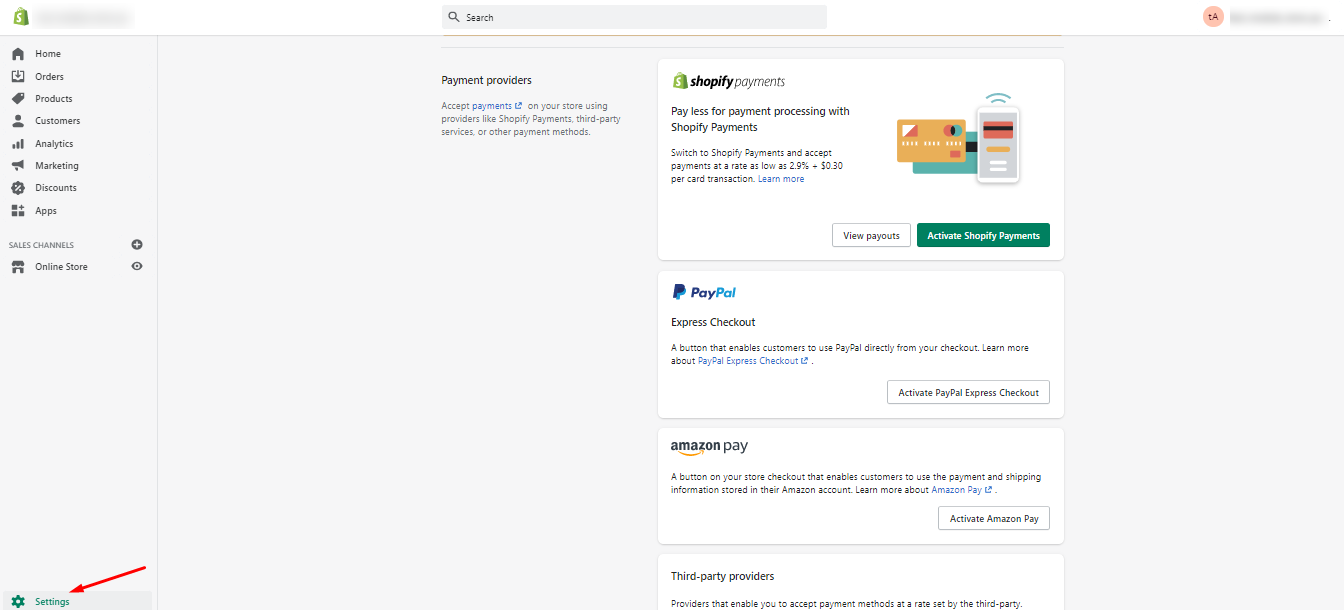 When you have added products to your store and organized them into collections, it's time to configure the comfortable payment process for your customers. Since all the payment methods rely on third-party providers to process the transactions, be ready to pay the extra fees, as well as follow their rules.
There are multiple payment methods to choose from. Below are the most popular among them:
Add site navigation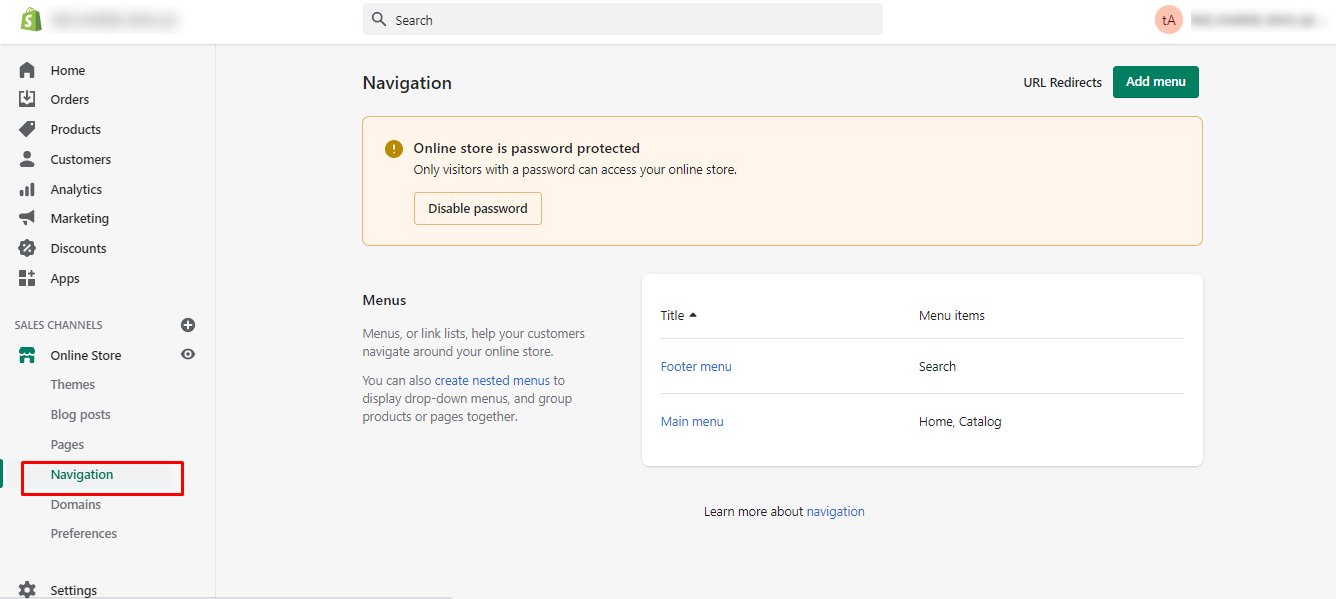 Clear site navigation is important to any online store since it connects your customers with the products and information they're searching for. Customers navigate your online store with the help of menus and links on pages. So take time to customize the menus and links using the following guides from the Shopify official Help Center:
Consider staff permissions
It's the age old question - how much admin privileges should you give your teammates? Well, it depends. Luckily, Shopify provides its Staff Permissions feature. With staff permissions, you can allow other team members to access your Shopify admin using their unique login. This way, you'll be able to control which parts of the admin your teammates can view or make changes to.
Below are some of the most wanted staff permissions guides from the Shopify Help Center:
Set Up Locations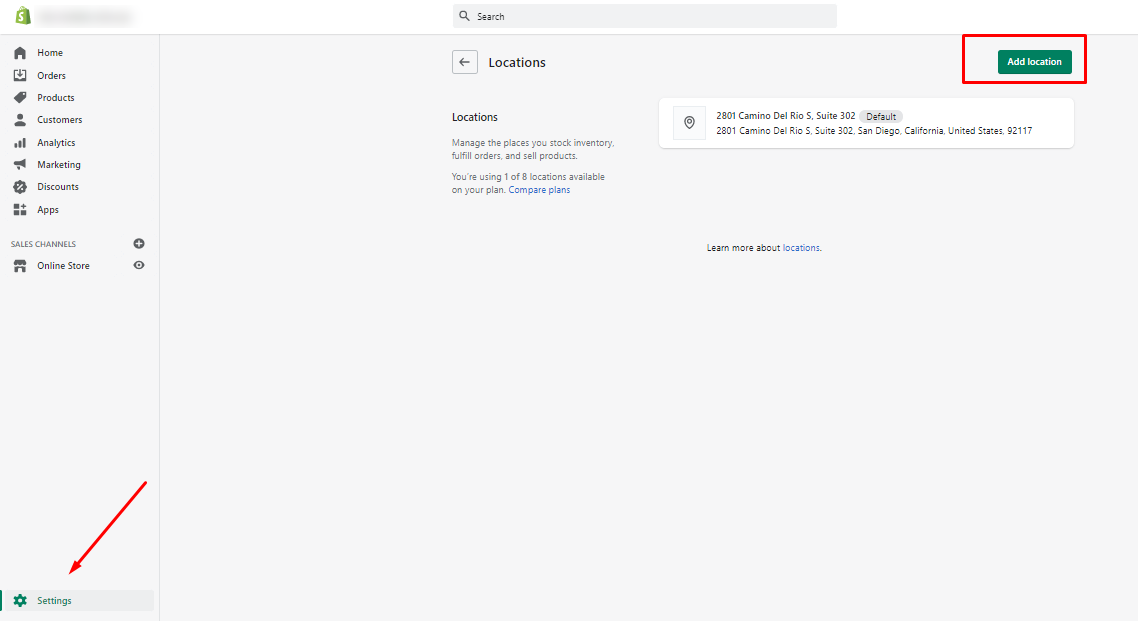 Running an online store doesn't mean that its location doesn't matter. No matter where your store inventory is placed - within your storefront, or a warehouse - keeping accurate counts of the inventory is a complex task. To simplify this process, Shopify allows merchants to assign orders and sales to locations.
With the Shopify's Locations feature, you can add, delete, edit, and activate/deactivate your locations that hold product inventory. It will allow you to track and fulfill orders successfully. Explore some the official guidelines form the Shopify Help Center:
Add policy pages
Whether you're an enterprise-level giant or a small online business, store policies are a key part of running a successful online business. Policy pages aim to give your customers a place to understand how you conduct your business and what to expect from you.
Shopify makes it possible to generate or add your own policies to your store. Make sure to add them on your website early on, before you need them. Once added, policies will be linked in the footer of your Shopify checkout pages.
Make sure to get acquainted with the following official policy pages tutorials:
Set up shipping and delivery methods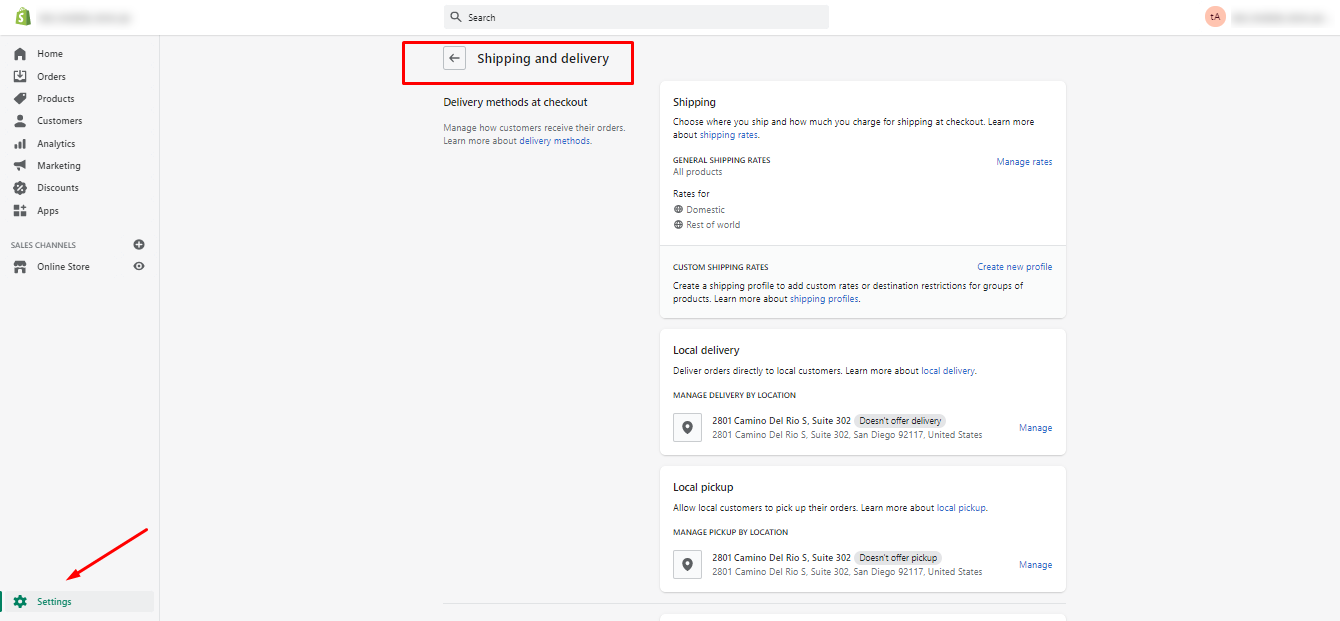 Now is the right time to pay attention to the point which will let your customers finally see your product in person - shipping & delivery moment. With Shopify, you can use shipping, local delivery, and local pickup methods. Take time to explore which one works best for each region you're going to ship to, what your customers want, and choose the most convenient method for you.
Learn how you can offer flexible shipping options and customise your shipping rates in Shopify through the following guidelines:
Consider sales channels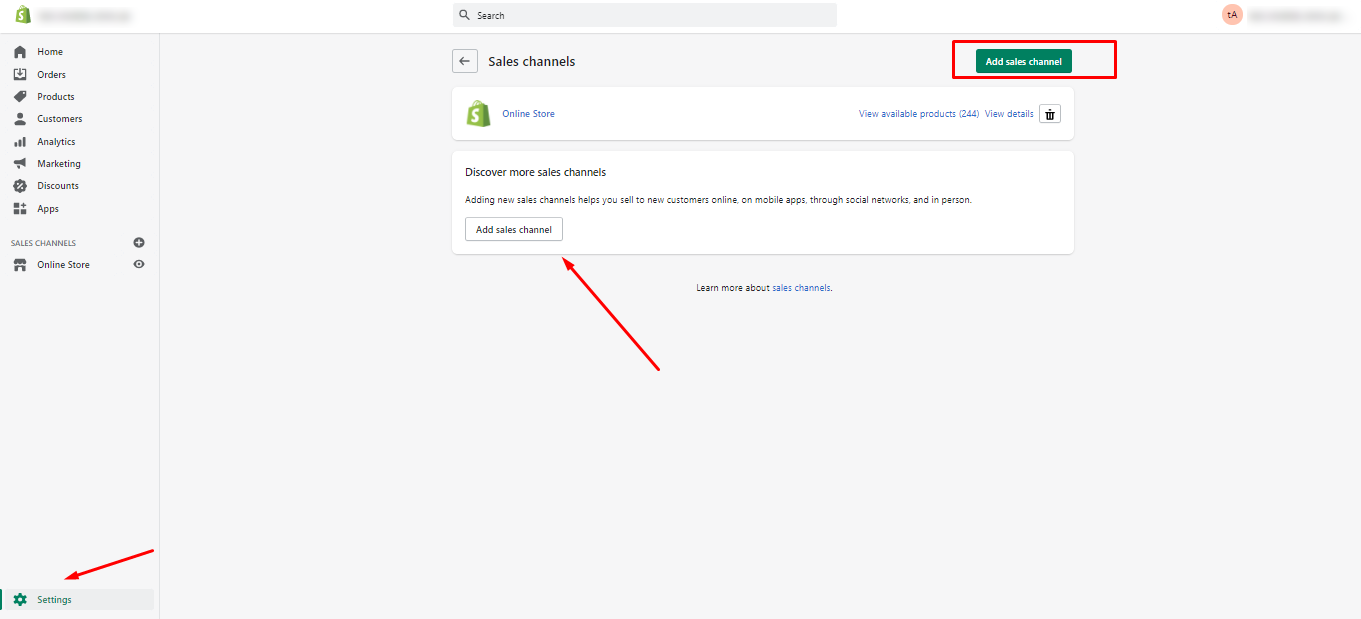 If you want your brand presence to go beyond your online store - you can set up multichannel selling. Shopify has 20+ channels (Amazon, Facebook, Instagram, Messenger, Wholesale Channel, Handshake, etc.) available for integration which allows you to put your products in front of a global audience on the most popular marketplaces and social platforms. You can connect each sales channel to your Shopify store and keep track of your products, orders, and customers in one place.
You can find more in-depth info about sales channels from the Shopify official guidelines below:
Take care of the Shopify SEO
When you have your Shopify store up and running, it is vital to take steps to bring customers to. Hopefully, you've benefited from the Migrate 301 redirects option and therefore preserved your search engine rankings and saved traffic. Though Shopify comes with several SEO-friendly features right out the box, there's so much more you can do to make your Shopify store favoured by Google. Find the most important tips on how you can help customers find your products below:
Configure taxes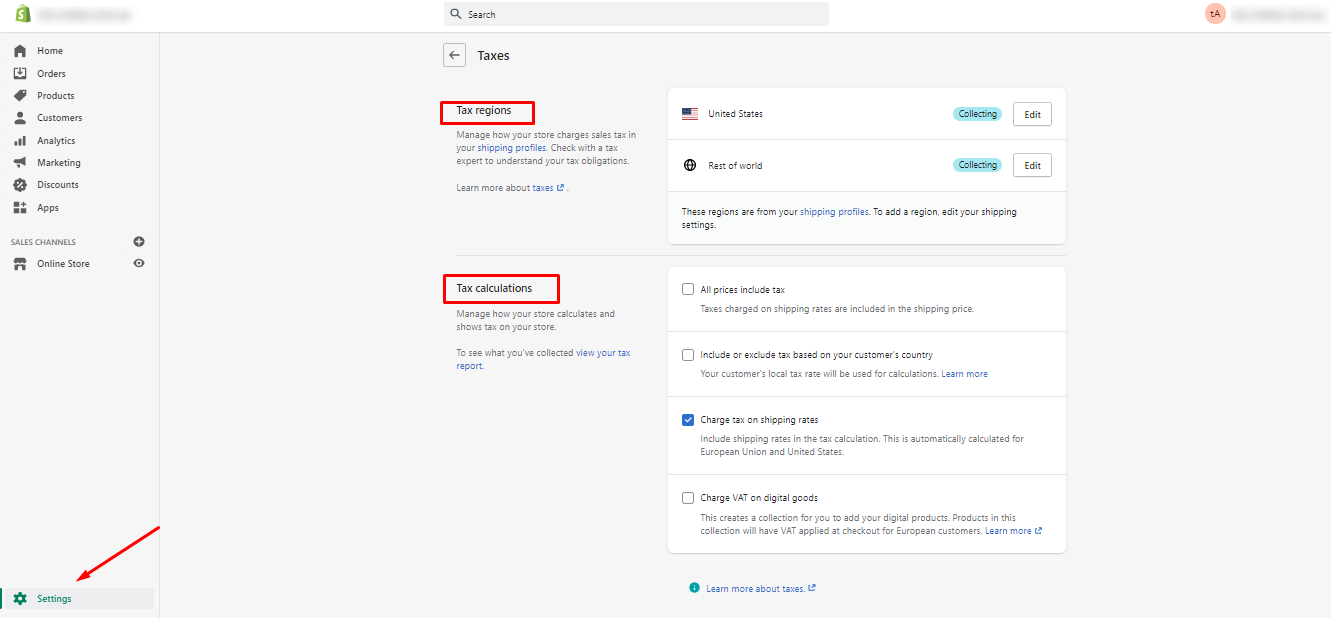 Though tax laws and regulations are not very complex, they're frequently changing. By setting up Shopify correctly, you can simplify the process and give your customers a fast and efficient checkout experience that they expect.
Keep in mind though that Shopify doesn't file or remit your sales taxes for you. You should register your business first with your local tax authority and then set up Shopify to automatically handle most common sales tax calculations.
You can use the following official guidelines on how to set up taxes in your Shopify store properly:
Make your store look unique
Choose the appropriate theme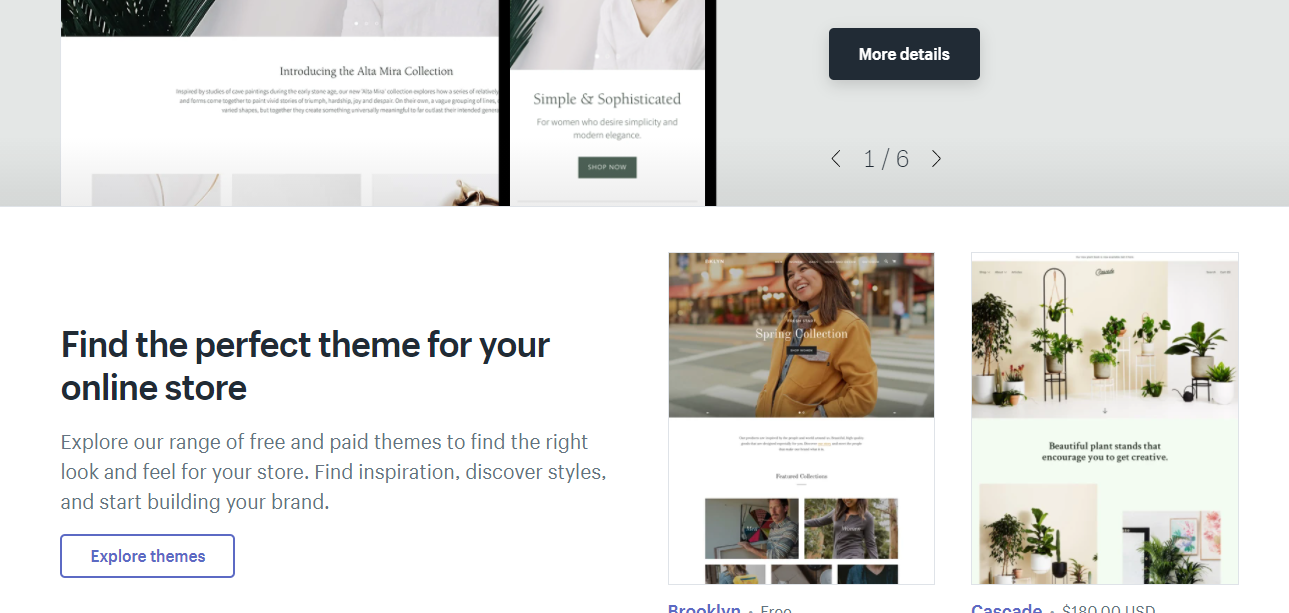 The look and feel of your online store greatly depend on the theme. Shopify makes it possible to do the following:
Choose a ready-made theme. There are thousands of professionally-looking themes in the Shopify Theme Store to choose from.
Customize your own theme. Shopify platform provides its users with a functioning look and feel, but with a little knowledge of CSS, Liquid or Timber you can optimize your store according to your specific business needs. Find the most critical tips about theme customizing below:
Consult experts
If you need help in designing your Shopify project, there is a network of web design companies and agencies which will be happy to give you a hand of help. Below is a brief account of the leading Shopify companies that we've carefully vetted for you.
Supercharge your Shopify store with the useful apps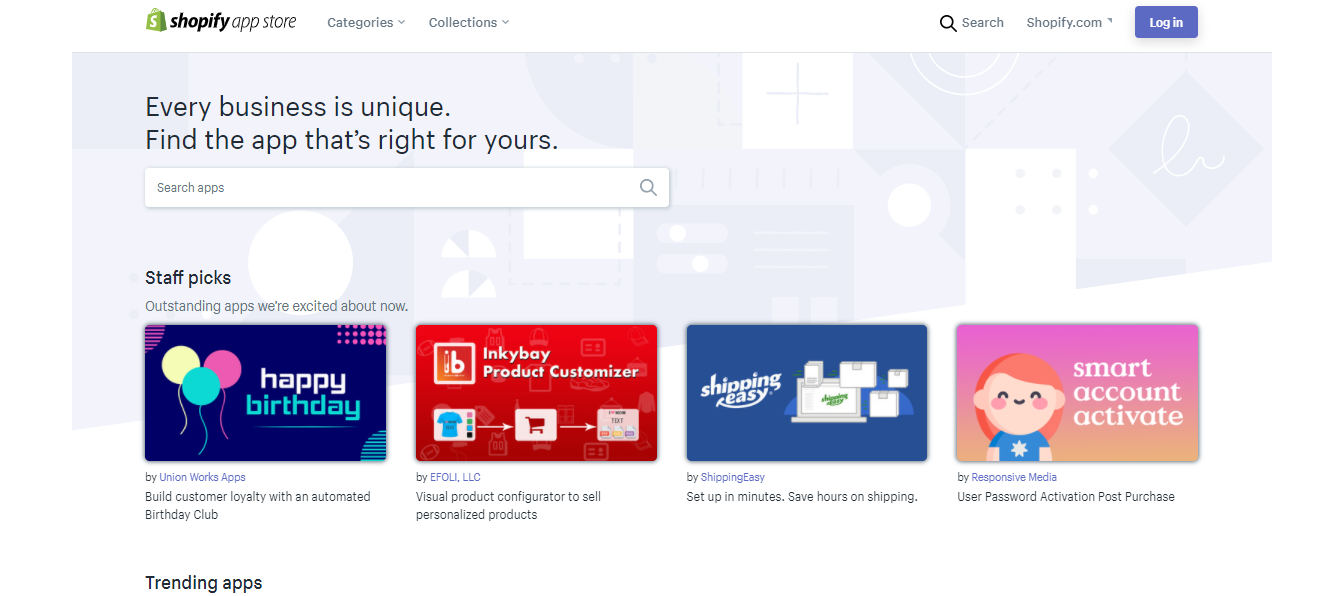 With 2,600+ apps available at the Shopify App Store (both free and paid), you can choose anything from marketing, sales, inventory management, reporting, analytics, etc and expand the functionality of your online store far beyond its initial limits.
Performing thousands of Shopify migrations every year, our experts are well-aware of the most popular and widely-used free and paid apps, so we can recommend them to our clients. The most noteworthy are the following:
Hire trusted experts to help you finalize configuring your Shopify store (if needed)
If you need help with configuring your store settings or are short of time, there are hundreds of web development agencies ready to take on your Shopify project. Their experts can help you to set up your Shopify store the way you want. Below is a list of the most skilled Shopify teams reputed for building successful stores on this popular shopping cart:
Transfer domain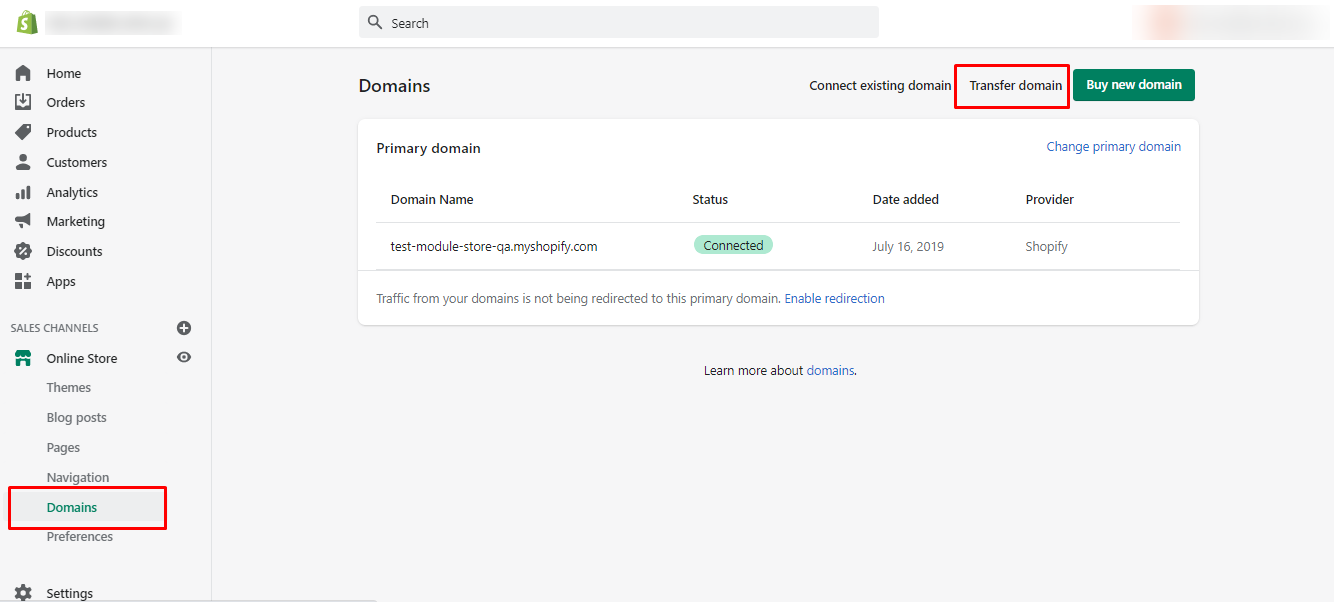 If you want to continue using the current domain you have purchased from a third-party provider with your new Shopify store, you need to transfer it. When you transfer a domain, management of the domain moves to Shopify as well. It means you can adjust your domain settings, pay for it, or renew right from your Shopify admin.
Shopify detailed guidelines provided below will come in handy when switching domain:
Customize passwords page
In case you need to make some changes to the theme or tweak some product collections, you might need to restrict customer access to your online store. You can do this by enabling the password page. You can create a password and give it to customers that you want to enter your store. You can practice building a Shopify password page using the following instructions from the Help Center:
Invite your clients to the new Shopify store
When you have your store ready to go, it's time to invite your clients to the new store and ask to reset their passwords. There are two modes of sending account invites available for the Shopify stores - individually or in bulk. In order to send an individual invitation, follow these steps.
As for creating bulk invites, Shopify offers a paid app Bulk Account Invite Sender and its price varies depending on a number of emails you'd like to send.
You can also look through the Shopify manual to get a detailed instruction concerning the issue:
Get to selling!
Hopefully, all the aforementioned info will help you to discover how to set up your new Shopify store effortlessly. Though this basic tutorial is not a complete solution to all possible areas that need to be configured, it is definitely a good point to help you get started.
Want to migrate to Shopify, but don't know how to do that right? Delegate all the migration hassles to Cart2Cart and switch to Shopify in a fully automated way right now!