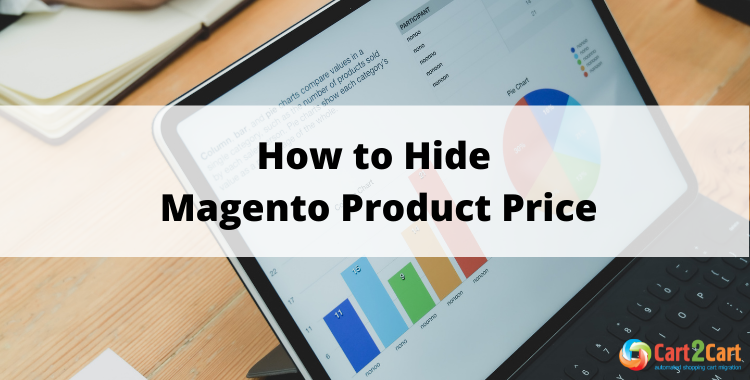 Magento is one of the most popular eCommerce platforms, which comes with many opportunities for retailers. This shopping cart has lots of diverse built-in options, and there are plenty of Magento extensions that help business owners successfully create and run their e-store. However, more and more merchants are interested in Magento to hide price for some products possibility. Let's find out all the possible reasons and effective ways to satisfy the most frequent retailers' requests for hiding prices in the Magento platform.
By the way, if you want to upgrade your Magento current store, check the quick guide with step-by-step instructions showing how to upgrade Magento effortlessly. If you are ready to switch your current platform to Magento, there is no easier way than via Cart2Cart - automated shopping cart migration service .
Magento 2 Hide Product Price: Main Reasons
Before we undertake the detailed research on all HOWs, let's examine first all WHYs. There are several reasons why e-store owners prefer to hide product prices from their customers.
Manufacturer's Suggested Retail Price
Some manufacturers may implement a so-called "minimum advertised price" restriction. It means that the retailers can't promote the product below a fixed price. NOTE that it is forbidden for the merchant to DISPLAY the lower price, not to SELL the item for less. Thus, it makes sense to hide the product price and show it as soon as it is already in the customer's shopping cart.
Price Variability
Sometimes, the selling products are made of the material that constantly varies in price (it may be gold or silver, for instance). Thus, the dependence on raw materials states another reason why the retailers need to hide the product prices.
Yield Management
Yield Management can be defined as the variable pricing strategy based on customer behavior. The main goal is to maximize the revenue. It can be applied to businesses with a definite amount of products to sell (i.e., airline seats, hotel rooms, etc.). It also works for e-shops that offer items with time-limited value. In such cases, it is reasonable for the merchants to hide product prices.
Don't miss the opportunity!
Level up your store with any of the top popular shopping carts by automatedly migrating data via Cart2Cart.
Migrate now
Competitive Pressure
It's an undeniable fact that the world of eCommerce is highly competitive. That's why some retailers pick the strategy of not showing their best product prices upfront.
Turn Non-Members into Logged In Users
It often happens that the business owners prefer to hide the product prices from non-members to drive them to do some actions and increase their engagement on their website. It may be "clicking the order button," "submitting a form," or "login/register with the store," etc.
| | |
| --- | --- |
| Features For Customers | Features For Merchants |
| Users can request the product pricing in a popup form by clicking a custom button or can be redirected to a Login page to authorize and view the price | Hide the price and replace the Add to Cart with a custom button on specific products based on set conditions (e.g. SKU, category, brand, and any other product attributes) |
| In the Price Request form, users can choose the suitable time to receive a callback, leave a message, and provide contact information (phone, email, address, etc.) | Product price can be hidden for specific customer groups, store views, and within certain date ranges |
| Price requests can be submitted from Product Page, Category Page, Related Products, Cross-sells, and Up-sells | Disable Add to Wishlist and Add to Compare buttons if necessary. |
Top Ways to Hide Product Prices in Magento
Now, when we know all the possible reasons for hiding product prices, it is time to discover the efficient methods to keep the prices out of sight.
Minimum Advertised Price - Magento's Built-in Option
Magento 1 comes with a built-in Minimum Advertised Price (MAP) option. This will help the e-store owners offer a better price to their customers without displaying it on the product page. Since the MAP can be configured at global and product levels, the retailer can apply the MAP settings to all products or only specific ones. Here's how it works:
On the Admin Panel go to System>Configuration>Minimum Advertised Price tab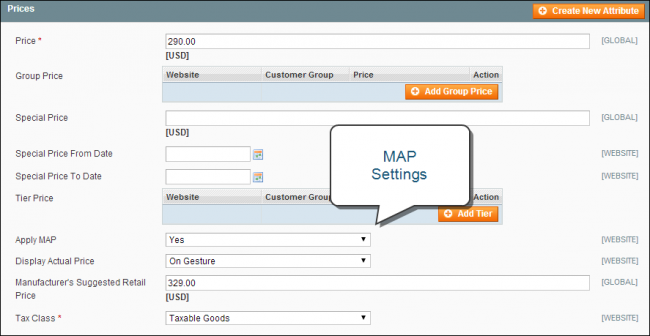 Change Enable MAP to "Yes"
At the Apply MAP (Default Value)section, choose "No" (unless you want to hide all prices throughout your e-shop);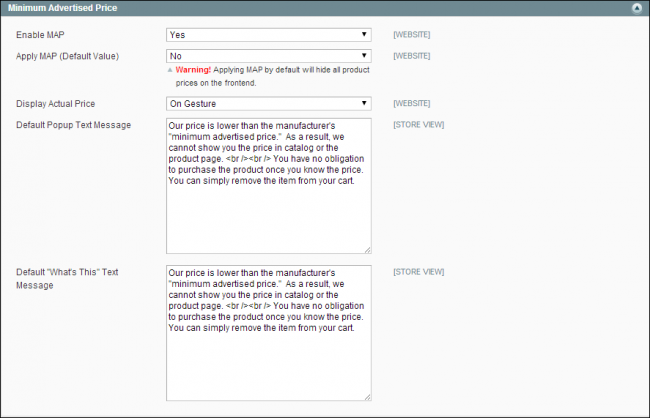 Now you can choose where you want to Display Actual Price:
In cart;
Before order confirmation;
On gesture (on click).
Once completed, click the Save button. Here's how it looks on the frontend: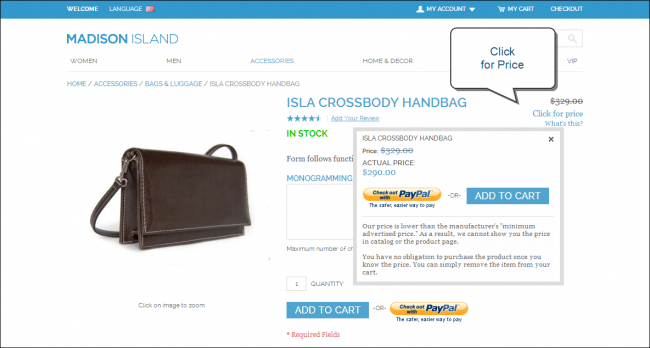 Overriding the Default Magento Files
In order to hide product prices in Magento e-store, there is the need to override some files (phtml). Such a procedure requires solid coding knowledge and vast expertise. By following the link, you will find out the step-by-step instruction on how to hide the product prices from non-members presented by the certified Magento developer Manish Prakash.
How to Export Magento Products: All the Best Practices in One Post
Magento Extensions for Hiding Product Prices
The last and one of the easiest ways to hide product prices in Magento e-shop is to use the extensions. Here's the list of the most popular Magento modules.
Call for Price is an extension that enables the store owners to hide prices and the "Add to Cart" button. It is also possible to display a custom message for each item and remove products from the "price filter." This extension is paid and comes with a $30.00 price.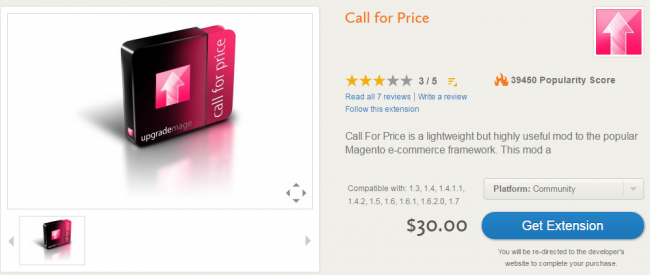 The main feature of this extension is to hide the product price to encourage the customers to log in. The retailers are also provided with the opportunity to customize the "Add to Cart" button. Instead of the price and this standard button, it is possible to display a different message. This extension is free and can be installed right away.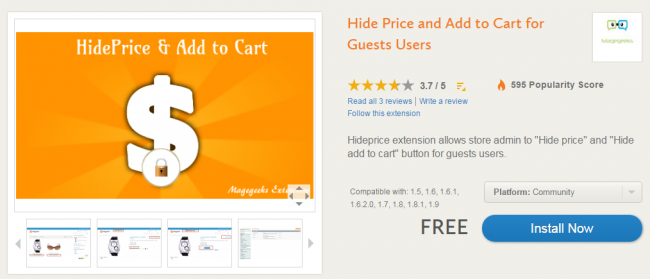 This extension comes with many features which provide the retailers with plenty of options. For instance, it is possible to use customized messages or pop-ups instead of the "Add to Cart" button. The product prices can be hidden from unregistered users. The merchants have an opportunity to hide prices for particular products and create private sales within an e-store. This extension costs $129.00, and its price includes 3 months of support, 6 months of free updates, and a 30-day money-back guarantee.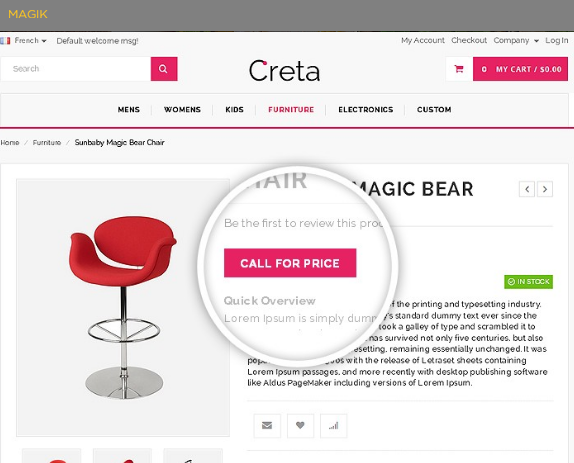 Extensions to hide price in Magento 2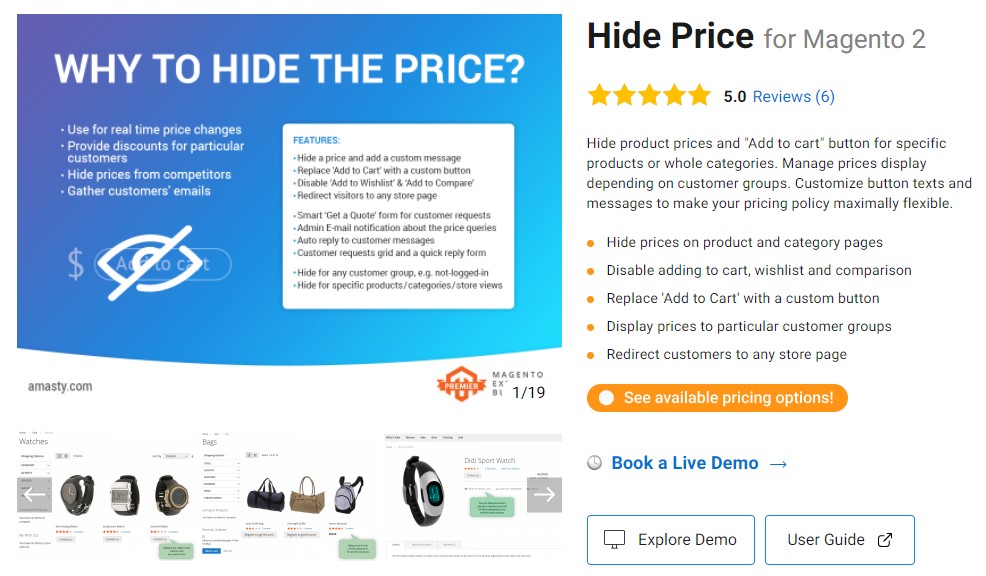 Use the extension to disable price on the pages featuring products and categories. Besides, you will have the ability to hide the specific items in your store, customize price display, configure Add to cart button, etc. The app has a couple of pricing plans that would fit even the most demanding store owners.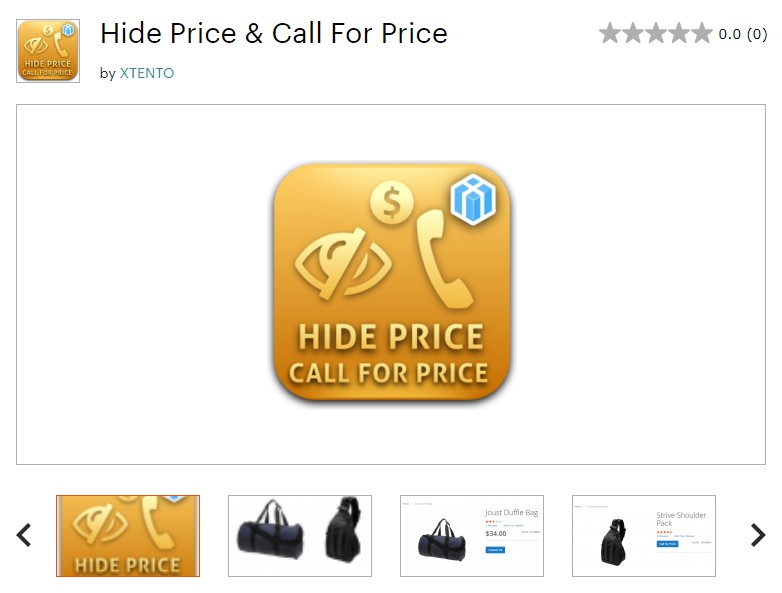 The extension combines two options - it can hide and call for price. Therefore, you can use custom texts, URLs, or Call for price buttons based on your personal preferences. In addition to all the listed functions, the module also supports importing and exporting the Hide price attribute.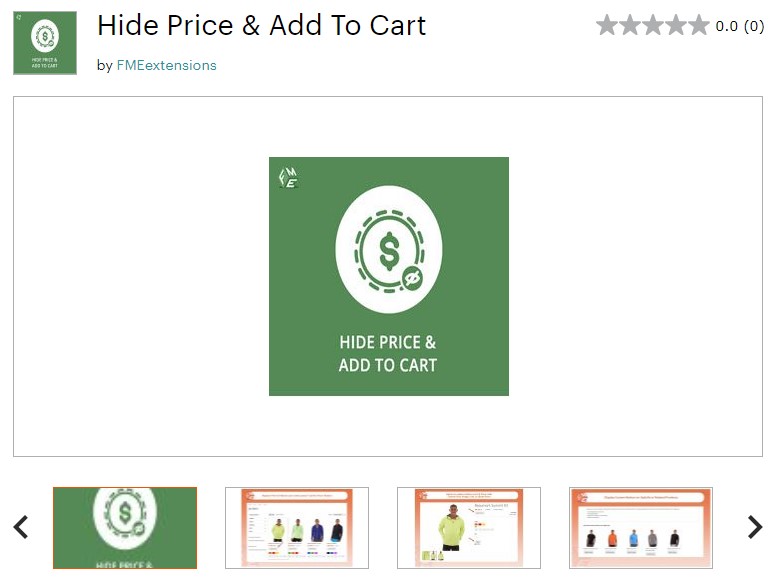 Once you install this extension, you will be able to hide the price for the product, category pages, customer groups, store views, and countries. Also, it is possible to replace the add to cart button using custom text, image, or quote.
Hide Price Module By Magearray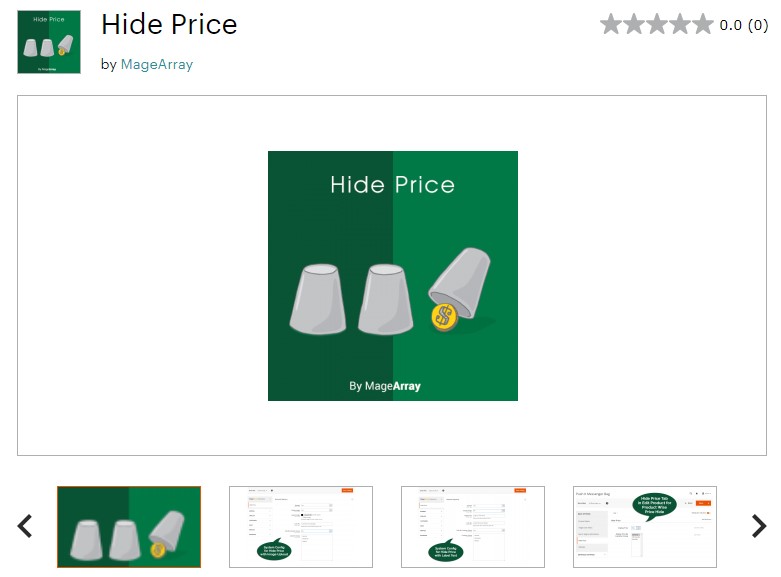 The app will help you in Magento hide the price for some products management. Therefore, it enables hiding price from your store's guests or certain groups, hiding price for products, wish lists, removing add to cart button, etc.
Magento Hide Price for Some Products - FAQs
How to enable hiding price on Magento 2 product page?
The extension needs to be installed.
Select the Hide Price tab under Stores > Configuration > General Settings.
Enable the extension by clicking Yes in the first line.
By choosing appropriate variants, hide the price for selected categories and group(s).
If you want to hide prices for whole product categories or/and customer groups, exclude specific customers and products.
Why hide product prices for guests in Magento 2?
Magento 2 merchants sometimes hide their product prices from guest users. It may be useful if you offer complex or customizable products and services, and the price always depends on the situation. In addition, high competition is a common reason for hiding prices. This helps to prevent price dumping.
Bottom Line
Are you still using another platform? Then you are missing a lot because it's an undeniable fact that the Magento eCommerce platform provides the retailers with tons of opportunities. And the possibility to hide the product prices on this shopping cart can be easily achieved via the listed ways above.
In case you want to switch your shopping cart to Magento or upgrade your current store, you can always appeal to Cart2Cart, the world's #1 shopping cart migration tool which lets you migrate online store's data from 75+ e-Commerce platforms to Magento automatically with no programming or developer skills needed. This service will effortlessly and fast transfer all your entities (orders, customers, products, attributes, categories, etc.) from your current platform to Magento.
This service provides a Free Demo migration, and you can have a glance at your new store right away! The whole process will last no longer than 30min. So try it out!