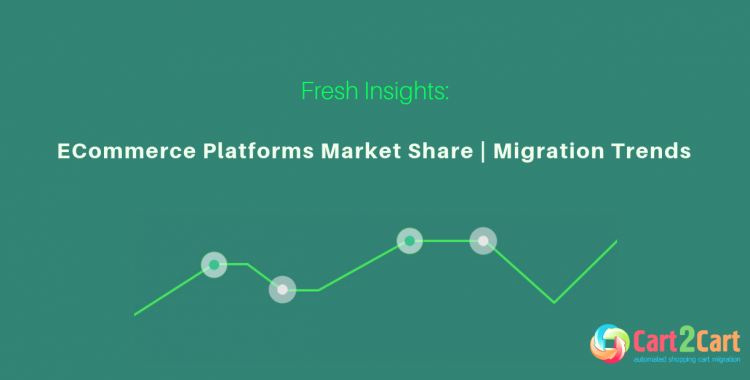 Finding the best shopping cart to run a successful business was always a challenge. It depends on your needs, financial opportunities, store aims, products you sell and final result you want to reach. Cart2Cart has made a research of recent changes in eCommerce platforms market share and uncovers the outlines, regarding official builtwith.com platforms' usage statistics and internal Cart2Cart migration data for 2016 year.
ECommerce market nowadays is unexpectedly dynamic and overfilled with new solutions. This invokes existing solutions to make crucial changes and upgrades continuously what, in its turn, causes regular redistribution of eCommerce platform market share.
What makes this article critically special? It is the fact that here Cart2Cart service shares its internal statistics about most popular ecommerce platforms. It gives you access to unique data you won't stumble upon anywhere else.
ECommerce Platforms Market Share
According to Cart2Cart migration statistics for 2016 year, there are 5 top eCommerce platforms that store owners are switching to. They are WooCommerce, Magento, Shopify, PrestaShop, and OpenCart.
Here you can see the chart showing the most worldwide used solutions with eCommerce platforms market share, regarding builtwith.com statistics.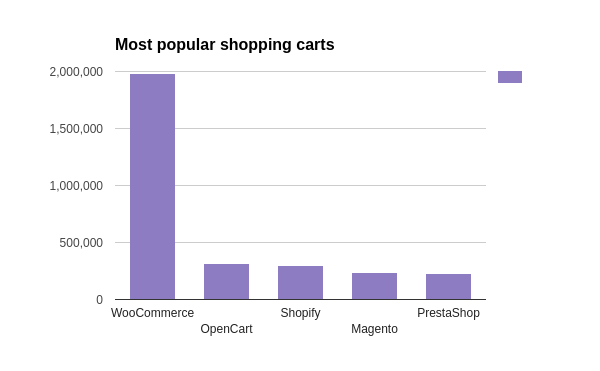 This data correlates with target online retailers users migrate to via Cart2Cart. WooCommerce is an exception. Despite it has one of the biggest migration percentage, it's not drastically differ from the number of migrations to other top eCommerce platforms, examined in our review.
WooCommerce
According to builtwith.com, WooCommerce is the world's most widely used shopping cart. It has the highest ECommerce platform market share: there are 2,287,415 active online stores created with this awesome WordPress plugin.
Since 2012, the % of migrations to WooCommerce has grown 14 times. It surpassed migration percentage to Magento, which decreased 3 times during this period. It seems that being extra-flexible (sometimes excessively) and not easy in use, Magento is losing some points with years. And WooCommerce, contrary, increases its eCommerce platform market share, being a good SEO-optimized and user-friendly solution both to small and large businesses.
That said, it would be wrong to think that WooCommerce is in any way a direct Magento's competitor. Serving different business needs and purposes, both platforms can peacefully coexist. WooCommerce has a significant advantage over Magento or Shopify when it comes to design, regarding easiness of customization. Along with WooCommerce native themes, you can use any of WordPress ones to work with your plugin. There are tens of them in the web.
WooCommerce has a significant advantage over Magento or Shopify when it comes to design, regarding easiness of customization. Along with WooCommerce native themes, you can use any of WordPress ones to work with your plugin. There are tens of them in the web.
Here you can see the list of platforms WooCommerce is frequently gaining customers from as stated in builtwith.com statistics.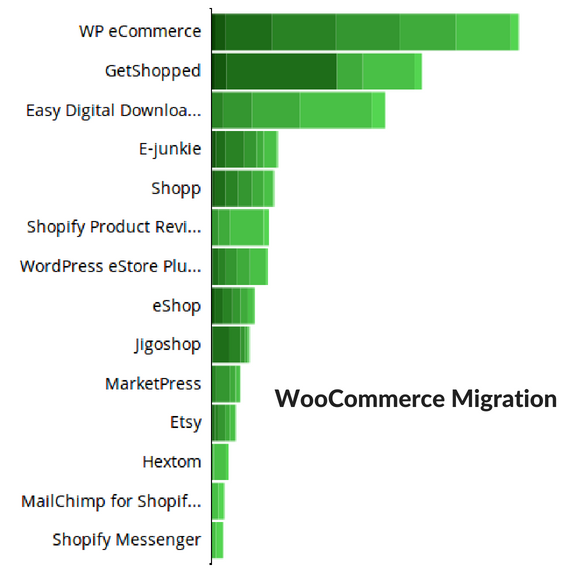 OpenCart
The official builtwith.com statistics shows another solution among top eCommerce platforms with 276,777 store owners who are using OpenCart to run their businesses. The lion's share of them (more than 153,885 000) is located in the United States.
Regarding the migration data, we can find out that popularity of OpenCart import in 2016 decreased 3 times, in comparison with 2013. Oppositely, OpenCart export has grown 10x during last 6 years.
According to builtwith.com OpenCart is losing positions in eCommerce platforms market share rapidly. Among top 1 million sites, identified with the highest traffic, currently there are only 0.3% of stores created with OpenCart. During the last year, their amount decreased almost 2 times. You can see it on the chart below.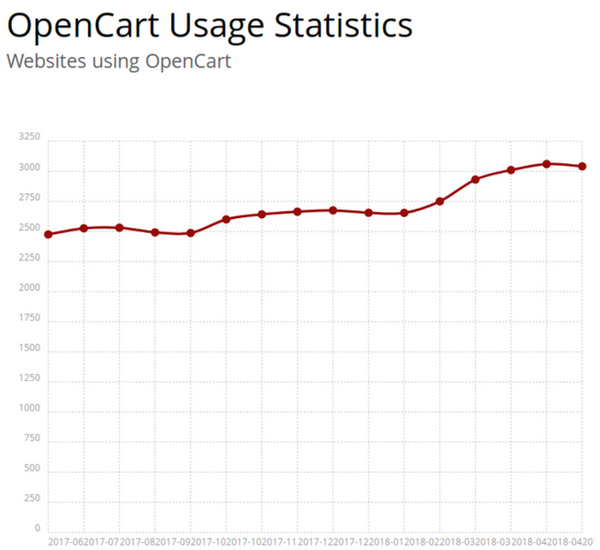 Core-extension model of the platform could be the reason to these changes, because it requires installation of many add-ons in you need higher than basic functionality. Or, maybe, the answer lies in template management: to apply OpenCart themes you need to have some basic knowledge of HTML, CSS, and JavaScript. It makes the process a bit more complicated than choosing a design in WooCommerce or Shopify.
Shopify
Another popular solution is Shopify, which entirely differs from the platforms featured above. Being a hosted cart, it still offers you advanced eCommerce functionality and catches store owners with user-friendliness and ease of use. According to builtwith.com Shopify devotedly serves to 615,214 unique stores.
Recent Shopify integration with Amazon is another trick to beat the competitors. In 2016 migrations to Shopify were growing even faster than to WooCommerce in some quarters, and one of the reasons for rising Shopify import could be Shopify's POS system, which was added in 2013. This fantastic implementation allows managing entire offline store together with online one and POS system can take payments if connected to PayPal. Most other market solutions do not offer this unique top-notch service.
Another reason of such Shopify popularity could be their marketing strategy and many promoting venues they do. Other platforms are not used to spend so much money on PR and advertising.
Here we can see Shopify usage statics, it has grown 3 times during the last year. According to builtwith.com Shopify is growing quickly its eCommerce platforms market share. There are 1,1% of Shopify websites among 1 million with the highest traffic in the world.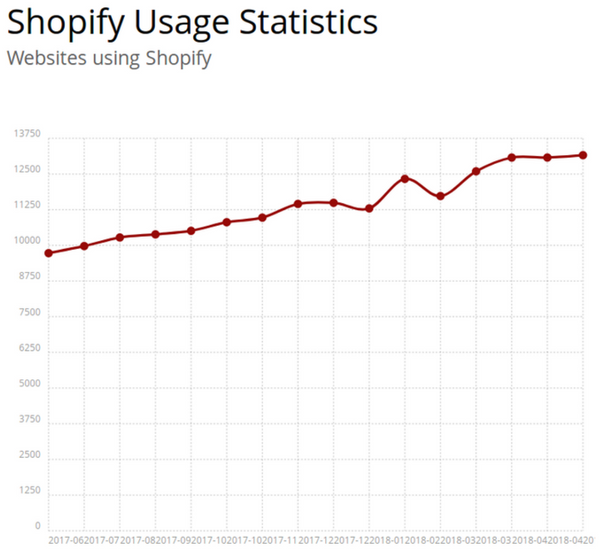 Magento
Among most popular eCommerce platforms stays Magento. It has 180,261 of active sites according to builtwith.com usage statistics. This progressive eCommerce solution always impresses store owners with new features and capabilities which allow businesses to drive sales and performance.
The recent release of Magento 2 has become a turning point in industry. Even though the release of its second generation was followed by a number of bugs and criticism, Magento 2 is rapidly gaining popularity and continue to develop.
In Magento 2.1 release there is new component "Hosted fields'. It helps to securely collect sensitive payment information in checkout and provides you with full control of layout and check out styles.
Another remarkable feature is In-Context Checkout. It relieves customers of the need to enter a PayPal ID and password when making future purchases. Regular upgrades and bug fixes prove that there is no limit in searching the ways to success.
Regarding Magento 2.2 functionality, the new version gives you APIs with impressive capabilities. Among the features are company and use structure, credit limit and transaction, company accounts, shared catalogue creation and much more. The updated API provides you with an opportunity to integrate with EPR and PIM directly from Magento right away.
Despite impressive Magento 2.1 and 2.2 new features, Magento itself is the most flexible solution available today. It serves as a platform to half of world's largest online retailers. Magento is a unique eCommerce builder, thoroughly designed by its developers and is widely known to be "the standard of eCommerce industry".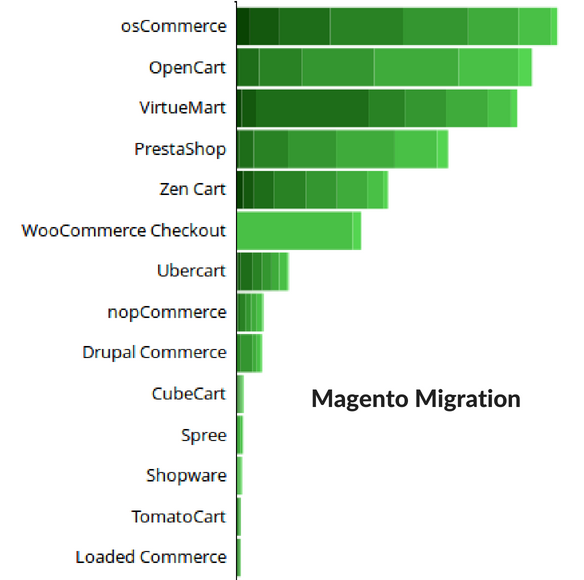 As you can see above, most of the platforms web store owners are switching from are open-source. The obvious reasons for migration to Magento are the platform's top flexibility, unique features, and strong SEO-optimization.
Magento is the solution with the longest 'life cycles' store owners experience. It can be indicated by the amount of Magento upgrades - migrations from Magento to Magento - performed by Cart2Cart users.
According to our internal statistics, users are more likely to upgrade Magento to new versions than to switch it to another solution. It means they are satisfied with Magento. They just willing a newer version of this super flexible eCommerce builder. This is where Cart2Cart comes to help store owners and offers automated Magento upgrade. The second eCommerce platform that can boast about such loyal store owners is PrestaShop.
PrestaShop
PrestaShop is another leading open-source eCommerce platform available today. It covers 220,356 active stores,according to builtwith.com. Percentage of PrestaShop import along with eCommerce platform market share is gradually growing. For instance, the number of migrations to this shopping cart in 2016 has increased almost by 50% in comparison with 2011. The apex of migrations to PrestaShop was in 2015.
There are no reasons to round on this platform, which is the golden middle between Magento complexity and Shopify simplicity. PrestaShop can boast of such unique features as Intelligent Merchant KPI and Forecasting. They make PrestaShop's statistical facilities very impressive.
One of the reasons that PrestaShop is among top eCommerce platforms could be its integration with marketplaces, which allows exporting product listings straight to eBay, Amazon and other world-known marketplaces.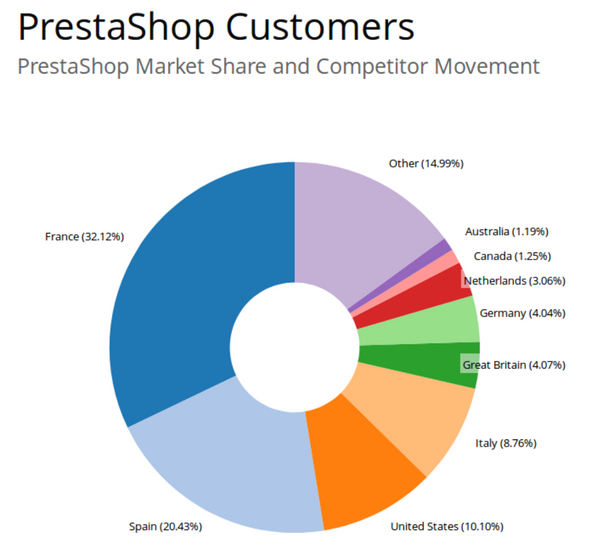 Migration to Open-source vs Hosted Platforms
The number of migrations to open-source solutions surpasses the quantity of migrations to hosted ones by more than twice. That says, broader customization possibilities attract rapid platform switching.
Another reason could be that Shopify is, apparently, the only hosted shopping cart which could compete in functionality with other most popular ecommerce platforms, described here. BigCommerce is the second popular hosted target platform. Even, considering BigCommerce pricing policy changes that had place in 2016, it has also become one of the best eCommerce solutions for export.
One more interesting insight we want to share is the fact that there have been 25% more migrations from open-source to hosted platforms in 2016 than vice versa.
Hosted solutions are gaining bigger and bigger popularity, mostly because of Shopify. And lots of new platforms that appear daily are hosted. And in comparison with recent years, modern hosted carts are much more functional and customizable.
Besides, we can claim about the bang of start-ups last few years. There is no doubt, it's easier for young entrepreneurs to use hosted solution. It requires minimum of tech skills and allows to fully concentrate on the development of product itself, instead of mashing up with code.
Who Will Meet the Greatest Losses?
The development of technologies makes changes to our lives from day to day. We can't deny it. The recent trends show that open-source shopping carts are slowly (but gradually) conceding the market to hosted ones. The complete domination of hosted platforms is out of reach yet. But the fact that people are likely to use hosted shopping carts tells a lot.
In the light of usage and migration trends, eCommerce solutions like osCommerce, Zen Cart, and Virtuemart are tending to have the decrease in their user base. Thought, there was already the peak of migrations from these platforms, and they still have chances to get back their positions in the eCommerce industry in the nearest future.
What about one of top shopping carts today? There is an apprehension that OpenCart is likely to continue losing clients and bow out positions to Shopify and Prestashop.
What Predictions Can We Make?
It is thought that Magento community is going to grow. Particularly, the % of Magento 2 users is going to increase, due to developers claim to discontinue the support of Magento 1.x soon. Currently, Magento 2 community is not expanding as fast as was expected. There is high level of user's dissatisfaction with some changes in second platform's generation.
Shopify seems to be the 'all in one' solution: easy-to-use 'pure' eCommerce builder with a bag of unique features. Expectedly, it will augment its community rapidly in next years.
WooCommerce, being the most popular platform nowadays, is predicted to strengthen its positions in future and concur larger market share.
Despite the lost of clients BigCommerce has experienced recently due to changes in pricing policy, it is still a perspective platform with a huge fanbase. And it is likely to get back its eCommerce platform market share in future. It has many benefits it has to offer. For instance, BigCommerce doesn't have transaction fees and allows store owners to accept payments from around the world with no extra charge, unlike Shopify.
Outline
As you see, the official statistics says most popular eCommerce platforms are usually open-source. We can also admit, that store owners aim to get high and advanced functionality along with user-friendliness.
All platforms presented above are worth to be paid attention to, according to their eCommerce platforms market share,good reputation and set of functions, which make them worldwide used and top eCommerce platforms available today.
We hope that our research was useful to you. In case you feel that your current solution is better to be changed for one of the top platforms, you can use Cart2Cart automated shopping cart migration service for and perform an easy switch.
Cart2Cart service is the #1 automated migration service with more than 45 000 successful migrations behind its back. It is a remarkably secure way to transfer your eCommerce data from one platform to another accurately and with no technical expertise needed.
With the help of Cart2Cart you can easily migrate your current store to 75+ platforms, including all eCommerce solutions featured in this article.
Feel free to contact Cart2Cart 24/7 support team if you have any migration-related questions.
If you feel that you are ready to switch your current solution to one of best shopping carts, take your chance and perform a Free Demo migration with Cart2Cart here and now.