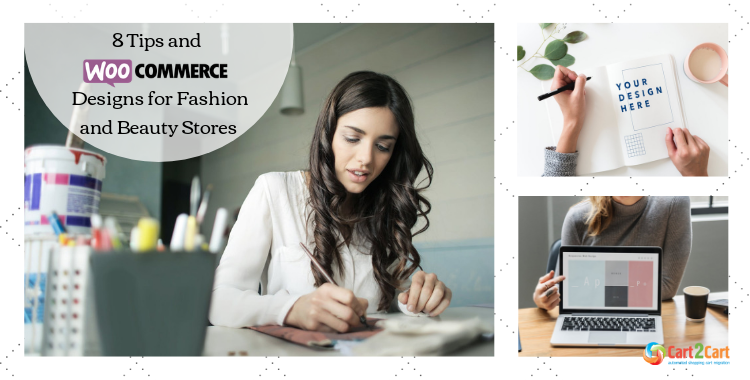 Do you sell clothing, beauty products or accessories? By now, you probably understand how effective it is to sell your goods online. At the same time, you'll never be able to reach substantial revenues if you rely on social networks only, and don't have an e-store. So, powering your own fashion/beauty e-store is a must for every business owner who's after becoming a successful brand in the future.
However, creating an e-store is easier said than done, if you are new to web design and online commerce. There are multiple factors that you have to take into account when powering your e-store. You've got to choose an e-commerce engine that fits you best, a theme that fits your niche and resonates with modern web design trends. Moreover, you've got to make sure that you optimize your store for SEO and performance, ensure its high conversion and lead generation, encourage social integration, etc.
First things first, let us start with the engine choice. For the purposes of this article, we'll stop our choice on one of the most popular and simple e-commerce solutions, which is WooCommerce.
Why WooCommerce?
It's no secret that the majority of popular e-commerce solutions are stand-alone website engines (e.g. Magento, PrestaShop, OpenCart, etc.) Many of them offer mind-blowing opportunities in terms of store customization but are hard to master for a newbie. Unlike them, running a store with WooCommerce plugin implies mastering all you need within a couple of days or even hours.
The question is: 'What makes WooCommerce different?'
In fact, if you run a WooCommerce website, you run it on the world's most popular WordPress CMS. WooCommerce is just a WordPress plugin that adds e-com functionality to WordPress.
This is hardly a coincidence that WordPress CMS got popular for its comprehensiveness and user-friendliness. If you opt for WooCommerce, you'll experience this simplicity when creating the layouts, managing styles and adding content to your e-store. What's more, you'll get a chance to cherry-pick a number of exceptional WordPress plugins that are WooCommerce-compatible.
In a word, WooCommerce delivers you the following exciting e-commerce functionality:
Multiple product types: With WooCommerce, you're welcome to sell not only tangible goods but also digital products, content, and even appointments.

Rich blogging experience: To build a strong brand and rank higher on SERPs, use WordPress to publish articles and content of multiple types.

Compatibility with other popular WordPress plugins.

Trouble-free integration: Thanks to WooCommerce shortcodes you can easily embed products, checkout and other store functionality to any page of your website.

Mature system of tags, categories, and attributes to let users find exactly what they need.

Prolific product sorting and filtering options.

Developed system of customer ratings and reviews.

and more.
As you can see, WooCommerce by no aspect concedes to stand-alone e-commerce engines. In a couple of years, this unique plugin gathered stream at an impressive rate.
Currently, WooCommerce is a leading e-commerce solution that significantly outperforms its closest runners-up. According to BuiltWith statistic data, currently, as many as 3,3 millions of all websites worldwide run on WooCommerce. Among the top 1 million websites, as much as 22% (53,965 websites) of websites run on this engine. The market share of WooCommerce among the top 1 million websites is the largest. It outperforms such other popular engines as Shopify (with 18%), Magento (with 13%), PrestaShop (with 4%), etc.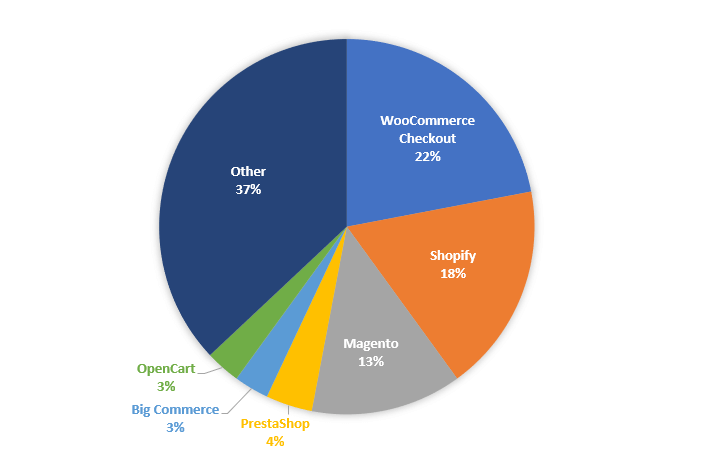 So, let us suppose that you choose to build your fashion or beauty website with WooCommerce. Needless to say, WooCommerce is a perfect solution for small to medium stores in this niche offering all the functionality a clothing/accessories/ beauty store may ever need. Now, it's time to see our top 8 tips and designs that will help you successfully create your e-store and take it to new heights.
Tip #1: Carefully Choose the Design that Fits Your Store
It's hardly a secret that brick-and-mortar fashion and beauty stores capitalize on creating a branded 'experience' for their clients. Right from the very first moment you walk into the store, everything - interior, background music, product presentation - reflects the attitude and the values of the brand. This creates client trust, adds to the prestige of the bard, and eventually turns site guests into new clients of the store.
If you sell products online, you don't get a chance to create a branded experience in a traditional sense of the word. However, you still should offer your shoppers this kind of experience.
From the very first moment a new guest lands on your e-store, they start to read through the lines and form their opinion about usefulness and trustworthiness of your e-store. Just looking at your store design within a few seconds, users are able to tell:
What kind of products you sell;

Who you sell them to;

What are your values and principles;

And how invested you are into what you do.
All this information is grasped within few seconds, and it's your e-store design and the degree to which it matches your target audience that decides whether users stay on your website or press that 'Cross' button.
All this suggests that you should be double-careful choosing the design of your theme. For example, if you run a wedding store, your e-store design should be elegant and clean, not cluttered and bright-colored. 'What makes WooCommerce different?'
On the other hand, if you sell makeup cosmetics, you can freely ride the recent web-design trends and go for shades of pink and other bright or neon colors in your e-store design. For example, take a look at Imagus theme. This theme gracefully combines white, black and pink website elements for an elegant beauty-oriented and modern e-store.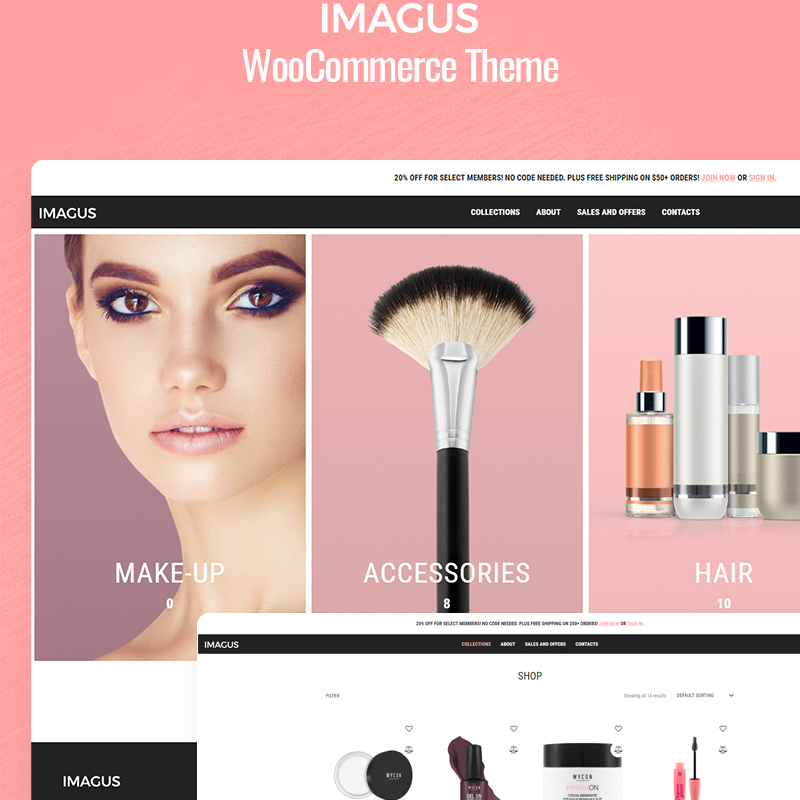 Apart from design, Imagus theme offers you to tap into WYSIWYG website editing with Elementor. Apart from working on the general design of your website, use this visual builder to create Product Single and Category Pages. The theme brings you an ample collection of additional design blogs allowing you to create an e-store like a pro within days.
If you want a real-life example of an e-store with a well-matched design, check out Filly Leather store.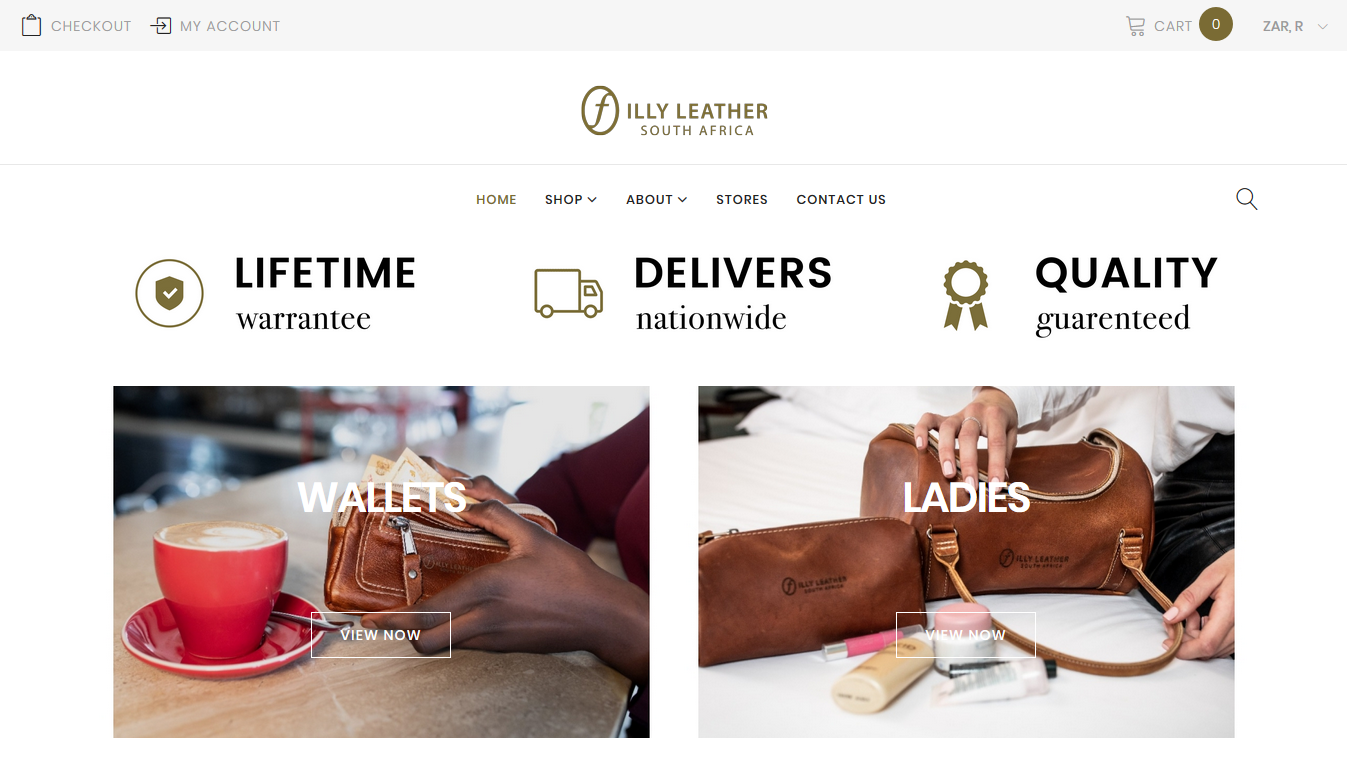 This store was created with the multipurpose Woostroid theme. Designing the leather store, its owners chose a clean and minimalist design, which places the unique quality of authentic African leather goods at the spotlight.
Tip #2: Give Preference to Clean, Bright and Upbeat Themes
Fashion and beauty are the industries where you can generally allow yourself to go for bright colors. Fortunately for many, this goes in line with the most recent web design trends.
It's the Living Coral that's been proclaimed the main color of 2019 by Pantone. This year's report encourages web designers to give green light to bright shades, such as:
Energizing Coral;

Saturated Moody Shades;

Optimistic Yellows;

Pale Pink;

Electric Citrus;

Rich Muted Purple;

Rich Berry Reds.
White, off-white and off-cream shades also remain popular. Use them as the basis of your minimalist website, while using the shades mentioned above for creating engaging color accents and the visual rhythm of your e-store pages.
It's not hard to find enthralling examples of bright WordPress WooCommerce themes of 2019. For example, Modella is a fresh and candy-sweet theme that provides for a perfect and engaging clothing store: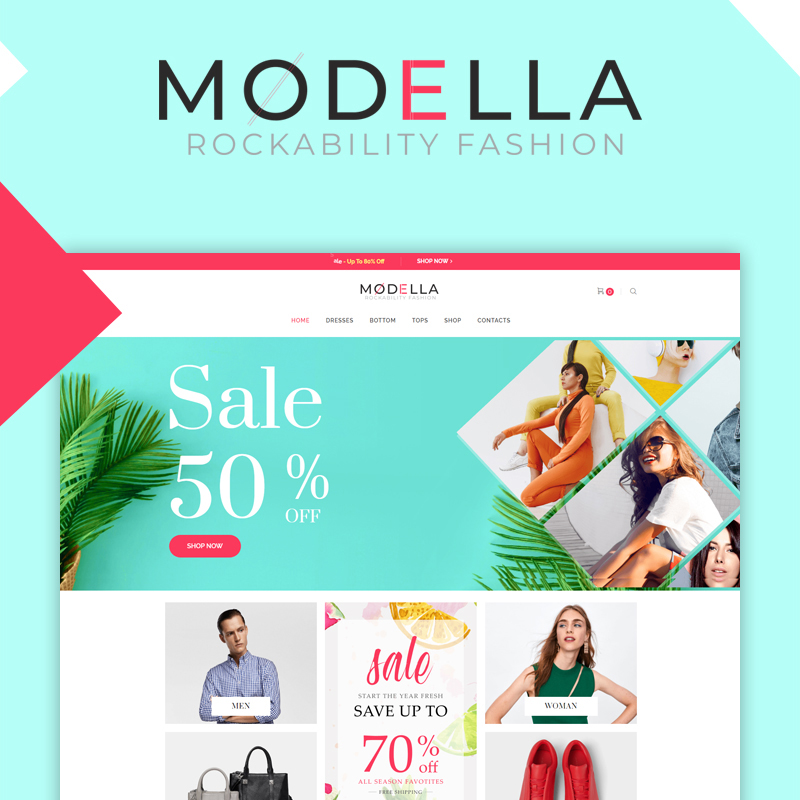 If you go for this theme, you'll be impressed not only by its hot design but also by the functionality it delivers, such as:
Prebuilt Elementor Builder;

Jet Elements plugins with tons of additional content blocks;

100% mobile-friendly;

All images included for free;

WPML-ready.
Another great example of a bright and trendy WooCommerce theme is Understone by CrocoBlock. This Elementor-friendly e-commerce template offers you the ultimately minimalist color scheme, which lets you attract with your product imagery and tell all the needed information about your products in a structured way.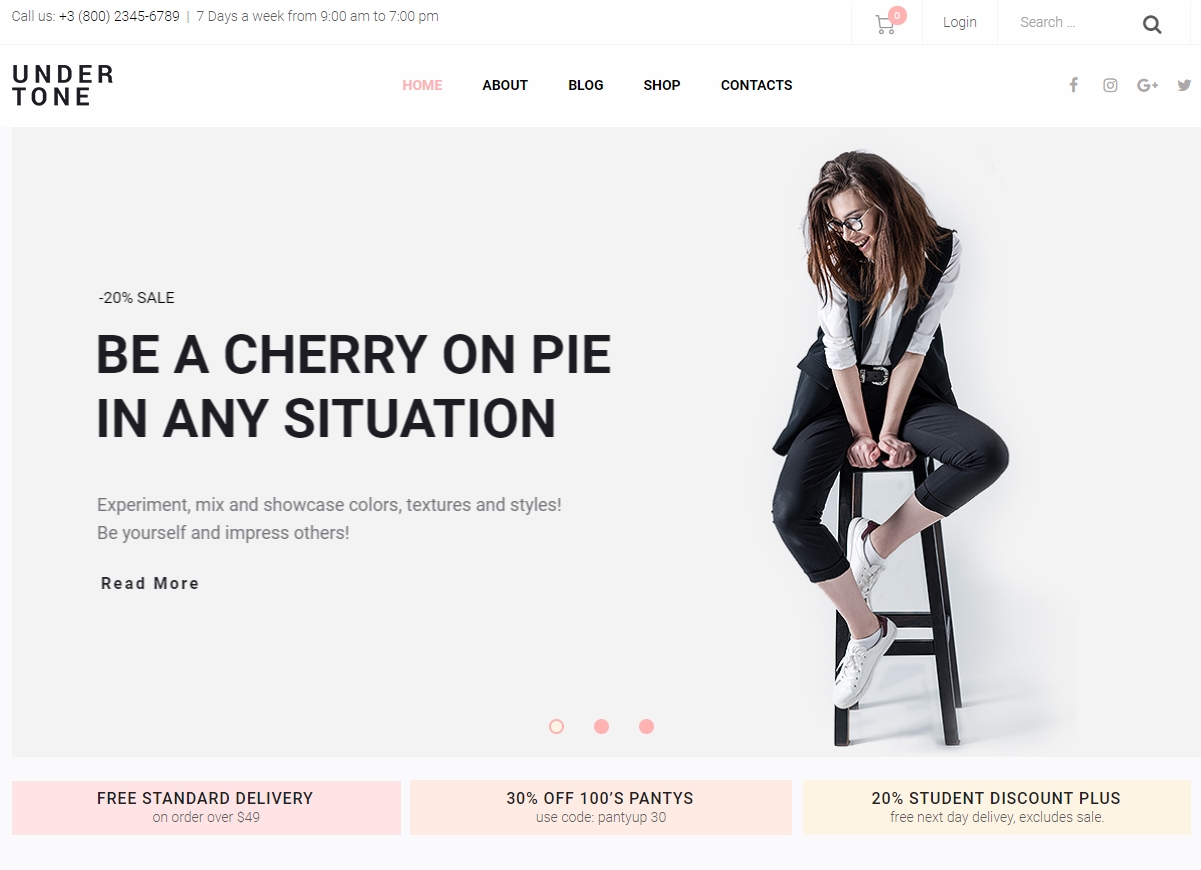 #3: Use a Theme That's Compatible With a Visual Editor
If this is the first e-commerce website you create, you've got a nice chance to simplify your life and create your products and store pages in visual mode. In the past, such a luxury was not available to the newbies and they usually struggled with the peculiarities of product creation for a while.
WooCommerce is perhaps the most WYSIWYG-friendly platform. However, to integrate it with a visual builder for WordPress, you'll need a certain plugin. For example, you can edit your e-store in visual mode with the popular Elementor builder, if you use JetWooBuilder or a similar add-on.
So, if you're a newbie, make sure that your template is shipped with a visual builder and that your builder supports editing WooCommerce store pages. It's not hard to find such a theme. And I've got a couple of examples handy for you.
Fabulous theme is the one that will help every newbie out in building an e-store. This theme lets you edit your store pages in Elementor visual builder with the pre-built WooCommerce package that you get free with the theme. Moreover, this theme lets you enable social login, Product Quick View, Compare & Wishlist, Ajax filtering, and other exciting functionality.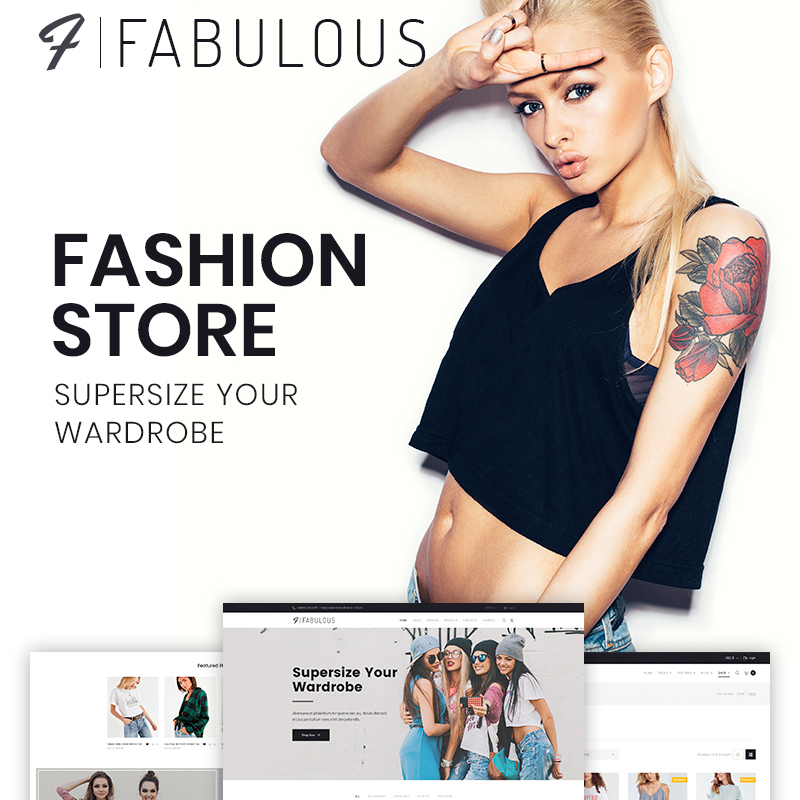 Tip #4: Make Sure That Your Theme Is Optimized For Performance
Online, every second count. Page loading time is the major contributing factor to page abandonment. If your website loads longer than 4 seconds, a quarter of your website guests will abandon it. Moreover, your website performance directly affects your SEO score, which doubles the importance of this factor.
So, you've got to be extra careful to choose a lightweight and fast-performing theme. First of all, be careful eye-scanning the theme features. Does it say something about optimized performance? A good sign.
However, you can't always take the theme provider's word for it. You better test the performance of the theme demo yourself. For this, use the following services:
In fact, if you go for a template by a renowned theme provider, It's likely to be optimized for performance. For example, Cosmeli theme is the one that offers you stellar performance thanks to ardent performance-optimization. This theme features a clean design and amazingly animates your site content with CSS3 animation for better engagement. Moreover. this e-store template comes with a visual builder and Revolution Slider that you both get for free.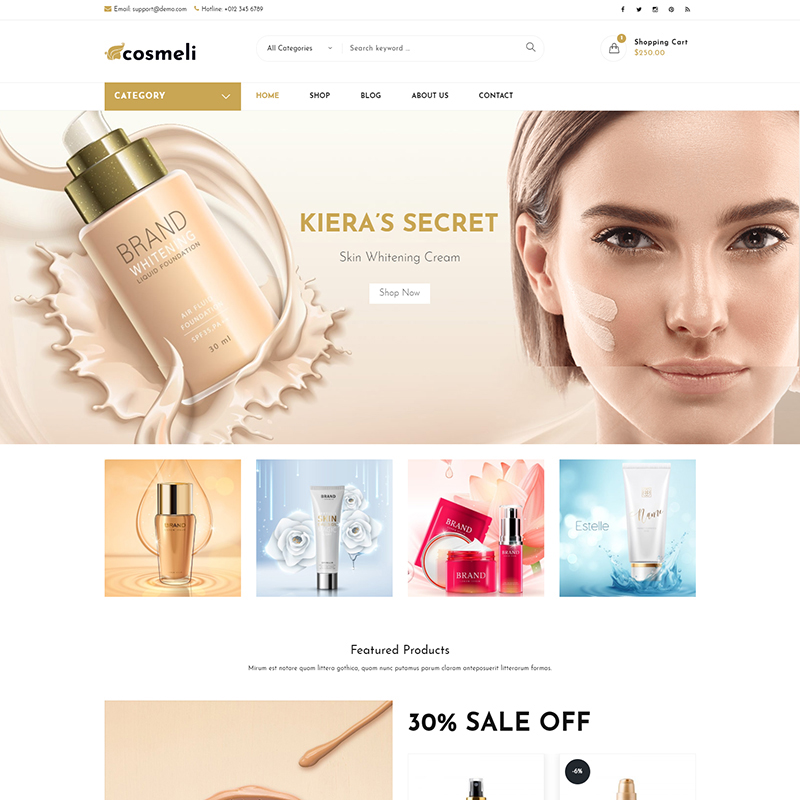 Tip #5: Use Professional Hi-res Imagery for Backgrounds and Your Store Products
When you just start your e-store, your budget might be tight. Once you add your first products and start selling your items, you may breathe more freely and start thinking about improving your fashion/beauty store.
The first thing to take into consideration is the quality of the imagery you use. No matter how good the design of your website is, you'll ruin the look of your e-store with low-quality imagery. For example, Iwishop has a very nice and uncluttered design, but ruins the experience with blurry low-quality images on the homepage: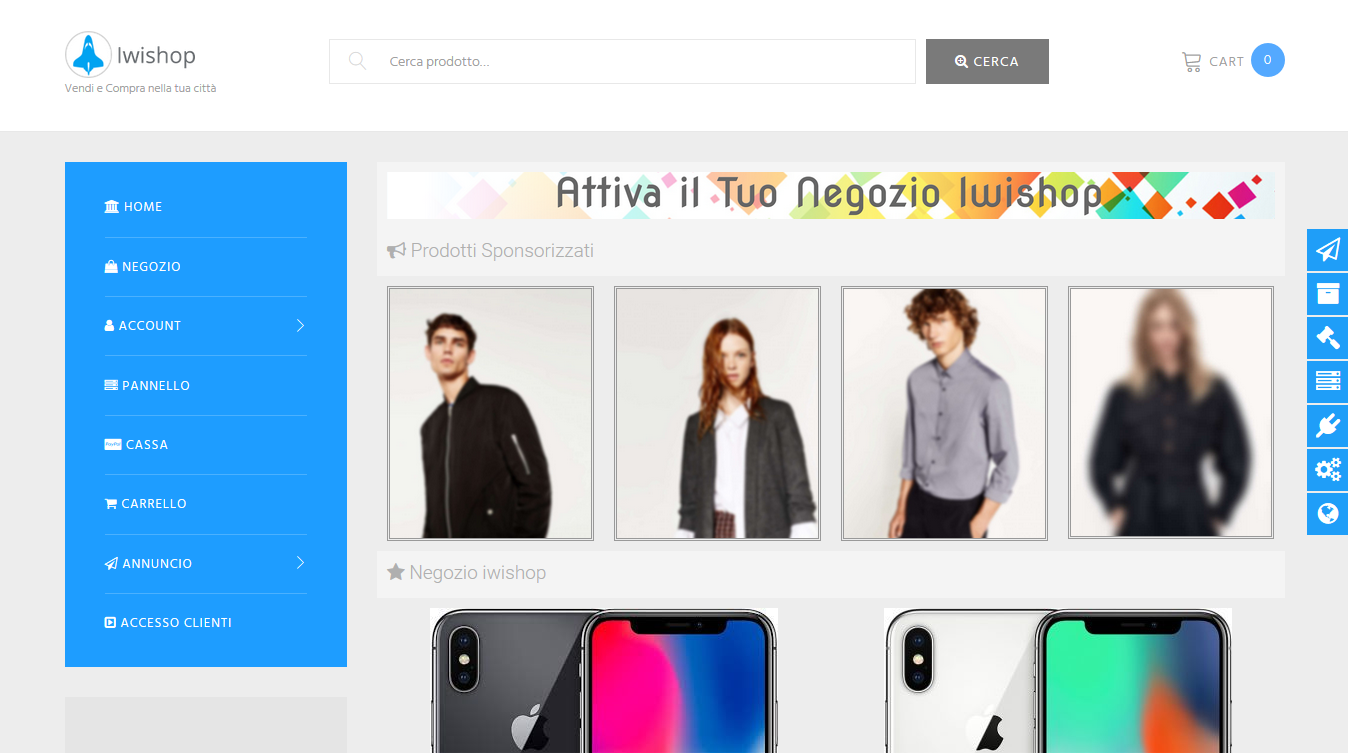 To make sure that the images you use for your e-store are good enough, pay closer attention to the imagery on your e-store home page, Category pages, and Single Product pages. Answer the following questions:
Do the photos that I use look professional?

Are these images sized right? If your image is too small for the block you display it in, it will look blurry and pixelated. And this is what you should avoid by all means.

Is my imagery mobile-friendly? Users should be able to clearly see the products and their details on mobile screens.

Are these images appropriate for my e-store? If you sell clothing, select models carefully and make sure that they match your target audience. For example, if you sell convenience clothing for the elderly, picturing young models wearing your goods probably won't work well for your e-store.
We hope that you answered all of these questions positively. If this is not the case, now you know what aspects to address to make sure that your imagery effectively sells your products.
If you want to see a good example of high-quality product imagery, check out Grace theme that turns product presentation into an art by itself: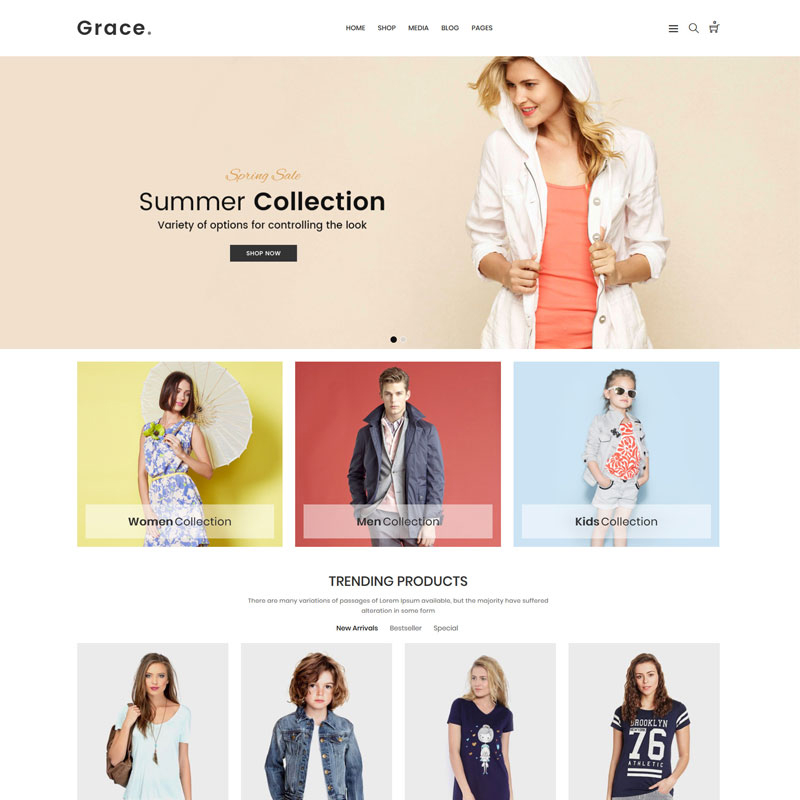 Apart from its classy and welcoming design, this theme delivers you visual editing with King Composer and extended e-store functionality, e.g. advanced Category search, Frequently Bought Products feature, advanced Reviews, product image zoom. etc.
If you need yet another example, check out Preloved Bazaar website. Their category tiles are some of the prettiest you can find on the web. Strive for this level of quality and appeal when creating the imagery for your website.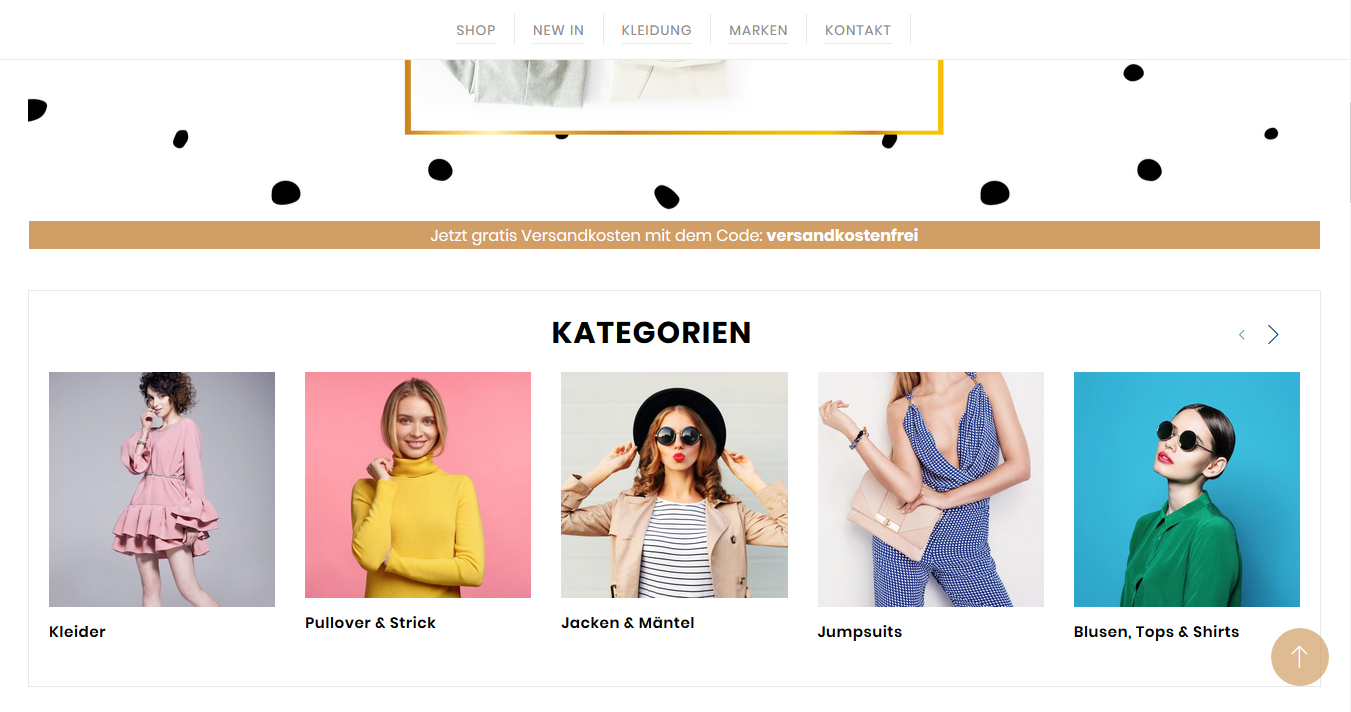 Tip #6: Take Advantage of Additional Plugins
As you launch your store, you'll definitely want to improve user experience beyond the basic one that WooCommerce offers. Here are some of the very useful plugins you may consider adding to your WooCommerce:
If you don't want to pick each of the necessary plugins by hand, it's always simpler for you to go for a theme that batches some of the most popular and useful plugins with its package. In this regard, multipurpose themes are the best, as they often have the richest plugin packs.
For example, the bestselling WooStroid2 template features a rich collection of plugins that let you power a terrific e-store on the go. This template includes a collection of Jet Plugins to enhance the display and customizability of next to every section of your website. All the plugins work with Elementor Builder and let you take advantage of their functionality in WYSIWYG mode.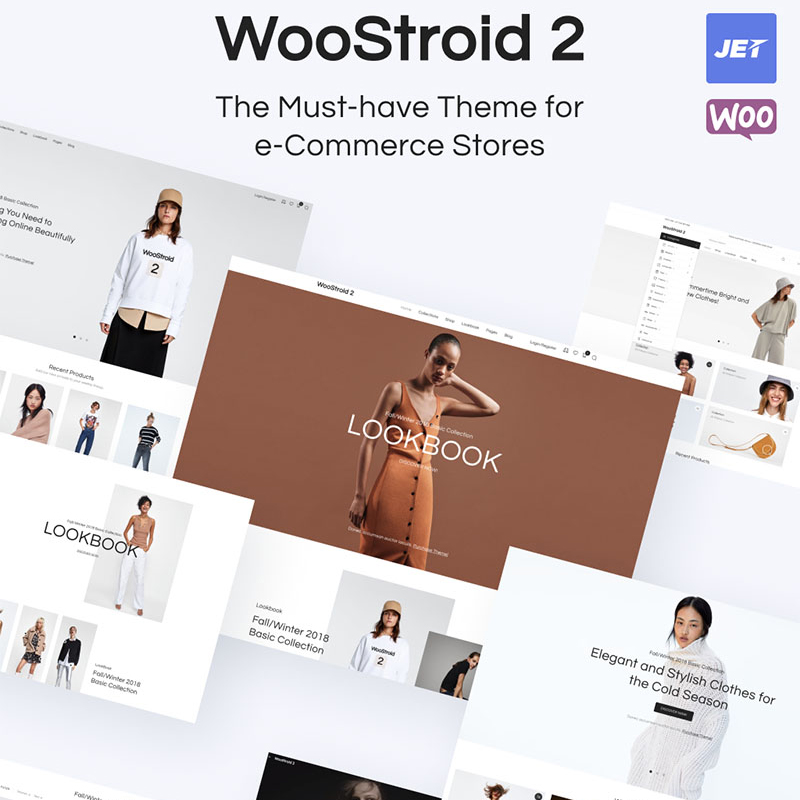 Needless to say, Woostroid theme lets users create amazing fast-loading websites, such as LuceWorks, which looks hot from its header to its footer and provides for an entertaining shopping experience.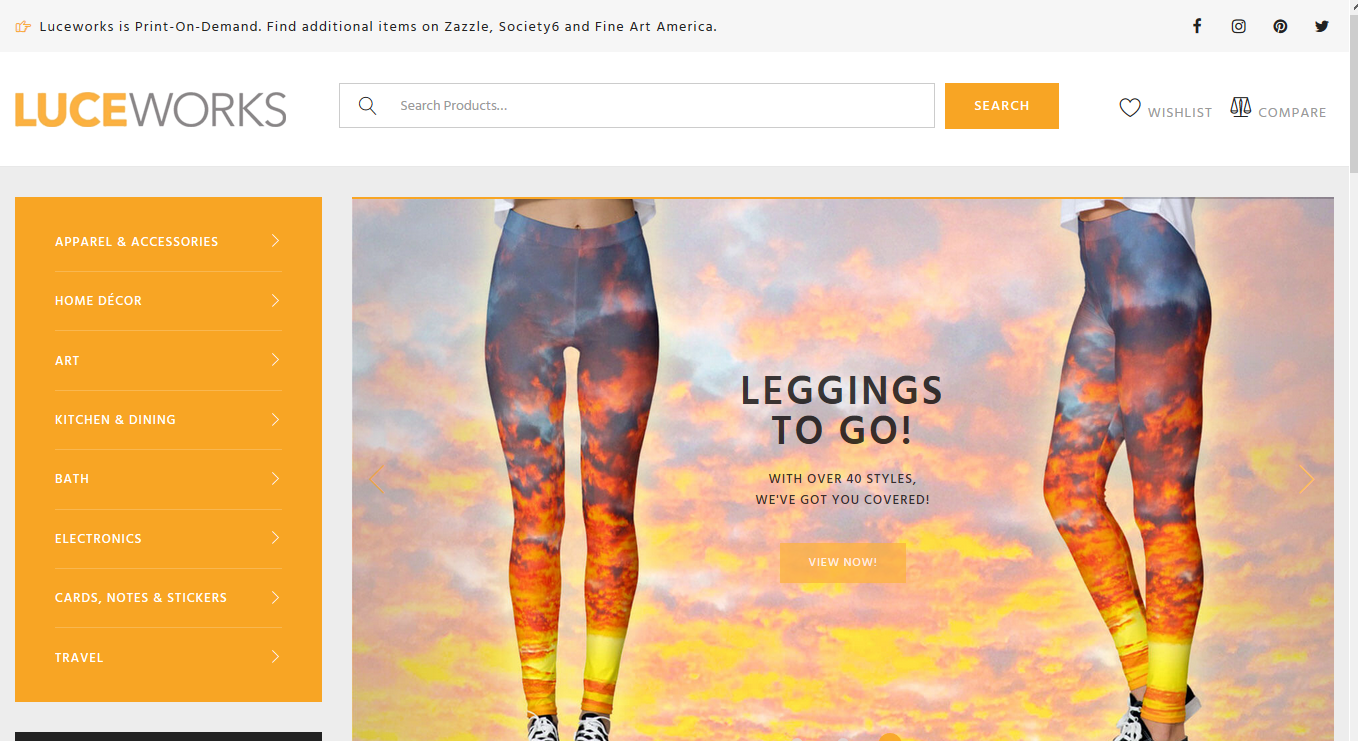 Another theme that offers you a rich pack of e-commerce-related extensions, is the front-running Clares theme. Thanks to rich plugin integration, this theme allows you to power:
Product comments;

Wish lists;

Cross-sale product slider on Checkout;

Cloud Zoom;

Related product slider on Product pages;

Featured and Latest Products;

Display of products by manufacturers, etc.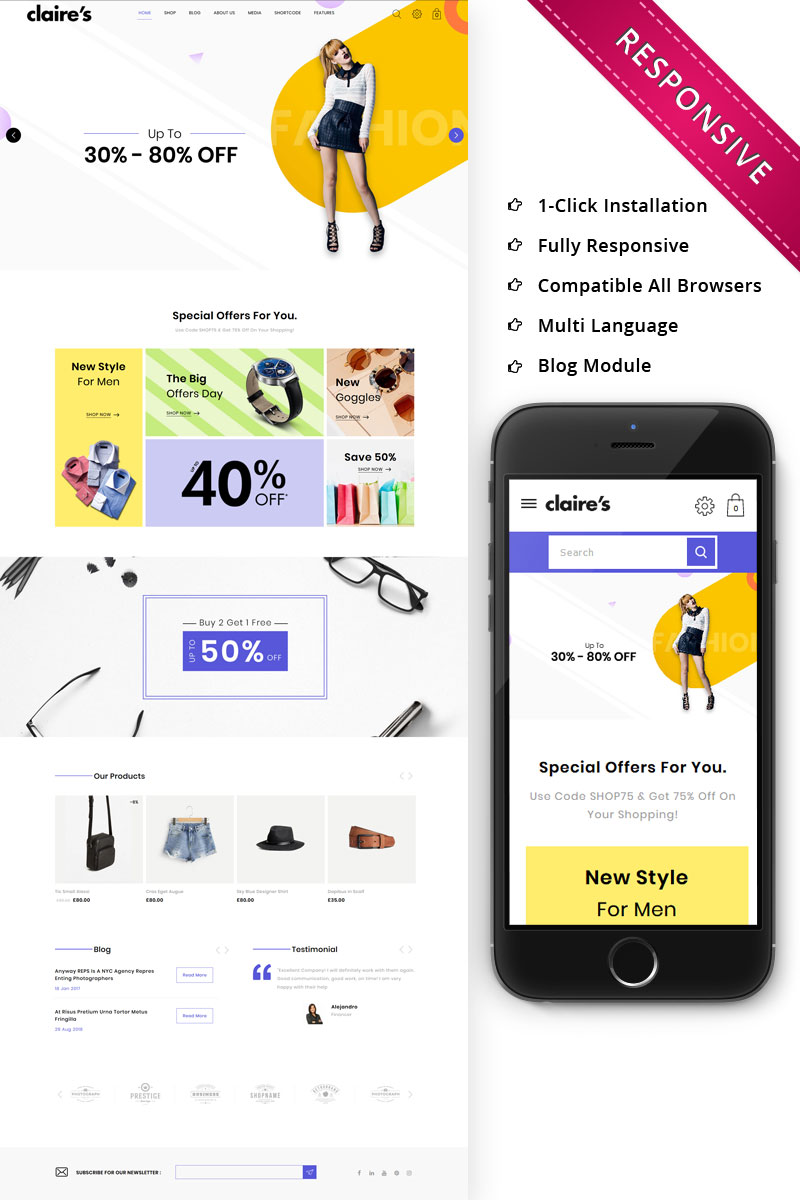 Tip #7: Encourage Social Registration and Integration
Registration and login are the things that take extra time and site guests are often reluctant to register. The less time it takes to register, the more clients are likely to do this. Allowing clients to authorize with social networks, such as Google+ and Facebook makes registration at least 1.5 times more likely to be completed.
To allow social registration on your WooCommerce website, use such extensions as:
Moreover, you can't miss on encouraging social integration on your website. Go for social links in e-store's header and footer and for social sharing buttons on product pages. For example, Nakes lingerie store theme offers you this functionality out of the box. Take advantage of it and see how your follower count in social networks and your sales through social getaways grow.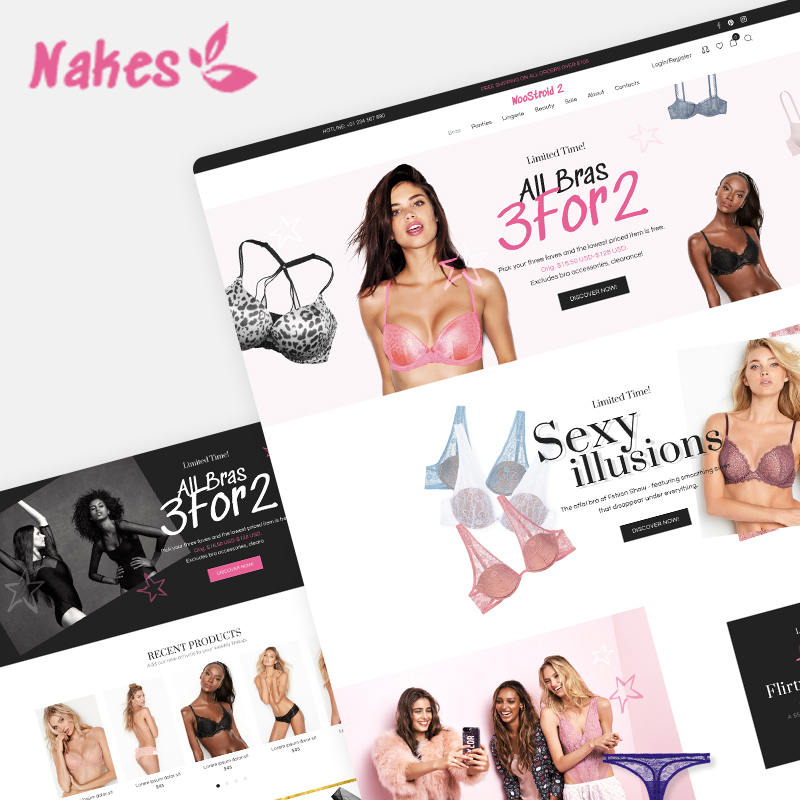 No doubt, e-store navigation is more complex than the one of a blog or corporal website. That's why MegaMenu is a true must for each e-store. It improves website hierarchy, gives you an SEO lift and makes all of your products and categories discoverable. Moreover, Mega Menu lets you add Sale, New and Best-seller badges to the items of your e-store navigation.
To create a Mega Menu, search for the top Mega Menu extensions on the Plugin Market. Alternatively, you can go for a theme that comes with a prebuilt MegaMenu. Lucia is a clean theme that offers you a pre-built professional MegaMenu. With this theme, you won't spend a lot of your time developing comprehensive navigation of your e-store.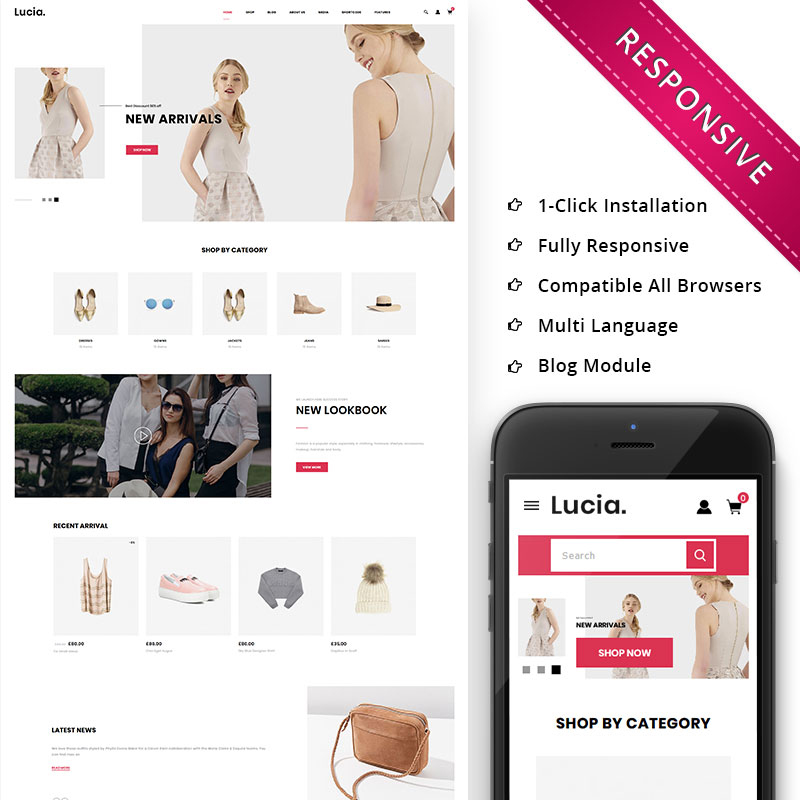 Wrapping Up
Creating a fashion or beauty e-store you've got, pay attention to a number of important factors. Choosing the theme make sure that it matches the vision of your target audience and matches your brands. Moreover, make sure that this theme includes visual builder (esp. for newbies) and is optimized for fast performance. When you work on your fashion/beauty store, make sure that you use high-quality product imagery, create a Mega Menu, power social login and integration, etc.
We wish you good luck in creating a likable and fast-growing e-store! If you have any questions, voice them in the comments section below. We will be happy to answer.
Stay tuned!