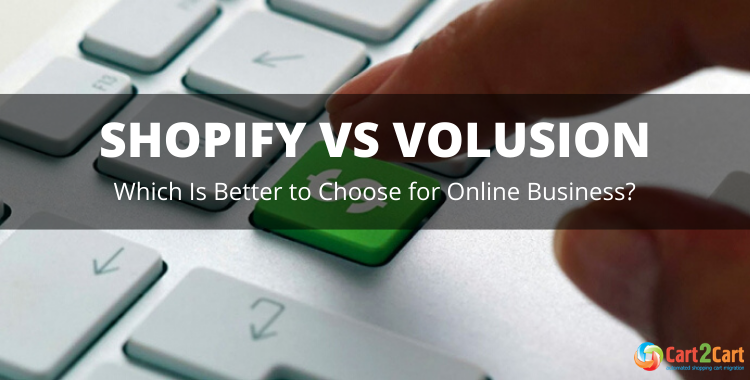 Shopify vs Volusion are two quite popular and reputable shopping carts that provide a good platform to settle a full-featured online store on. They look pretty similar at first glance, but digging into their dashboards reveals that in fact, they have quite different properties. The article aims to compare the strengths and weaknesses of both of them and clarify which eCommerce solution fits your specific business requirements.
Shopify vs Volusion: Pricing
To begin with, neither Shopify nor Volusion requires any setup costs, offering a 14-day free trial for a test drive to everyone willing to. Also, both solutions (and every other platform out there, in fact) have credit card fee ranging from 2.4% + 30 cents per transaction.
Shopify and Volusion are 'software as a service' (SaaS) solutions, that means you pay a monthly fee to use them, and this provides you with all the tools necessary to create and maintain your store: templates, a content management system, hosting, e-commerce functionality and support. Shopify and Volusion impose monthly fees that vary by the plan you've chosen. Shopify starts at a price of $29 a month for the Basic plan and goes up to $299 for the Advanced one.

It's important to note, that unless you're using Shopify Payments to manage every your payment processing, the platform will also charge a 0.5%-2% transaction fee every time you make a sale. In return, Shopify provides you with unlimited bandwidth to run the store.

Despite the fact that Volusion does not have transaction fees (except the one imposed by credit card companies), it's bandwidth is limited if compared with Shopify. The costs start from $29 per month (Personal Plan) to $79 per month (Professional Plan) and raise up to $299 per month (Business Plan).
Shopify vs Volusion: Ease of Use
Aptly combining simplicity and robust functionality, Shopify and Volusion are fairly easy to set up, use, and maintain over the period of time. Usually, both solutions come with a well-designed yet thought-out user interface, which allows reducing the time needed to get up and start running the store to the minimum.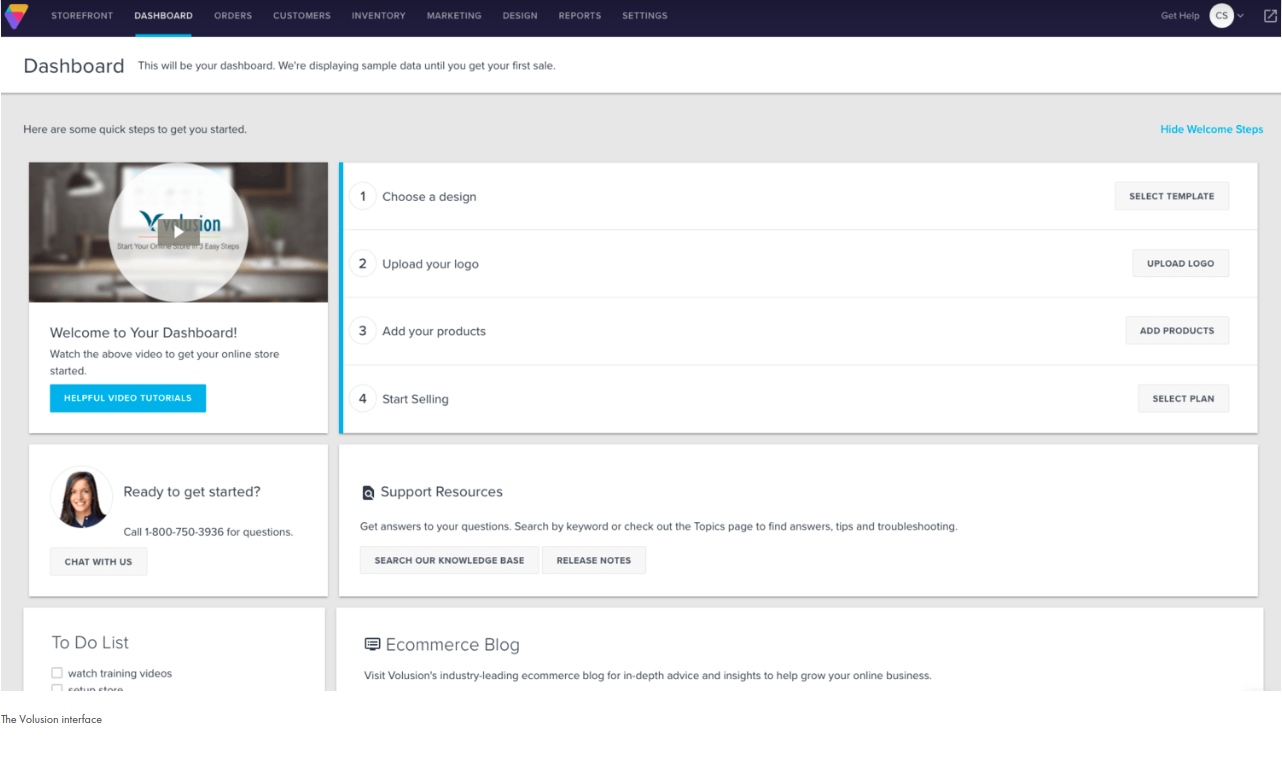 Shopify has a bit easier learning curve comparing with Volusion. Upon starting a free trial, you are presented with a step-by-step guide to adding products and setting up the store. Volusion, however, lacks a similar feature, which makes it a less friendly place for a novice.
When it comes to customization, merchants usually feel more comfortable with Shopify. While access to the raw HTML/CSS code editor can get using both platforms, Shopify provides a simple, menu-driven method to change the store's outlook. With Volusion, however, the only way to customize fonts and colors of your theme is via editing raw HTML/CSS, which requires some expertise to be done, as well as bigger time expenditures.
Shopify vs Volusion: Design
In terms of themes and templates, Volusion leaves Shopify far behind, but in quantitative measurement alone. Though Volusion suggests nearly 45 good looking templates, only some of them 23 of them are responsive. In contrast, nearly every Shopify theme (approximately 70 available) looks awesome across mobile phones and tablets, as well as on a desktop, obviously.
The best thing about Shopify themes is the fact that most of them are built by professional designers, which makes them up-to-date and elegant. Being moderately priced (up to $180 for the most expensive ones), every theme is pretty much affordable even for a newly established store. In any case, there's always several free ones available to pick from.
Talking about the templates, both Shopify and Volusion offer a wide range of professionally-looking and responsive templates, both free and paid.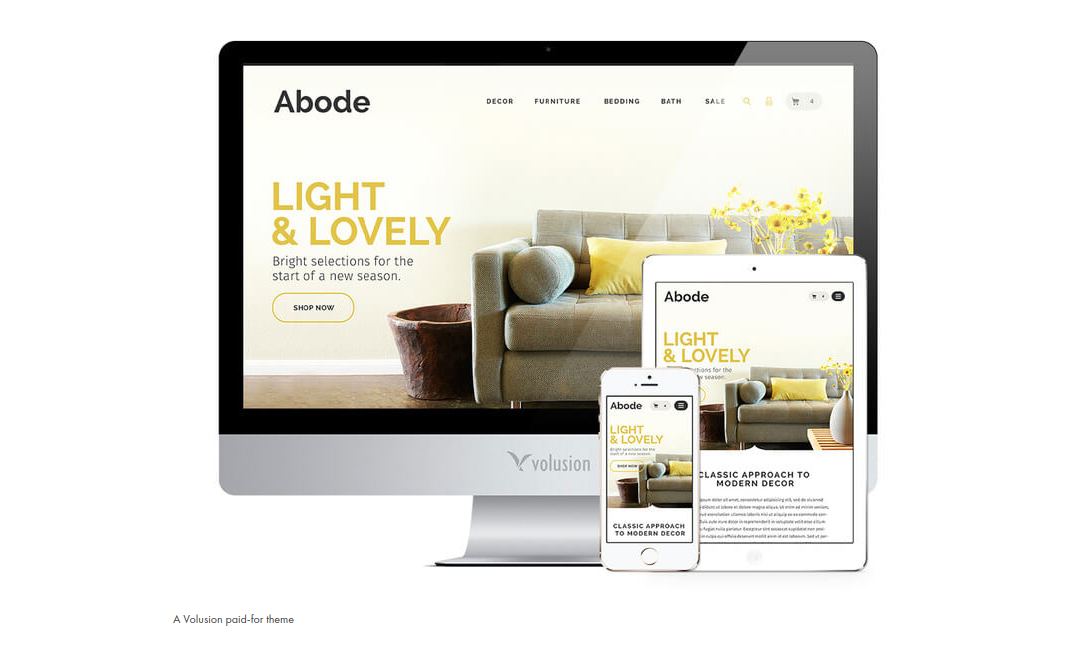 Shopify vs Volusion: Support
Doing business is never easy. Being a newbie or a professional, you can't omit running into some sort of a problem with your store. Fortunately, both Shopify and Volusion are caring enough to provide each of their users with 24/7 support. Either by phone, live chat or email, you can easily contact a qualified support consultant whenever it's needed.
In addition, Shopify has a dedicated forum to interact with an extensive Shopify community. Apart from technical issues, you also can discuss business related questions there too.
Shopify vs Volusion: Extensions
It is impossible to build a full-featured store without utilizing several extensions. They can not only automate some of the mind-numbing, everyday operations but expand your store's functionality significantly, adding new, previously inaccessible features.
Both Shopify and Volusion have marketplaces for developers to publish their creations, and for users to download them either for free or not. Shopify currently has an astonishing number of more than hundreds of apps available for download. Being built by independent service provides, many of them are paid, but worth the investment.
Though Volusion extensions cover the most important categories too (marketing, shipping / fulfillment, customer support integrations, etc.), their amount is incomparably slimmer - only 73 apps to choose from. This bitter fact gives a big advantage over Volusion, indicating the fact that 3rd party tools providers are more willing to integrate their services with Shopify solution.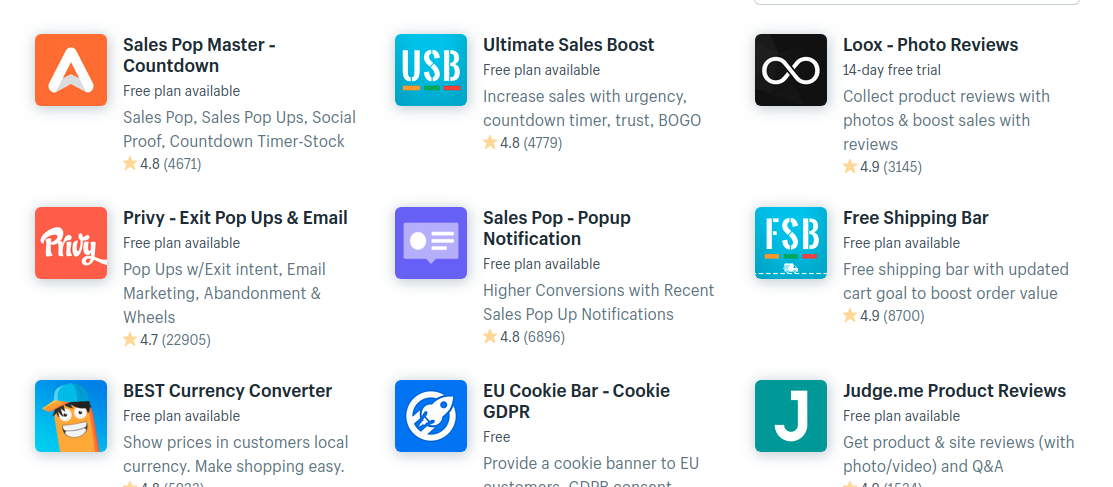 Shopify vs Volusion: Popularity
Platform's popularity does not equal its quality. However, it is a good indicator of how much people trust the solution provider, its credibility in other words.
According to the official data taken from the platform's websites, Shopify powers about 4 times more stores than Volusion does, counting for 600.000+ and 180.000+ stores correspondingly. The numbers get even more impressive if to consider the gap between their launch dates - Volusion had entered the business 7 years earlier (1999) than Shopify did (2006).
That's not a reproach to Volusion, however. While most of the e-Commerce solutions were kicked out of the market a long time ago, it is still a member of the top 5 most popular hosted shopping cart.
Google Trends draws basically the same picture.
Shopify vs Volusion

Shopify vs Volusion. Which Is Better to Choose?
Volusion offers more design options and has no transaction fees. On the other hand, Shopify can boast about an unlimited bandwidth and an extensive marketplace. So, take time to consider your objectives, goals, and preferences to make the decision that will surely take your online business a level up.
All in all, no matter which shopping cart you'll stick with - Cart2Cart automated migration service can more than help you to go through the Shopify to Volusion or Volusion to Shopify migrations hassles- and trouble-free. Besides, you can take advantage of the free a Free Demo to try everything out.