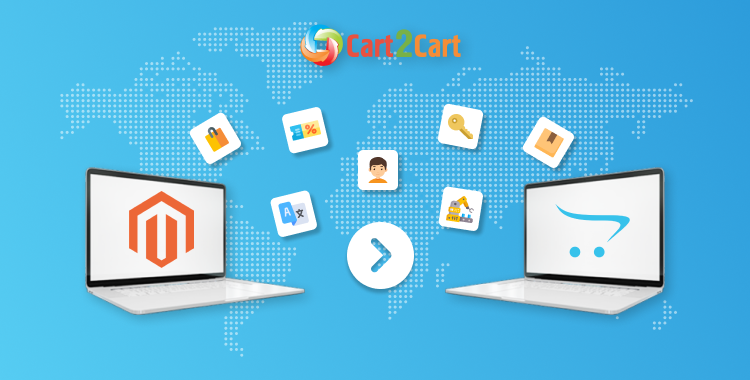 Many entrepreneurs having their online business settled on Magento often consider it to be too overwhelming for their online project. There are dozens of worthy alternatives to migrate to, and OpenCart is one of them.
Magento and OpenCart are both best-in-class eCommerce solutions allowing merchants to build a strong online presence. When compared, it becomes obvious that Magento holds the trump card covering the lion's share of the market (5.47%).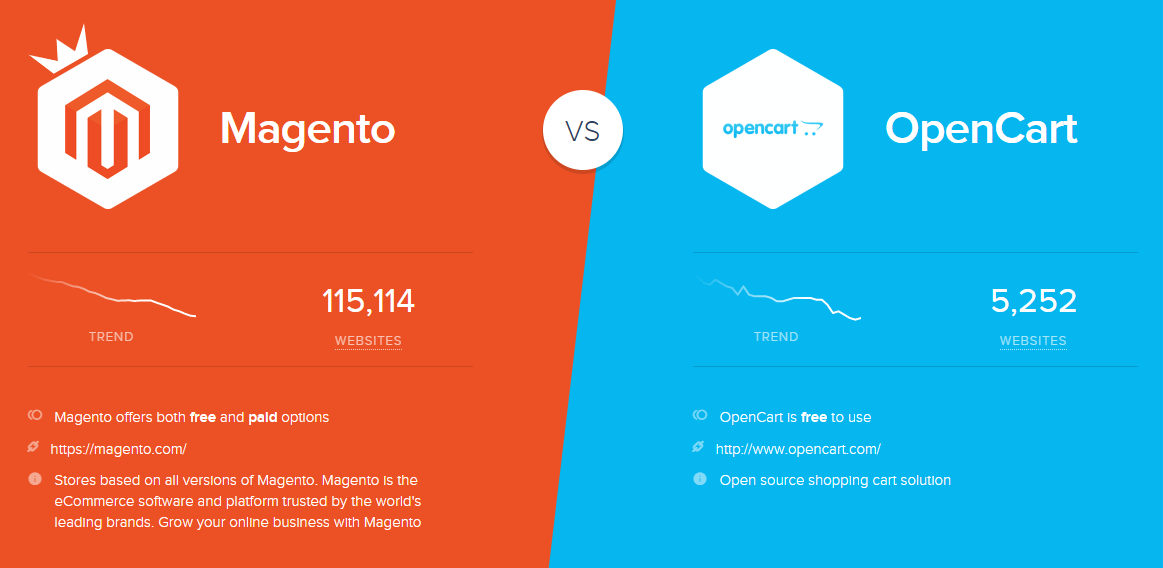 However, it doesn't mean that OpenCart with its 1.51% provides poor features or limited abilities. The trend of Magento to OpenCart migration is rapidly increasing and not for nothing. Let's try to outline those reasons that make Magento store owners leave the platform in favor of less popular OpenCart.
Why Choose OpenCart Over Magento?
Generally speaking, the central tension between Magento and OpenCart lies in complexity. In other words, when it comes to running an enterprise-class store with a big budget and advanced functionality -Magento is a perfect way to go. However, if you feel tired with Magento's complexity and are searching for more intuitiveness and simplicity - migration to OpenCart is definitely the right decision. Other reasons that make users leave Magento are:
To take full advantage of Magento, strong design and development expertise is required.
It is quite a resource-consuming platform (not only in terms of customization capabilities but also financial investments).
If there are any issues that need to be fixed — store owners usually have to turn to developers to get the job done.
In case you've made the decision to migrate from Magento to OpenCart but don't know where to start, the following instructions can come in handy for you.
How to Migrate from Magento to OpenCart?
For those using Magento to settle their online stores on but willing to replatform to more user-friendly OpenCart, the hottest question is how to migrate all the store products across shopping carts with no data loss and SEO damage. Basically, there are 3 ways to get around the problem:
Manual - expects deep coding skills and programming expertise. If done unprofessionally, it can potentially break the functionality and even cripple a store.
Assisted- requires a fortune to be spent on an experienced developer.
Automated - aims to make the eCommerce migration accessible for everyone including non-tech savvy and first-time users.
Migrate your store's data to OpenCart quickly & securely with the help of Cart2Cart: Magento to OpenCart Migration Module.
Pre-Migration Preparations
It is not recommended to skip the pre-migration planning and setup activities hoping that the things will figure out along the way. Here are some tips on how to avoid possible migration-related risks and perform the necessary preparations ahead of time.
Firstly, take time to find the required access details of the Source & Target stores (the stores' URLs and security tokens). With the help of the Migration Estimator calculate the exact price of the conversion. Besides, you can take advantage of the Migration Preview option and check how products, customers, orders and other information from your Magento store will look on new OpenCart.
Store Data Transfer
With this in mind, let's walk through the key stages of Magento to OpenCart migration with Cart2Cart:
Set up your Source & Target stores
Specify Magento as the Source Cart and OpenCart as the Target Cart in the appropriate fields of the migration wizard. Fill in all the required information and install the Connection Bridge.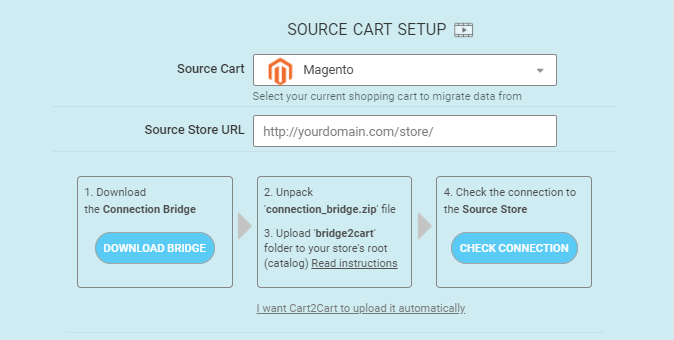 >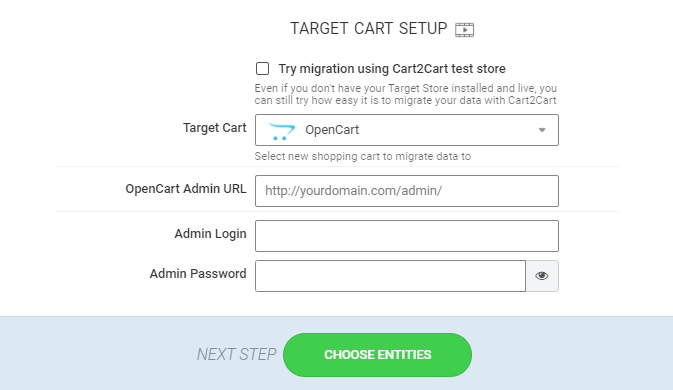 Once you've provided the URLs of both stores and their security tokens, it's time to download and install the Connection Bridge. To see how to do that in progress, watch this video tutorial:
Select store data and additional migration options
Basically, you can transfer the following store data types from Magento to OpenCart. All you have to do is to select only those entities you consider necessary for your specific OpenCart online shop:
Products,
Product categories,
Manufacturers,
Taxes,
Customers,
Orders,
Coupons,
Reviews, etc.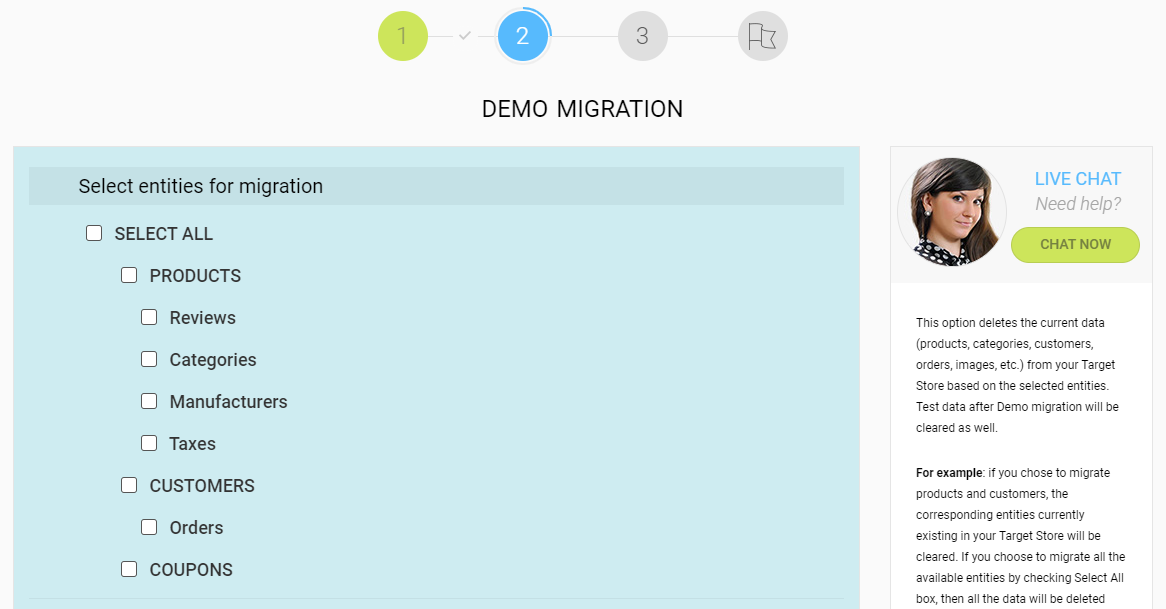 Furthermore, the following additional conversion opportunities are offered to make your replatforming even more stress-free:
"Migrate categories and products SEO URLs" option will save all Magento links structure to the products;
"Migrate customers' passwords" options makes it possible for customers to log in to your Target store using their Source store credentials.
"Preserve product/category/customer IDs on Target store" option allows saving the Source store product/category/customer IDs on the Target store after migration.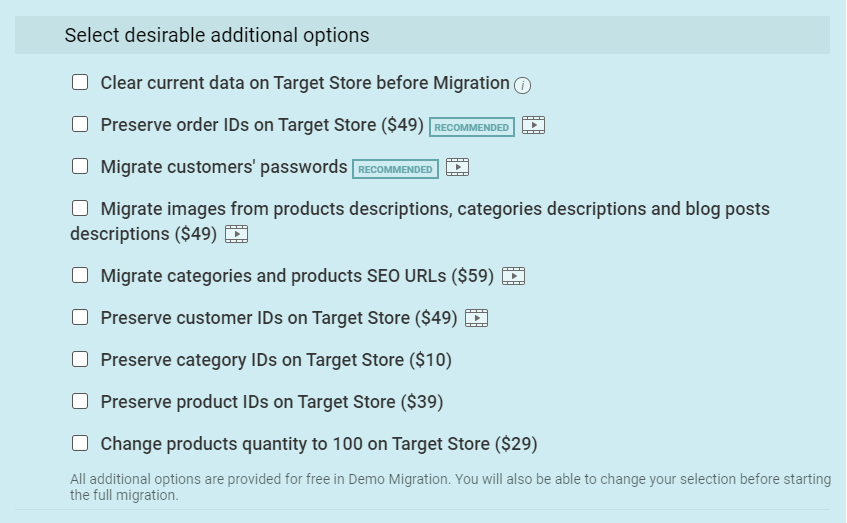 Also, you'll need to perform data mapping and match your Magento stores, order statuses, and customer groups to the corresponding ones on the OpenCart store.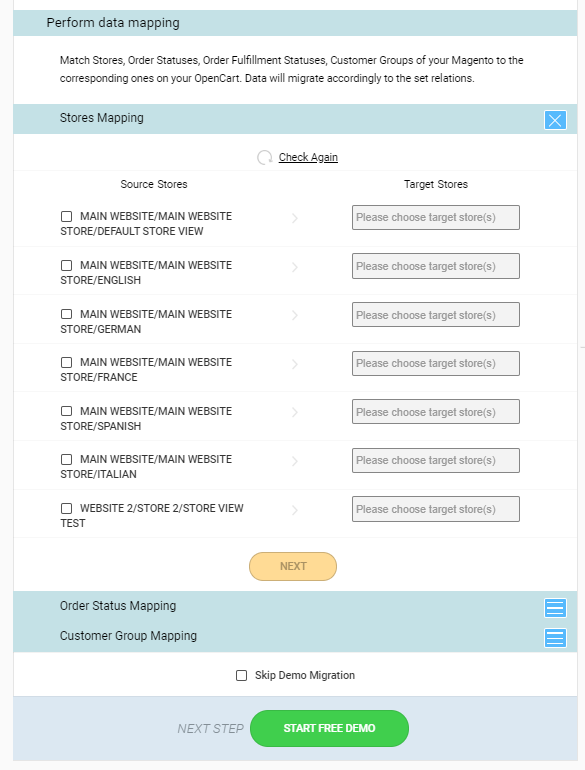 Try out Demo migration
When you have all the required store entities and additional migration options chosen, it's the right time to see how the service works. Demo migration allows transferring a limited number of store data in 10-30 min for you to check how products, customers, orders, and other information from your Magento shop are going to look on another platform. It is advised not to close the browser window until the demo migration is finished.

Launch Full migration
If you find yourself totally satisfied with the Demo results, you're welcome to launch Full migration. Just activate the Start Full Migration button and get ready to have all the Magento store data transferred to OpenCart in a fully automated manner.
Post-Migration Steps
Once you've transferred all your current store data to OpenCart, make sure to perform the following must-do's to ensure your newly created store works perfectly:
Monitor new OpenCart store for possible issues,
Add necessary apps/modules/extensions to expand the initial functionality of the new store,
Inform customers about the performed replatforming and ask them to notify you about problems if any.
Migrate from Magento to OpenCart-FAQs
Which is better OpenCart or Magento?
There is no better or worse platform. It all depends on the client's goals. Large online stores can be accommodated by both Magento and OpenCart. Although OpenCart is a powerful platform, it does not have as many tools as Magento. Magento is better than Opencart in every way, but Opencart is more suitable for beginners. In addition to being complicated to use, Magento is also difficult to navigate.
How to migrate Magento (Adobe Commerce) customers to OpenCart?
To move customers from Magento to OpenCart, simply check the Customers checkbox in the Migration Wizard when setting up the import.
Does the data migration process influence my Magento (Adobe Commerce) store performance?
The data migration won't affect your Magento (Adobe Commerce) store's speed or performance. By using the Cart2Cart migration service, you will simply export the data from your Magento (Adobe Commerce) store and paste it into your new OpenCart store. There is no impact on the store at all, so it can continue to run normally.
With all that being said, it's almost impossible to overestimate the crucial importance of the right-size shopping cart for the online shop. So, take your time to carefully analyze the pros and cons of different migration methods and migrate your Magento to OpenCart without intensive hands-on.