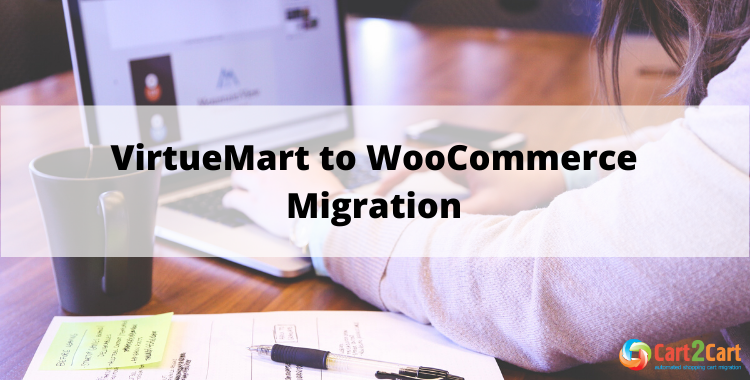 When the upcoming store migration is on the horizon, it's about time to start planning ahead. While the whole process seems to be rather easy to cope with, the bitter truth is - no, it's not. Therefore, in our today's post we'll show you how to migrate VirtueMart to WooCommerce and it's perks and pitfalls. So, keep reading to find out the best possible way to perform it hassle-free.
How to Migrate from VirtueMart to WooCommerce in 4 Steps
Setup you current Virtuemart and new WooCommerce stores by providing the required credentials.
Select the data you need to migrate e.g. orders, customers, products to WooComerce.
Try out the free VirtueMart to WooCommerce demo migration option.
Start the full VirtueMart to WooCommerce migration process.
Watch our video tutorial to see how easy it is to automatically migrate from VirtueMart to WooCommerce with the help of the Cart2Cart migration tool:
What is VirtueMart to WooCommerce migration?
There are several approaches to migrate VirtueMart to WooCommerce, but an automated way is considered to be the less effort- and time-consuming one. By using services like Cart2Cart, you will transfer all the store's data to another platform without the need to dive deep into coding.
VirtueMart vs WooCommerce. Quick Facts
Both VirtueMart and WooCommerce are free, open-source plugins that were specifically designed for the Joomla Content Management System and WordPress users respectively. VirtueMart will be suitable for small to middle-sized online stores. WooCommerce, on the other hand, is an ideal solution for the owners of small to large-sized businesses.
No need to postpone the desired store transfer. Run a free demo migration with Cart2Cart to see how easy it is!
Currently, WooCommerce powers 7,168,281 live websites, whereas VirtueMart - only 288,772. The popularity of WooCommerce stores among users is evident if you look at the Google Trends:
Why Migrate from VirtueMart to WooCommerce?
It is evident that each platform has its pros and cons, and it is usually hard to decide which one will be right for your business. But, taking into account the decreasing popularity of VirtueMart, it is fair to say that it lacks the main essential features of an up-to-date platform. Its weaknesses include:
Not the most user-friendly platform
Lack of high-quality third-party extensions
Old-fashioned basic free themes that won't fit an up to date store
Weak SEO features
Additional money need to be spent on payment gateways, security and hosting
The necessity to hire a developer in case you're not a tech-geek
Contrarily, WooCommerce is a feature-rich solution that will satisfy the needs of most business owners. The benefits of using this platform are the following:
100% customizable solution
Straightforward and easy-navigable design
High flexibility and adaptability to any type of store
Unique SEO features
A myriad of both free and paid plugins and themes
Excellent customer service
Large user community with a significant number of documentation, guides, and articles
The stark contrast between the two solutions is evident. But it's up to you to decide which one will suit your business needs and requirements.
Get rid of data transfer hassle with the Cart2Cart: VirtueMart to WooCommerce Migration plugin.
So, once you've firmly decided to migrate VirtueMart to WooCommerce, we recommend you to adhere to the following guidelines:
Establish the WooCommerce Store
First of all, you will need to install the WordPress platform. Once done, download the WooCommerce from the WP plugin section and activate it.
In case you're still not sure whether to choose WooCommerce as your Target cart, make use of our Migration Preview service. It helps merchants take a glimpse at their stores on a new platform by transferring a limited number of data entities to Cart2Cart's test store. Keep in mind that it will be live only for three days.
Prepare Your VirtueMart Store for Migration
Perform store's audit to remove all the outdated and needless data
Although Cart2Cart doesn't delete any information during the migration process, it is recommended to backup your store to any of the external devices
Additionally, you may calculate the exact price of the replatforming with the help of the Migration Estimator.
Configure Source and Target Carts
Choose VirtueMart as your Source Cart from the drop-down menu in the Migration Wizard. Copy the Store's URL to the corresponding field and install the Connection Bridge (download it, unpack files to the store's root folder). Once you've received a notification, the Connection Bridge has been successfully installed, proceed to the next step.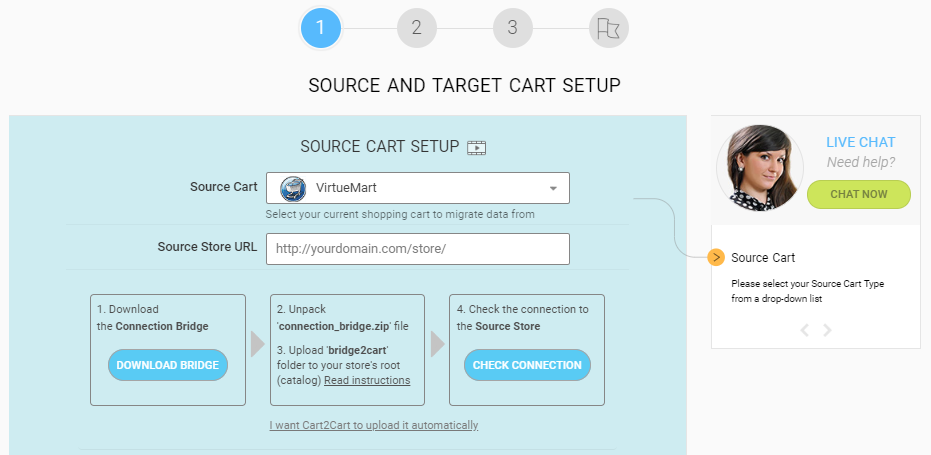 Select WooCommerce as your Target Cart. Provide all the necessary credentials (WordPress Admin URL, login, and password) and click the "Choose entities" button.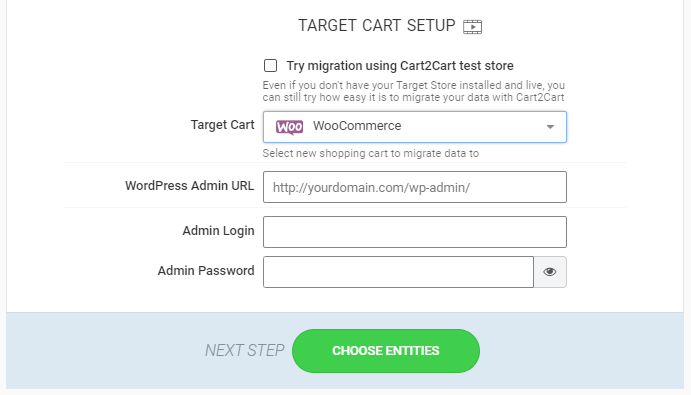 Select the Necessary Data Entities
At this point, you will have to decide which data entities you wish to transfer from VirtueMart to WooCommerce. It is possible to either tick the box with the "Select all" option - in this case, all the store's data will be migrated to the Target Cart. Alternatively, you may select to relocate only some of the data:
Products (including product categories, reviews, manufacturers, taxes)
Customers (orders)
Coupons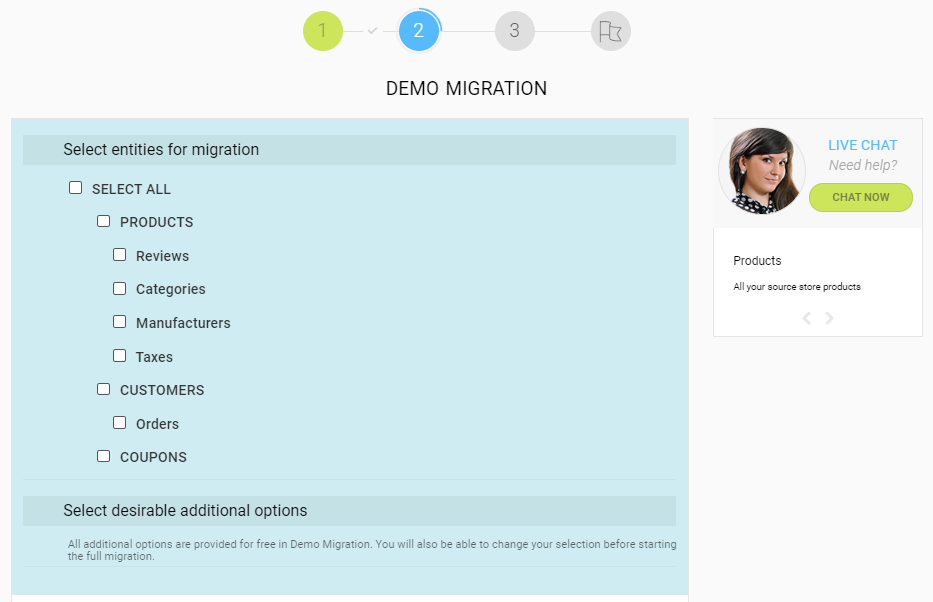 Consider Choosing Additional Options
Cart2Cart provides its customers with the possibility to ease the data transfer process by picking some of the following extra options (both free and paid ones):
Please note that all these suggestions are optional, and if you decide not to choose them, it won't affect the quality of your migration.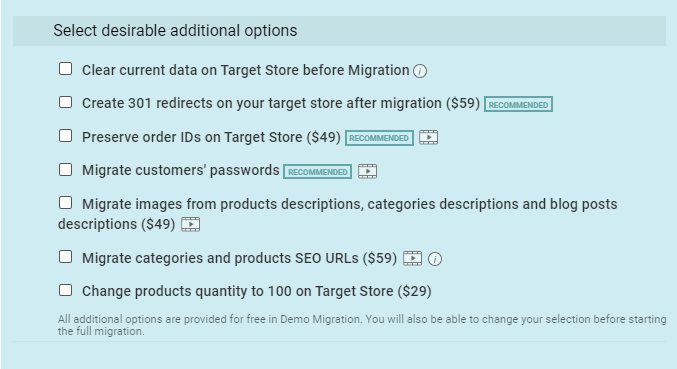 Carry out Data Mapping
Now, you'll have to adjust your VirtueMart order statuses and customer groups to the ones on the WooCommerce store.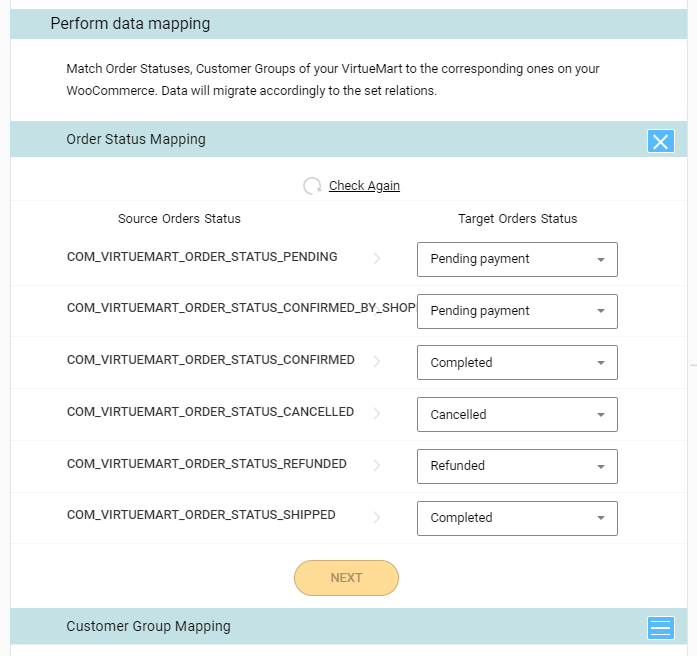 Run Demo Migration
With the help of the free Demo Migration, you can transfer a restricted number of entities (up to 10) to the WooCommerce store just within 10-30 minutes. We recommend not to skip this step since it shows the service in action.

Important! Do not close your browser window before the Demo Migration is completed.
Launch Full Migration
Once you've checked the Demo Migration results, feel free to start the full migration of your store from VirtueMart to WooCommerce. Now you can safely close the browser window and return to your business.
Check out our infographic to get a better understanding of the migration process via Cart2Cart: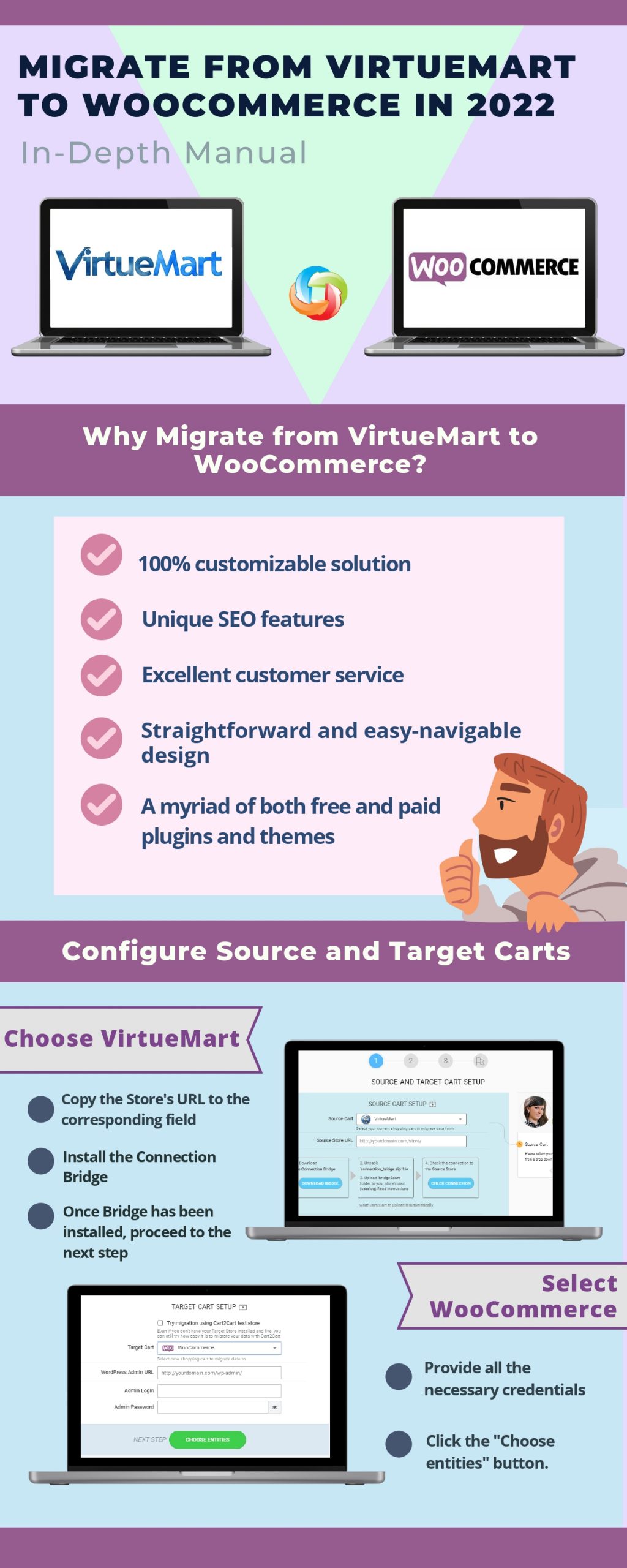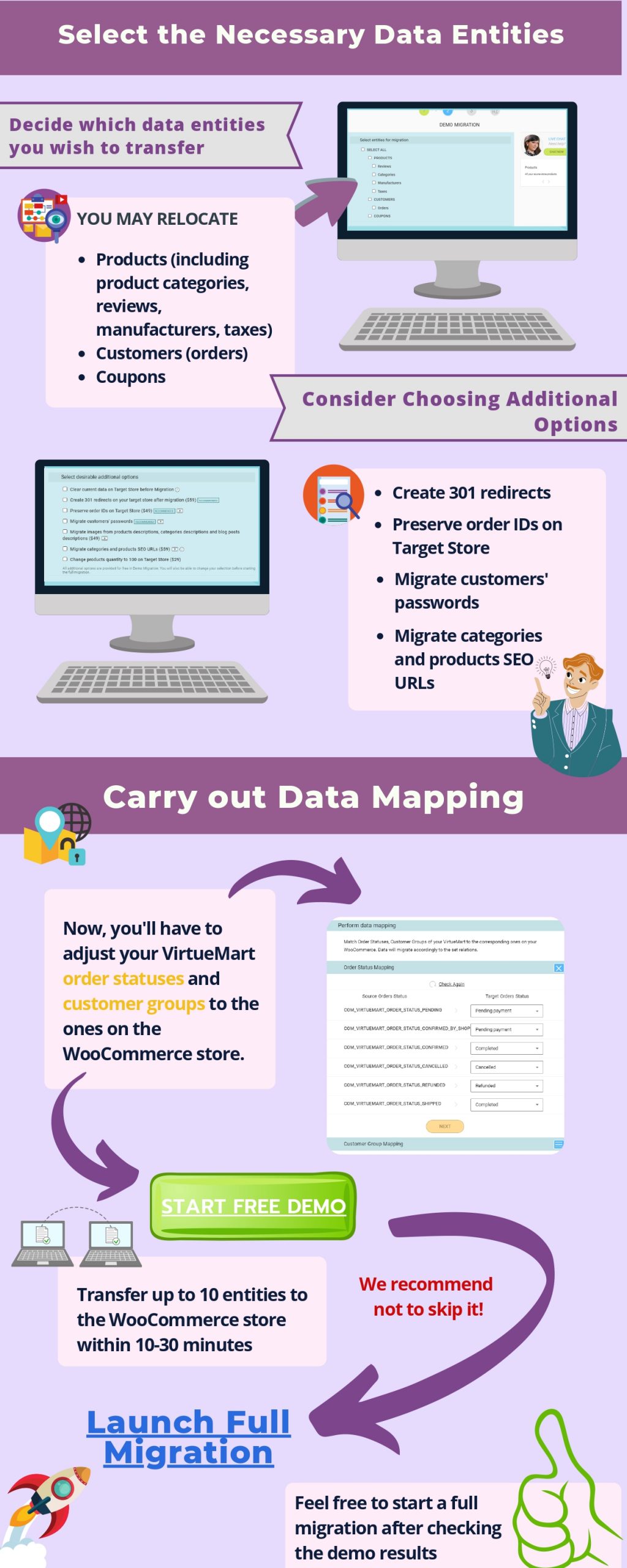 How to Migrate Products from Virtuemart to WooCommerce?
To move your Virtuemart products to WooCommerce you can use an automated service Cart2Cart. It requires no coding knowledge and is safe for your online data.
Also, if you have a CSV file with your Virtuemart products, import it to WooCommerce:
In the WooCommerce admin go to Products and click Import button.
Configure your import process and upload the CSV file.
Start importing products to WooCommerce store.
Read our post to find out more about WooCommerce export products.
How to Export Orders from Virtuemart to WooCommerce?
If you need to create a CSV with your Virtuemart orders, do the following:
In the Virtuemart admin go to Components menu and click Orders.
Choose the orders you want to export and tap the needed file format.
Migrate VirtueMart to WooCommerce: Post-Migration Tips
As soon as you receive notification that the Full Migration of your store has been completed, we urge you to do the following:
Check the store for common mistakes (e.g., categories, products, catalogs), register new customers, make a few test purchases, etc.
Install all the necessary modules and themes from the WooCommerce marketplace.
Alert your clients of the platform's switch and ask them to inform you of any arising problems.
Use our Recent Data Migration Service to transfer the new data (e.g., products, customers, etc.) that has appeared on your VirtueMart store during or after the migration.
VirtueMart to WooCommerce Migration FAQs
Can I use Virtuemart with WooCommerce?
Unfortunately, it is impossible. You can not combine the two separate eCommerce solutions. However, it is possible to migrate your store's data to WooCommerce in case you wish to grow your business and get more advanced functionality.
How do I transfer from Virtuemart to WooCommerce?
To migarte your store's data from Virtuemart to WooCommerce:
Configure source and target carts in the Migtarion Wizard.
Choose the data for migration.
Thansfer the needed data types to WooCommerce with Cart2Cart.
Is Virtuemart better than WooCommerce?
Virtuemart is a perfect solution to get started with. But if you are planning on growing your online presence, consider WooCommerce as your go-to destination. This WordPress plugin has everything needed to create a perfect store with limitless customization options.
So, now you're all set to perform the VirtueMart to WooCommerce store migration just within a few clicks. Don't wait any longer and upgrade your business with limitless possibilities of a new eCommerce solution.
Wish to try out how the Cart2Cart service works? You've got a perfect opportunity to run a free demo now!