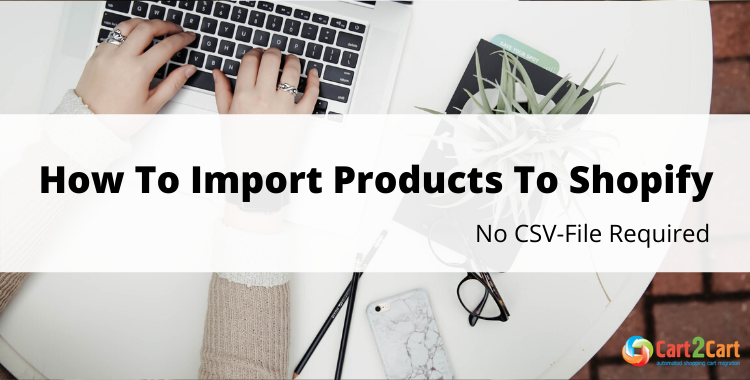 If you need to import products from any website to Shopify store, you've landed in the right post. Read the article to discover not only the key methods but also the ways of moving products to Shopify.
According to the migration statistics of Cart2Cart, Shopify is the dominating eCommerce solution that merchants usually choose to migrate to. Therefore, some clients face a big question of how to import only products to Shopify, leaving all the other store entities behind.
For more reasons why so many entrepreneurs all over the world choose Shopify to power their online business - take time to read the post What Makes Shopify the Best eCommerce Platform to Migrate To.
In fact, there are two ways of importing products from any website to Shopify store:
Import a CSV file with your products to Shopify.
Directly import products from another store to Shopify using a SaaS tool.
Importing products to Shopify via CSV file
If you've decided to go the CSV-import route, make sure to follow the Shopify's CSV structure recommendations to export the file correctly. To ensure a successful import, your CSV file can't exceed 15MB. Otherwise, the Shopify product import may be incomplete or totally failed.
Next, make use of the following step-by-step instructions:
Go to your Shopify admin panel, click All Products > Import > Add File.
Hit the Add File button in the Import products by CSV file window. Click Upload and Continue
Once chosen the required file, activate the Import Products button and start importing the Products to your Shopify store.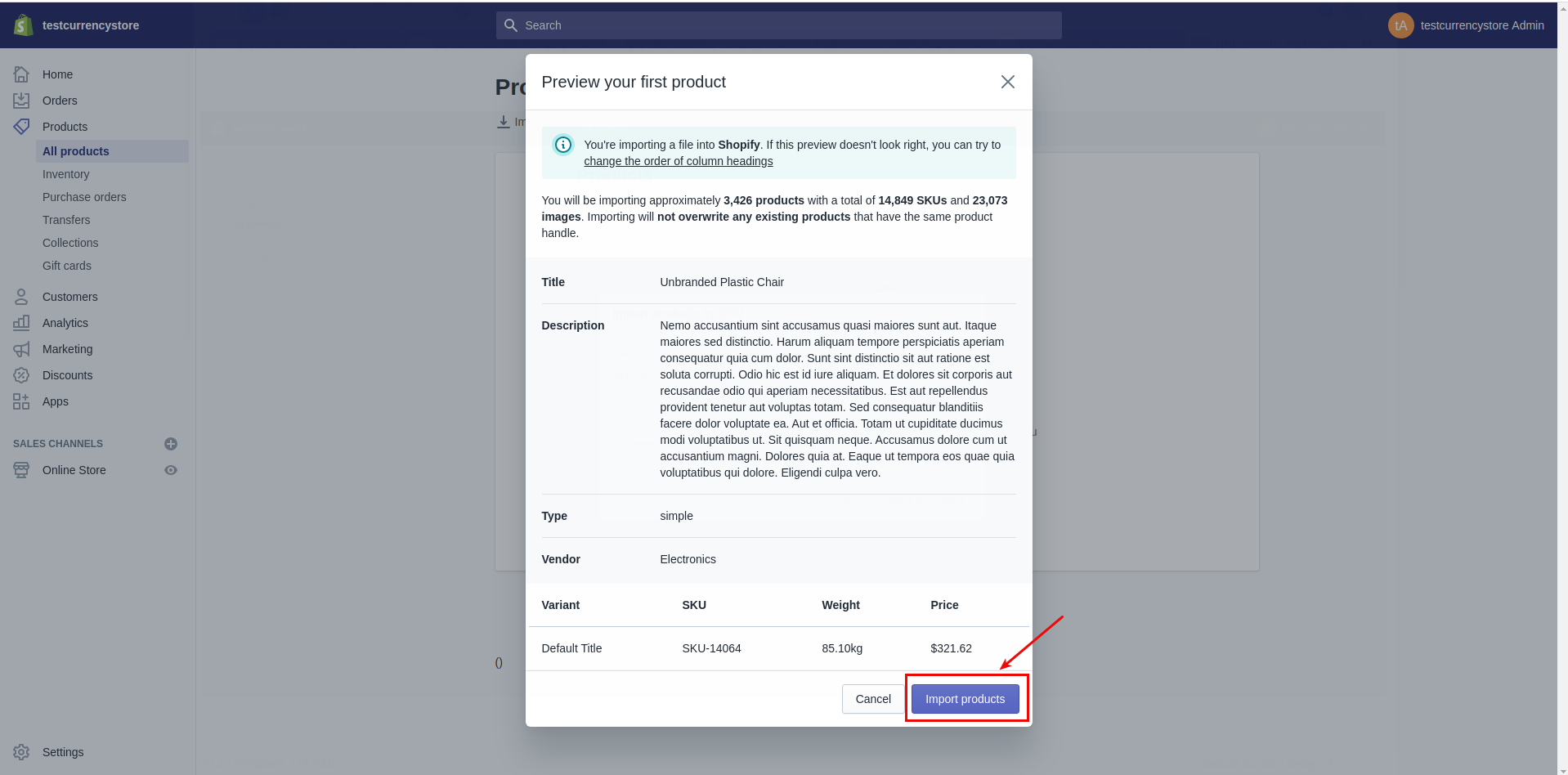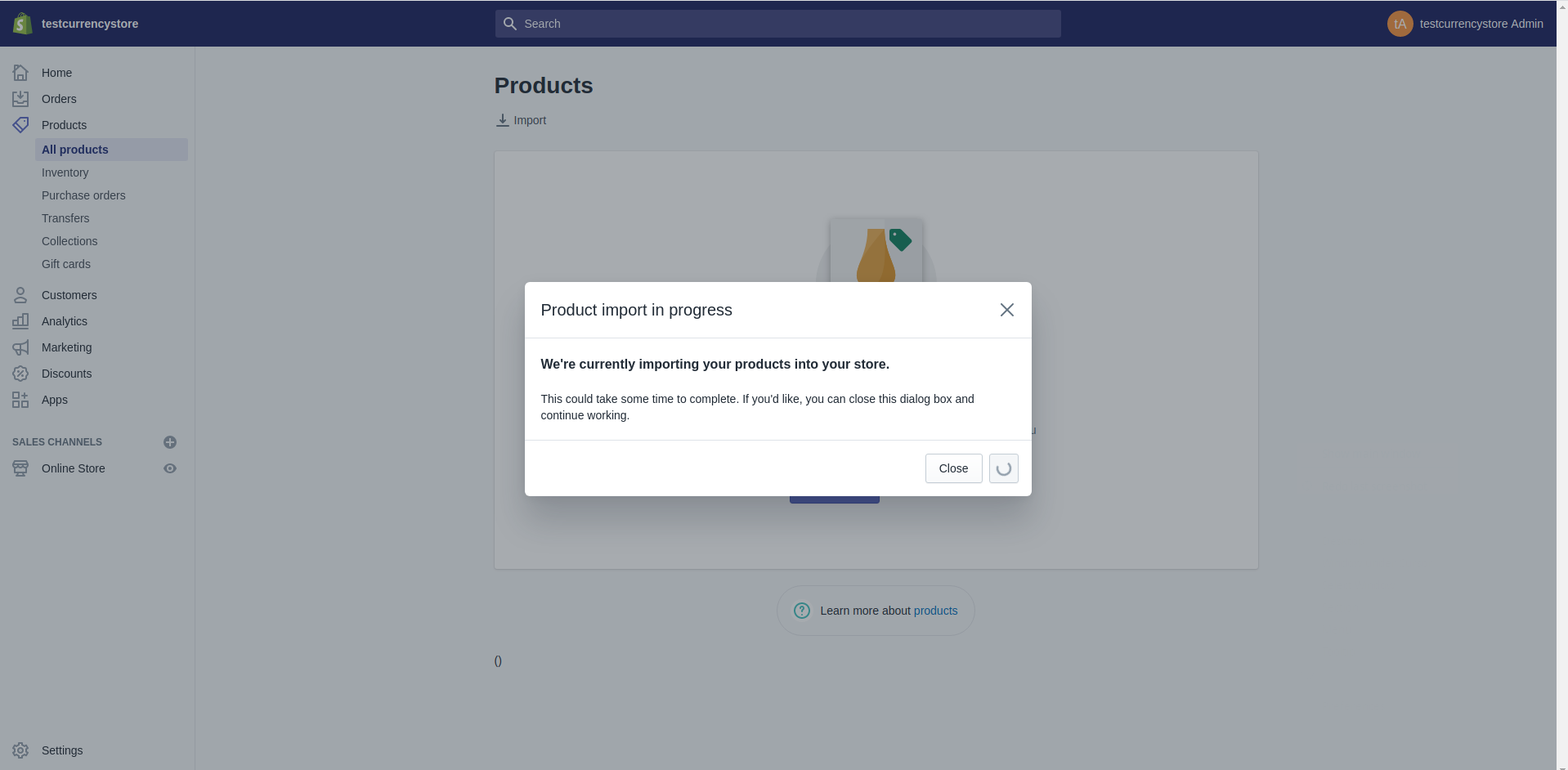 When completed, you'll receive a confirmation email from Shopify.
Note: When importing products to Shopify via CSV file, their relations with other data entities won't be preserved. Since you're migrating products "detached" from other entities (e.g. orders), their associations in the Shopify store will be lost.
Ready to import your products to Shopify?
Go through a simple 3-step process and get your products imported to Shopify fast & stress-free.
Migrate now
How to add products to Shopify from other websites (without CSV export/import)?
Alternatively, you can automate the process and increase the speed of importing products from any website to Shopify with the help of online SaaS solutions (like Cart2Cart). First, it will save you from concerns about the file structure. Furthermore, if you want to transfer products along with other entities, (e.g. orders, customers, etc.), it'll preserve all the associations between them.
Once you have registered with Cart2Cart, perform the following steps:
Set up the source cart
If migrating from a CSV file: specify CSV as your source, paste the store URL from which the CSV files have been exported).
If you're migrating directly from a shopping cart, choose it from the drop-down list. When done, provide the store's URL address (if moving from an open-source cart) or the store's API details (if migrating from a hosted solution).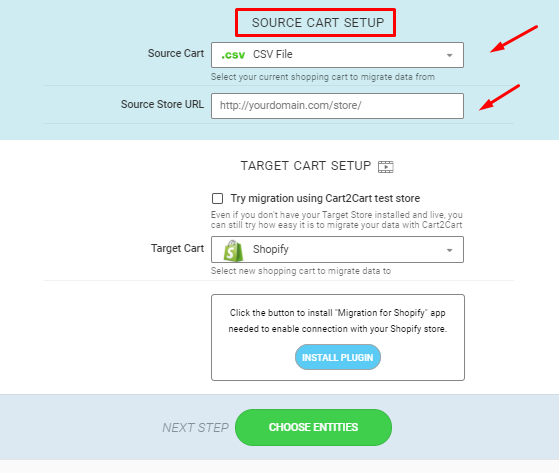 Note: If you have no access to your source cart or it is not supported, importing products via CSV-file is a good way to go.
Set up the target cart
Choose Shopify as your Target Cart and click "Install Plugin" to proceed (more info about how to install the app is here).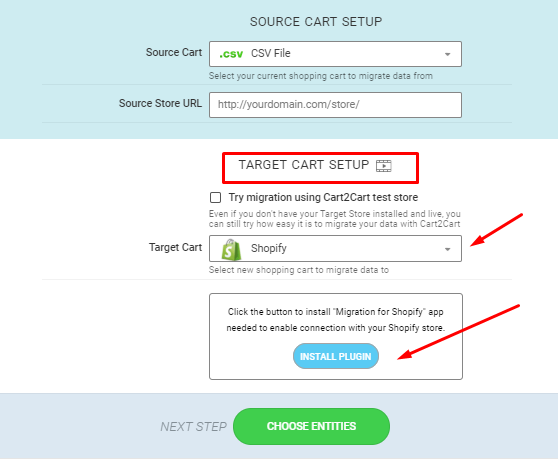 Choose what to migrate
Just click on the Products checkbox to initiate Shopify product transfer only.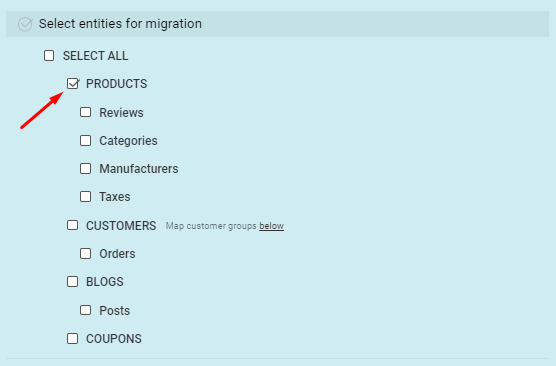 Start Demo migration
It allows transferring a limited number of products to Shopify to see how they will look on the new platform.
Start Full migration
Just activate the Start Full Migration button and get ready to have all your products imported to Shopify in a fully automated manner.
For a detailed and in-depth tutorial on how to migrate to Shopify, read How To Migrate Your Online Store To Shopify. 2020 Best Practices & Recommendations.
Why migrate products to Shopify with Cart2Cart?
Cart2Cart is an automated shopping cart migration service that is equipped with all the necessary functionality to transfer ecommerce data to a new platform automatically. You may perform the switch on your own with no difficulties just following a few simple steps in the Migration Wizard.
Cart2Cart is the first and most trusted automated migration service on the market. Among its numerous benefits, the key ones are as follows:
Effortless 3-step migration – the migration wizard is intuitive, so no skills are necessary to get comfortable with it.
Speedy migration – the service provides an unprecedented data transfer speed.
24/7 support with a human behind – the Support guys are always ready to answer all the migration-related questions by phone, chat, or ticket.
100% uptime of the current store – you can continue selling during the migration;
Migration estimator – with the help of the Cart2Cart Migration Estimator you can calculate the exact price of your specific migration case before launching Full migration.
Overall, the tool has proved itself as a perfect go-to solution for the e-merchants willing to focus on their business development instead of taking care of all the Shopify migration hassles.
Discover the must-have Shopify apps in this post: Top 15 Shopify eCommerce Apps to Install to your Store.
Import Products from Any Website to Shopify - FAQs:
How to export products from my current store to Shopify?
To transfer products to Shopify, simply check the corresponding box (Products) in the Migration Wizard while setting up the migration, and get your products automatically migrated to Shopify.
Why my products' SKU didn't migrate to Shopify?
Due to the peculiarities of the Shopify platform, it is not possible to create SKUs for products, only for variants. Thus, you cannot migrate the SKU of your current store products.
What are product attributes examples?
Products and categories can be characterized by a variety of attributes. Below are some examples:
Name
Product ID
Size
Color
Weight
Materials used in construction
Design features
Lifestyle photographs
How-to videos
Country of origin
Price
How to migrate products options and attributes to Shopify?
Since the Shopify platform limits the number of variants that can be added, it is possible to create 99 variants for a product, each with three options. Using Cart2Cart, product attributes can be migrated to Shopify as product meta fields. Check out this information on how to make meta fields visible at your storefront.
Final Slice
That's everything you need to know how to import products from any website to Shopify - either via import/export or automatedly with Cart2Cart. Just pick the way that's more convenient for you and follow the instructions provided above. Happy migrating!