What Builds a Perfect Shopping Cart in 2017
69 Stats to Know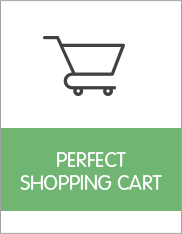 Just as there are universal standards of beauty, there's a well-established type of an ideal shopping cart. The looks, power, lightness and flexibility - as in our love lives, we're looking for that special one that has it all - a JFK of e-Commerce solutions:)
However, what are the demands for an ideal shopping platform in 2017? What's crucial for the fussy buyers and sellers nowadays? Here's a white paper with 69 e-Commerce stats to give you the answers.
You'll learn more about:
Why absence of responsive design costs 40% of mobile customers
Long check out - poison for your conversion
The virtue of good SEO, or how to avoid 91,5% of traffic loss
Why localization matters and how to make everyone feel at home
Satisfying your shoppers' tastes is the key, the only way to success on today's saturated market. Thus, ensure your platform is capable of providing the needed functionality, and make a hard effort to do so. We wish you luck!
Seize every e-Commerce opportunity coming your way.
That's your passport to success.