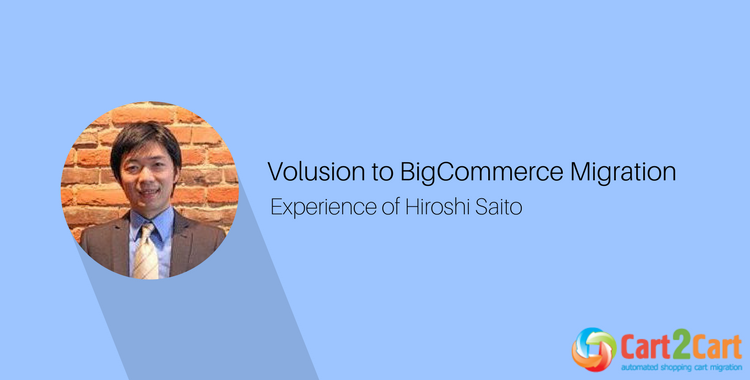 "We all need people who will give us feedback. That's how we improve" once said Bill Gates and was more than 100% right. Cart2Cart appreciates our customers and your critical and honest interviews help us to develop best-practice performance management. Today we'd like to share with you the interview with Hiroshi Saito, co-founder and CMO of HVACBRAIN.com and Cart2Cart client, who performed a successful switch from Volusion to BigCommerce, and was so kind to found some time and answer our questions.
Go ahead and read it on!
— We are excited to have you here! Tell us a few words about yourself and how did you plunge into your present online business?
My name is Hiroshi Saito. I'm a co-founder and the CMO of HVACBRAIN.com, a fast-growing e-commerce company in the US. We are focused on selling industrial and commercial HVAC & building automation equipment and parts.
I have been in e-commerce and digital marketing space since the 90s. And I used to be involved in managing online stores for leading global companies. Due to my extensive background with SEO, PPC and general management of online stores, it was a natural choice for me to start my own company in e-commerce.
The toughest thing was to decide what to sell through my business. Luckily, I partnered up with my good friends who have years of experience in HVAC industry. They have the industry knowledge and products, and I brought e-commerce experience to the table. So, things kind of fell into places.
— How did you carve your niche in HVAC industry? What challenges have you encountered while gaining a competitive edge?
It was really a coincidence that I'm in the HVAC industry. My friend came to help installing my dishwasher and we talked about our background. Right after that, we decided to do this together. I did not know anything about this industry until I started our company and am still learning a ton every day.
— Not long ago you've successfully migrated your store from Volusion to BigCommerce. What actually drew you to change your e-Commerce solution?
Just like companies need different strategies depends on different phases of business they are in, e-commerce companies need different types of platform depends the stages the companies are in.
Volusion might be the best platform in the market. It, absolutely, is a great tool to start your store instantly and very cost effectively. In addition, it is packed with much more features and functionality than Bigcommerce or other platform.
But as we grew, we had to integrate 3rd party tools such as CRM and Marketing Automation System to integrate various data to implement sophisticated marketing. Unfortunately Volusion's API is not optimum to do so.
So we decided to go with BigCommerce due to its open API. There we can integrate many more 3rd party tools seamlessly. Having said that, Bigcommerce, unlike Volusion, does not have a lot of features, and it is NOT built for B2B enterprise companies like us. Just like any other e-commerce companies, we have lots of platform-related challenges.
—We suppose you've considered numerous option of data transfer, so why did you decide on an automated data transfer and Cart2Cart, in particular?
We have originally signed up with BigCommerce's data transfer service. Unfortunately, their scope is very limited and they would only transfer limited data. Bigcommerce's team also would not make a lot of customization for you.
So, we thought about hiring an API specialist by ourselves, but the search process takes a long time. Plus, the specialist had to be the expert who is so good at transferring data as data is your life of e-commerce companies.
A CRM company we are using happened to tell me about Cart2Cart, as their clients use Cart2Cart for migrating data customer data between CRM systems. As a result, I interviewed Cart2Cart. I spent hours preparing data migration requirement documents and went over the requirements thoroughly with Cart2Cart.
It was very important to us that the staff from Cart2Cart was not only knowledgeable, but also patient to go over all the requirement with us. In the end of our interview process, we were confident to go with Cart2Cart.
—Let's be honest: what were the doubts about using Cart2Cart service? Were they justified after finishing the migration from Volusion to BigCommerce?
Off course, it is extremely difficult to be fully convinced to let 'outsider' access our most precious data. There were some hiccups and minor misunderstandings as our migration had great amount of custom migration.
We requested Cart2Cart to migrate data that other parties like BigCommerce's data migration service were not able to or willing to migrate. But Cart2Cart staff was always on the chat, that's why I could always talk to someone when issues happened.
I remember sometimes those chat lasted for an hour to really dig into details and exchange screen shots, etc. I knew Cart2Cart team was physically located remotely, our communication was so close and instant. I really appreciate for the team's patience and dedication to fully complete the project.
— Finally, do you feel content with the migration results? What benefits you plan to gain with Bigcommerce?
Cart2Cart's data migration service surpassed my expectation. One thing Cart2Cart did for us, but others could not do, was to migrate the association between customer data, order data and product data intact.
As a result, when our existing customer comes back to our new BigCommerce store, they can see their historical orders they made when we were with Volusion. Customers can view their order history and re-order the same products instantly.
The experience for the customers is seamless like we never changed platforms. And this was one of several key points Cart2Cart delivered that others including BigCommerce's in-house migration service was not able to do.
Cart2Cart thanks Hiroshi for his feedback and time spent on answering our questions about his migration from Volusion to BigCommerce. We wish him Good luck and prosperity with new BigCommerce store!