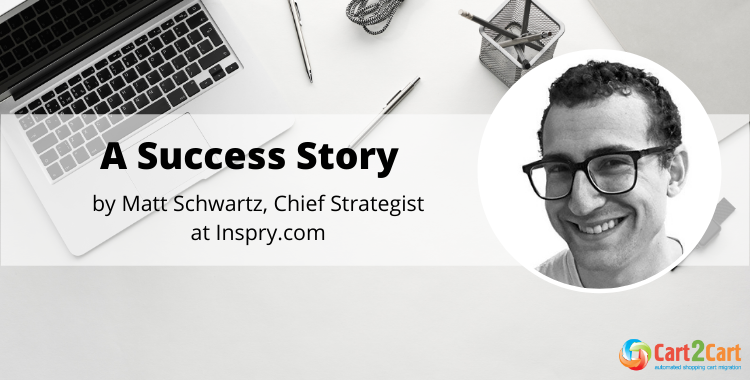 The Cart2Cart Team has always been eager to assist our customers in achieving their goals. We do our utmost to turn each migration into an exciting experience that will result in business growth. It is important to understand that the clients' success is our success as well.
As this year draws to a close, we are happy to share another exciting success story provided by Matt Schwartz, the Chief Strategist at Inspry.com. Inspry is a technical design and development web partner for marketing providers, eCommerce businesses, and corporate clients. The company helps navigate and build technical solutions that allow their clients to succeed in marketing and operational objectives.
What challenges were you facing and what motivated you to migrate your store to another eCommerce platform?
Many of our clients require complex migration paths during their eCommerce builds. They are often moving to simplify their eCommerce platform, reduce costs, or move into a more appropriate cart for their needs with their assistance. We have a limited resource capacity for data migration when working on complex eCommerce builds.
What made Сart2Cart stand out from other options?
We started with Cart2Cart many years ago for a quick migration that we did not have time to allocate and meet the client's new deadline. We found C2C support to be quick and between the list of what fields would migrate, cost estimator, and the free demo, we were able to ensure Cart2Cart would work for the client upfront.
How did you like the migration setup and the transfer process itself?
The migration process is very easy with their available eCommerce plugins that are easily installable on most hosts and the dashboard does an excellent job of allowing us to see the status of the transfer.
Did the migration to another solution live up to your expectations? How do you find the new eCommerce platform?
Yes, the migrations typically work very well covering the main bases. If we do missing any fields, etc. customer support has been able to give us custom quotes for any additional nonstandard data we need to move.
Have you been able to receive any increases in revenue, improved SEO, etc. as a result of the migration? Has the migration simplified store management and/or reduced store maintenance cost?
We are able to reduce our own costs and pass that along to the clients by using Cart2Cart for eCommerce migrations. This in turn allows us to spend more time building out a website that converts users and increases the client's revenue.
How do you feel about the primary pain points and challenges of your shopping cart now, when you're using a new platform?
When moving to a new cart, our clients are very excited by having the right cart for them that is easy to use and saved money and time for that particular situation.
Is there anything in our service we should improve?
The only thing is that we do a lot of complex migrations. It would be neat if we could request a custom quote right in the dashboard with a list of the fields mapped on the old site vs the new site. Right now, we can do this with customer support, but it is a bit clunky and required us to checkout with a standard service that doesn't match the service we have exactly (since custom).
What's the main reason you'd recommend our service?
Great support and experience.
We'd like to express our appreciation to Mr. Schwartz for taking his time to answer our questions. We look forward to our further fruitful cooperation.
Looking for a way to migrate your online store to a more advanced eCommerce platform? Start a free Demo with Cart2Cart to test the service in action. Don't wait any longer - pursue your dream to build a perfect store!