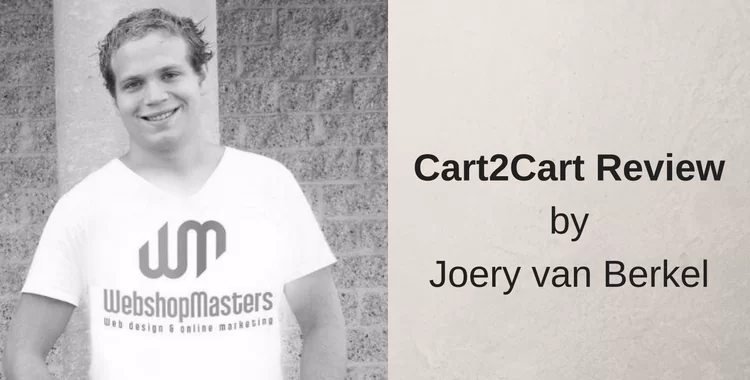 As autumn slowly creeps up on us, shortening days and sneakily adding grey shades to the bronze summer palette, our readers get back vacations - healthy and infinitely sad. Well, we feel ya! And to make the your come back a bit more pleasant we've prepared for you something fascinating to read - an interview of Joery van Berkel - talented developer, Netherlands resident and Cart2Cart client.
---
Enjoy!
Joery, you're a member of WebshopMasters team. Please acquaint us with what you guys do, exactly.
We build and maintain webshops and websites for small to medium business in the Netherlands. There are many self employed specialists here, that are very good in their profession, but don't have the time or knowledge to represent their skills online.
I don't know much about e-Commerce in Netherlands - which shopping platform is leading there and what, do you think, are the main reasons for that?
Most of our clients work with WordPress combined with WooCommerce, due to the ease of use of the CMS, and because it's the most cost efficient option for small and medium businesses. Bigger companies use bigger solutions like Magento, while I really prefer to work with PrestaShop for bigger online shops.
Recently, you performed an OpenCart to WooCommerce migration, for your client I suppose, using Cart2Cart. We'd be happy to read a brief, honest review of our service from you.
A client wanted to have new webshop, he used to work with OpenCart, but were no longer happy with it, so he decided to try WooCommerce. The basic import and export solutions of OpenCart and WooCommerce did not work correctly, which resulted in the need to place each product individually. Then I found Cart2Cart, which allowed to create a manual bridge between the 2 CMSs. This saved me at least 8 hours of work - the time I spent on other tasks. At first there were an issue with some products migration. But it got solved in 15 minutes, after I'd contacted the Support Team. From then on, everything was perfect.
How did come you across Cart2Cart? Who should we thank?
Your webmaster/content team, I found you via google, so you should really thank your content and seo team for that!
Finally, why WooCommerce of all carts ? Are you aware of your client's' motives - how is Woo superior to OpenCart? Give us your take on it.
This client requested a WordPress solution, Woocommerce is one of the best WordPress e-Commerce solutions out there. They wanted to have a stronger content focus, which was hard to execute on OpenCart. That's why they selected a WordPress solution (also the inhouse guy that works there, didn't have much knowledge about website development in terms of OpenCart, while had a good deal of experience WordPress. He convinced his boss. ) Still, personally I prefer PrestaShop.
Thank you, Joery, for such interesting answers. Good luck to you and all our readers. Stay tuned to our blog as much more fascinating interviews and useful e-Commerce articles are yet to come!