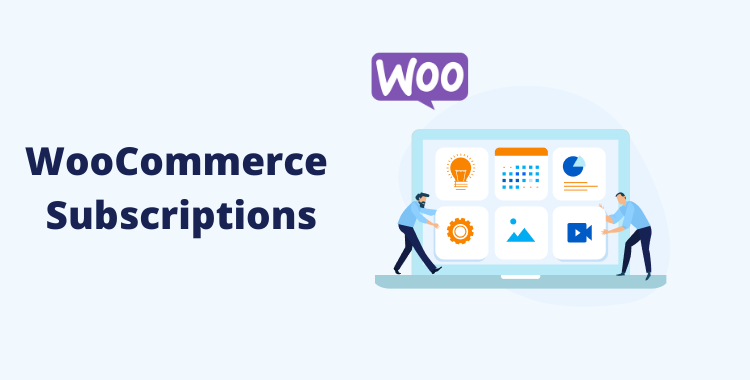 If you're not using WooCommerce subscriptions for your online business, let's just say you're leaving money on the table. According to recent e-marketing insights, subscription e-commerce sales saw an unprecedented growth during the previous year. This was despite the global economic downturn triggered by the coronavirus pandemic.
To think – the only thing that could be standing in the way of your online business' upward trajectory is a simple website plugin. This guide explores the most popular WooCommerce subscription plugins for 2022.
What Is WooCommerce Subscriptions
A WooCommerce subscription plugin is exactly what it sounds like. It's a specific type of extension that lets you sell subscriptions from your WooCommerce store. It allows you to turn your online business into a revenue-generating beast by creating passive recurring income for as long as your store is in operation.
WooCommerce Subscriptions Plugins
Whether you're looking to create an email list to keep your customers up-to-date on upcoming promotions or simply want to charge them for accessing member-only content, WooCommerce subscriptions are the way to do it. Here are our five picks for popular subscription plugins that are total game-changers.
WooCommerce Subscriptions

Top on our list is WooCommerce Subscriptions. That's right. WooCommerce has its very own subscriptions plugin designed to enhance the functionality of your online business. We particularly like that it lets you run and manage multiple subscriptions simultaneously. There's no cap on the number of automated plans you can have.
Some of the functionalities you get include front-end subscription management, periodic billing schedules, drip content setup, automatic invoice generation, and so much more. It is feature-rich and supports 25+ payment gateways for automated recurring billing. It even comes with an automatic rebilling feature for subscription payments. That way, you don't miss a beat.
All in all, if you're looking for a foolproof way to capture residual revenue, WooCommerce Subscriptions is the way to do it.
Struggling to decide which platform to choose? Try out the capabilities of a desired solution with our free demo migration option
What We Like:
Subscribers can upgrade or downgrade their plans.
Built-in automatic emails for renewal notifications.
The detailed reports let you track the number of active subscribers you have and the recurring revenue.
Supports variable subscriptions and billing schedules.
Supports automatic rebilling.
Pricing: $199 billed annually.
Subscriptio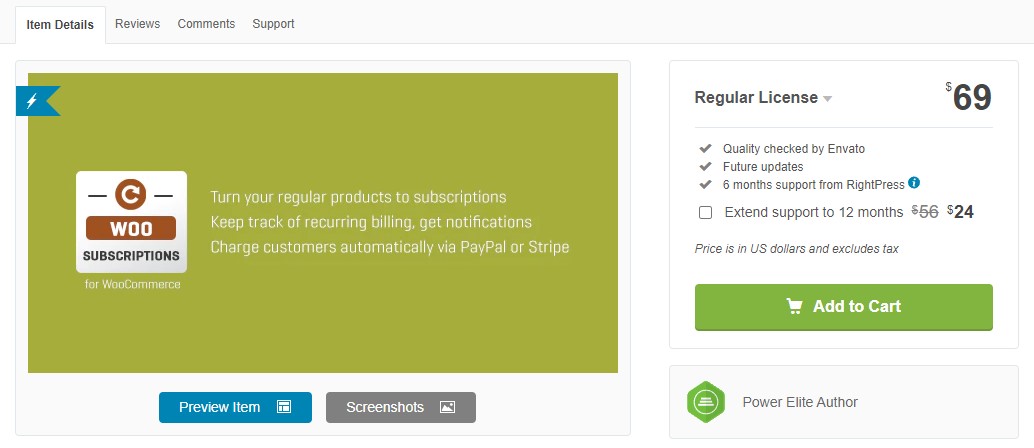 Subscriptio from RightPress is another favorite. This WooCommerce extension adds recurring payments capability to your website. It lets you sell subscriptions for both digital and physical products. Whether you're selling an eLearning package, an online membership, or a magazine subscription, Subscriptio comes with several functionalities to activate your recurrent revenue streams.
We particularly like how straightforward it is to configure subscriptions. It even works for multiple products that may have different payment cycles. Doing this manually would be a nightmare.
This plugin lets you set up free trial periods, payment cycles, and subscription lengths. You can also charge a one-off setup fee aside from the recurrent payments. There's even an option that allows customers and store owners to pause, cancel, or resume subscriptions at the click of a button.
All in all, it's a solid choice for hands-free subscription management.
What We Like:
Supports recurring payments via PayPal and Stripe.
Semi-automatic and fully automatic billing options for payment handling.
Powerful admin dashboard that's ultra-easy to use.
Provides each customer with a subscription list and management tools.
Allows you to configure a trial period, billing cycle, and subscription limit.
Pricing: $69 for the regular license or $299 for the extended one.
Ecwid vs WooCommerce Review
SUMO Subscriptions

SUMO Subscriptions from Fantastic Plugins is a powerful extension for WooCommerce. It is specifically designed to create recurring payments for single, grouped, and variable products on your eCommerce platform. Everything about it is intuitive and straightforward, making it easy to configure even for novice users.
SUMO comes with built-in adaptive payment gateways for Stripe and Paypal. It also works with any other platform that's compatible with WooCommerce. It supports both manual and automatic subscription renewals. You can even pick the frequency for each order subscription alongside the desired duration. Here's where things get interesting.
Unlike other WooCommerce subscription extensions we've come across, SUMO allows you to prorate the amount you charge customers for payment synchronization on subscriptions. This feature applies to both subscription and non-subscription products.
Overall, if a simple, affordable, and effective solution is what you seek, then SUMO is a solid option to consider.
What We Like:
Supports prorated amounts for synchronized subscriptions.
Users can customize the renewal duration and frequency for order subscriptions.
Automatic renewals for Stripe and PayPal.
Manual renewals for other payment gateways supported by WooCommerce.
Compulsory or optional pre-approval renewal payment alternatives.
Pricing: $49 for the regular license and $490 for the extended license.
Squarespace vs WooCommerce in-depth comparison
Webtoffee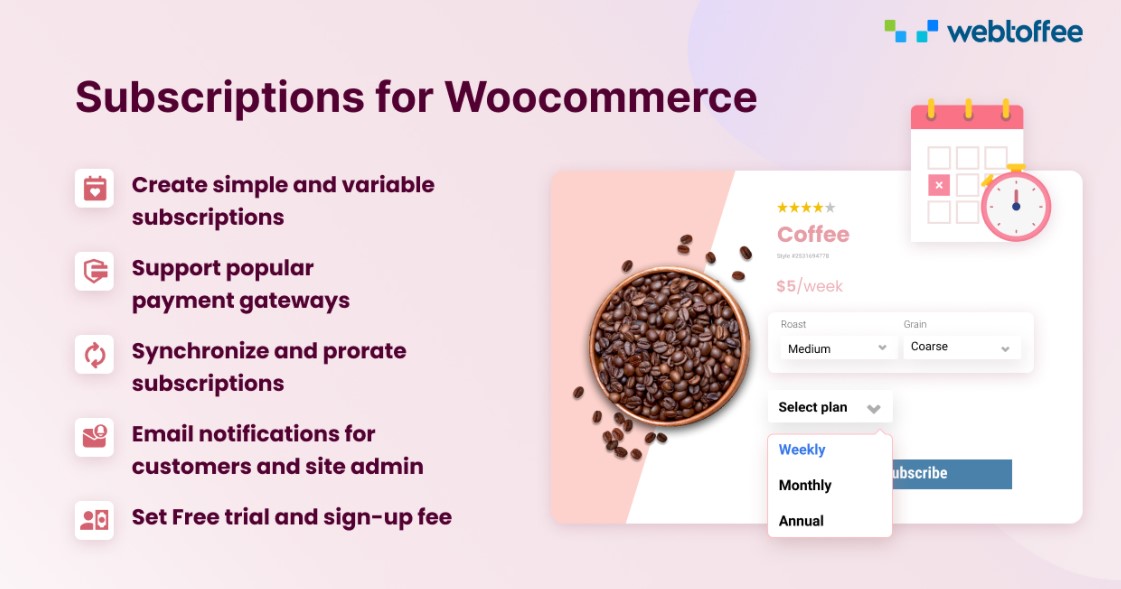 Webtoffee Subscriptions for WooCommerce is an elegant, out-of-the-box solution for configuring and managing recurrent billing and payments for your online business. It supports free-trial setup and lets you create simple subscriptions. Users can specify the frequency, interval, price, and duration of recurrent payments for a hands-off approach to automating your online store.
The plugin supports top payment gateways like Stripe and PayPal, as well as debit and credit card options if alternative solutions are required. Webtoffee is designed with everything you need for a quick, easy, and simple subscription set up for single, variable, and multiple plans.
One of the great things about it is the ability it gives users to synchronize all the running subscriptions so that renewals occur on a specific day of the month or week, depending on your preferences. There's even the option to prorate payments so that customers have flexible options. Talk about convenience.
If you need to charge a one-off sign-up fee over and above the recurrent subscription payment, Webtoffee allows you to do just that. All in all, a simple, intuitive, and effective subscription solution for your WooCommerce store.
What We Like:
Subscription synchronization function.
Supports prorated payments.
Users can specify the subscription frequency, interval, price, and duration.
Multiple options for subscription renewals and billing schedules.
Free-trial and sign-up-fee setup options.
Pricing: $89 for a single site, $129 for up to five sites, and $199 for up to 25 sites, all billed annually.
Shopify vs WooCommerce detailed comparison
YITH WooCommerce Subscription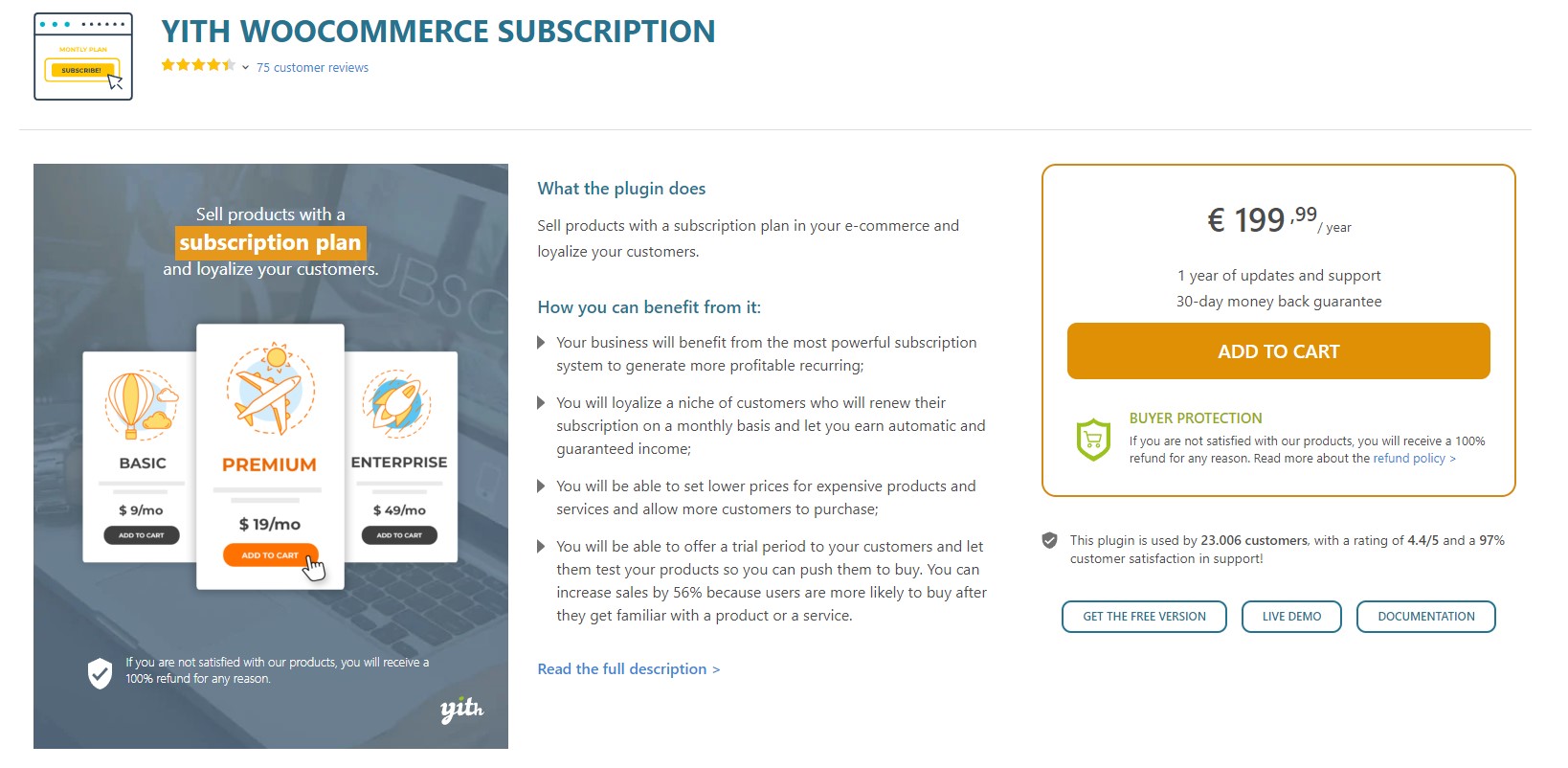 Last but certainly not least is the YITH Subscription plugin for WooCommerce. This powerful extension lets you create a subscription-based model for selling products and services on your online store, so you can capitalize on a recurrent revenue stream.
The plugin comes with a trial mode you can run for a limited time before recurring payments kick in. It has a notification system that sends out automatic reminders to customers for subscription activation or renewal. The service also supports major payment gateways, including Stripe, PayPal, and Amazon Pay, for automated charges.
YITH allows users to create unlimited subscription plans for goods and services using product variations. Customers can easily pause or cancel their subscriptions on their own. They can also upgrade or downgrade the current plan they're on or switch to an entirely different one without the store owner doing it for them. You can even customize the switching conditions, requiring customers to pay the difference in price between their old plan and the new one.
Another handy feature YITH gives users is the ability to set limits on the duration customers can pause their subscription. You can specify the number of times they can use the function before automated payments resume. There's also an option to configure how failed payments are handled.
All in all, the customization options provided by YITH are virtually limitless. You can set up subscriptions for your WooCommerce website the way you want and for the duration you need, without manual intervention. It's a win-win either way.
What We Like:
Detailed reports on subscriptions and revenue.
Dedicated delivery schedule option linked to subscribed products.
Recurring payments synchronization.
Creation of custom forms using Gutenberg to showcase subscription plans.
Powerful admin dashboard to monitor subscription activity and performance.
Pricing: $199.99 billed annually.
WooCommerce Subscriptions - FAQs
How do I set up subscriptions in WooCommerce?
The first step is to install the WooCommerce Subscription Plugin. The next step is to add a product and set the subscription type (simple or variable). In the next step, you'll need to include product pricing and subscription details (such as length, renewal, and payment options).
What is the difference between WooCommerce memberships and a subscription?
The subscription model is a simple model with recurring payments as long as the customer continues to use the products or services. With a membership-based business model, you could offer a subscription as well as a forum for members to discuss issues and ideas, as well as an opportunity to network and market.
Bottom Line
Choosing the right subscription plugin for your WooCommerce store is one of the most important decisions you'll ever make. Any of the options we've reviewed here would be a solid choice.
In the meantime, do you need to switch from your current eCommerce solution? Cart2Cart is a handy automated migration tool that helps you do it seamlessly. That way, there's no risk of losing precious store data while you do. Sign up today for a free demo.