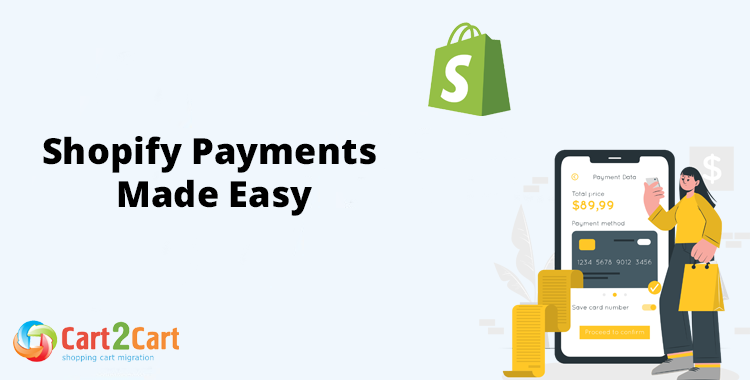 The most important aspect of any online store is the checkout experience. In other words, how do customers pay for products they purchase, and how do online store owners collect those payments?
Our findings indicate that the more straightforward the process is, the better the experience for both the buyer and the seller.
Shopify Payments is the preferred payment processor for most online store owners running Shopify-powered websites.
What makes it so great, and how does it work? Here's everything you need to know.
Shopify Payments Review. What Is It?
Shopify Payments is Shopify's in-house payment provider. It is the default payment gateway integrated into all Shopify stores. It manages the end-to-end payment process from when customers enter their credit card information in your store until the payment is processed into your bank account.
Shopify payment processing runs on Stripe, one of the world's leading payment providers. It means that Shopify and Stripe are one and the same. The only difference is that Shopify is more merchant-friendly and fully integrated into the store dashboard.
Using this product, our team has discovered that with Shopify Payments, online store owners are not required to set up payment gateways from third-party providers to collect customer payments. Once you set up your Shopify store, you can start collecting payments instantly without further input. You can dive straight into the business of selling.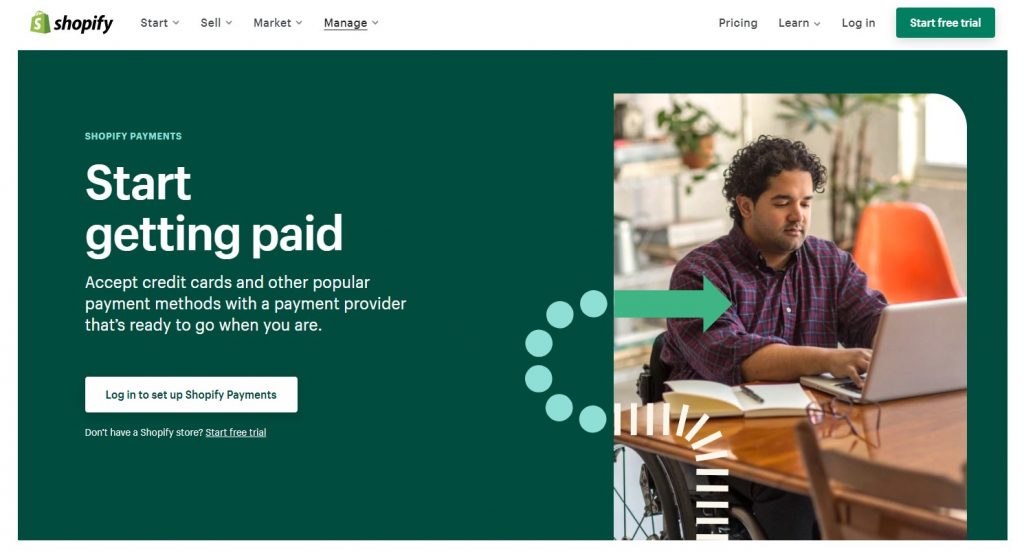 Shopify Payments Review. How Does the System Work?
Now that you know what Shopify Payments is, let's explore how it works. First off, Shopify Payments is a subsidiary of Shopify. It is only available on Shopify's platform, so the only way to use it would be if your online store is hosted on Shopify.
Shopify Payments is integrated into both Shopify and Shopify Plus, the two versions of the eCommerce platform. The Shopify payment gateway is the "virtue middleman" between online businesses and customers. It ensures that the checkout process proceeds quickly, smoothly, and securely.
Based on our observations, any time a customer pays for a product or service in a Shopify store, Shopify Payments debits their bank account with the amount owed, transferring it directly to the store owner.
See also: Migrating to Shopify: Common Pitfalls to Avoid
Shopify Payments Review. Fees
When you use a payment processor, two types of fees are typically involved.
On the one hand, you have the credit card processing fee, which is the charge your payment provider imposes for executing your store transactions. Transmitting data between customers and sellers, issuing and receiving banks, and so forth all attract a fee.
The specific rate you'll get comes down to your choice of payment provider, the Shopify pricing plan you're subscribed to, the value of the customer's order, and the number of purchases made.
On the other hand, you have the transaction fee, which is the charge imposed by the payment processor on each transaction you execute. This fee is usually a percentage of the amount involved in each transaction.
For Shopify store owners using Shopify Payments as their preferred payment gateway, there are no transaction fees even when customers choose different Shopify payment options at the checkout point.
Shopify Payments Review. Benefits of Using Shopify Payments
Merchants whose online stores are powered by Shopify choose Shopify Payments as their default payment provider. After we tried it in practice, we found several reasons why this tends to be the general trend:
1. Quick Payments Set Up
If your existing online store is hosted on a platform other than Shopify, you probably know how tedious it is to set up various payment acceptance methods. You have to go through third-party providers and get approval as a merchant. Only then can you start processing payments in your store.
With Shopify Payments, the setup process is remarkably straightforward. You don't have to go through third-party providers. Once you set up your online store and configure Shopify payment processing, your sales, inventory, and financials will automatically be synced, and you can start collecting payments instantly. 
2. It Is Fully Integrated
One of Shopify Payments' biggest selling points is that customers never have to leave your site to complete their purchases. The same can't be said for third-party providers like PayPal, where buyers get redirected to the payment provider's platform to complete the payment.
Customers, particularly those who are not tech-savvy, might find the complexity of this process annoying, potentially resulting in lost sales and decreased conversion rates.
With Shopify, owners can also leverage the integrated payments dashboard that syncs all orders and payments in one convenient location. This Shopify Payments feature allows them to get detailed insights into how much they have earned on specific orders, something that's not easy to do when relying on third-party payment processors.
3. Zero-Transaction Rates
Based on our own experience, third-party payment providers always charge transaction fees. The specific rate you'll pay varies depending on your Shopify pricing plan. It means you would have to deduct between 0.5% and 2% of your total sales revenue, which can translate to tens, if not hundreds, of thousands of dollars or more in monthly transaction fees, depending on your sales volume.
Picking the Shopify payment gateway as your preferred payment processor means you don't have to worry about incurring transaction fees. The net effect on your sales bottom line would be tremendous.
4. Supports Offline POS Payments
Shopify Payments supports offline Point-of-Sale transactions. PayPal, Shopify Payments' biggest competitor, does not.
Store owners can fully integrate Shopify POS with Shopify Payments and conveniently track orders, sales, and revenue from one central point. If you have a retail outlet, you can sync all your business data for in-store and online sales in addition to your online store.
5. More Shopify Payment Options for Customers
Store owners can use other third-party payment providers in addition to Shopify Payments. You can integrate your Shopify store with 100+ other payment processors to give your customers more Shopify payment methods at checkout.
Our findings indicate that you can integrate PayPal and American Express in addition to Shopify Payments and let customers select them as they go through the checkout process.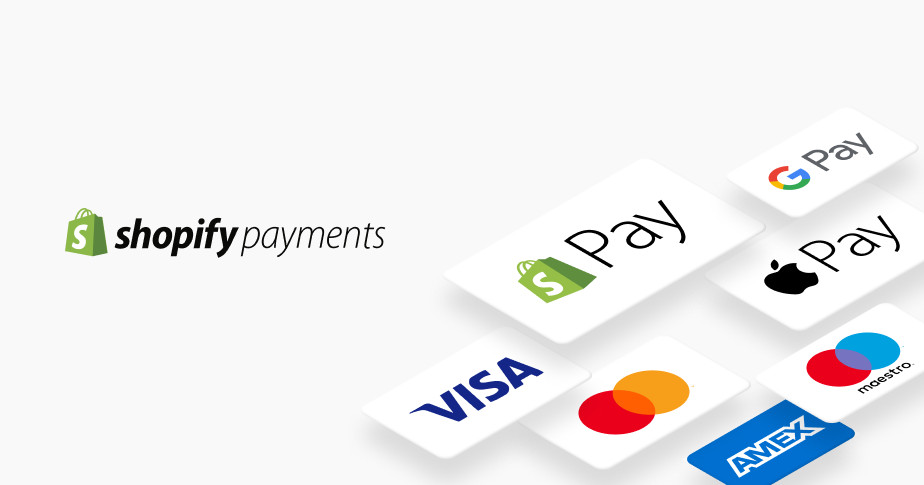 Shopify Payments Review. How to Set Up Payments?
Here's how to configure Shopify Payments so you can start collecting payments when customers make store purchases on their credit cards.
Step 1: Enable Shopify Payments
Enable Shopify Payments in your eCommerce store from the Payments Providers tab under Shopify Settings.
Step 2: Choose Your Preferred Store Currency
Next, go to Settings, click General, select Store Currency, and choose your preferred currency. It is worth noting that the currency you pick will affect your product prices and sales reporting.
Step 3: Select Shopify as Your Payment Provider
Go to Settings and click Payments. From there, you can activate and manage the payment processors you want to integrate into your store.
While you're there, you'll see a section labeled Accept credit cards. Select Shopify Payments from the list of payment service providers.
Step 4: Complete Setup
Finally, select Complete account setup and input the required details, including your Business information, Personal information, Product information, Banking information, and Customer billing statements.
Double-check to confirm you have entered the correct information, and then click Complete account setup.
Step 5: Application Review
Once you complete the setup process, Shopify will review your Shopify Payments application. You can collect customer payments using credit cards and other local payment methods to complete their purchases if approved.
Shopify Payments Review. Shopify Payments vs. Other Payment Processors. A Quick Comparison
Here's a brief overview of how Shopify Payments compares with popular third-party providers.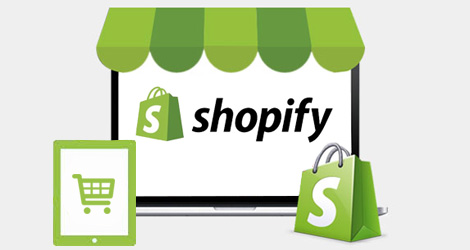 Shopify Payments vs. PayPal
PayPal's transaction fees work a little differently. The fees charged to merchants depend on the currency and whether or not they receive payments from outside the US.
Based on our observations, if your store targets customers in different countries, you will be charged currency conversion fees, which can translate to significant amounts of money. You must also factor in a 4.4%+$0.30 transaction fee for payments from outside the country. Keep in mind that transaction fees may also vary depending on your monthly sales volume.
On the flip side, Shopify does not charge any fees on transactions.
See also: Translate Your Shopify Store and Generate International Sales
PayPal also offers customers a feature known as Buyer Protection. It allows customers to file disputes on transactions, even legitimate ones.
Given PayPal's long-standing track record of siding with buyers, sellers using PayPal as their preferred payment processor should keep a detailed paper trail. That way, they can defend themselves should disputes arise after a product has shipped to the customer.
Shopify Payments vs. Stripe
While Stripe powers Shopify Payments, merchants also have the option to set up a separate Stripe account altogether. It might be a better option for businesses that would prefer to customize their customers' checkout experience.
Stripe provides merchants access to a dynamic developer platform, multiple payment methods, and 24/7 customer support, which some store owners have noted is more responsive than Shopify Payments support.
Additionally, Stripe's out-of-the-box integrations offer a more streamlined checkout experience. They have dozens of third-party plugins for billing, checkout, payment links, revenue recognition, tax, and more.
Stripe charges a standard fee of 2.9%+$0.30 for all transactions. Shopify Payments has no charges on transactions.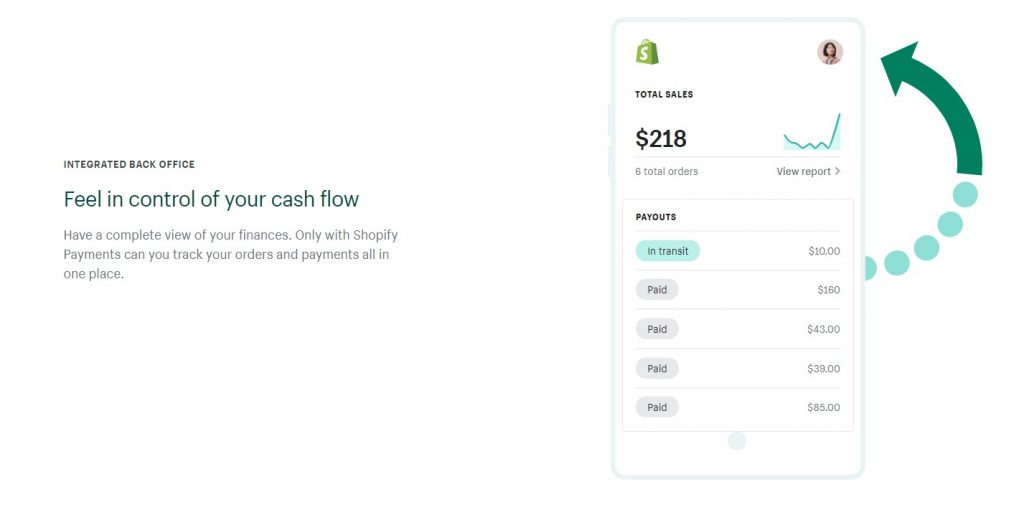 Shopify Payments Review. Final Thoughts
Shopify Payments is one of the world's leading payment providers, which makes sense, given that Shopify is the top eCommerce platform worldwide. If you have an online store powered by Shopify, it only makes sense to integrate Shopify Payments as your preferred payment processor. It is safe, secure, easy to set up, and has no transaction fees. No transaction charges mean more revenue for your business.
Ready to switch to Shopify? Use Cart2Cart to migrate your online store from your current provider. It is fast, accurate, and automatic without disrupting your business operations. With Cart2Cart, your new Shopify store will be up and running in a few hours.
Want to see it in action? Sign up today for a Free Demo.
Shopify Payments Review. FAQs
Is Shopify safe for payment?
Using this product, our team has discovered that Shopify Payments, Shopify's in-house payment processor, uses 128-bit SSL encryption software to ensure customers' credit card and banking details remain secure during and after checkout. All Shopify stores are PCI compliant, so business data and buyers' payment information remain secure.
Can I use Shopify without PayPal?
After we tried it in practice, merchants with online stores powered by Shopify can collect payments using Shopify Payments, PayPal, Apple Pay, Amazon Pay, Meta Pay, and several other third-party Shopify payment methods. If you or your customers don't have PayPal, you can choose from other payment processors.
How do you receive payments through Shopify?
Based on our own experience, once you set up your Shopify store, you can receive payments through Shopify Payments, PayPal, Wire Transfer, or Bank Account. The specific payout method you can use depends on your region/country and the currency you want it converted to.
should i use shopify payments?
Whether or not to use Shopify Payments depends on your specific business needs and preferences. Here are some factors to consider:
Integration: Shopify Payments is seamlessly integrated into the Shopify platform, making it easy to set up and manage.
User-Friendly: It offers a convenient and user-friendly payment solution for Shopify store owners and customers.
Reduced Transaction Fees: When you use Shopify Payments, you may benefit from reduced transaction fees compared to using third-party payment gateways.
Security: Shopify Payments is designed to meet high-security standards, ensuring the protection of sensitive customer data.
Simplified Setup: Using Shopify Payments eliminates the need for third-party accounts or additional setups, streamlining the payment process.
what is Shopify Pay?
"Shopify Pay" is a feature provided by Shopify to streamline and enhance the checkout process for online stores built on the Shopify platform. Shopify Pay is not a separate payment method but rather a tool designed to simplify the payment experience for customers.
If you are already running a store online and want to migrate it to Shopify, you can consider the Cart2Cart migration service. Try the free demo migration option to see how simple it is to use the tool!