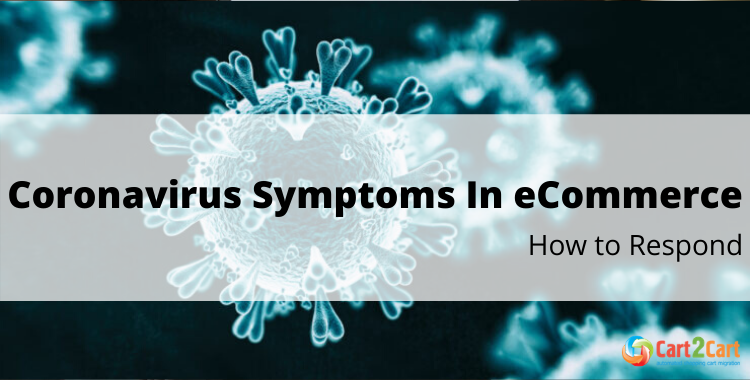 The ongoing coronavirus pandemic is significantly affecting businesses and services across the globe, and eCommerce is no exception. Online trading is currently observing a drastic surge in consumption, and makes e-merchants not only adapt to the turbulent situation but to identify new opportunities for their online business.
How Is US eCommerce Reacting to the Pandemic?
The COVID-19 pandemic has already caused considerable changes in US online commerce over a short period. When it just started spreading, it primarily affected brick-and-mortar businesses.
Major retailers across the country have shut down their stores in response to the coronavirus outbreak (Apple, Adidas, Columbia, Gap, H&M, Lego, Macy's, Nike, Sephora, Tiffany, etc.).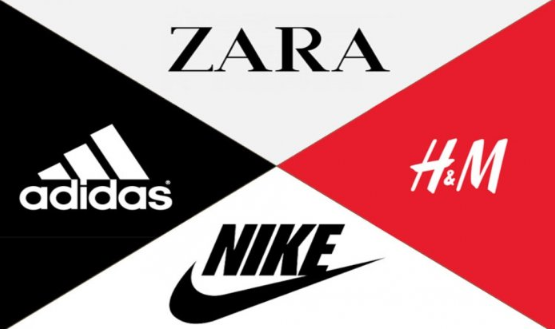 When coronavirus pandemic devastated in-store traffic, online commerce started experiencing a surge in demand, and the tendency is growing with each passing day.
Though online shopping has been rapidly developing over the last years, the pandemic outbreak has forced consumers to buy online even more. According to a study from Adobe Analytics, online trading is now growing significantly faster, driven primarily by online grocery shopping. Besides, concerns about food delivery due to possible food contamination have spurred a drastic increase in contactless delivery services.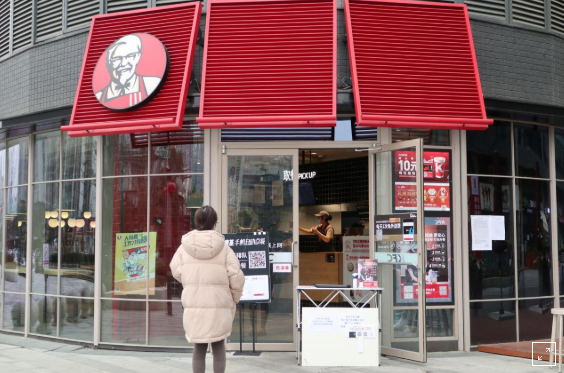 Companies like McDonald's and Starbucks have implemented contactless delivery services that limit human-to-human contact.
With thousands of restaurants, bars, theaters, and gyms throughout the United States shutting down, let's observe now what Americans are buying first of all. The top 5 main categories are illustrated at the graphic below (source - Sellics):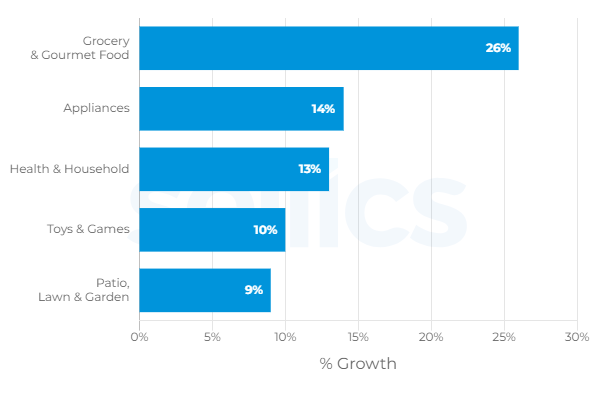 With all that being said, no one truly knows how long the pandemic will last and what economic damage it will bring. A survey of 300+ retailers conducted by Digital Commerce 360 reveals a lot of confusion and uncertainty among online entrepreneurs. The majority of respondents expect their online sales to decline, while some of them (38%) still hope that the sales will jump because of the virus.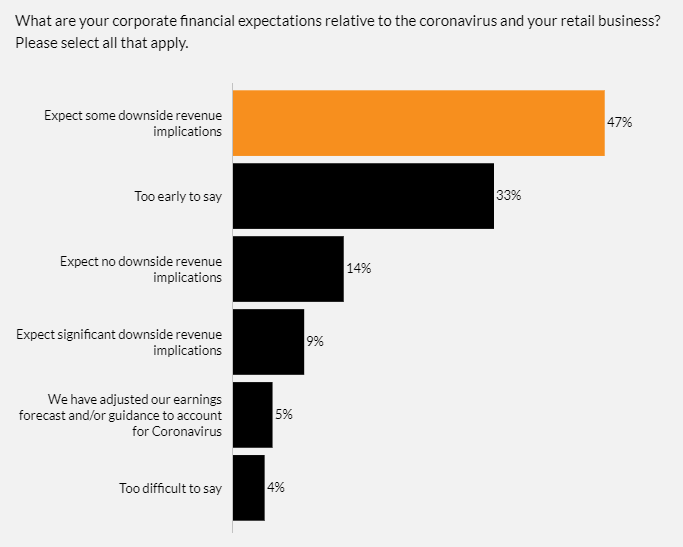 Turning Challenges Into Opportunities
As the coronavirus outbreak continues to spread globally, more and more customers are turning to online stores to get the items they need, and there are no signs of the decline of the tendency. Therefore, online businesses must adapt to this unprecedented situation and think about the future to survive.
According to Forbes, online shopping is seeing dramatic spikes in sales driven not only by those who have already been buying online but also by the new customers trying to shop online for the first time. Furthermore, consumers who purchased online during the quarantine period are expected to repeat this buying pattern post-quarantine. In other words, clients will likely return to the same purchasing process again after the Coronavirus pandemic.
With that in mind, now is an opportune time for e-merchants to catch the possibility and adapt their online stores to the changing needs of consumers.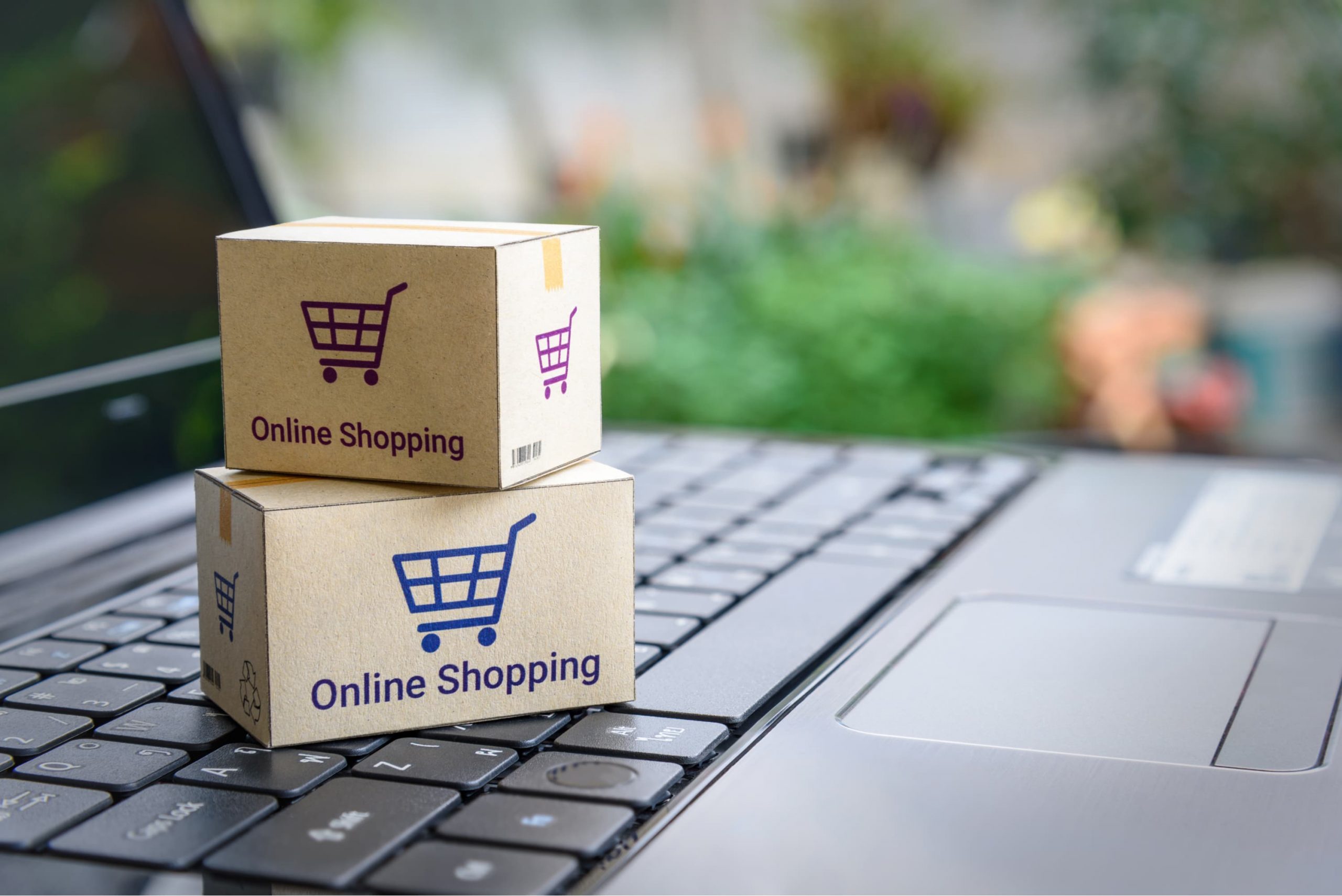 How to Prepare an Online Store for the Surge?
As consumer behavior changes and results in more and more customers shopping online, so has the online store become flexible enough to meet the evolving customers' needs. In this time of constant change and uncertainty, it is vital to get your online store equipped not to miss out on sales, damage your reputation, or encounter some other issues. Here is what you can do right now to mitigate the impact of coronavirus on your online business:
Notify Customers
First of all, it is recommended to communicate with your clients about any changes so that they are aware that you have the situation under control. Inform them that due to the circumstances, there may occur supply chain issues, certain products can be out of stock for a while, that shipments can take longer than usual to reach their destinations, or some of your products are selling out more quickly.
Contact Hosting Provider
It is also a good idea to contact your hosting provider and inform them of the situation. This will allow them to monitor your website and, if required - stop it from going down. If possible, you can ask them to scale up your hosting package for a short period to help your store stay online.
Get Inventory Organized
When adapting an online store to this unprecedented situation, don't forget to prepare your inventory. Complete an inventory analysis and make sure you have enough space to store an extra amount of items you're ordering in this tough time. Besides, take a look at your shopping cart inventory settings and consider whether you want to display at the website the number of items that are left in stock, if you want them to be able to purchase products that are back-ordered, etc.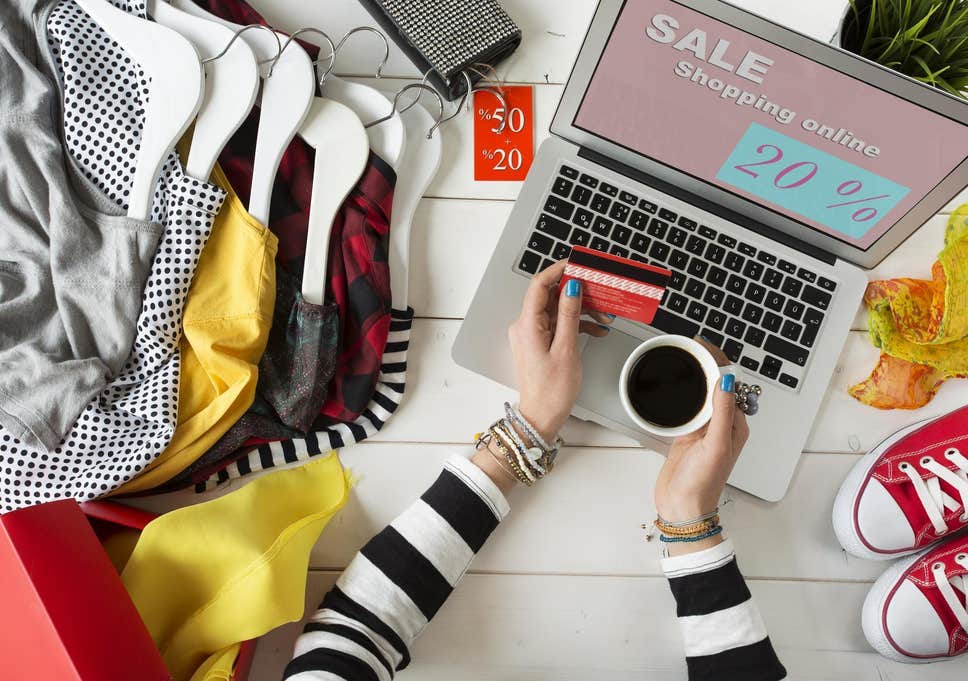 Monitor Store Performance
In such turbulent times, it is of critical importance to regularly monitor your online store in terms of traffic volumes, site speed, and other metrics. By checking the performance and speed of your store and making the necessary changes when needed, you'll be better equipped to handle a wave of traffic. In case you see that your shopping cart isn't able to meet the evolving needs of this period - consider switching to another one with no regrets.
Empower your Business with the Right Shopping Cart
The key to dealing with such increased pandemic traffic is the shopping cart that perfectly matches specific business needs. If your eCommerce solution has all the required functionality to handle a large amount of traffic and sales, it is possible even to benefit from the sharp increase in-store traffic and use it to lift your brand to the next level. But in case the shopping cart lacks the needed functionality and the store can't handle the surge of sales - it's time to consider switching to another one.
How to Switch Across eCommerce Solutions Fast
eCommerce replatforming is often treated as quite a challenging and resource-consuming task that most store owners try to avoid. However, with the advent of various shopping cart migration tools, eCommerce migration has stopped being something that online-merchants tend to avoid. These days, it's a common procedure for online entrepreneurs if equipped with the right tools.
Among dozens of online converters that are currently floating around the web, Cart2Cart takes its respectful place being one of the oldest and most advanced migration services. The whole idea of Cart2Cart service is to give non-technical store owners a chance to switch across various shopping carts by themselves. Hence, their interface and transferring procedure are intuitive and straightforward.
Note: The migration procedure with Cart2Cart will not affect the performance of your current store in any way so that it will be 100% available for the customer.
Final Words
The bottom line is that there's no other way but to adapt to the circumstances. To ensure your online businesses not only survive but thrive, take time to transform the store to better match this new reality. By following the above-mentioned piece of advice, you'll be able to successfully lead your online business through the period of high demand and continue serving your customers the best you can.
Please, do not hesitate to share in the comments section your tips, tricks and stories about how you manage to lead your online business through crisis.