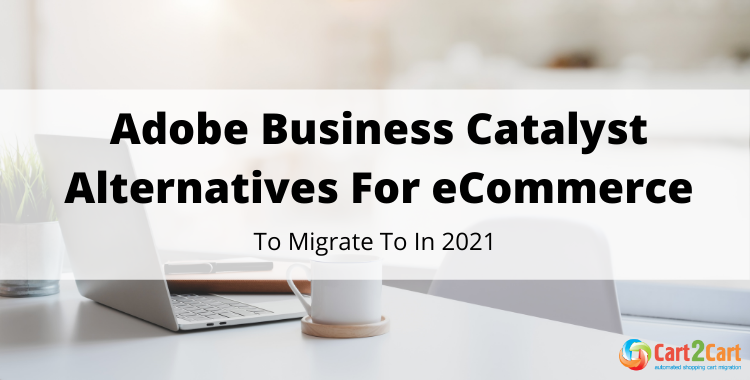 With Adobe Business Catalyst closing on September 26, 2021 - all websites/data on it will be removed with no comeback button. Therefore, if you don't want to lose your data, it is advised to choose the alternative platform and perform the data migration to it. For those who haven't decided yet which eCommerce engine to choose, we have a couple of ideas and an actionable plan.
Founded in 2004, Business Catalyst has worked as an excellent foundation for creating and managing different types of websites. This recent announcement makes online entrepreneurs worldwide look for reliable and workable alternatives and ways to switch platforms.
Generally speaking, there are plenty of alternative options available, from the most talked-about WordPress to Adobe's new acquisition Magento. Having advanced expertise in the eCommerce industry, in this post we're going to focus on eCommerce alternatives of the BC.
What are the most prominent Adobe Business Catalyst eCommerce alternatives?
Depending on the budget and business goals, e-merchants can consider the following platforms as the basis for their web projects:
WooCommerce (WordPress)
Shopify
BigCommerce
Magento
Squarespace
The right one for you will depend on your business goals and objectives, what specific features you were using with Business Catalyst, and what you expect from your new platform.

Since WordPress has the seal of approval from the Adobe team, it's a great place to start.
WordPress is most often recommended as a go-to solution, mainly because of its ability to match all of the functionality that Adobe Business Catalyst offers.
If compared with WordPress, BC is more of a SaaS tool as it has all the necessary functionality plus hosting in one package. WordPress, alternatively, has been developed for blogging, however, it has since evolved and became more versatile thanks to its pool of themes and plugins.
Pros
Cost-effectiveness. Since the software is free and open-source, you won't pay any per-user fees to add your entire team to your WordPress site, which is something you might have experienced with BC.
High customizability. There are lots of themes and plugins that allow you to turn any website into a portfolio, company/blog/review/eCommerce site/community forum, and more.
Large support network. In case you get stuck with some issue - you can have your questions answered through a variety of online sources, forums, and tutorials.
Cons
Since WP is not hosted like Adobe Business Catalyst, you need to take care of the hosting.
Technical knowledge is required to customize design, plus manage and troubleshoot issues.
Pricing
Though WordPress is free to use, you need to self-host it. The cheapest options out there are around $3 a month. Besides, if you want to expand the functionality of a WP website, you'll need to use plugins, some of which are paid.
If you're thinking about WordPress as an eCommerce alternative to Business Catalyst, discover Top Compelling Reasons To Migrate To WooCommerce.
Migrate to WordPress without intensive hands-on right now.

Being exclusively targeted at eCommerce, rather than general content sites, Shopify is not one of the full Business Catalyst alternatives. However, if you want a hosted, SaaS tool for eCommerce goals, Shopify is exactly the option you need.
Pros
It's a hosted solution. Shopify takes care of all the hosting issues, so all the costs are already included in the pricing plans, and there are no extra spendings to worry about.
It has an excellent support team. Shopify offers its clients 24/7 assistance via multiple channels (phone, email, chats, forums, social media) whenever you need it.
A 14-day trial option is available. You can start a store for free to check whether Shopify will suit your needs and expectations.
Cons
If you want to change the store's theme, you will have to reformat all the content.
No free plan available, only free trial.
Pricing
Shopify offers a 14-day free trial to figure out if the platform's functionality and performance are enough for the user. After the trial period, you can choose one of the three pricing plans (Basic for $29, Advanced for $79, and Advanced Shopify for $299) that would suit your store size and budget.
Considering Shopify but not sure yet? The post Why Settle Your Online Business On Shopify? Top Reasons Explained will help you dot all the "I"s regarding this question.
Do not hesitate to migrate to Shopify right now.

Magento is a popular open-source eCommerce engine with an impressive list of extensive features one can rarely find in the eCommerce software. Being often recognized as the most flexible platform on the market, it provides users with an opportunity to add any functionality to make the store look and feel as required.
Pros
It's powerful. No matter how many products or orders your store comprises, Magento has all the required functionality to accommodate your needs.
It has limitless customization capabilities. Magento provides you with easy installation of themes, extensions, and custom development to completely suit your business needs.
It offers a built-in CMS. A content management system gives you the freedom to modify, edit, and improve your site with ease and without deep coding skills.
Cons
Managing a Magento store is quite a tricky and challenging process, especially for non-tech store owners.
If you're not tech educated enough and want to customize your Magento store, most surely you'll have to hire an expert to have the job done correctly.
Pricing
Magento is free itself. However, you'll also have to pay for the theme you choose (from $29 up to $499 for the template) and domain name ($10-15) for the website. Furthermore, as the business will grow and the number of visitors and purchases increase, be ready to buy the plugins and hire an expert to add the required functionality.
Seems impossible to decide between Magento and Shopify? Read the post Magento vs Shopify: 5 Crucial Differences You Cannot Afford Ignore before committing yourself to any of the two platforms.
Migrate to Magento in a matter of a few mouse clicks right now.

BigCommerce is another top-rated platform that you can benefit from when migrating from Business Catalyst. This eCommerce solution provides its users with a full array of all the necessary services - hosting, design, management, and marketing tools, SEO, security, and supported payment gateways. Basically, to establish a BigCommerce store, one needs only to purchase an eligible pricing plan.
Pros
It has no hidden costs. BigCommerce is a hosted platform, which means that a lot of the expenses that come with setting up an online store are already included in your monthly bill.
Multiple sales channels are available. Integrations with Amazon, eBay, Google, Facebook, and Pinterest give your store the maximum visibility and an opportunity to sell worldwide.
It has a robust library of features. The platform offers a comprehensive array of built-in features allowing you to customize your storefront the way you want.
Cons
Though you 'll have access to an app marketplace, the number of add-ons available are far fewer when compared to other platforms of the same kind.
If you surpass the annual sales threshold associated with the plan, you have to upgrade to a more expensive plan.
Pricing
BigCommerce has four subscription options paid monthly or annually (starting from $29.95 and up to $249.95).
Look through the post Why BigCommerce Is Worth Considering In 2020? To decide whether the platform is exactly what you need.
Automate the process of migrating to BigCommerce right now.

Squarespace was initially built as a portfolio and blogging platform for content-based websites. But having spent quite a while in the eCommerce landscape, it gradually moved towards a SaaS-based CMS-type platform that is now often chosen by artists, designers, and photographers.
Pros
It's great for building a simple website. The platform allows you to launch a stunning website in 2 or 3 hours, and immediately start selling online.
It offers awesome templates. Though Squarespace has a limited number of templates compared with other solutions, all of them are of the highest quality and modern-looking.
Tons of features for selling online. Squarespace has all the required functionality that allows you to extend a website with a store.
Cons
Though Squarespace offers basic marketing options, the advanced tools are still lacking.
The platform offers some basic built-in functionalities, but there are still not many options to add extra functionality to enhance the store capabilities.
Pricing
$12 to $40 a month (paid annually) depending on the plan you choose. Plus, there's a custom domain name included for free for one year. There's also a free trial available.
Compare Squarespace vs Shopify: Which One Should You Choose to Sell More in 2020? and decide which one fits your business better.
Migrate to Squarespace automatedly right now.
Take your e-business a step forward towards success!
Migrate to any of the described platforms with Cart2Cart just in a few mouse clicks.
Migrate now
How to perform the Adobe Business Catalyst migration?
Business Catalyst has been an excellent foundation for many e-stores, and many of its users are disappointed that Adobe closes the BC doors forever. However, replatforming to another platform with more features and benefits can be taken as an opportunity to take the business a level up towards success.
Needless to say that switching across various platforms is never fun. However, if equipped with the right tools, you can decrease the time/money spent and avoid all the migration-associated risks.
With Cart2Cart, you can have all your current BC data transferred to any of the above-mentioned alternative options within a Data Migration Package. All you need to do is reach out to us and provide your migration requirements. The rest is on us - skillful Cart2Cart migration specialists will check your store to produce the migration price & time estimates and then arrange and launch your data transfer from the Business Catalyst store to an alternative solution of your choice.
Just schedule a consultation with our experts and have all your migration-related questions answered right now.