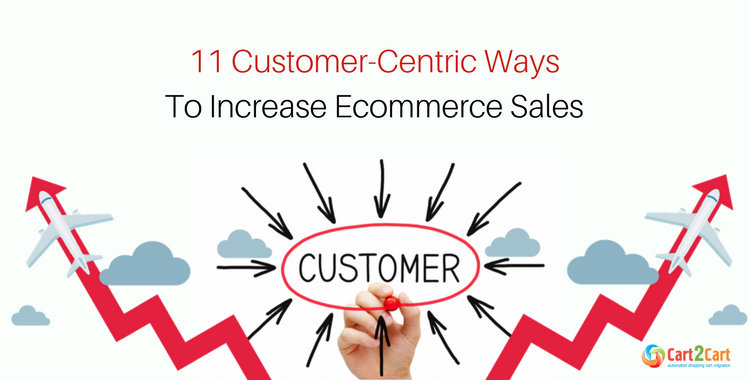 Ecommerce is a rapidly evolving field with volatile dynamics. For every online business growing in this stream, comes a phase that demands implementation of more effective strategies to increase eCommerce sales. Among the most prime factors that determine fate of an online business is how it fares against the target niche. Is your ecommerce website giving optimum performance? Are you offering personalized experience to regional customers? Is social media in your marketing mix? Without a tangible plan to lead your ecommerce store, your business will consequently plummet and take toll on your revenues. Therefore, devising a solid plan through consumer-centric strategies is imperative for your store. The following 11 customer-oriented tactics can easily integrate into your online store development plan and boost eCommerce revenue.
11 Brainy Tricks to Increase Ecommerce Sales
Analyze and Fix Conversions

Conversions are the lifeline of any ecommerce store and their numbers are health indicators of the business. Google Analytics is a popular tool to understand your conversions patterns, and identify possible weaknesses in the conversion funnel.

After the issues have been identified, you can fix them by testing the possible causes that might be affecting your store. For example, increase in bounce rates and cart abandonment is strongly connected high page loading time. If you are experiencing loss in conversions and your website loading speed is below its optimal mark - your focus should be on making your website fast. You can also find customer region density, their website trail and percentage of mobile user that accessed you store.

Facebook Exchange for Old and New Customers

Advertising via Facebook is an effective way to get your products and services into the spotlight. Being most popular and widely used social media channel, Facebook holds unlimited potential for businesses to project their presence. One of its recent features for online businesses is Facebook Exchange.

Facebook Exchange works by utilizing cookies, which are added to the user's computer when they browse through your website. In case they do make it to the shopping cart but do not finish the process, the cookies prompt Facebook to advertise the related products which they left behind in the shopping cart, which can remind or convince them to complete the checkout process.

Step Up your Marketing Tactics

Instead of focusing on traditional marketing techniques, try to increase eCommerce sales by integrating new methods to engage with your target audience. Manage to personalize their experience and convince them your brand offers quality products and services which suit their requirements.

Methods such as follow-up emails, SMS messages and sales representatives for communicating with customers instill a sense of trust and brand loyalty. Having customers that will stick with your during hard times creates a stable flow of revenue even sales are down, so deploying multiple marketing ultimately leads to a greater number of repeat customers.

Social Media Contests to Identify Potential Customers

Social media platforms are some of the most effective marketing mediums since they are always active with all kinds of users and are above all, enable you to implement cost effective yet successful marketing campaigns. Customers are quick to respond, share their views and tag other people from their social circle, which furthers the marketing of your brand.

A simple contest for giving away free merchandise can be used to gather the data of potential customers, on whom marketing efforts can be prioritized since they are more inclined to purchase. A social media account for your brand is necessary for this, and actively maintaining it is the key to making it relevant and attracting potential customers.

Make it a Personalized Experience

Show that you care about your customers by personalizing their shopping experience through birthday discounts, anniversary sales and limited offers. Marketing automation tools can be used to manage these activities and can be set to send customers personalized messages or discount coupons at selected days that matter to them. As analyzed by Experian from a set of 10,000 emails, personalized birthday emails were 5 times more successful in converting a lead than standard emails. Don't miss such a chance to increase ecommerce sales.

Give Customers Partial Payment Options

Giving customers option to pay for products in periodic installments is another ingenious method of winning more revenue through your online store. Some products that are high priced can be offered in installment plans so customers find more interest in buying them without having to pay the entire amount in one sitting. You can add this functionality through custom development as well as integrating tools such as Magento partial payment extension.

Optimize for Mobile Commerce

With Google shifting its algorithm towards a mobile first approach and a major chunk of online sales being conducted via mobile platforms, it is evident that the future is mobile and optimizing for it is in the best interests of your ecommerce strategy.

Ranging from simple mobile optimized themes to specially designed checkouts, mobile commerce is an integral part of any future plans. Since the number of mobile users are ever increasing, optimizing will yield long term benefits for your ecommerce store.

Diversification for Revenue growth

Expanding your business into new areas can boost ecommerce revenue from untapped customers. However, it requires in-depth understanding of demographics and customer behavior, due to which hiring the services of professionals to introduce your products and services to target audience can significantly reduce chances of an unfruitful venture. Research which payment gateway services are available in the countries you chose to expand into and make them available on your site.

Highlight your Best Sellers

Highlighting your best sellers allows you to market them successfully to visitors who are searching for the best choice among a range of products and services.

A major chunk of revenue is earned through those products which are trending and are popular choices among customers. Moreover, it indicates that they are trusted by other customers and visitors are more inclined to choose them since they readily trust in the reviews of fellow customers.

Deploy After-Sales Services

One of the most vital assets at your disposal to gather information for improvement is after sales services. Integrating marketing automation into your ecommerce plans allows you to gather vital information from customer behavior which can be used to further develop ecommerce services and improve on them.

For example, Paper Style, an ecommerce store catering to would-be brides deployed this strategy by further recommending related products to customers by analyzing their purchases, which boosted their revenue to 330%. From follow-up emails to recommending related products, both the possible approaches and potential boost eCommerce revenue are limitless through this approach.

Discounts to Entice Customer Action

Discounts are among the most successful strategies to boost ecommerce sales and combining them with limited time offers prompts the customers to finalize a decision and purchase to benefit from the discounts.

In case a customer abandons cart and is having second thoughts about finalizing their decision, sending a discount coupon valid for a limited time can persuade them to pull through with their purchase since it is now at a lesser cost.

By implementing these 11 techniques for boosting revenue into your ecommerce strategy, you can be sure to generate greater ecommerce sales for your brand and establish long term profits.

Conclusion

The ecommerce industry not only depends on customer preferences, but thrives from it. Without understanding what the customer demands from the product/service, online businesses cannot succeed in converting potential customers through online stores. By incorporating all these factors, you can significantly reduce your leakages and make more room for other improvements that can further enhance your conversion rates.

Author Bio: This contribution is made by Paul Simmons. He is a professional eCommerce consultant with over 8 years of experience. He is currently working for FME Dubai a company known for its eCommerce development services.