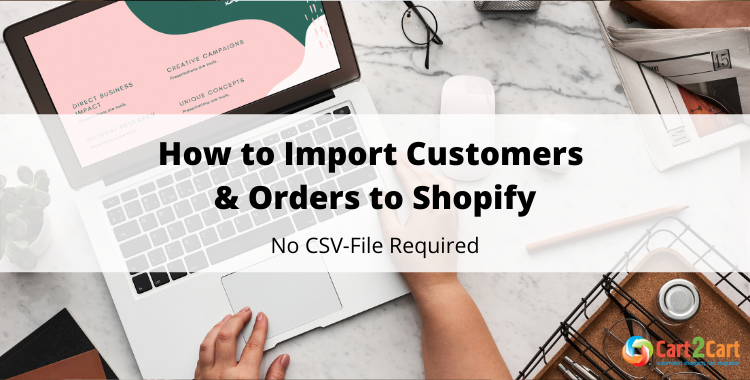 When migrating to Shopify, online entrepreneurs often choose customers and orders as one of the most essential store entities that need to be transferred. Read the post to discover some of the available and most popular methods to import customers and orders to Shopify.
Among thousands of performed migrations by Cart2Cart, Shopify has proved to be the leading eCommerce solution that online entrepreneurs choose to migrate TO.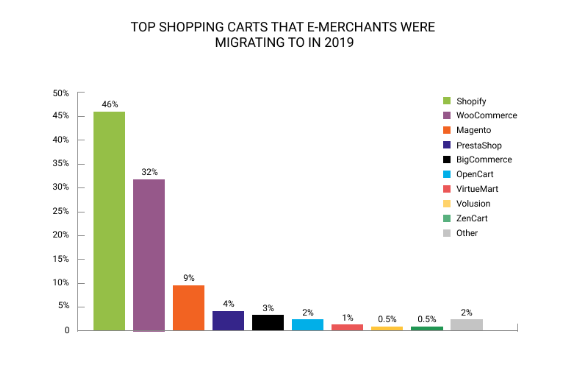 Though the majority of our clients choose to migrate the whole database, there are still merchants or situations when transfer of only some of the store entities is needed. If you're interested in how to transfer customers and orders to Shopify leaving all the other store data behind, the methods provided below will come in handy for you.
Unfortunately, there's no way to import customers together with the orders to your new Shopify store unless you're using the automated tools (like Cart2Cart). You need to transfer them separately and when done, establish the necessary relations between them.
Note: If you're transferring customers to Shopify manually, their relations with other data entities won't be preserved.
Basically, there are two ways to get around the problem of importing customers to Shopify:
Import with the help of a CSV file.
Directly transfer from another store.
Importing Customers to Shopify via CSV
If you want to migrate the customers from your current store to Shopify via CSV-file, you can do that by the following steps:
Export customers from your current store database.
Log in to your Shopify admin panel, click Customers > Import customers.

In the Import Customers By CSV dialog, hit the Add file button, and then find the required CSV file on your computer.

Click Import customers.
When finished, go into your Shopify admin -> Customers section and check all the migrated data.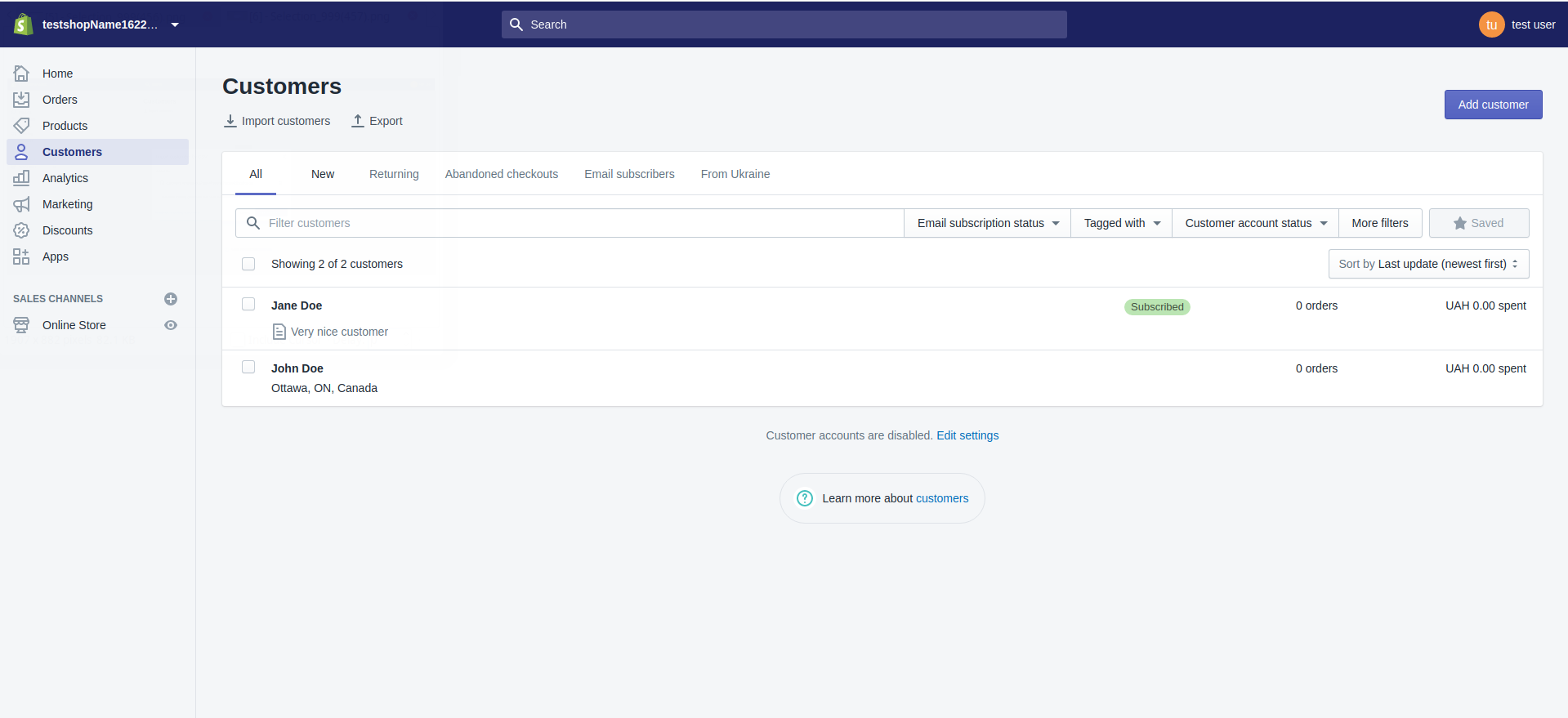 Note: The size of the CSV-file shouldn't exceed 1Mb (more specifically, ~4500 records). Alternatively, you can try using multiple CSV files to import your customers.
CSV file format for Shopify customer import
In the first line of the customer CSV, add all the headers listed below. A customer CSV template includes all of these fields. It is important to note that all CSV headers are case sensitive. In other words, you should strictly follow the examples provided in the following table. If you make a mistake with capitalization, Importing data into Shopify could fail.
First Name - Identify the customer by his or her first name.
Last Name - Customers are identified by their last names.
E-mail - The customer's email address.
Company - Customer's company name (if applicable)
Address1 - An address's first line.
Address2 - If necessary, the second line of the address of the customer.
City - It is the place where the customer lives.
Province - Customer's province or state of residence.
Province Code - ISO code for the state or province.
Country - Customer's country of residence.
Country Code - ISO code of a country.
Zip - This is the postal or zip code associated with the address of the customer.
Phone - Phone number of a customer.
Accepts Marketing - If the customer wants to receive an email newsletter, this indicates whether or not they agree to it.
Total Spent - An amount that represents the customer's total spending.
Total Orders - Orders are made by the customer as a whole.
Tags - Tags to tag the customer should be listed comma-separated.
Note - Additional customer information.
Tax-Exempt - Tax-exempt customers are indicated by this field.
Importing Orders to Shopify
When it comes to transferring orders to Shopify, there's no way to transfer them manually except using the specialized tools (like Cart2Cart).
How to Import Customers to Shopify Automatically (Using a SaaS tool)?
If you've decided to import your customers along with the orders automatically, you can use the following step-by-step instructions:
Specify the Source cart
If migrating from a CSV file: set up the CSV as your source, paste the store URL from which the CSV files have been exported.
If migrating from another eCommerce platform: choose it from the provided list, type in the store's URL address (if moving from an open-source cart), or the store's API details (if migrating from a hosted solution).
Note: If you have no access to your source cart or it is not supported, importing customers via CSV-file is a good way out.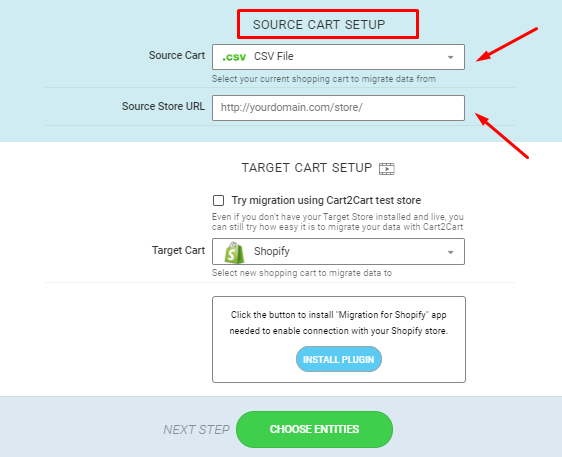 Set up the Target cart
From the drop-down list of options choose Shopify as your Target Cart. Once done, click the "Install Plugin" button to proceed with further steps (more info about how to install the app is here).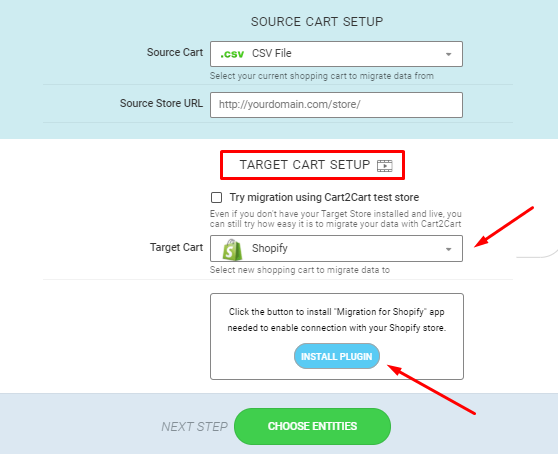 Choose what to migrate
Since you want to transfer customers and orders only, just click on the corresponding checkboxes.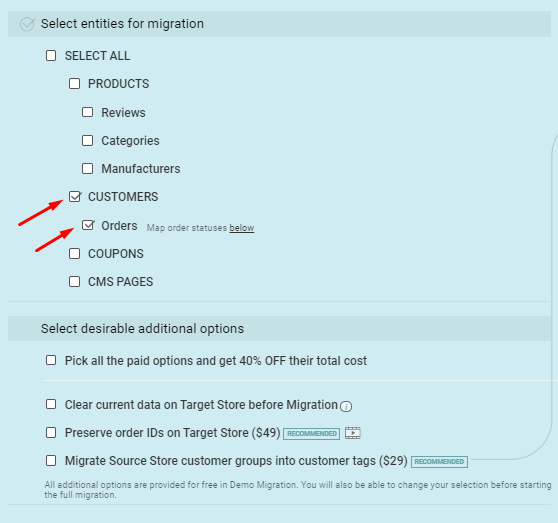 Watch our video tutorial to see how easy it is to automatically migrate from CSV to Shopify with the help of the Cart2Cart migration tool:
Run Demo migration
This option allows migrating a limited number of customers and orders to Shopify for you to evaluate how they'll look on a new platform and how the service works.
Start Full migration
By activating the Start Full Migration button, you'll launch the customers and orders migration to Shopify.
So, no need to hesitate - import all your customers and orders to Shopify without intensive hands-on right now.
Want to become a part of Shopify's glory?
Launch free Demo and discover how quick & easy it is to migrate your data to Shopify with Cart2Cart.
Start free Demo now
Why Choose Cart2Cart to Import Customers and Orders to Shopify?
Cart2Cart is an innovative eCommerce migration service developed for store data transfer across various shopping carts. The service currently supports 85+ leading shopping carts and has been already used by more than 250.000 merchants. There are no coding skills necessary to work with the service, that makes it a popular choice not only among web developers or designers but also newbies alike.
The following are the key benefits that make online entrepreneurs choose Cart2Cart:
24/7 live chat, phone, email support,
Flexible pricing,
100% data security,
100% uptime of the current store during the migration,
Simple migration setup instructions,
Top migration speed (typically, it takes a few hours),
FREE Demo migration available.
Overall, the Cart2Cart service is an optimal go-to solution for those e-merchants willing to transfer store data across various platforms automatically.
Import Customers & Orders to Shopify: FAQs
How will the order statuses of my current store be migrated to Shopify?
Shopify's peculiarities make it impossible to create new status orders. There are only existing ones that can be chosen. Therefore, Cart2Cart allows you to map order statuses from your Source Store. At the appropriate step of the wizard, you can easily do this.
How to disable Shopify notifications about new orders?
Once you've migrated orders to Shopify, every order is considered as the new one. To notify you about this, Shopify sends an e-mail notification about the number of new orders created as a result of the migration.
To stop receiving notifications, follow these two simple steps:
Navigate to Settings -> Notifications in the Shopify admin panel.
To disable the order notifications, go to the Order Notifications section and click on the Disable button next to your email address.

Will customers' accounts be migrated to Shopify?

It is possible to move all your customers to Shopify using Cart2Cart. A customer, however, must receive an email notification whenever a new account is created due to Shopify's peculiarities. To avoid large number of notifications, Cart2Cart does not migrate accounts to Shopify.

Wrapping Up

Hopefully, you'll find the instructions provided above useful. Just choose the way that's more suitable for your specific business case and enjoy your new store.

Ready to import the customers and orders to Shopify without intensive hands-on? Cart2Cart has all the necessary functionality to make your store data migration a pleasurable experience.