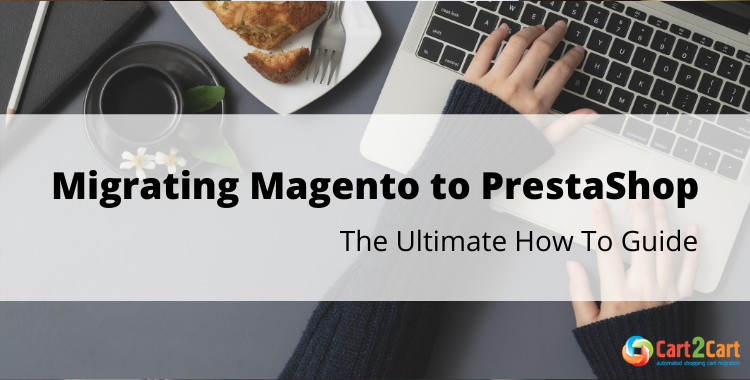 PrestaShop and Magento have established themselves as eCommerce leaders, providing an incredible foundation for fantastic online stores with any size and complexity. Deciding between them is a difficult task unless you're familiar with how both platforms work.
Magento vs PrestaShop. A Quick Breakdown
Beyond simply allowing e-merchants to sell products online, there are some more similarities between PrestaShop and Magento. For example, they both are open-source software with highly-active communities behind them. Furthermore, Magento and PrestaShop are self-hosted platforms that can be downloaded and set up on any server you want. Both solutions are equipped with tons of tools, features, and extensions allowing to create a fantastic online store of any complexity. They are widely used and trusted by e-merchants all around the globe. Though Magento hosts about 772,576 sites compared to PrestaShop with 670,936 websites (acc. to builtwith.com's latest technology trends) - don't let these numbers deceive you. Depending on the store goals and objectives - one shopping cart may work better than another.
 
PrestaShop
Magento
Popularity
Over 251,000 website users

Over 180,000 website users
Nearly 2.7 times higher over PrestaShop in Interest over time rate

Pricing
Free open-source license

Free open-source license
Magento Commerce license starts at $22,000 per year
Magento Commerce license starts at $22,000 per year
Magento Commerce Cloud plan starts at $40,000 per year

Support
Customer support service requires payment
24/7 support for Magento Commerce users
Ease of use
One-click install available
One-click install not available
Design and Flexibility
Nearly 3200 themes
10 themes
Built-in Features
Capable of every necessary functions for running an eCommerce store
Provide more powerful features
Plugins and Extensions
Nearly 4000 modules
Over 3000 extensions
SEO
Some functions might require installation of modules
Extensions not required for most SEO features
Security
Absolutely secure
Absolutely secure
Performance and Scalability
Work excellently for small to medium websites
Do better when it comes to large-scale websites
Watch our video tutorial to see how easy it is to automatically migrate from Magento to PrestaShop with the help of the Cart2Cart migration tool:
For whom Magento is a better fit?
Magento is a perfect go-to for large companies with the technological know-how to customize it. Small businesses can also find Magento a good option in case they have ambitious plans and wish to ramp up soon.
For whom PrestaShop is a better fit?
PrestaShop is a good economical solution for those online entrepreneurs running a small or medium sized online store.
Why Migrate Magento to PrestaShop?
If to compare these two eCommerce software, PrestaShop has the edge over Magento in terms of:
Price. With PrestaShop, you can download and install the software on your website for free. Though Magento also allows that, you need to buy the expensive Enterprise Edition that features most of the essential tools to fully personalize your site. Besides, PrestaShop also has a low maintenance cost if compared to Magento.
Quick Installation. PrestaShop is easy to install and use. There is no technical background required to install and customize the platform. Unlike Magento, which has a steep learning curve, PrestaShop is easier to get comfortable with.
User-Friendliness. PrestaShop has an easy to navigate admin panel and customization options that allow creating and managing any store you want without the help of a professional.
Active Community. The platform has a vibrant community of users and developers who are always ready to give you a hand of help in case you got stuck.
Tons of Themes. You can find thousands of downloadable themes (both free and paid) and modules in the official marketplace. PrestaShop even boasts 20 times more extensions and plugins than Magento.
If you find it hard to manage your current Magento-based online shop and wish to replatform to a more user-friendly PrestaShop - keep reading to know how to do it right.
How to Migrate Magento to PrestaShop? An Automated Approach
Automatic Magento to Prestashop migration is the easiest and the simplest migration way. It involves installing auto-migration tools/apps (like Cart2Cart) and making them conduct a full-scale shopping cart replatforming. To see how it works in progress, the following video can come in handy for you:
Magento to PrestaShop Migration. An Automated Approach
Pre-Migration Steps
Install PrestaShop store
Once you have chosen a perfect hosting solution, you have to install a PrestaShop platform. You can install it via a one-click installation script provided by your hosting provider. Otherwise, it can be installed manually with the help of MySQL and FTP.
Note: It is not recommended to customize theme on your PrestaShop store before the migration, but leave the default one. Otherwise, any extra configuration at this point could interfere with the process of the Magento to PrestaShop database migration.
Your PrestaShop Isn't Ready Yet?
If you are interested in how the products, customers, orders, and other items from their Magento store are going to appear on newly-launched PrestaShop, you can benefit from the Migration Preview option.
Simplify the Magento to PrestaShop replatforming with the Cart2Cart: PrestaShop Migration Module.
Migration Itself
Configure your Magento source store
Now comes the Magento to PrestaShop migration itself. At this point, Cart2Cart requires to set up your current Magento online shop, and then establish the connection with the PrestaShop store you're moving into. To achieve that, select Magento from the drop-down menu in the Source Cart field and on the next field enter the domain of your Magento store.
When done, scroll past the Source Store URL field and click the Download Bridge button. This will send the bridge directly to your local storage in the form of a .zip file. Once you've unzipped it, paste its contents directly to your Magento store's root folder using an FTP client. That's it - the connection bridge on your source cart is already installed.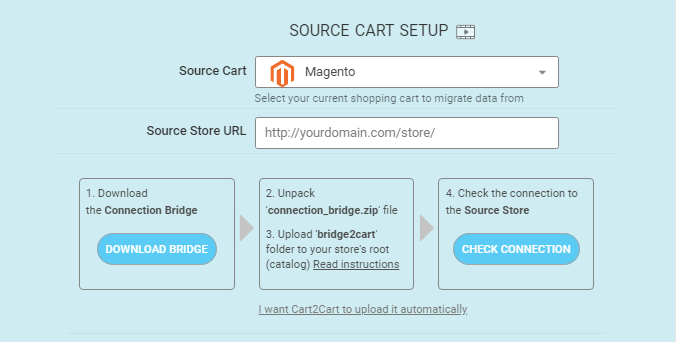 Define your PrestaShop target store
Just as you've specified the source cart parameters, repeat the same store detailing procedure with your target store. Pick PrestaShop as the target cart, enter the admin store URL, admin email & password and proceed to the next step by clicking the Choose Entities button.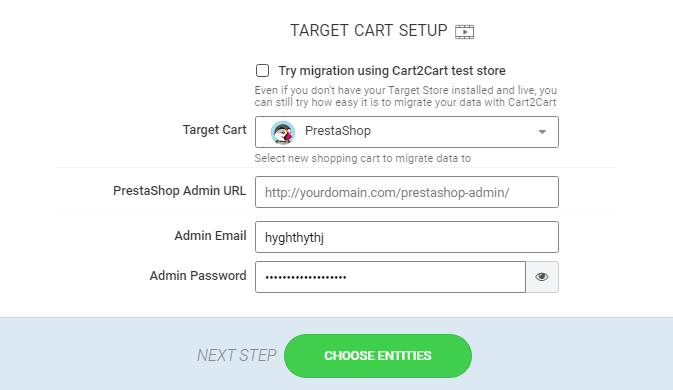 Specify the store entities you want to transfer & additional migration options
This step entails choosing the specific store data entities you intend to transfer from your Magento store to PrestaShop. Some of the data types that you can migrate include:
Products,
Product categories,
Manufacturers,
Taxes,
Customers,
Orders,
Coupons,
Reviews,
Multistore, etc.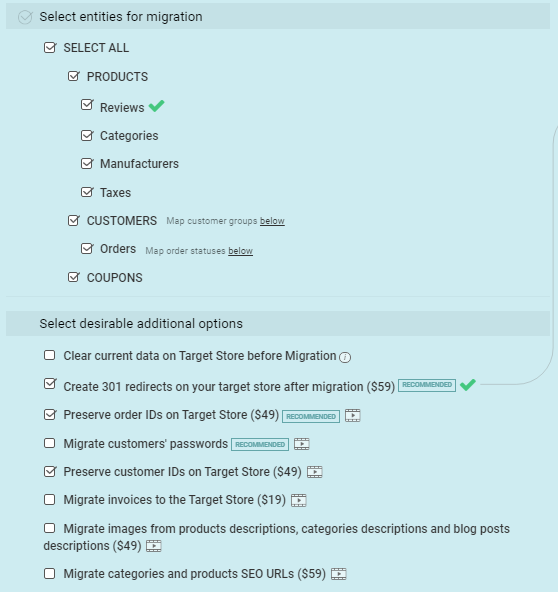 At this stage, you can customize your Magento to PrestaShop transfer by configuring a range of additional options. To be more specific, you can create 301 redirects on your PrestaShop store after migration, import customers' products or transfer categories and products SEO URLs, etc.
Run free Demo Magento to PrestaShop migration
Though this step is optional and you can choose to ignore it by clicking the "Skip" checkbox going straight for the full migration, it is strongly advised to take advantage of it. The option gives an excellent possibility to check out how your PrestaShop store will appear after database migration from your Magento-based store.
Launch a full Magento to PrestaShop migration
When you have included all the entities you wish to transfer and checked the additional migration options - you can go ahead and start full database migration.
At this step, you should expect the Cart2Cart to bill you accordingly before conducting the actual data migration.
Note: The total cost includes the number of entities and additional options you've chosen to customize your Magento to PrestaShop migration.
And once payment is settled, the full migration will be performed during a couple of hours (though it depends on the store data amount). When finished, you'll receive an email notification.
Check out our infographic to get a better understanding of the migration process via Cart2Cart: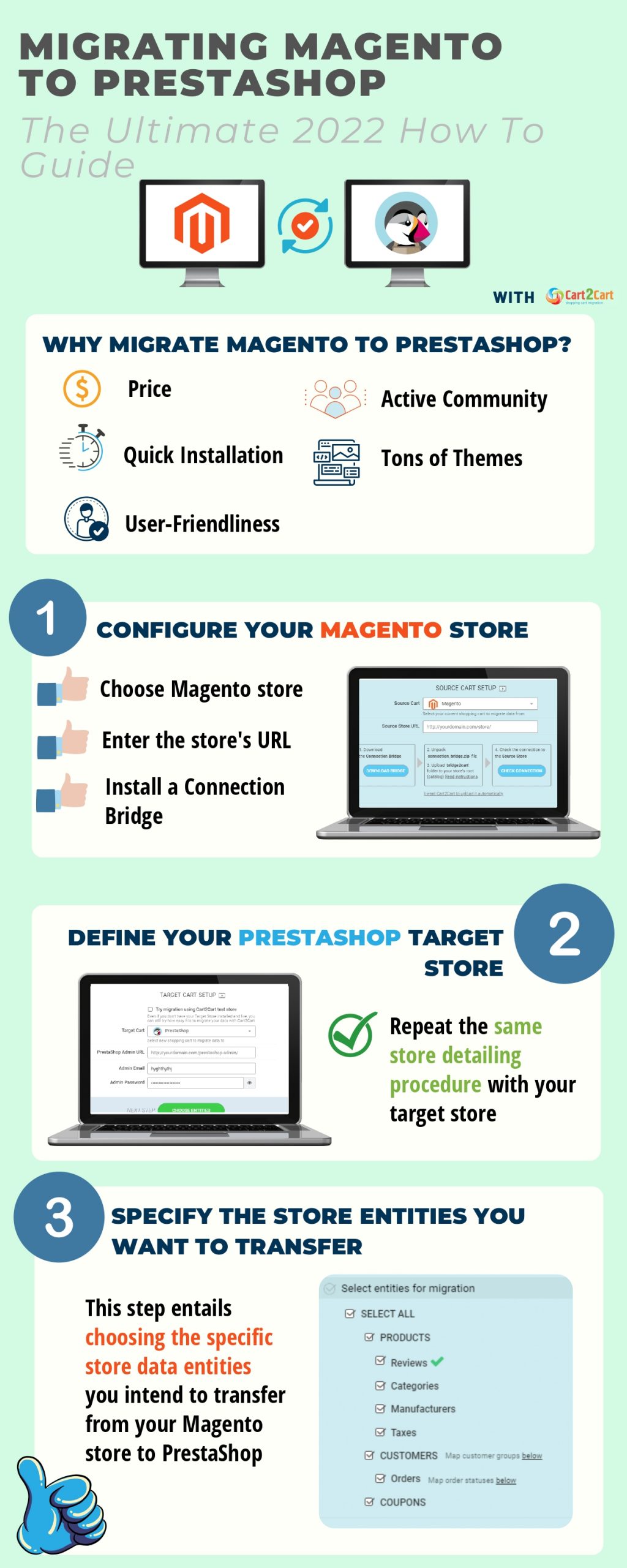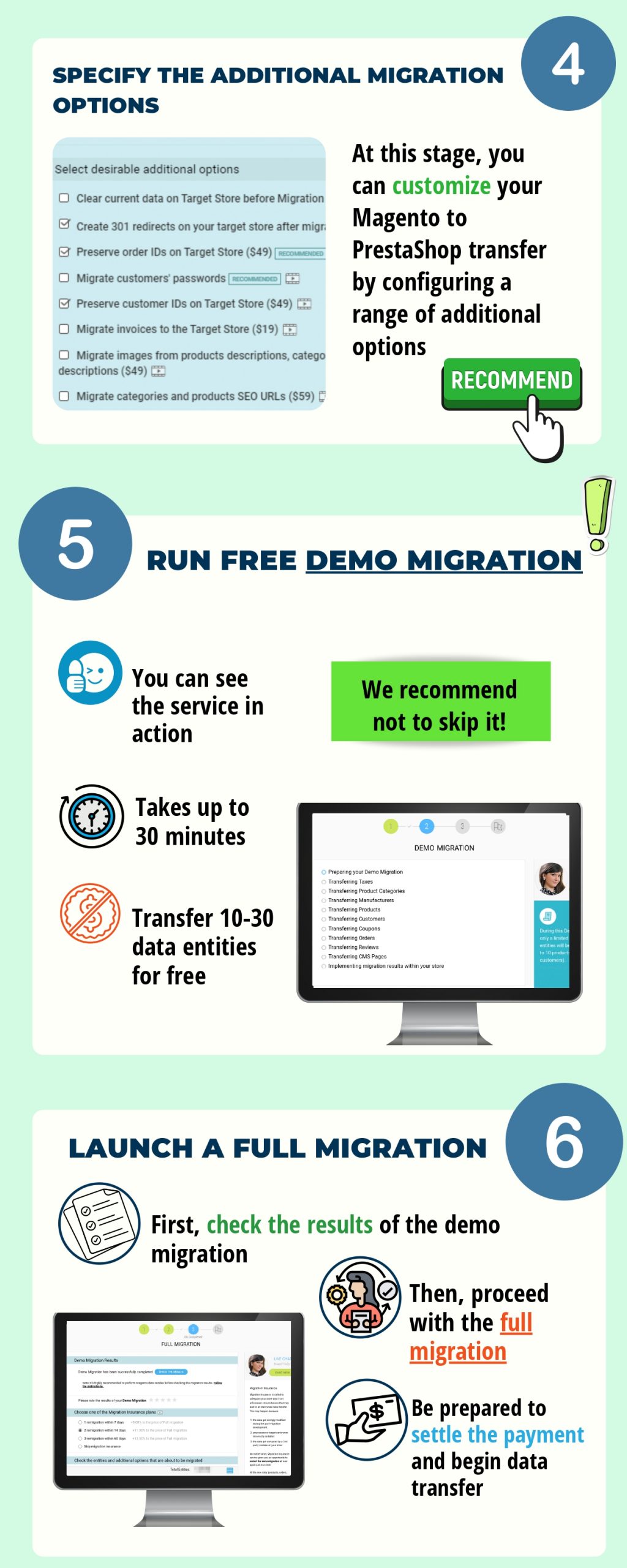 Migrating Magento to PrestaShop - FAQs
Is it possible to make my old Magento store SEO URLs working after PrestaShop migration?
To keep your old Magento store links working on PrestaShop, select the Create the 301 redirects on your Target store after migration option. Before launching the Full Migration, you'll also need to install the paid 301, 302, 303 URL Redirects - SEO Module on your PrestaShop store. Note that PrestaShop adds ID numbers to category and product URLs during migration due to its peculiarities.
Can I migrate my customers' credit card information from Magento store to PrestaShop?
The information about clients' credit cards is not transferred across shopping carts for security reasons. Shipping and billing addresses, however, can be transferred successfully.
Can Cart2Cart automatically transfer my Magento store reviews to PrestaShop?
Obviously. Magento to PrestaShop reviews migration is available via Cart2Cart. In order to move them to the PrestaShop admin panel, you will need to install the Prestashop Free product reviews (comments) module beforehand.
Final Words
Well, that's it! Hopefully, this all-the-way guide will help you go through the process of replatforming from Magento to PrestaShop easily.
So, go ahead and launch your risk-free Demo migration right now. Shortly, you'll be able to reap the benefits of using a new platform and take your online business a step forward towards success.