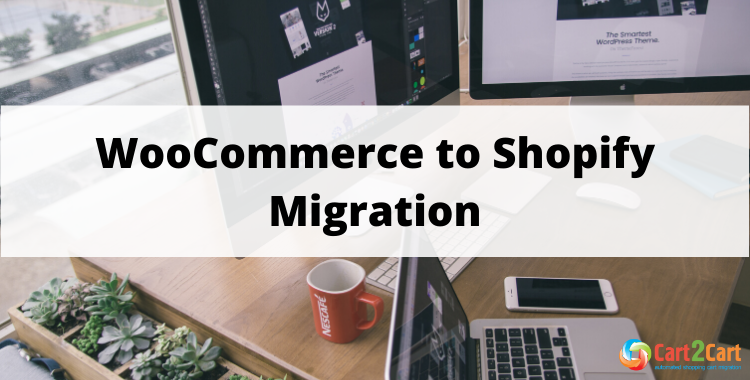 Before getting into how to migrate WooCommerce to Shopify, you're probably wondering – why even do it at all? If WooCommerce is working for you, then, by all means, keep using it. However, Shopify enjoys a 29 percent market share, making it the most popular eCommerce platform worldwide. That works out to more than 3.7 million websites. That's a lot if you think about it. Based on those figures, migrating from WooCommerce to Shopify might be something worthwhile to consider. This migration guide takes an in-depth look at how to do it.
How to Migrate From WooCommerce to Shopify
When choosing a migration method, one of the things you need to think about is the risk of data loss. You also need to consider how hands-on you intend to be, which will largely be determined by whether you have a web development background.
Watch our video tutorial to see how easy it is to automatically migrate from WooCommerce to Shopify with the help of the Cart2Cart migration tool:
Using automated data migration tools like Cart2Cart is a no-brainer since it automates the end-to-end process while eliminating the risk of data loss. Here's how to transfer website from WooCommerce to Shopify in four easy steps:
Connect your source cart (WooCommerce) to your target cart (Shopify)
Select the data entities you wish to transfer and any other relevant migration options
Run the free demo to get a feel for the migration process
Launch Full Migration to transfer all your existing data to your new Shopify store
See also: DIY Guide on How to Migrate From WooCommerce to Shopify.
What is WooCommerce to Shopify Migration?
WooCommerce to Shopify migration will help you transfer the eCommerce data (customers, products, orders and more) from an old platform to a new one. An automated migration is a perfect way out for those who lack tech skills and wish to get it done quickly and trouble-free.
WooCommerce vs Shopify: Why Choose Shopify Over WooCommerce
WooCommerce
Shopify
Winner
Platform Overview
It is an open-source, self-hosted solution. You'll still need to pay for the underlying costs like web-hosting, domain, security, and extensions.
It is a paid, fully-hosted eCommerce solution. The cost of web-hosting, domain, and security are all factored into the monthly subscription fee.
Shopify
Ease of Use
It has a steep learning curve for users with no web development experience.
The built-in drag-and-drop website builder makes it beginner-friendly and suitable for the average user.
Shopify
Themes
There are 43 website templates available, out of which only three are free.
It has 80+ free and paid professional-looking website templates.
Shopify
Sales Toolkit

Built-in blogging capability
Free shipping and international selling
Multichannel sales via eBay, Amazon, Instagram, and Facebook
One-click refund
Users can embed product buttons and checkout buttons to any store page

Allows users to sell physical and digital products
Automated email alerts and reminders to customers about their abandoned carts
Built-in courier partnerships with USPS, UPS, DHL Express, Canada Post, etc.
Checkout customization
Multichannel sales via eBay, Amazon, Instagram, Facebook, and Pinterest
Price discount customization
Supports abandoned cart recovery

Shopify
Marketing Toolkit

It doesn't feature built-in tools and relies primarily on third-party plugins
Requires a web developer to build custom marketing tools for the website

Allows users to advertise directly on social media platforms Facebook, Instagram, and Pinterest
It comes with several powerful built-in and third-party integrations for email marketing
Multilingual capability for a wider reach

Shopify
Apps and Add-Ons
The extension store features hundreds of apps for merchandising, store content and customization, payments, shipping, delivery & fulfillment, marketing, etc.
Offers more than 7,000 apps in categories like merchandising, shipping & delivery, fulfillment, store management, marketing, conversion, etc.
Shopify
Payment Processing
It supports 80+ payment gateways, including WooCommerce Payments, PayPal, Stripe, Square, Amazon Pay, Afterpay, PayFast, etc.
It supports 100+ payment gateways, including Shopify Payments, Stripe, PayPal, Amazon Pay, Apple Pay, etc.
Shopify
SEO
WooCommerce's underlying code is optimized for SEO. Some notable features include:

WordPress integration
Detailed meta titles and meta descriptions
Optimized product descriptions, images, and pages
Custom URLs
Third-party integrations like Yoast
SEO prompts and guides

Shopify does not have quite as many built-in SEO features as WooCommerce. It relies mainly on third-party integrations.Some of the SEO capabilities you get with the platform include:

URL customization for product pages
Editing image alt-tags
Adding optimized product descriptions
Optimized meta titles and meta descriptions
Supports dozens of SEO plugins like Yoast and SEO Booster

WooCommerce
Customer Support
Since it is an open-source platform, WooCommerce does not offer dedicated customer support. Users need to access the resource libraryto find solutions to their queries.
On the other hand, Shopify offers 24/7 support via email, phone, live chat, and social media. Users can also get help from the Help Center resources, video tutorials, and the community forum.
Shopify
WooCommerce to Shopify Migration Checklist
There are three ways to migrate your WooCommerce store to Shopify. The option you pick all boils down to the amount of elbow grease you're willing to put in. Here's a detailed overview of these options, as well as the potential benefits and drawbacks of each method.
Manual Migration
If you cringe at the sight of the word "manual," you're in good company. Manual migration is the most tedious and error-prone method of all the possible data transfer options out there. As the name suggests, manual migration means copying and pasting each product from your old store to your new one. This process is easier said than done.
For starters, it's not just about transferring the products from your old site to the new one. You also need to transfer the underlying data. It includes orders, information on the number of available products, customer reviews, customer data, payment information, and every other aspect that goes into operating a fully functional online store.
This process can be quite technical and practically impossible for users with no background or knowledge in web development. You can also see how this would be a problem if you have 20+ products to transfer from your old site to your new Shopify store.
For small-scale business owners with a handful of merchandise listed on their site, manual migration is theoretically possible if you want to do it yourself. This approach will only work if you have no further use for the product and consumer data you've collected so far. If that's the case, it shouldn't be a problem. You can go ahead and copy-paste products from your old store to your new one.
However, if you also want to migrate the underlying data, you might want to consider bringing an expert on board to do the heavy lifting for you.
Assisted Migration
Assisted migration works the same way as its manual counterpart, only that in this case, you would get an expert to handle the entire data migration process. You would retain the services of a web developer who is well-versed in all-things Shopify migration.
They wouldn't just transfer your product images and their respective descriptions from the WooCommerce platform to the new one. They would also migrate the underlying data, including all product-, order-, payment-, and customer-related information. That way, you don't miss a beat, and your retail operations can continue running seamlessly on the new platform.
An assisted migration might sound like a no-brainer if you don't possess the necessary technical expertise to carry out the migration yourself. However, it is still a labor-intensive and time-consuming undertaking. If you have a lot of data to migrate, it can also turn out to be quite expensive, not to mention the very real risk of data loss.
With that information in mind, assisted migration might sound like the next best thing if you have no web development experience. It doesn't take away the fact that it is the most expensive, time-consuming, and labor-intensive option.
Automated Migration
Automated migration relies on software applications to seamlessly transfer your online store from one platform to another in a few clicks. These applications are designed to migrate store data while eliminating the risk of data loss.
Perhaps the biggest selling point of automated data migration tools like Cart2Cart is how easy to use they are. You don't need any web development experience, nor do you need to dedicate a ton of time manually copying and pasting product data from your old store to your new one. You don't even need to hire a team of experts to carry out the migration for you.
An automated migration tool will seamlessly transfer all your data from the backend without disrupting the normal functions of your store. If you have ongoing orders on your WooCommerce platform, you can migrate to Shopify without disrupting any of them.
Some of the data you automated migration tools can transfer from your old store include:
CMS pages;
Coupons;
Customer information;
Customer reviews;
Supplier and manufacturer data;
Multistore information;
Order information;
Products;
Product categories.
The best part is that the entire migration process takes between a couple of minutes to a couple of hours to run, depending on how much data you need to transfer. It is also the most cost-effective data migration method of all the three options discussed.
See also: Migrating to Shopify. 2022 Best Practices & Recommendations.
What Migration Method to Choose
With that brief overview, the question becomes: Which migration method should you choose to convert your WooCommerce store to Shopify? There are six primary factors to keep in mind when choosing the right one.
Customization: Will the new website retain the same customizations your previous store had?
Integrations: Will your new Shopify site maintain compatibility with the extensions you currently have running on your WooCommerce store?
Themes: Will the new store have the same layout and design your old one had?
Data loss: Does the data migration method you choose safeguard against data loss?
Downtime: How long will the migration process take, and will customers be able to access the site while the data is being transferred?
Cost: What are the cost implications, and can your business afford it?
You can instantly eliminate manual and assisted migration options based on these factors. They are expensive, time-consuming, and do not guarantee data protection against potential loss.
Here's why automated migration is the only logical option.
| | | |
| --- | --- | --- |
| Data | Downtime | Cost |
| Automated migration tools like Cart2Cart guarantee full transfer of all your store data with zero risk of loss. | Cart2Cart works entirely on the backend, so customers can still access your site during migration. | Automated migration is the most affordable alternative when it comes to migrating WooCommerce to Shopify. |
How to Prepare for WooCommerce to Shopify Migration
You've now established that automated migration is the best way to move your online store from WooCommerce to Shopify. Before you do, you'll need to prepare so that the process goes off without a hitch. Below are a few steps you need to take beforehand.
1. Manage Your WooCommerce Store
The rule of thumb when carrying out any type of site migration is always to back up your data. After all, you wouldn't want to lose precious information you've painstakingly collected over the years. Here's how to cover all your bases:
Back-Up Store Data
Before you convert WooCommerce to Shopify, be sure to have a solid backup of all your site data. There are three ways to do this:
Perform a database backup – This option backs up the database only.
Perform a database and media backup – This option backs up the files in the media folder and the database.
Perform a system backup – This option backs up all the files in the media folder, the entire file system, and the database as well.
Do a Data Audit
Once you've backed up your store data, you'll need to carry out a site audit to determine what data to transfer and what to trash. Be sure to review the data stored in fields like Product Name, Descriptions, Customer Information, Contact Details, etc., and identify what is relevant to your new Shopify store.
Validate Your Store Access Credentials
Finally, you need to create a strong bridge between your existing WooCommerce website and what is about to become your new Shopify store. This process involves validating the access credentials of your current site, such as the URL, FTP/SSH, etc. That way, the target cart can link to the source cart to facilitate seamless communication between the two platforms before initiating the migration.
2. Prepare Your Shopify Store
Once you get your WooCommerce store ready for migration, there are a few things you need to do to prepare your new Shopify website.
Set Up Your Shopify Store
First off, you'll need an actual Shopify store to migrate to at the risk of stating the obvious. There are three subscriptions to choose from. The one you pick depends on the size of your store and the features you need to enhance its functionality.

If you're unsure which bouquet is right for you, Shopify offers new users a 14-day trial period. You can use that time to explore everything the platform offers and figure out which package works for your current and future business needs.
The great thing about it is – you're not tied down to the subscription plan to choose. You can always upgrade and downgrade later if need be.
Pick a Theme
There's a degree of familiarity you want to maintain on your new site so that customers don't get thrown off when they visit your store. While it's perfectly fine to switch things up a little after you migrate, it's important to retain certain elements of your website.
We recommend holding off on customization until you have fully migrated to the new platform. Once you do, you can choose a template from the dozens of professionally-designed Shopify templates.
Install the Required Apps
The final step involves installing the plugins and apps you previously had in your WooCommerce store. Whether or not the required extensions will be installed automatically upon migration all boils down to your tool.
For Cart2Cart users, this process is automatic. Your old extensions will be installed on your new Shopify website. That's you need to pick the right tool for the job.
How Do I Convert WooCommerce to Shopify?

Which eCommerce platform suits you best?
Now that you've sufficiently prepared your old store and what is about to become your new one, you're now ready to proceed with the migration. For the purposes of this guide, we will focus on how to transfer WooCommerce to Shopify using Cart2Cart, an automated data migration tool.
1. Connect Your Shopping Carts
First off, to migrate WooCommerce to Shopify, you'll need to connect your shopping carts.
Go to Source Cart Setup, click on the drop-down menu in the Source Cart field to display the list of eCommerce platforms, and select WooCommerce.

Next, download and install the Connection Bridge. This plugin will facilitate communication between the WooCommerce and Shopify platforms.
Once you do, proceed as follows:
Unpack the downloaded file labeled connection_bridge.zip
Extract the folder labeled bridge2cart
Use an FTP client to import it to the root catalog of your WooCommerce store
Confirm that a link to your Source cart has been established
Next, you'll need to set up your Shopify cart.
Go to Target Cart Setup, click on the drop-down menu in the Target Cart field to display the list of eCommerce platforms, and select Shopify.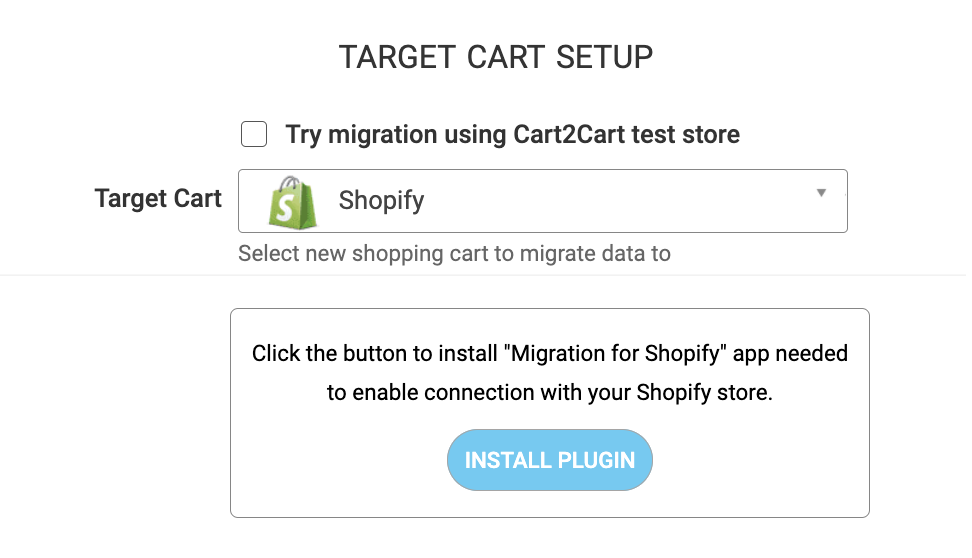 Click on the button labeled Install Plugin to download the Migration for Shopify integration. Once you do, install it to enable your Shopify store connection.
2. Select Data for Migration
Next, you'll need to choose the data entities you want to migrate when switching from WooCommerce to Shopify. Click on Choose Entities to pick the data classes you want to migrate. You can choose Select All to migrate everything or check the individual classes to pick specific entities to transfer.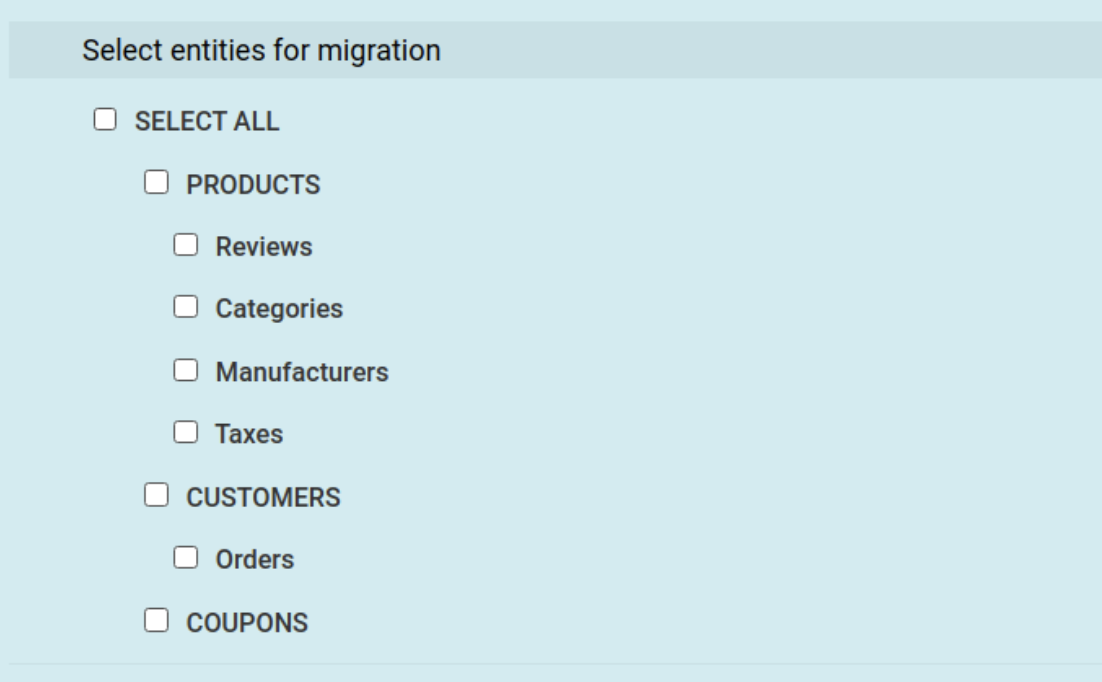 Some of the data classes you can migrate when switching from WooCommerce to Shopify using Cart2Cart include:
Product data such as name, images, description, and price
Product visuals such as size, shape, and color
Integrations
List of purchased items, price, and payment information
SEO settings and page redirects
Static site pages such as About Us, Contact Us, etc.
3. Specify Additional Migration Options
This third step involves choosing specific migration options you might want to integrate. Some of these include:
Migrating your WooCommerce categories to Shopify's Automated Collections
Creating 301 redirects in Shopify to maintain the functionality of old category URLs
Maintaining migration SEO URLs and their respective link structure to preserve your online store's ranking on Google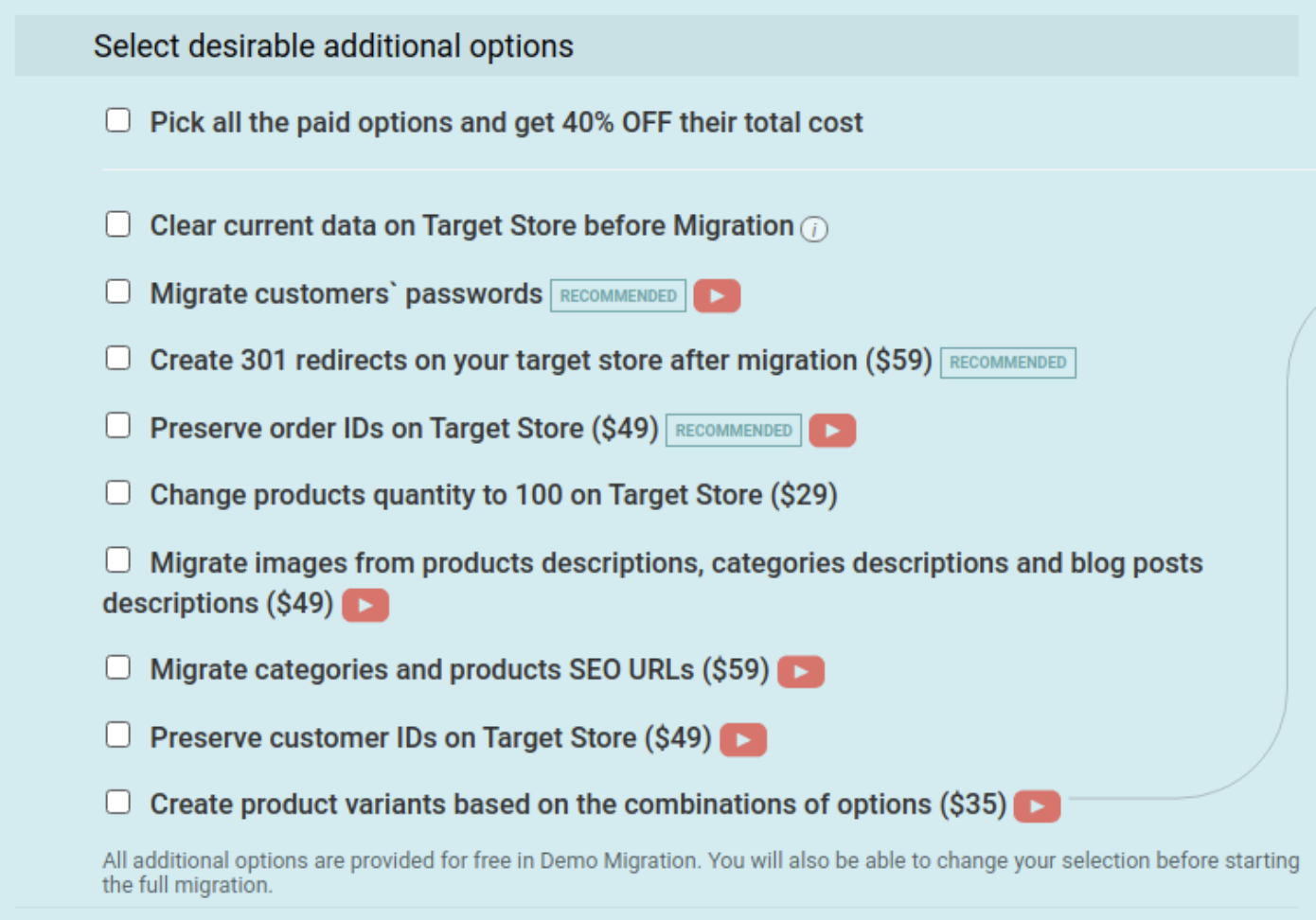 4. Map Customer Groups and Order Statuses
The next step involves mapping the customer classes and order statutes you had in your old WooCommerce store to your new Shopify website. These will not automatically be transferred during the migration process. As a result, you'll need to match the old classes and statuses with the new ones you create on the Shopify platform. Here's how to go about it.
Open Cart2Cart's Stores Mapping window and select the data groups in WooCommerce that you want to be mapped onto the new store.
Select the corresponding groups in your newly created Shopify site.
If you don't find the required groups in the target store, click on the relevant buttons to create them.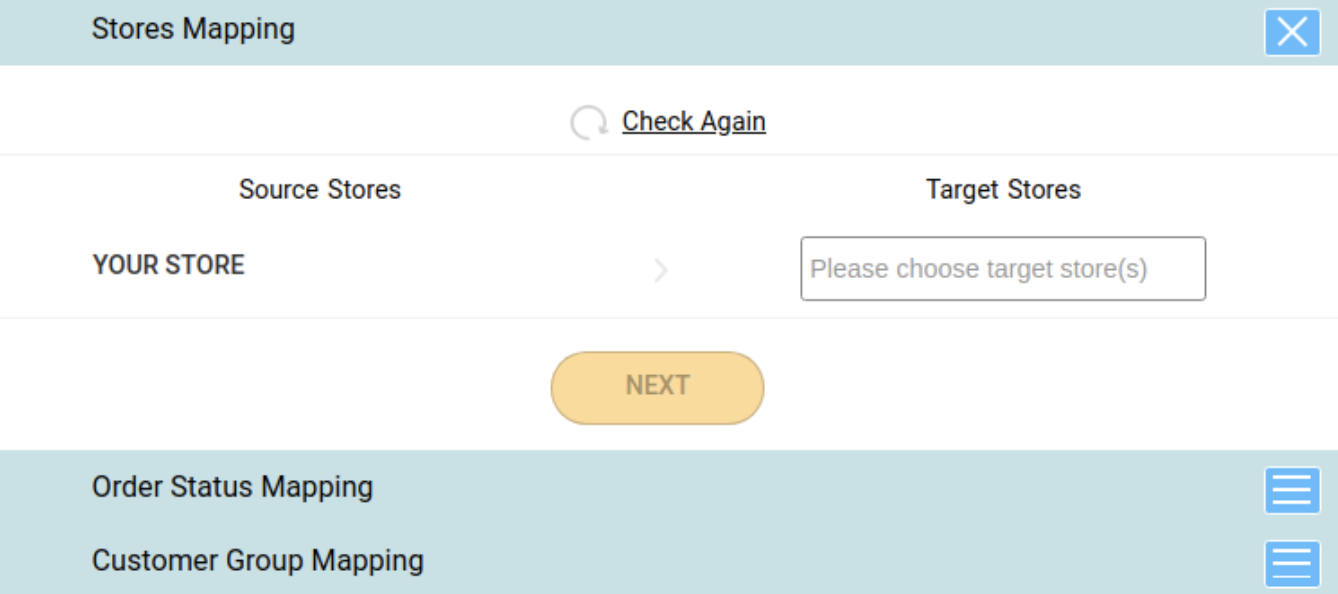 Keep in mind that when migrating your existing customers from WooCommerce to Shopify, Cart2Cart will automatically create default email addresses for them if they don't have valid ones at the time of transfer. This usually happens when guest users who haven't registered on your site place orders.
5. Run Free Demo / Launch Full Migration
The final step involves launching the actual migration. You can either run the free demo to get a feel for how the Cart2Cart tool works or launch the Full Migration if you're on a paid plan.
When running the free demo, keep in mind that only a limited number of entities will be transferred. Be sure to keep the browser window open until process completion.
To confirm whether the migration process went off without a hitch, check if you can see the newly migrated data on Shopify's frontend.
If not, check for the results on the backend. Here's how:
Go to the Demo Results page
Download the file labeled Product IDs
Check them against the newly migrated entries on Shopify's backend
See also: How Do I Export Products from WooCommerce to Shopify

To transfer products from WooCommerce to Shopify, you'll need to select the relevant options displayed on the Cart2Cart wizard before launching the migration. Some of the available options include:

Name, Image Description, Product Description, SKU, Manufacturer
Base Image, Additional Images
Meta Title, Meta Description
Price, Discounted Price
Quantity, Manage Stock, Status
Variants (Images, SKU, Weight, Discounted Price, etc.)
URL

Additionally, you can use two other methods to migrate WooCommerce products. On the one hand, you could download a WordPress product migration plugin from the WP app marketplace.

On the other hand, you could export the products into a CSV file and upload them to your newly launched Shopify store.

With that in mind, using an automated data transfer tool like Cart2Cart is the easiest and most convenient way to migrate your store products.

How to Export Orders From WooCommerce to Shopify

Exporting orders using Cart2Cart is as simple as checking the Order box at the point of configuration before launching the migration. It's quick and easy, with no risk of data loss once the migration process completes.

Some of the order data you can export using the tool includes:

Product details such as the ID, Price, Quantity, and Status
Shipping address details such as the First Name, Last Name, Physical Address, City, State, and Zip Code
Customer details such as the First, Middle, and Last name, Billing Address, and Phone Number

Unfortunately, WooCommerce does not offer any other way to do this manually. You could always search online for an app to help you do it, but it's not a foolproof guarantee that all your order data will be migrated. Cart2Cart is your best bet.

WooCommerce to Shopify Migration Checklist: What Should You Do Once Migration Is Complete

Once you've successfully migrated your WooCommerce store to Shopify, the next step involves checking that your new site is working as it should. Here's how:

1. Test your new Shopify store

Carrying out a post-migration audit is the final piece of the puzzle to get your store launch-ready. It allows you to identify potential hiccups that could affect its functionality and your customers' user experience.

Here's a list of what to keep an eye out for:

Check that your domain name is active
Check that all the navigation links are working properly
Check that all the products in the respective catalogs are visible
Check your onsite search function to confirm that it is working as it should
Check the links in the menus, site pages, headers, and footers to verify that they are correct

Once you do, run a few test purchases to make sure your new site is in good working order.

2. Find the Apps You Need Through Shopify Store

Extensions and plugins are the heartbeats of any online store. If you used Cart2Cart for your WooCommerce to Shopify migration, then all the integrations you had previously installed will automatically be set up on the new platform.

That said, there are tons of apps available on Shopify's App Marketplace if you want to install new apps that were previously not supported by WooCommerce.

3. Invite Customers to Reactivate Their Accounts

Finally, let your customers know that your store has migrated to a new platform and send out bulk invites asking them to reactivate their accounts. Encourage them to give you feedback on any problems they encounter while using the site. That way, you can make sure their user experience on your new site is not affected.

WooCommerce to Shopify Migration. FAQs

Which is better WooCommerce vs Shopify

Both WooCommerce and Shopify are great eCommerce platforms, but they target different audiences. To be more specific, if you're searching for an open-source, self-hosted solution - WooCommerce is a good way to go. There you will be responsible for the backend maintenance, including security patches and upgrades.

However, if you are looking for a beginner-friendly, fully-hosted platform with an intuitive drag-and-drop website builder, moving from WooCommerce to Shopify is an optimal decision.

Can you transfer WooCommerce to Shopify?

Sure! Cart2Cart has all the necessary functionality to automatically move the WooCommerce database to Shopify. You're only required to provide your current and new stores' details and Cart2Cart will do the rest.

Parting Shot

With this detailed guide on how to migrate from WooCommerce to Shopify, you have everything you need to transfer your online store. The choice of one eCommerce platform over the other comes down to whether or not you have coding experience and how much time you're willing to dedicate toward running and managing your store.

Shopify takes care of the backend so you can focus on what matters – running your business. Sign up for Cart2Cart today for a free demo and access to a quick, easy, and affordable migration solution.

Moreover, we have affiliate and partner programs. They can save you money on Cart2Cart migration services or earn you money through referrals.