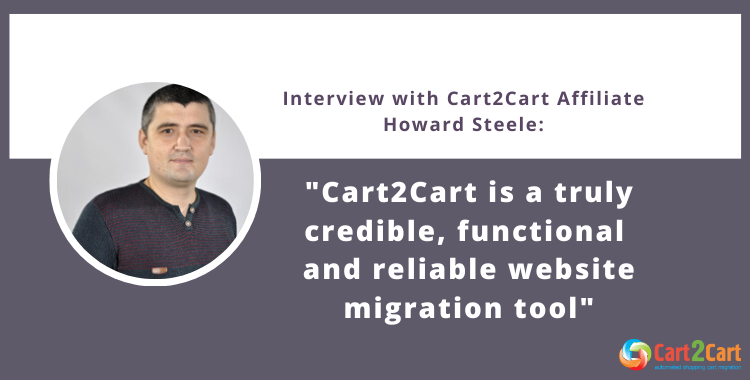 We're happy to continue our good tradition of posting interviews with Cart2Cart affiliates. Today we will present you the conversation with Howard Steele, the owner and the editor-in-chief of SuperbWebsiteBuilders. He has over 16 years' experience in web building and search engine optimization. Read on to discover all you ever wanted to know about Cart2Cart Affiliate Program right from the expert's mouth.
Huge thanks for agreeing to this interview, Howard. For those who don't know yet can you tell a few words about yourself and your SuperbWebsiteBuilders web project?
I've been involved in website development for more than 16 years, helping users - both newbies and web design experts - discover professional web design tools to complete a variety of their tasks. As the online marketing specialist, I'm aware of all the intricacies of the web design niche and I realize how challenging the web creation process is for most users. That's how the idea of starting SuperbWebsiteBuilders.com appeared.
My website is dedicated to helping web developers pick and properly use those website creation platforms that come up to their web development needs and requirements. SWB provides dozens of unbiased reviews and comparisons of the most popular website builders, which differ in their parameters, niche specialization, features, pricing and other crucial aspects that affect the choice of the program and the result users avail in the long run. Realizing the degree of responsibility, I personally test each system to deliver only trustworthy facts users can totally rely on while choosing their web development tools.
Why have you decided to become an affiliate marketer? With so many offers out there, why Cart2Cart?
I don't frequently come across those systems that rightfully deserve to be considered the leaders of the website transfer niche. In most cases, everything is centered around separate standalone agencies or even freelancers providing website migration assistance. This is where Cart2Cart stands out from the crowd, in my opinion. The platform provides professional website transfer services, paying individual attention to each website they work with as well as to all the details/steps of the migration procedure. What's more, Cart2Cart has one of the most appealing affiliate marketing offers that cannot but attract the attention, triggering the desire to join the program.
When you've decided to start doing affiliate, what were the first steps you took? What challenges did you face at the beginning and what's your advice for avoiding them?
The most complicated part of the job is to explain to my target audience the way Cart2Cart works and the benefits they will avail when using the platform. I think that's because such services are not quite popular yet and most users just don't realize how convenient, effective and time-saving they are. They have got used to standard ways of manual website transfer to such an extent that they believe this is the only surefire way to get the result they intend to get. I try my best to explain all the merits of using Cart2Cart as a truly credible, functional and reliable website migration tool.
How long did it take you to become profitable with Cart2Cart Affiliate Program? What was your first affiliate marketing success?
The first results were observed during the very first month of partnership with Cart2Cart. That was the commission fee I got from moving a website from Wix to Shopify. It's no wonder as this direction currently enjoys popularity and there is a growing demand for these services.
How much time do you invest in affiliate marketing strategy now compared to when you've started?
The amount of time I invest in affiliate marketing now remains the same it was at the start of my career. This job always requires special effort investment as well. That's why I keep analyzing and improving the strategies of attracting new clients and I try my best to offer only the best and the most reliable affiliate marketing solutions they will definitely benefit from. I strongly believe that the customer satisfaction rate is the best indicator of my professional advancement - that's one of the goals I pursue in my job.
Who should consider getting into the industry? What are the main benefits of affiliate marketing with Cart2Cart?
Webmasters and the owners of online resources dedicated to website development should initially be interested in affiliate marketing solutions. The major advantages of such cooperation include convenient affiliate program control panel, high rates, worthy rewards, etc. The longer you are in the industry, the more benefits you avail.
What piece of advice would you give someone considering joining the Cart2Cart affiliate program?
The very first thing you should start with is to explore, analyze and learn the interests of your target audience. To be able to offer the best solutions that work well for their individual website transfer needs, it's a must to be aware of all the nuances and steps of the process. Only after that, you may proceed to the development of your strategy, it's complete testing and ongoing improvement. This is the only surefire way to reach the objectives you set right from the start.
Editors note. We would like to thank Howard for spending time speaking with us and sharing his insights about affiliate marketing and its benefits. We really appreciate the opportunity to provide our readers with such useful information. So, stay tuned because more expert's interviews are yet to come!
We also have partner and affiliate programs. They will help you save money on Cart2Cart migration services or earn on referrals.
Also, in case you're considering to migrate your store to a new platform in the nearest future, don't forget about our Free Demo Migration option. Check out our service in action and perform the switch just within a few clicks!