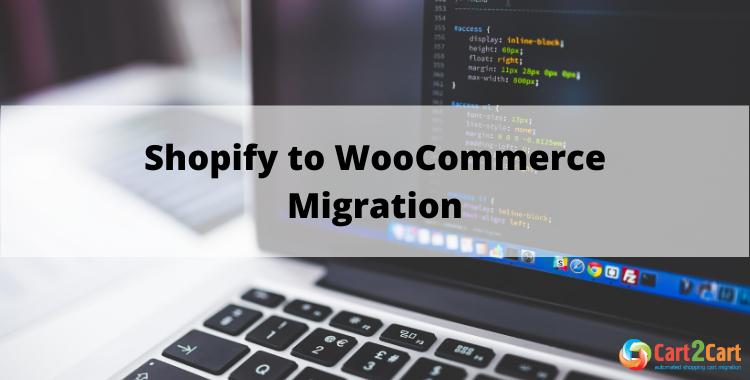 Store migration is not always the easiest task, especially when it is performed without the proper knowledge or additional help. Luckily, the modern digital world provides merchants with all the necessary means to make the replatforming as smooth and simple as possible. Our today's post will be dedicated to the automated Shopify to WooCommerce migration. Also, we'll explore the benefits of switching to WooCommerce and provide you with some tips on how to perform the migration hassle-free. Read on!
Shopify vs. WooCommerce. Facts and Data
Shopify is a well-known SaaS platform that was founded in Canada in 2004. Currently, it powers 1,224,949 live websites. Due to a great variety of in-build tools, it is a perfect solution for those who want to get their store online quickly and effortlessly. Shopify users can benefit from numerous paid and free apps and themes to enhance the overall look of their stores. This platform is suitable for both small to large size businesses.
WooCommerce is the most popular free WordPress plugin. It was launched in 2011 and is now home to 3,876,748 live websites worldwide. The solution has tons of highly-customizable features, themes, and plugins. It is an ideal option for tech-savvy traders who are willing to make their stores unique. WooCommerce will suit any business, but be aware that it has a steep learning curve.
The superiority of WooCommerce over Shopify is evident, especially if we take a look at the statistics: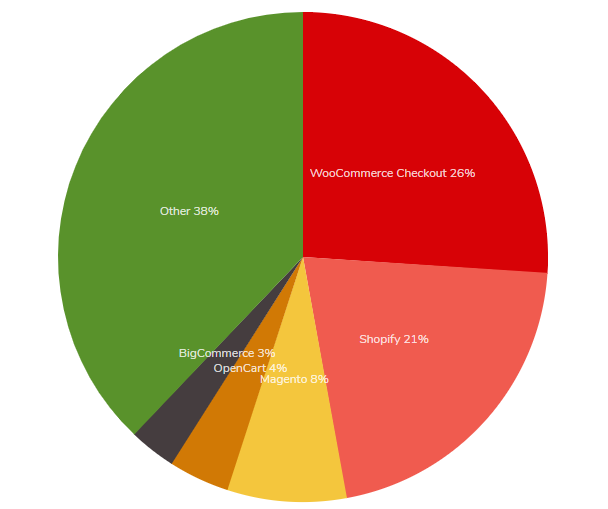 What are the Benefits of Shopify to WooCommerce Migration?
Once you've decided to move your store to another platform, the first thing you should keep in mind is the benefits of such migration. Apparently, Shopify seems to be much easier to manage. But there's more than meets the eye. WooCommerce has its pros that will help you succeed in running a thriving business:
A cost-effective freemium model plugin that, unlike Shopify, has no monthly fees
Endless flexibility and customization possibilities due to the open-source nature of the solution. Thus, merchants can effortlessly access the source code and modify it according to their specific needs. Additionally, WordPress provides technically competent users with the ability to create their own themes and plugins
Powerful SEO features and flawless integration with WordPress, including in-build blogging capabilities
Modern-looking responsive themes (both free and paid ones)
Wide range of free and paid extensions, available at the official WooCommerce Store
Highest level of security and regular updates
Integration with different types of payment gateways and no transaction fees
For a more detailed comparison of Shopify vs. WooCommerce, please read our post.
Also, you can download the Cart2Cart: Shopify to WooCommerce Migration plugin.
How to Perform Shopify to WooCommerce Migration Automatedly?
Once you've decided to perform an automated store migration with Cart2Cart, it is highly advisable to follow these steps:
Prepare Your Stores for Migration
Review your Shopify store, remove all the irrelevant or useless data.
Find the required access credentials (store's URL and API password) for your Source Cart.
Register a WooCommerce account. But, in case you're still uncertain whether to migrate to the WooCommerce, check out our free Migration Preview Service. Thus, you will have the possibility to transfer a limited number of data entities to Cart2Cart's test store. But, please, be aware that it will be available online for three days.
Additionally, you may calculate the exact price of replatforming with the help of our free Migration Estimator. Just fill in all the required fields and get the total cost in no time.
Apart from that, make sure that you've installed all the necessary plugins that will be required for the transfer process:
If you wish to save your store's SEO rankings, we recommend you to install the Redirection plugin and choose the additional option "Create 301 redirects on your target store after migration" in the Migration Wizard.
To preserve order IDs, you should choose the option "Preserve order IDs on Target Store" during the migration setup. It also requires the installation of a WP plugin WooCommerce Sequential Order Numbers.
Set up Source and Target Carts
Choose Shopify as your Source Cart. Provide the store's URL and API password (please, read our FAQ to find out how and where to get this data).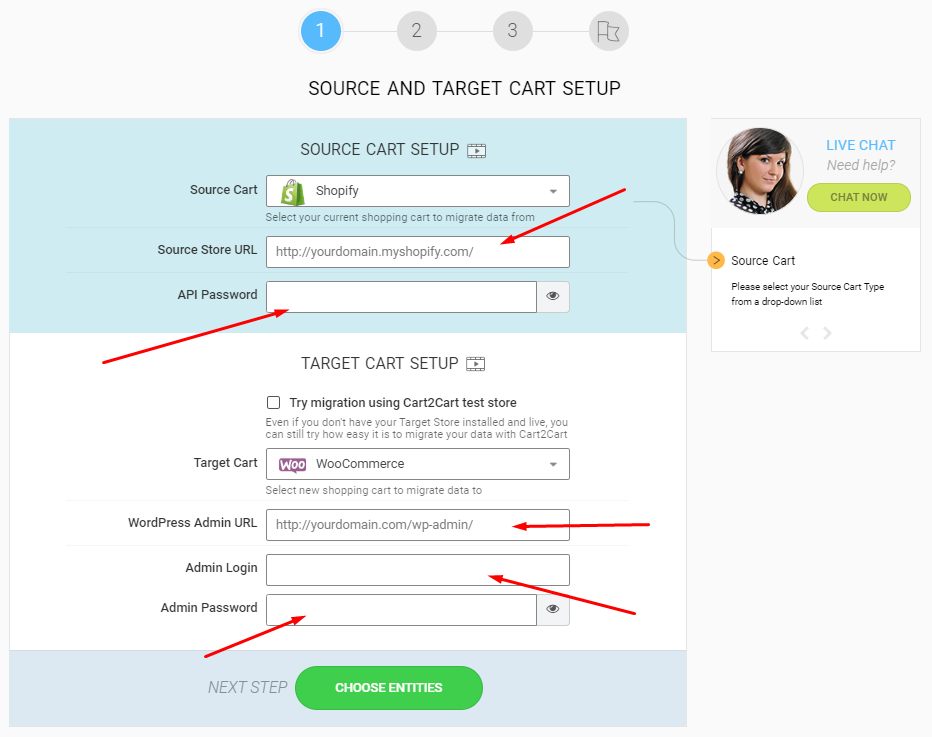 Now it's time to configure your Target Cart. Pick WooCommerce from the list in the drop-down menu and copy the WordPress admin URL, login and password to the corresponding boxes.
When finished, click the Choose Entities button to proceed to the next step of the migration.
Select Data Entities And Additional Options
At this point, you'll have to choose the data entities that are to be transferred from Shopify to WooCommerce.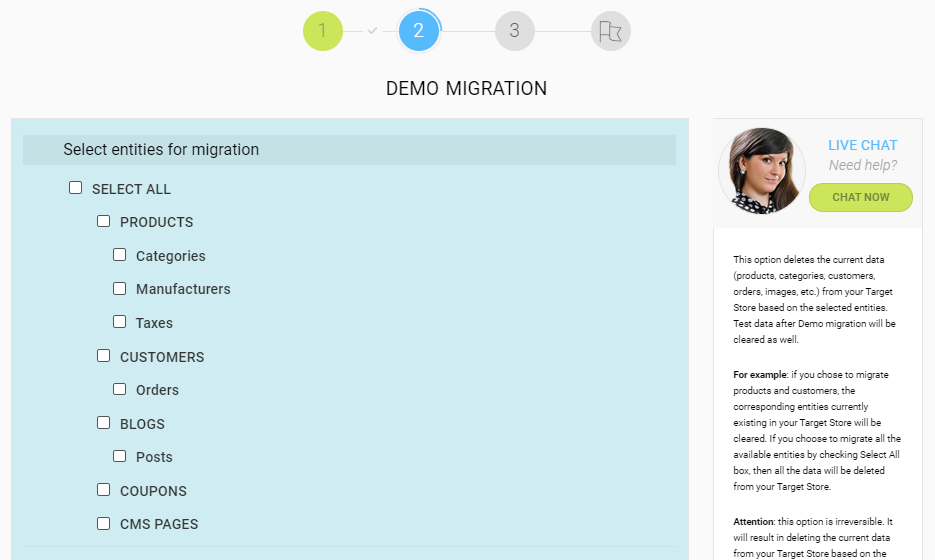 Moreover, you can pick some of the additional options that will ease the solution switch process. It must be noted that it is not an obligatory, but only recommended activity.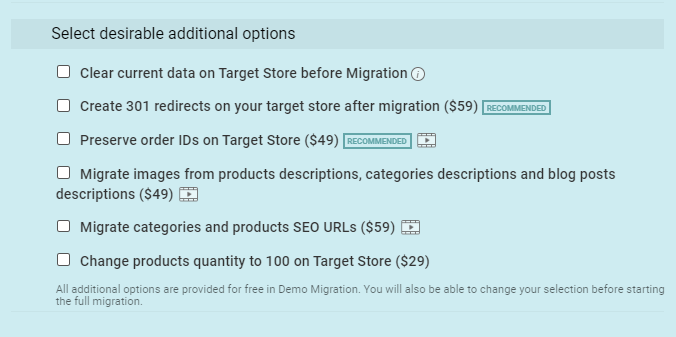 Also, it is possible to map Shopify order statuses and customer groups to correspond to the ones on the WooCommerce store.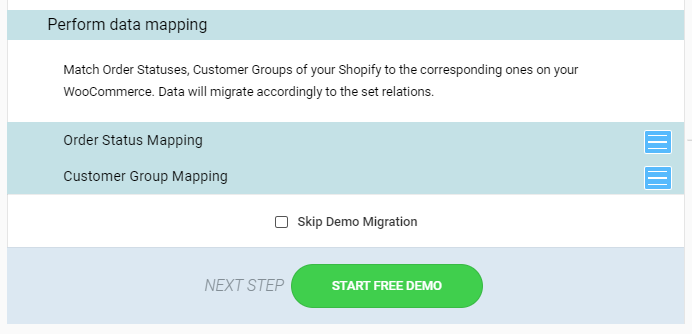 Start Demo Migration
Demo Migration is a free option that enables Cart2Cart clients to transfer a specific number of entities (up to 10) to the WooCommerce store just in 30 minutes. Therefore, you will have the chance to check our service in action and take a look at your store on a new platform. We highly recommend our users not to skip this step of the migration process. Moreover, please, do not close your browser window when the data transfer is in process.
Proceed to Full Migration
After you've been notified of the Demo Migration completion, please, check your store. If the results of the solution switch satisfy you, it is high time to start a full Shopify to WooCommerce migration. Keep in mind that Cart2Cart doesn't interfere with the performance of your store during the replatforming. Now it is safe to close all the browser windows and return to the ordinary business activities.
Closing Remarks and Recommendations
Once the Full Migration is over, you will receive an email message, and that's practically it - your store has successfully migrated to the WooCommerce platform. But, to be sure that everything works correctly, we urge our clients to perform the following:
Check the store performance for common mistakes (inspect the front and backend, make a few test purchases, go through categories and products, etc.)
Customize your store by installing all the necessary extensions from the WooCommerce website.
Use the Recent Data Migration Service, provided new items (e.g., orders, customers, products, etc.) have appeared on your Shopify store during or after the switch.
In fact, that's all you need to know to perform a successful Shopify to WooCommerce migration. And, please, note that it can be done without the need of hiring a professional of diving deep into code. Don't hesitate and try a free Demo Migration. Your ideal brand new store is just around the corner!