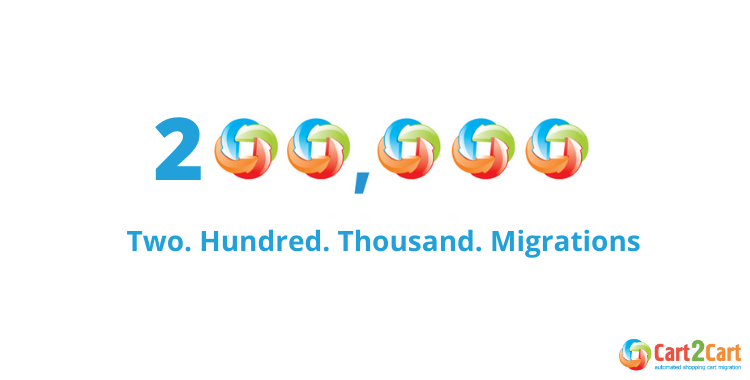 We're thrilled to share the exciting news! Our company has recently passed another memorable milestone: Cart2Cart service performed 200 000 automated migrations!
Reaching the first 100K migrations in 2017, was a success, but today, 200K migrations is quite an accomplishment! This time it took us only 3 years to get there (compared to the 8 years of active work to achieve the first 100K migrations). We value and thank each and every client, partner, and contributor. None of this would have happened without you!
Cart2Cart Shopping Cart Migration Service continues to rise at pace. Since its introduction in 2009, Cart2Cart has quickly established itself as the leading eCommerce migration company. We've grown together ever since — millions of code lines, thousands of new ideas, hundreds of improvements, and millions of bug fixes. But more is yet to come!
We have helped thousands of merchants from every corner of the world. Some of them are running small-scaled online stores. Others - enterprise-size giants. But we've worked together to fulfill all their eCommerce dreams. Currently, Cart2Cart can migrate your online business across 85+ platforms, regardless of the size.
Loyal Customers
Customer satisfaction is our top priority here at Cart2Cart. We have gained thousands of happy clients and received tons of positive feedback. It is a strong motivation to keep growing, improve all our provided services, and become better with each passing day.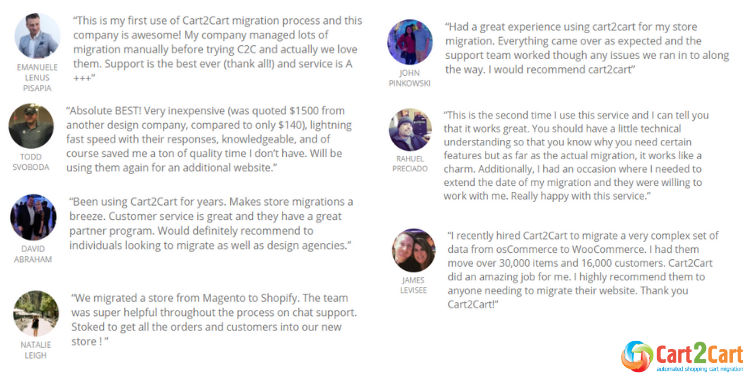 Valued Partnerships & Cooperations
eCommerce Platforms
Currently, we work in close cooperation and are proud to be trusted by the most renowned shopping cart vendors, many of which are our eCommerce partners: Shopify, WooCommerce, Wix, OpenCart, Shopware, PrestaShop, 3dcart, nopCommerce, CS-Cart, X-Cart, HikaShop, PinnacleCart, Loaded 7, etc.
Migration Apps
We have built mutual trust with these companies. Therefore, to ease the replatforming, Cart2Cart apps are available at the official marketplaces of Shopify, Magento, WooCommerce, Wix, PrestaShop, OpenCart, BigCommerce, etc.
Other Collaborations
Over time, Cart2Cart obtained 700+ technology partners - reputable and well-tested service providers and web agencies. Cart2Cart can safely recommend them to all clients, who've been constantly using our automated tool to transfer data across platforms.
Furthermore, in the last 3 years, a number of ecommerce platforms were added to the list of supported shopping carts, like nopCommerce, Neto, Storeden, JoomShopping, Visualsoft, Miva.
In addition to this, Cart2Cart was included as a built-in migration opportunity in the WooCommerce dashboard (version 4.2.2). Therefore, now our customers can receive a full-cycle store data transfer to WooCommerce starting simply from its setup wizard. Convenient, isn't it?
What Makes Cart2Cart Peculiar
Also, here are some of the key features that contribute to Cart2Cart's success:
Simple 4-step store migration. There's no need to install multiple plugins or perform numerous code manipulations to migrate an online store across platforms. All users have to do is fill in their current store's credentials and start a full-fledged replatforming at once.
Migration Preview. We've introduced lots of additional services to help our clients with the migration process and post-migration store management. For example, those Cart2Cart customers, who haven't decided which shopping cart would suit their store best, can try out the Migration Preview Service. It's a unique opportunity to move some of the store's data to the Cart2Cart test store without having a Target Store installed. So far this option is available for PrestaShop, Shopify, Magento, X-Cart 5, WooCommerce, VirtueMart, and OpenCart platforms.
24/7 client serviсe. Our customer support team is always ready to answer all of the migration-related questions. It is possible to reach our staff via live chat, phone, or email at any time.
What's next? When you combine our loyal customer community with Cart2Cart's creators and their remarkable ideas, almost anything can happen. Here's to the next 200,000 migrations!
Thank you for being with us now and in the coming years!
In case you're still considering whether to choose Cart2Cart, we recommend you to run a FREE Demo and migrate a part of your current store's data to any of the supported 85+ eCommerce platforms. Don't wait any longer and take your business to greater heights!