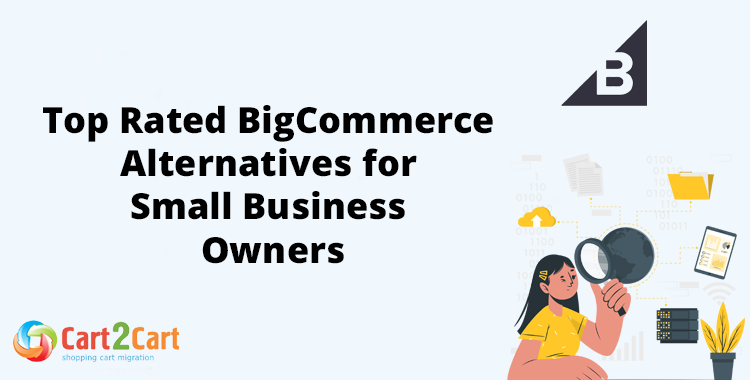 BigCommerce is a 'software as a service' (SaaS) solution — you don't own the software to set up and run your online store; you pay a monthly fee to use the software. For this hosted solution, web hosting is part of the deal; you don't need to find a company to host your website online.
You are also not responsible for the security of your online store - the services' developers, coders, and software engineers that maintain the platform's server are responsible for that.
Despite being a popular e-commerce solution for small businesses and large enterprises, BigCommerce users sometimes decide to migrate to other platforms. In this article, we will look at the reasons for this decision and which platforms are good alternatives to BigCommerce for those considering a move.
Why consider alternatives to BigCommerce?
While BigCommerce is a robust e-commerce platform, it's there are some areas where BigCommerce may have limitations that lead users to consider moving to an alternative platform.
One of the frustrations that some users have with BigCommerce is the fact that the platform's pricing plans have limitations on the annual sales volume. Users need to upgrade to a higher pricing plan as soon as their business exceeds the sales threshold of their current plan, which may impact the profitability of a business.

Compared to its competitors, BigCommerce offers fewer third-party payment

options. It offers 85 payment gateways compared to the 100 that Shopify offers.

Customer support response time varies depending on the plan you signed up for. Some merchants have reported delays in receiving support or getting timely support. Priority support is only available to premium Enterprise customers, which gives users access to senior technical support members at BigCommerce and quick access to support.

If blogging is a significant aspect of your sales and content strategy, BigCommerce may not be your best choice. BigCommerce offers only basic blogging features. The platform doesn't provide the same features and functionality as a dedicated blogging platform like WordPress.

BigCommerce has an SEO problem. Users need help to customize canonical URLs in their BigCommerce store, which also causes problems when optimizing product URLs. This is not good for SEO.




How to choose the suitable BigCommerce alternative?
If you are considering an alternative e-commerce platform to BigCommerce, you must look for a platform with the features and functionalities your business needs to achieve your goals. We suggest you consider these factors.
Affordability. You need to study the different plans of the various e-commerce solutions carefully to be sure that you will only end up paying a little for a little. Look out for things like transaction fees, monthly subscriptions, and additional charges that may apply.
User experience: You want a user-friendly platform that is easy to navigate and an excellent customer experience.
Design: Consider the design options, themes, and templates. Can you create an appealing online store, reflecting your brand aesthetics? Are the templates you're interested in customizable?
Scalability and flexibility: If you expect your online business to do well, it's important to ensure the platform can handle its future growth. Evaluate aspects like the ability to handle increased traffic, product catalog expansion, and integration with third-party systems.
Features and functionalities: Determine which features and functionalities your current platform lacks, and make sure the new platform you choose offers what you need.
Integrations and extensions: Study these carefully, because they can be crucial to your online success. Determine what you need regarding apps and integrations for payment gateways, shipping carriers, marketing tools, etc. Ensure that the platform supports the integrations your business is already using or offers alternatives worth considering.
Customer support: You want to avoid sitting with your store on a new platform, run into problems and then discover that customer support is subpar. The best source for information on customer support is online reviews. Also, online reviews on trusted review sites will give you a pretty good idea of the general standing in the industry of various platforms before you make your final decision.
Top 5 Alternatives to BigCommerce
Shopify
Shopify is a very close alternative to BigCommerce. The two platforms share many similarities.
SaaS solutions don't require users to pay for a domain or take care of security-related issues.
Like BigCommerce, Shopify makes it easy to have an online store for business purposes. It is a subscription-based software-as-a-service (SaaS) platform with different subscription plans.
User-friendly website builder with a straightforward interface that anyone can understand, even people without coding experience or technical talent.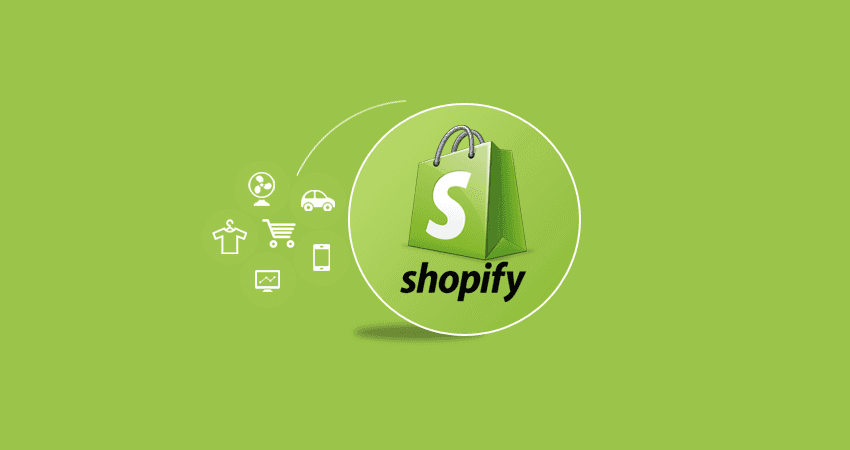 One benefit of Shopify over BigCommerce is that it doesn't impose sales limits on any of its plans. BigCommerce limits sales to $50,000 per year on the Standard plan and $180,000 on the Plus plan.
Unlike BigCommerce, Shopify offers a huge opportunity to extend a store's functionality with over 7,000 apps. BigCommerce has about 1,000 apps. This makes a Shopify store much more flexible and customizable than a BigCommerce store.
Keep in mind you have to use Shopify Payments to avoid transaction fees. BigCommerce doesn't charge transaction fees, even if you use third-party payment processors like PayPal or Stripe.
With Shopify, you have a slightly less powerful platform, but it's easy to use as it provides helpful hints while working on it.
Both platforms offer excellent customer support, with Shopify particularly supporting people building their stores. The platform provides helpful prompts throughout the website dashboard, with information from the Shopify knowledge center.
A decrease in monthly cost for using the platform wouldn't be a reason to switch platforms as the pricing for the first three plans of both platforms is the same. However, BigCommerce has more built-in features, so users may spend less on third-party apps to customize their stores, which could make this a cheaper option in the long run.
PrestaShop
PrestaShop is an open-source e-commerce platform. Users don't pay a monthly subscription to use the software. It is free to download, but users need to pay for a website domain and online hosting.
PrestaShop offers a high level of personalization and customization, giving users who can code complete control over every store element. It allows them to build websites for small businesses and enormous stores that sell vast volumes.
PrestaShop offers a bunch of e-commerce features out of the box, including a massive range of payment options, both free and paid, on the PrestaShop marketplace. These included credit card payments via PayPal, Stripe, buy-now-pay-later, bank transfers, invoices, prepayments, POS, cash on delivery, and subscriptions.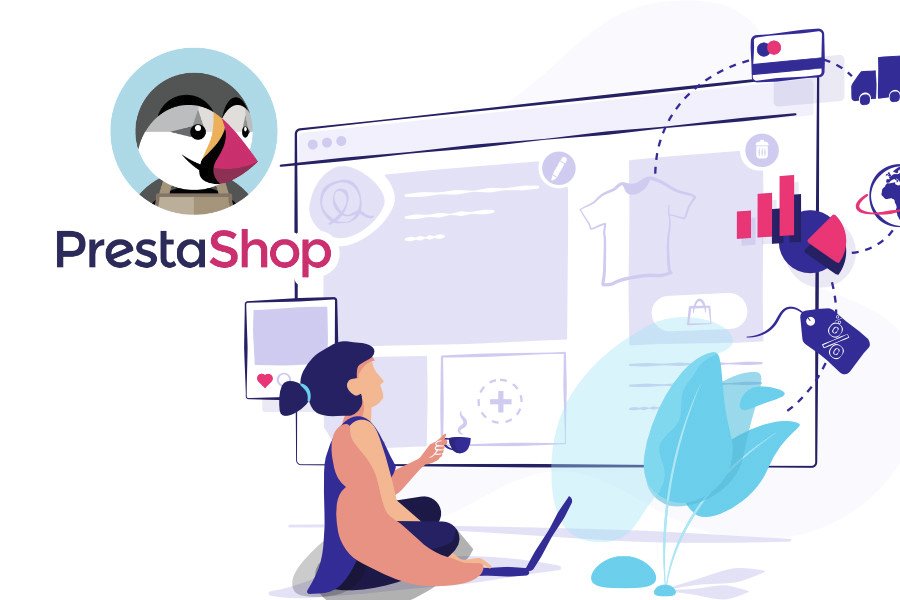 PrestaShop is a good choice for international merchants. In line with recent developments among e-commerce platforms, PrestaShop supports multi-currency and multi-language stores. PrestaShop is multilingual by default, with all its core elements already translated into over 65 languages. To create a store in another language, you select a country and import a language pack, setting the default language, country, and currency. This way, PrestaShop enables users to expand their reach and sell to buyers globally.
PrestaShop doesn't provide support via live chat, email, or phone. Users have two choices, they can consult the online resources, or they can work with a PrestaShop expert for technical assistance.
Using PrestaShop for online sales is an excellent solution for small to medium-sized businesses. You don't need considerable technical skills if you go for lower-level plans.
Squarespace
If you are a small business owner with a limited budget who can't afford to hire someone to help you build your website, look at Squarespace.
Known for the most beautiful templates on the market, Squarespace is nonetheless within reach of those who don't see themselves as particularly creative.
It is so easy to design with Squarespace that developers recommend it for people who know very little about design or coding and need more resources to pay someone to build them a website or online store.
Creating an essential website and making minor changes with Squarespace is easy. You have all the tools you need to build a website, but not so many that you get overwhelmed.
Building your website or online store, making changes and updates is incredibly empowering compared to finding and paying someone to do it for you every time the need arises.
Squarespace has several SEO optimization capabilities. Users can follow an SEO checklist to complete tasks like setting up a sitemap in XML format, SSL certificates, automatic site redirects, optimizing title tags and heading structure, and more.
Squarespace also has an email marketing feature, called Email Campaigns. It allows users to collect email addresses and send newsletters to mailing list subscribers. Users can choose from four email campaign plans ranging from $7 to $68 monthly.
Needless to say, the platform's email templates are just as stunning and easy to edit as their templates.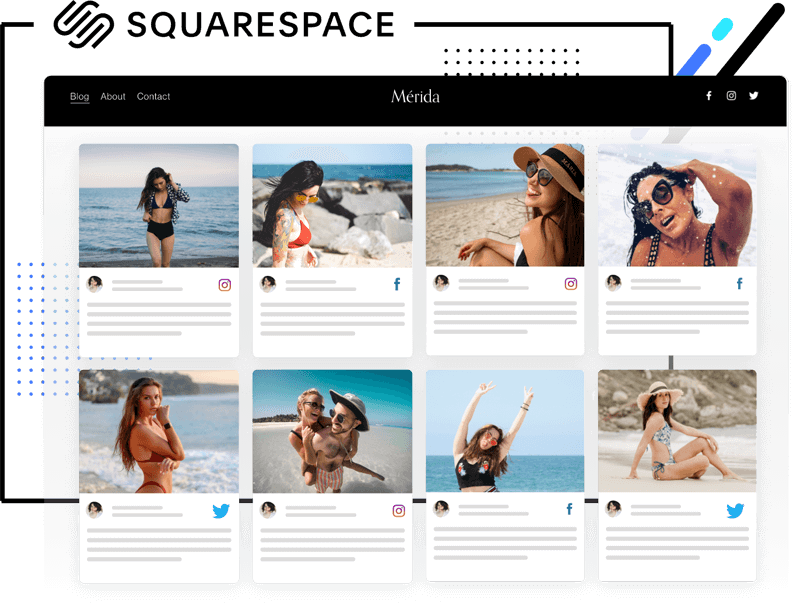 Squarespace has three of the top payment solutions. For online sales, Stripe and PayPal, and for offline sales, Square. The latter is a free point-of-sale app that facilitates offline selling.
You will be safe if you need help. Squarespace provides 24/7 customer support via email, live chat, and social media. Squarespace also has its own YouTube channel called 'Squarespace Help' that covers various Squarespace topics and issues.
Squarespace does not develop or offer any extensions. The platform comes with everything you need to run a store online.
Wix
Wix is a very popular website builder developed to enable people who can't code to build beautiful websites. Although the platform was not initially developed for e-commerce, it has developed into a good platform that solo entrepreneurs and small businesses can use to have an online presence and sell products.
Wix is an affordable option. The Unlimited Plan is the most popular Wix pricing option for startups, small businesses, and freelancers for just $22 per month. Wix even has a free plan.
Wix is easy to use, with an intuitive drag-and-drop feature to build your store just as you like it. Novice users can use Wix ADI (Artificial Design Intelligence), which speeds up the website design process. You just answer a few questions, and Wix uses your answers to create a website for you in seconds.
Wix is famous for its comprehensive range of general and e-commerce website templates. Wix offers enough e-commerce features to enable businesses and individuals to run successful businesses online, including options for order management, shipping, and more, as well as integrated payment options and offline POS features.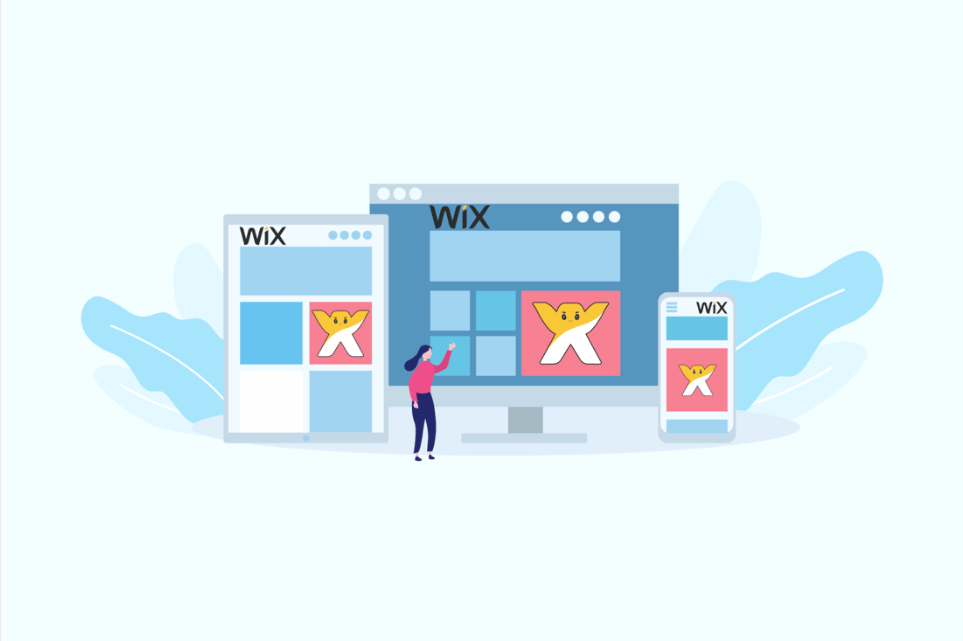 Wix offers over 70 payment providers, including Wix Payments, plus leading providers like PayPal, Stripe, and Square. These payment gateways are integrated with the Wix platform, which allows users to integrate multiple payment gateways.
Unlike Shopify, Wix doesn't penalize shop owners for using third-party payment gateways. The platform charges no transaction fees, no matter what plan you are on or what payment gateway you use.
Wix enables store owners to convert more customers by allowing customers to buy today and pay later. Store owners can add buy now, pay later solutions like Afterpay, Affirm, Laybuy, and Sezzle.
GoDaddy
GoDaddy is a website builder and one of the most popular hosting and domain companies on the web. You get one free domain name with any hosting plan, which you then renew for $11.99 a year.
GoDaddy is a beginner-friendly website builder that makes it easy for anyone to create a website or online store. It leverages Artificial Design Intelligence (ADI) to help you create a website quickly. All you need to do, is answer a few questions, and the software creates a customized site for you.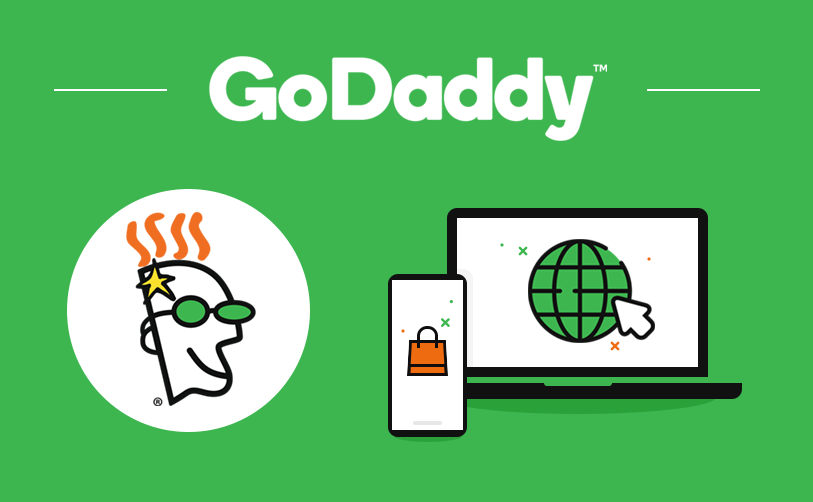 GoDaddy offers excellent value for money. In addition to a free plan, its cheapest plan starts at $9.99 per month if you pay annually. Even the Commerce plan, which has a host of e-commerce features, only costs $16.99 monthly.
With the Commerce plan, you can sell unlimited products, accept payments for products, services, and appointments, manage your customers, and track your revenue. You can sync and sell your products across multiple channels, including Amazon, eBay, Etsy, Walmart, and social media.
You can choose from a range of shipping options plus offer discounts and promotions. On top of that, GoDaddy supports popular payment gateways, like PayPal, Stripe, and Square, and does not charge any transaction fees.
Other key features include:
Email marketing

Social media integration

Blogging 

Analytics via Google Analytics

Optimized site speed to improve SEO




GoDaddy's customer support includes 24/7 phone support, live chat, email support, and video tutorials.
With its ease of use, comprehensive marketing tools, and SEO capabilities, GoDaddy is an excellent choice for small business owners who need advanced tech skills.
FAQs
Is Shopify cheaper than BigCommerce?
No, Shopify is not cheaper than BigCommerce. The pricing for their plans is very similar: a Basic Shopify plan costs $39 monthly, a Shopify plan costs $105 monthly and an Advanced Shopify plan costs $399 monthly, and a BigCommerce Standard plan costs $39 monthly, Plus costs $105 monthly and Pro costs $399 monthly.
However, BigCommerce includes most features and functions out-of-the-box, while you must spend money on third-party apps to get the same functionality as Shopify. This can significantly increase your total cost for an online store built with Shopify.
Which is the cheapest alternative to BigCommerce?
You can have an online website for free or as little as $8.50 per month with Wix, but if you want to sell online, the Unlimited plan for $12.50 per month would be a better choice.
The Basic Shopify store will cost you $19 per month, but you must still pay some money for apps to extend the store's functionality.
The cheapest GoDaddy plan that lets you sell online is the Commerce plan, which costs $14.99 monthly if you pay annually.
Wix is the cheapest for building a primary e-commerce store.
Which is the easiest-to-use alternative to BigCommerce
GoDaddy, Squarespace, and Wix are all super easy website builders, but Wix has a reputation as the easiest website builder. The editor is easy to use, but you can also use its artificial design intelligence (ADI) software to design a website in just a few minutes.
Is Shopify better than BigCommerce?
BigCommerce and Shopify are both great platforms. There isn't a simple answer to this question. Both are great website builders for e-commerce stores.
The big difference between the two is that BigCommerce users benefit from built-in e-commerce features and functionalities. In contrast, Shopify users have to spend a lot of money on apps to extend the functionality of their stores.
You can do similar things with the two website builders, but BigCommerce offers better value for money.

If you have decided to migrate your store to a more robust platform, we suggest that you don't attempt to do this manually. While it's entirely possible, the process is prone to human error that you can avoid by simply using Cart2Cart's automatic platform migration service. It's a user-friendly option that transfers data securely and accurately.