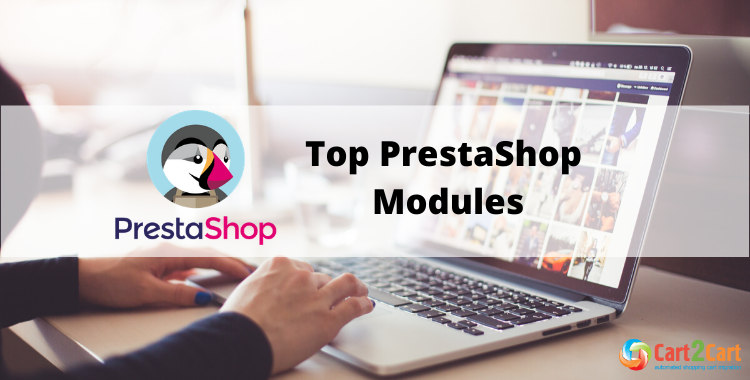 Store migration may be a tough decision, even for the most experienced online business owners. However, switching platforms usually means significant changes and lots of upcoming challenges. Literally, merchants have to start building their websites anew. They need to take care of the design, data, and most importantly - the apps that will ease store management and make the shopping process comfortable and trouble-free. Therefore, our today's post will be useful for those who plan on transferring their stores to PrestaShop and wonder which PrestaShop modules to install after the migration is over. Read ahead!
PrestaShop is a freemium open-source ecommerce platform that is written in PHP language. It was first launched in Paris in 2007. Currently, it is being used by 251,068 live websites worldwide. PrestaShop is a multifunctional and highly-customizable solution that will suit the growing business needs. Also, it provides users with top-class support materials, robust SEO features, the highest level of security standards, has an active customer community, etc.

What are the Top PrestaShop Modules to Install in 2020?
Abandoned Cart Reminder Pro Module
Pricing: 83,99€

Abandoned Cart Reminder Pro is the first one in our list of PrestaShop modules. It helps merchants solve the problem of shopping cart abandonment and improve the conversion rates by sending out automatic reminder emails. Once a customer adds items to a cart but doesn't make a purchase, the system will notify him and encourage to complete the purchase.
The main features of this PrestaShop module include:
Several email templates to choose from. Alternatively, merchants can create a unique notification text
Ability to create customized messages that will correspond to your store's design
Possibility to suggest different types of discounts to the customers
Language-personalized emails depending on the country of the client's origin
Links to social media networks
Conversion rate and statistics tracking
PayPal Official Module
Pricing: Free

In case you wish to ease the payment process and make it simple, fast, and safe, we recommend you to install the PayPal Official. This PrestaShop module will assist you in selling products worldwide and, therefore, expand your store's trading capabilities. Moreover, the app is easy to install and activate, it has no hidden fees, and the company's Seller Protection will secure all your incomes.
Additional characteristics encompass:
Checkout using an email and password, no credit card number needed
Possibility to accept payments from any part of the world
In-Context on-site checkout
Express Checkout Shortcut to speed up the checkout process
A wide range of management tools for financial reporting
Possibility to refund payments directly from the PrestaShop
Ability to test the module using the Sandbox mode
SEO Expert Module
Pricing: 104,99€

The success of an online business depends not only on the items' range and the overall design of your store. The main task of any merchant is to make the e-shop appear on the search engines' highest positions. Thus, this can be achieved by installing the SEO Expert Module, which will take care of your store's SEO. It doesn't matter how many products there are in your shop since the PrestaShop module fills all the essential meta tags automatically. Besides, it sets the product titles, descriptions, keywords. Moreover, URLs will be rewritten to make exclusive addresses for every page.
The SEO Expert Module will provide you with the following benefits:
Increase in conversion rates and traffic
Improved visibility
Optimized meta tags (i.e., meta title, meta description, meta keywords)
Unique and customer-friendly URLs
Facebook and Twitter integration
Advanced Search 4 - Filters & Search Module
Pricing: 249,99€

Advanced Search 4 - Filters & Search is a multifunctional Prestashop module that assists business owners in making their customers' shopping experience seamless and trouble-free. It simplifies the on-site search and gives access to a broader range of available products for sale. Also, the module works based on layered navigation. Therefore, merchants can add an unlimited number of search engines to their stores. Advanced Search 4 has an optimized page generator for SEO, which helps boost sales and conversion increase.
Advanced Search 4 features include:
Extended search with a great variety of filters (e.g., price, attributes, size, weight, etc.)
Ability to configure product display
Possibility to perform optimization and filtering
Availability of 3 search types (i.e., the search within the catalog, a specific group of products, and step-by-step search)
Smartsupp free live chat Module
Pricing: Free

Staying in touch with your customers and being easily accessible are the core features of a successful business. The Smartsupp free live chat Module was specially designed to help you with that. It provides store owners with the possibility to directly chat with customers, answer their questions, and solve problems. Moreover, this module eases the procedure of visitor recording.
By installing Smartsupp free live chat, you will get:
Customizable chats
Increase in customer satisfaction
Possibility to send automated messages
Compatibility with both iOS and Android systems through mobile apps
Comprehensive statistics and visitors' recording
Social Login Module
Pricing: 69,99€

Another thing that will considerably facilitate the shopping process is the Social Login Module. It deprives clients of the new customer/ password creation hassle. All they have to do is log in to your store using their favorite social media network. All the necessary credentials will be copied automatedly just within one click. Moreover, this module will help you reduce the cart abandonment rate.
Additional benefits of installing the app include:
Optimized checkout process
Compatibility with of the most popular social media networks
Possibility to position connectors anywhere on your store
Limitless customization
Intuitive interface
Ability to provide customers with discounts for the social login
Cart2Cart: PrestaShop Migration Module
Pricing: Free

If you've firmly decided to migrate your store to PrestaShop, we recommend you to install the Cart2Cart: PrestaShop Migration Module. It will help you move the store's data (e.g., products, product categories, manufacturers, customers, orders, coupons, reviews, multistore, etc.) to PrestaShop from any of the 85+ supported platforms with minimal effort and in a completely automated way.
The benefits of using Cart2Cart module include:
No coding skills required
A wide spectrum of supported entities
100% safe and secure
Availability of Free Demo migration
Store's performance isn't interrupted by the migration procedure
24/7 live support
Flexible pricing (depending on the number of data entities you are planning to transfer)
Extra migration options (e.g., Preserve order IDs on Target Store, Create 301 redirects on your target store after migration, Migrate customers' passwords, Migrate categories and products SEO URLs, etc.)
Please note that the range of data entities and additional options may vary and depends on the platform you are migrating from.
More detailed information on PrestaShop migration can be found here.
Professional blog Module
Pricing: 89,99€

If by any chance, you're not just a business owner but also a blogger, then this module will be your perfect fit. A Professional blog Module helps merchants to create unique content that can be shared with their customers. It is optimized for SEO rankings improvement. Thus, you will be able to strengthen your store's SEO positions and increase customer commitment.
The Professional blog's main features will provide you with the ability to:
Create fully-customizable blogposts
Use meta tags
Include an unlimited number of images
Add, edit and delete categories and subcategories
Import news from WordPress blogs
Take advantage of a multilingual system
One Page Checkout Module
Pricing: 119,99€

One Page Checkout is another module that facilitates the checkout process and optimizes purchasing funnel. With this extension's help, customers will avoid the lengthy procedure of filling in the endless number of different forms and infinite validations. Instead, they will be able to finish the purchase just within a few seconds. The extension is fully-flexible and compatible with mobile devices.
With the help of One Page Checkout, you will be able to:
Minimize the time of a checkout
Turn the buying process into a user-friendly experience
Customize the checkout form by adding or removing the necessary fields, renaming them, changing the color, etc.
The module works perfectly with a significant number of payment providers. In case some of the providers are not supported, they can be easily integrated into the store
re Captcha - Anti Spam
Pricing: 49,99€

re Captcha - Anti Spam will be particularly useful for those merchants who are annoyed by receiving tons of spam emails and registrations. This module will considerably improve the store's security and will deprive business owners of the trouble of manually removing the messages from bots.
The benefits of using re Captcha - Anti Spam include:
A totally automated way of deleting spam
Advanced security
No need to copy anti-robot code
Simplified installation process
So, this is our list of top PrestaShop modules for 2020. We hope that it will help you simplify the store administration process after the PrestaShop migration and improve customers' shopping experience. There are many other noteworthy apps, so feel free to share them in the comments section below. And remember that "Sharing is a wonderful thing, especially to those you've shared with."
And one more thing - in case you decide to perform store migration, keep in mind that we offer a Free Demo migration option to all our users.