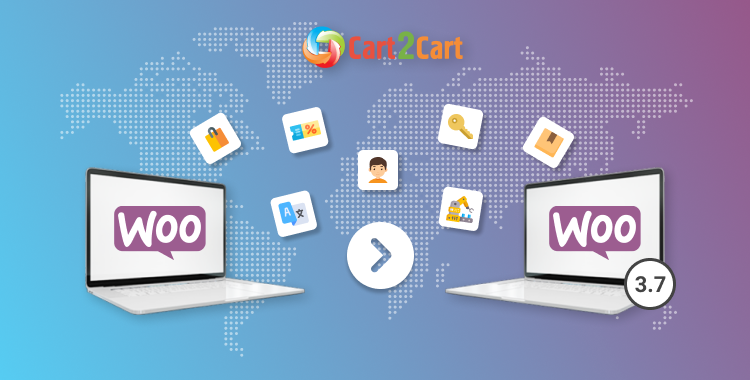 Despite the fact that the manual upgrade is quite a reliable way to update software, the same job can also be done without intensive hands-on. Let's focus on getting you upgraded to WooCommerce 3.7 in a fully automated manner.
In our constantly changing world of web technologies, WooCommerce is dramatically growing as well. Currently, it is treated as the most popular and talked-about software for merchants willing to launch an online store. According to BuiltWith, a total of 3,876,748 websites use WooCommerce or 68,000 of the world's top million websites in January 2020. That's 0.2% of all websites or 6.8% of the top million websites.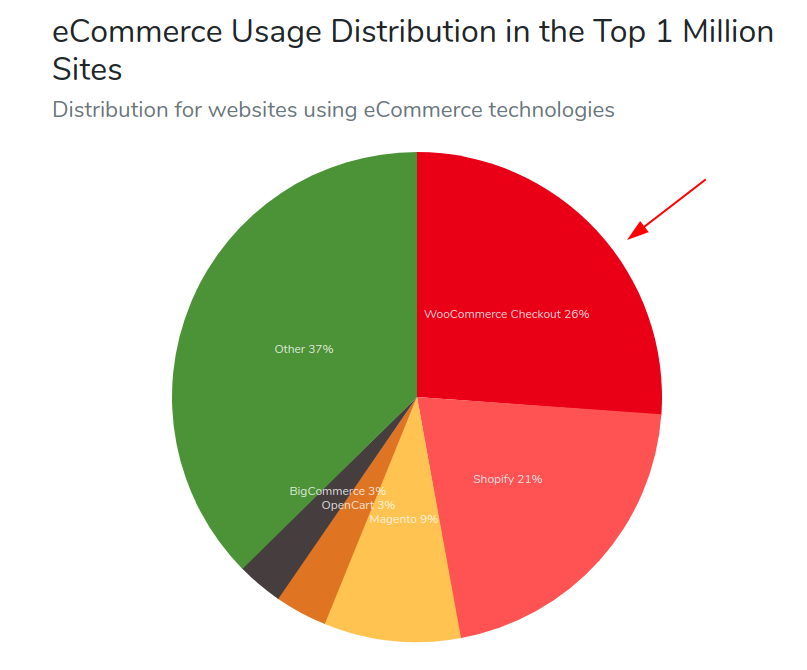 Why Upgrade to WooCommerce 3.7?
There are many reasons why it's much beneficial to upgrade your WooCommerce to its most recent version and leave the old versions behind. When it comes to the 3.7 version, it brings the changes focusing not only on improving the overall flow of the store but also ensuring a smooth customer's journey (product blocks, PHP and WordPress version compatibility, package management system, template file changes).
Once you've considered all the benefits of WooCommerce 3.7 and made up your mind to upgrade, there's one more challenge to step over - how to do that without going into deep codes and scripts. In short, there are 3 basic migration scenarios that you can choose according to your experience, budget, and overall objectives: manual, assisted and automated.
How Upgrade to WooCommerce 3.7? Automated Way
Pre-Migration Preparations
Before you go any further, make sure you've made a copy of your current store database. Besides, to stay in good relations with your customers - keep them informed about the upcoming changes.
Watch our video tutorial to see how easy it is to automatically upgrade WooCommerce with the help of the Cart2Cart migration tool:
Get your WooCommerce store ready
Take time to install the new 3.7 version of WooCommerce and make it available online (do not install any additional plugins or custom features yet!). Besides, find the access details to your current WooCommerce store (WordPress admin URL, admin login and admin password).
Estimate the final price
If you want to calculate the exact price of the overall WooCommerce upgrade, you can take advantage of the Migration Estimator. Just provide the number of products, customers, and orders and get estimates in short of time.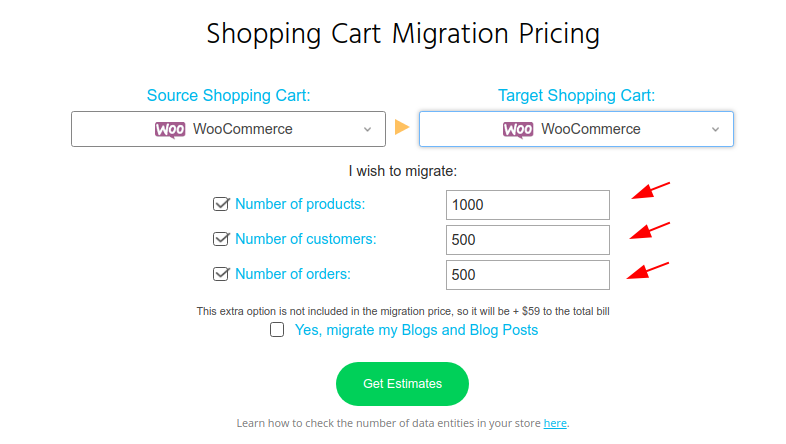 Preview migration
Those merchants who wish to observe how their data is going to be presented and managed at new WooCommerce 3.7 can benefit from the Migration Preview option that comes totally free of charge. Being satisfied with the outcome, they'll be able to reconfigure their Target WooCommerce store details and proceed with the Full Migration to a live store.
Migrate WooCommerce to WooCommerce Automatedly
Note: Because the differences between the 3.7 version and the previous ones are quite substantial - it is more migration than an upgrade.
Install the Source & Target stores
Enter your current WooCommerce store URL, admin login or email address and admin password which you use to login to the WordPress admin panel.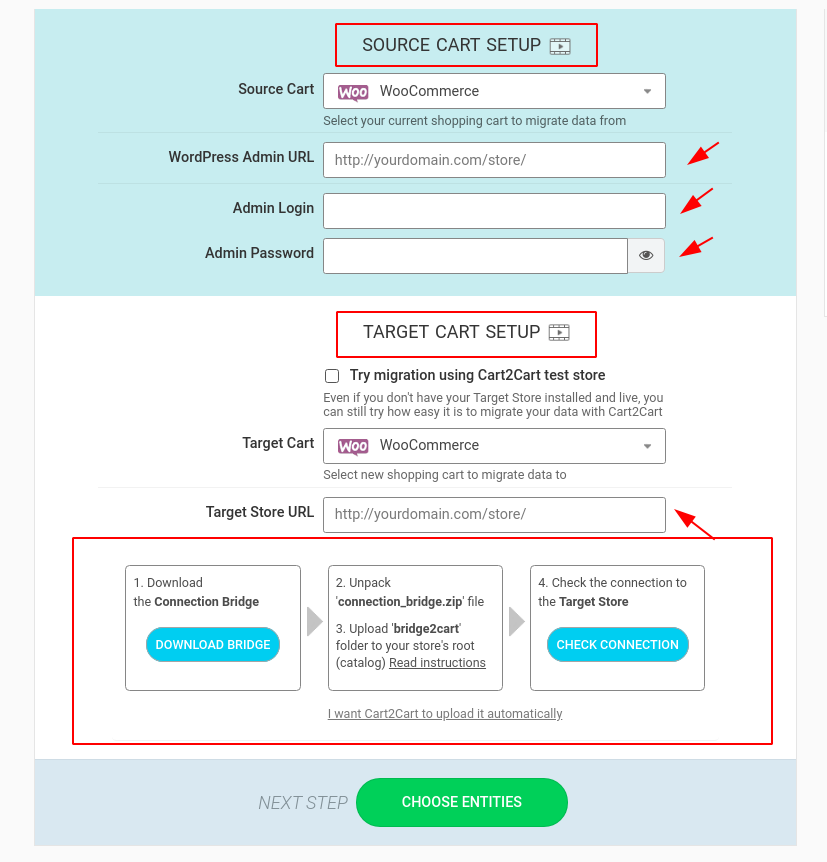 When ready, connect the stores with the help of the Connection Bridge by following the provided instructions.
Note: Those facing any difficulties while the Bridge installation, can watch the video to get all possible questions answered:
Specify entities and additional options for migration
Basically, the following data entities can be transferred across various WooCommerce versions:
Products,
product categories,
manufacturers, taxes,
customers,
orders,
coupons,
blog/blog,
posts, etc.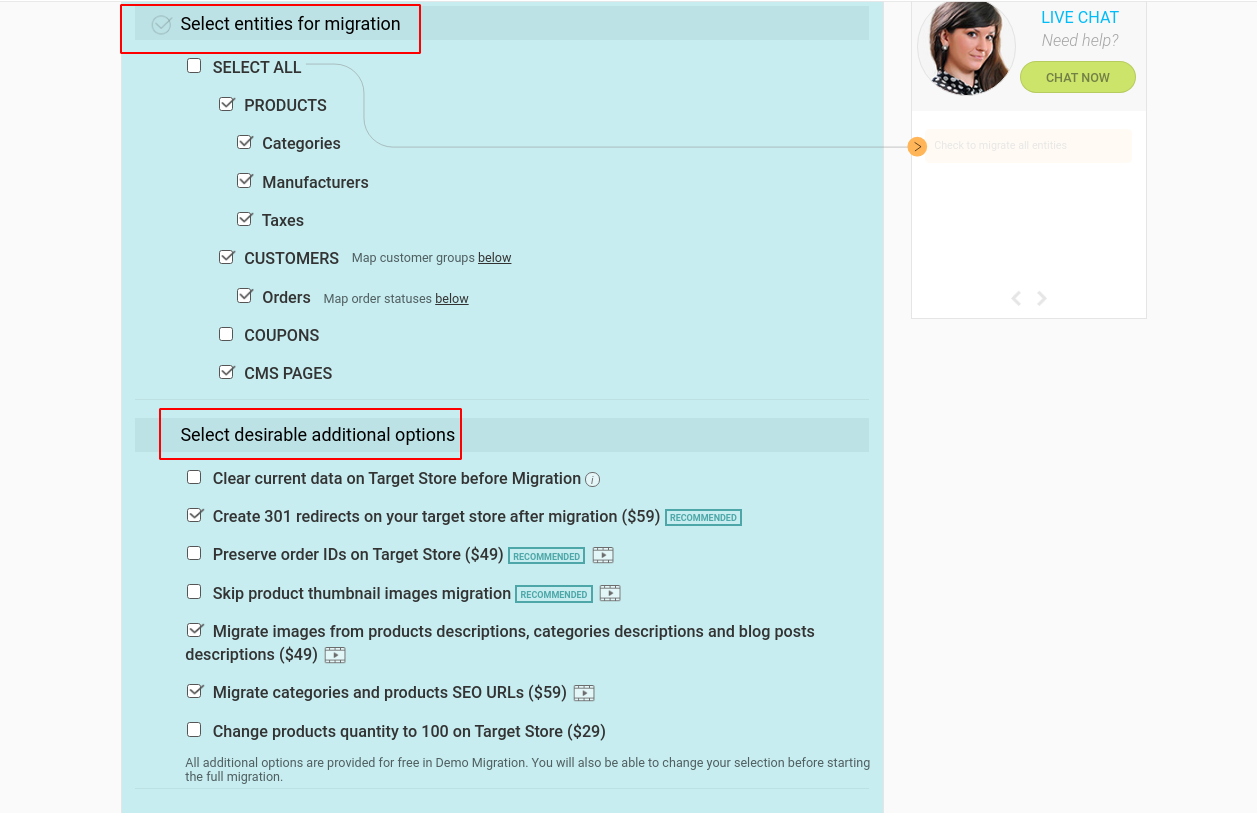 Your task is to pick those entities that you need to transfer to your new WooComerce store. Once ready, select the additional migration options that have been intentionally developed to make the upgrade process even more seamless. They are completely up to you to decide which of them to use, but here are the things to pay attention to:
If you don't want to set up 301 redirects manually, the option "Create 301 redirects on your target store after migration" can come in handy for you.
"Preserve order ID on Target store" option allows saving the Source store order ID on the Target store after migration.
If you want your customers to log in to the new WooCommerce store using their old passwords, "Migrate customers' passwords" option makes sense.
Launch migration
Before proceeding with this step, it is highly advised to run Demo migration (for free) to see how the service works in action. Once estimated the outcome, you're welcome to launch the Full migration. Just check the chosen entities and options once more, and if everything is ok, click the matching button. Now all your current WooCommerce store entities are being transferred to the new one. The process doesn't take much time to be totally finished (though it depends on the number of transferable data).

Check out our infographic to get a better understanding of the migration process via Cart2Cart: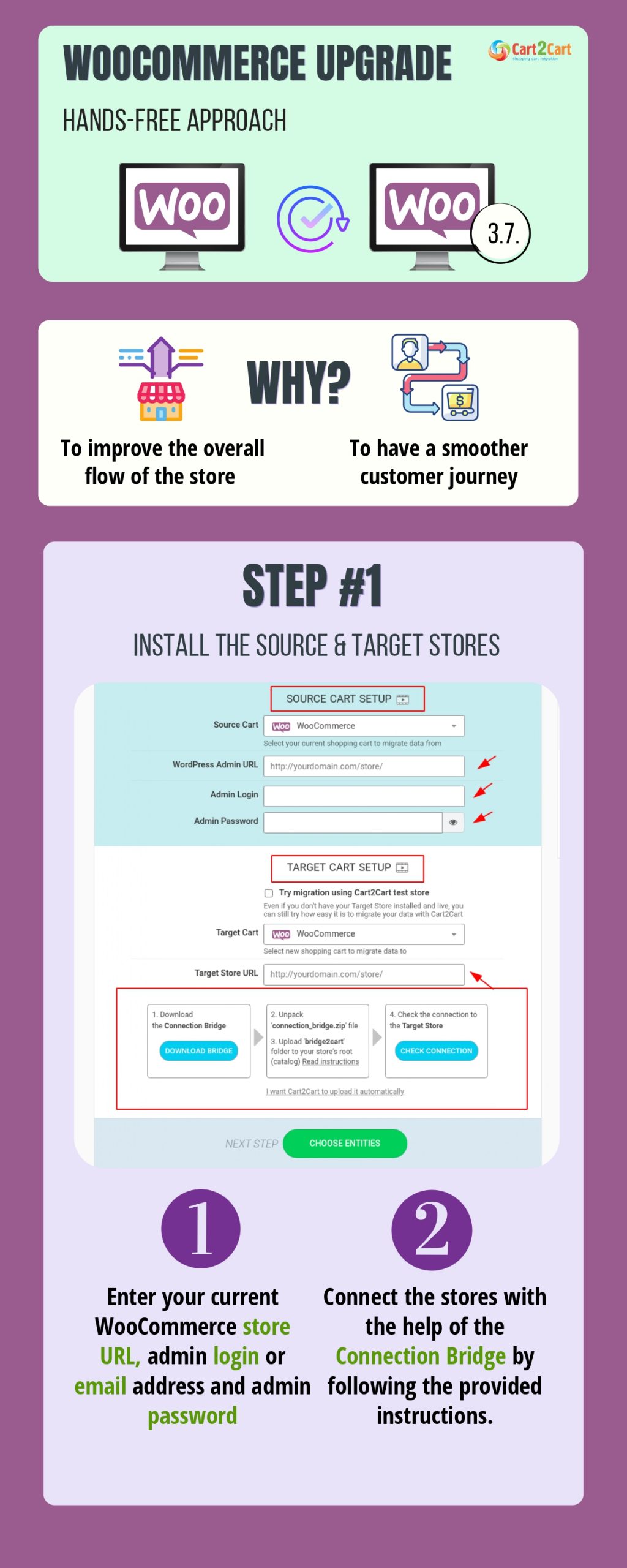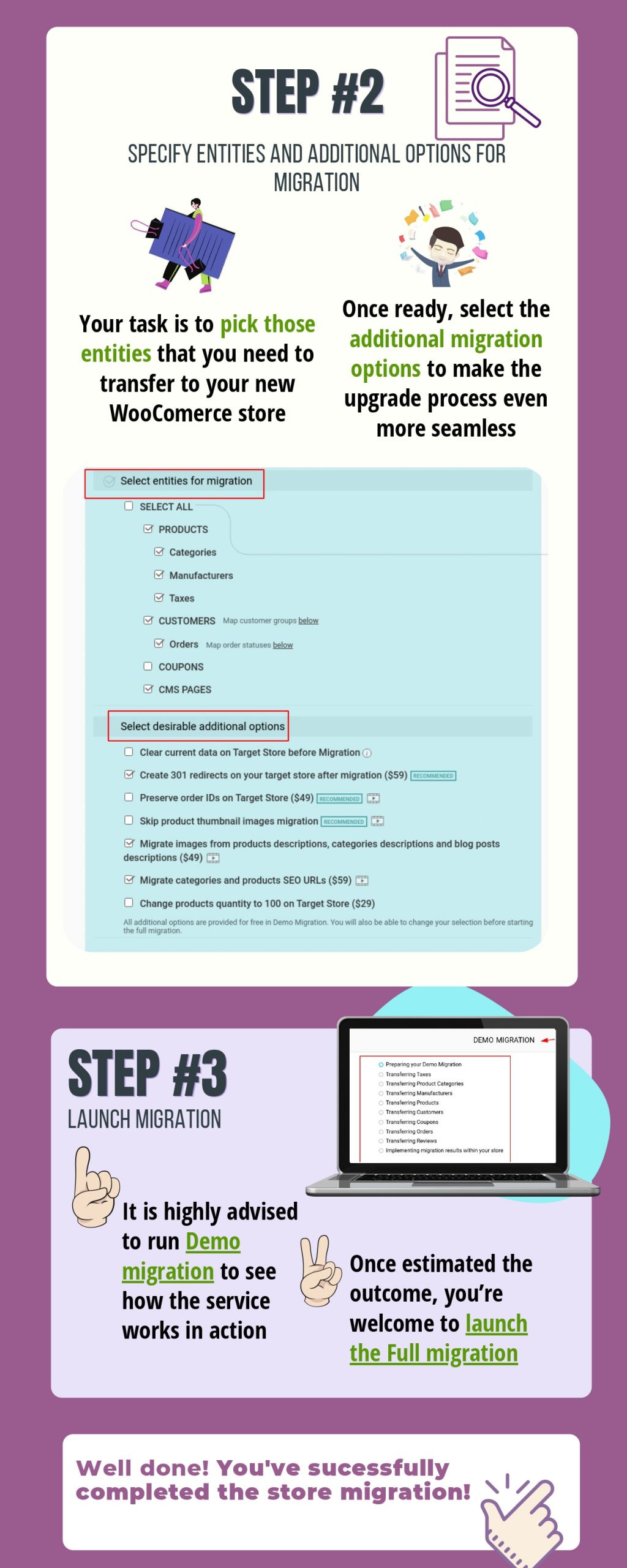 Post-Migration Considerations
To finalize the WooCommerce upgrade, it strongly recommended testing if everything works correctly. Check whether all the data is preserved and there are no broken links or 404.
Final Slice
WooCommrce store upgrade can definitely present challenges, but following the above-mentioned steps, you'll ease the transition and keep your online shop operating smoothly.