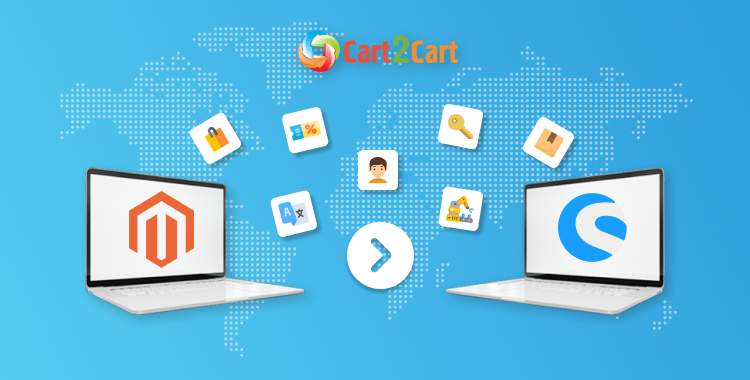 Settling an online business is not easy, especially taking into consideration a variety of shopping carts that are currently available on the market. It often happens that merchants initially choose the wrong platform that doesn't suit their budget, level of technical expertise, and the size of the store. Thus, instead of gaining profit, they suffer losses. If that is your case, we suggest you to keep reading and find out how to switch ecommerce solutions painlessly and without impacting your revenue. Today's post will be dedicated to migration from Magento to Shopware.
Magento vs. Shopware. Introduction
Magento and Shopware are both open-source platforms written in PHP. They have all the necessary customization features and are SEO-friendly. But if you dig deeper, you'll understand that these solutions are designed for entirely different types of online businesses.
Magento is considered to be the most flexible, adjustable, and stable software among its competitors. It is a popular ecommerce trading solution in the USA, Europe, South America, and Africa. Currently, it powers 182,790 live websites worldwide. The platform is aimed at medium and enterprise-level stores since it has been developed to handle vast amounts of data and traffic.
Shopware is more widely used in Germany, and its worldwide popularity is yet to come. At the moment it is being used by 29,671 live websites. This shopping cart is targeted at users with minor technical skills. It is very easy-navigable and will be the best option for the owners of small to medium stores.
Google Trends statistics prove that Magento is more popular than Shopware, but, at the same time it's user-acceptance has decreased over the last 5 years:
Shopware, on the contrary, is more popular in Germany:
Why choose Shopware over Magento?
Due to its high scalability and customizability, Magento is an ideal option for those who wish to dive deep into code. Or, as an alternative, have an unlimited budget and are ready to spend additional money on a developer to expand an online business.
Contrarily, with Shopware, you will get excellent performance, reliability, flexible configurations, and first-rate user interface. The software provides its users with intuitive and handy administrative tools (e.g., all the data changes can be made from the backend; the drag-and-drop option eases the process of adding new entities to the stores).
Shopware store offers its users 125 themes (11 free and 114 paid ones). They are fully customizable and can be modified from the backend. Their price ranges from € 4.50 to € 349. Whereas Magento Marketplace has only one free theme, and the paid ones cost $25 - $499. In order to get more options, one has to download them from outside sources (e.g., Themeforest).
Automatic SEO configuration is another benefit of using Shopware. This shopping cart is geared towards online marketing and has a variety of features for the promotion of sales. Storytelling plugin assists business owners in building a visual narrative of the store with the help of the drag-and-drop option. Also, it enhances on-page metrics and assists in growing authentic customer connections with a brand.
For more detailed information on Magento vs. Shopware comparison, please, check out our blog post.
So, if you are looking for a worthy alternative to your current platform and have decided to migrate from Magento to Shopware, Cart2Cart will lead you through the whole process of replatforming. Besides, you can calculate the price of the particular migration using our online estimator.
Parameter
Magento
Shopware
Pricing
Free
Free
Ease of use
Requires technical knowledge
User-friendly and intuitive interface
Customization options

Open-source
Over 5000 free and paid extensions

Open-source
Over 2000 extensions

Support
100,000 community members around the globe
40,000 community members + Support service from 49€/per month
Scalability
Free to use for stores of any size
Paid Enterprise Edition for big stores
How to Migrate from Magento to Shopware Using Cart2Cart
Prepare Your Magento and Shopware Carts
Since Magento and Shopware are both open-source platforms, their setup process is identical. You will need to:
Provide stores URLs by copying them into the corresponding fields.
Download Connection Bridges.
Upload these Bridges to the Root folder.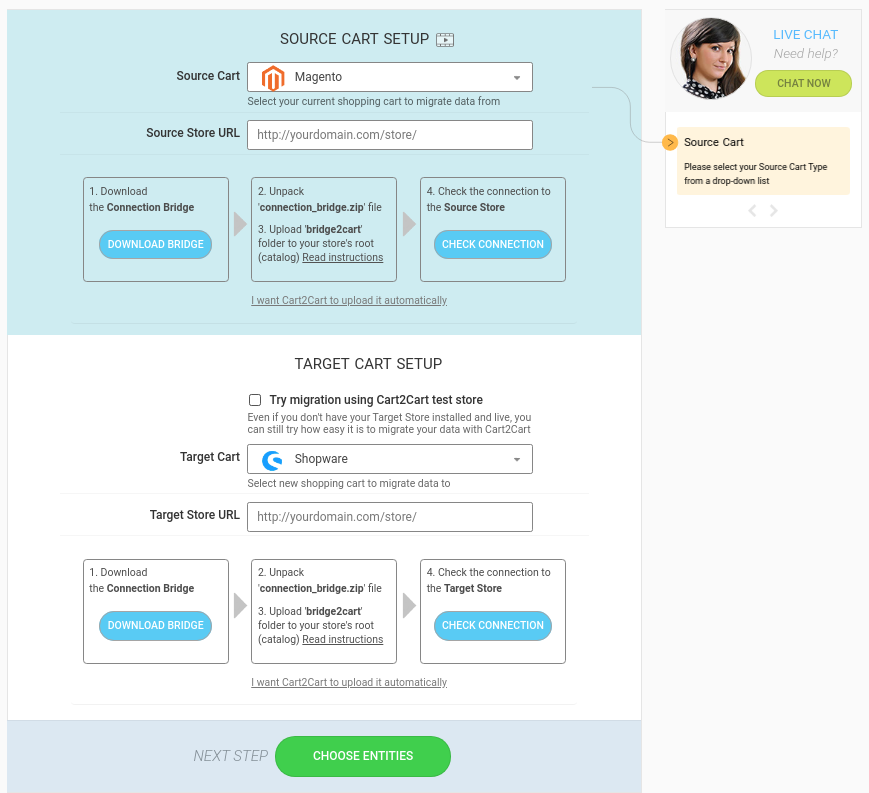 Choose Data You Wish to Transfer
Magento to Shopify migration lets you import the following entities:
Products
Product categories
Manufacturers
Taxes
Customers
Orders
Reviews
Multistore
Multiple languages (please note that Shopware has only two default languages - English and German. Other languages can be downloaded here)
CMS Pages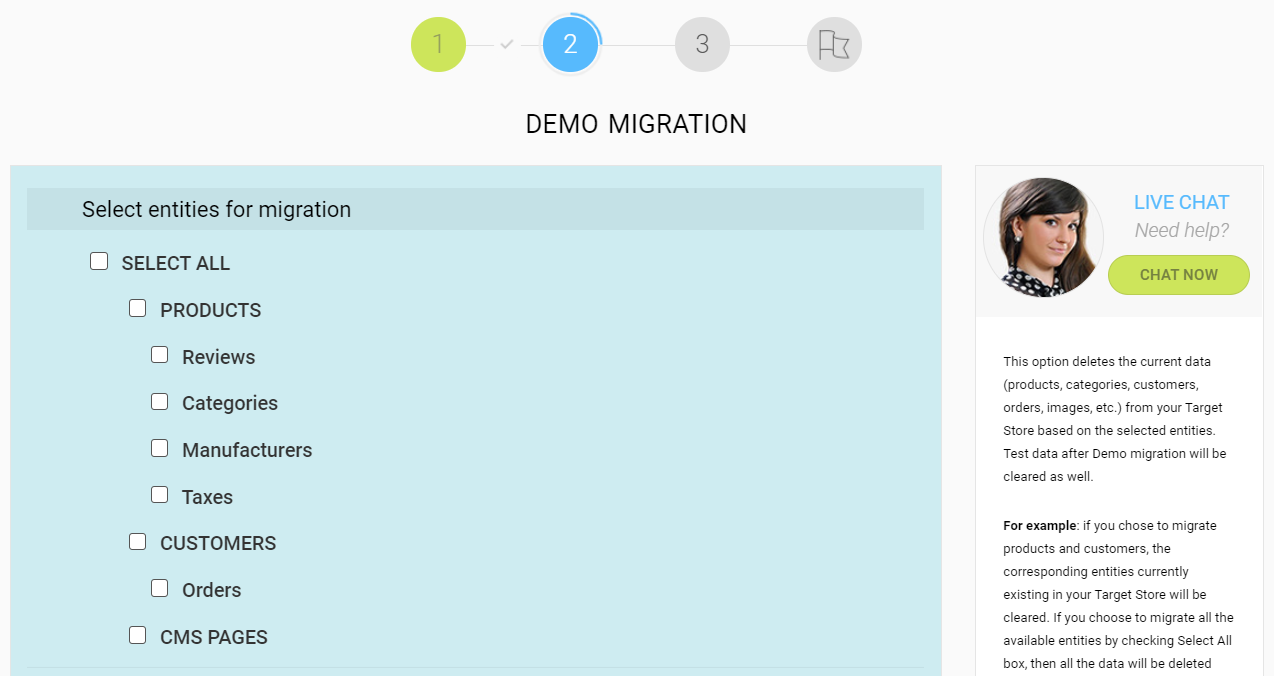 Select Additional Options
Even though choosing these options is not obligatory, we recommend you to consider the ones mentioned below:
Skip product thumbnail images migration - it will help you prevent data duplication on your Shopware store.
Preserve order IDs on Target Store - lets you import order IDs from Magento to Shopware.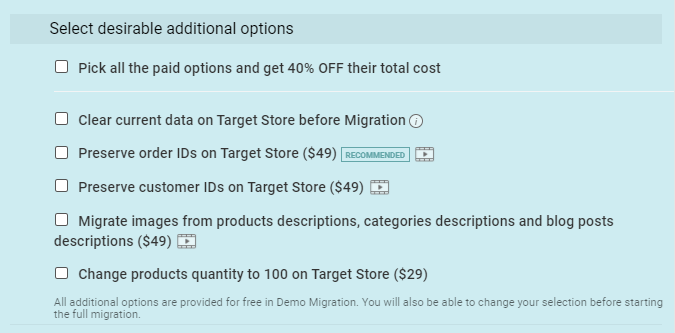 Run Demo Migration
Perform demo migration from Magento to Shopware. It's an entirely free option that gives users the possibility to transfer a limited number of data to Shopware. Hence, you'll get the opportunity to assess the performance of our service, test the functionality of your store and it's overall look on a new platform.
Launch Full Migration
If you've checked the results of demo migration and everything works correctly, then it's time to start full migration. All you have to do is click the Start Full Migration button and wait for your store to be automatically transferred from Magento to Shopify.
Post-Migration Tips
Once you've got the notification that the Full Migration has been completed, we recommend you to do the following:
Check your Shopware store for possible errors and inconsistencies.
Go to the Shopware store and download all the necessary extensions.
Monitor your old Magento store for the new data that might have appeared during or after the migration. Our Recent Data Migration Service may assist you in transferring it to the new cart.
Magento to Shopware Migration - FAQs
How to migrate Magento (Adobe Commerce) customers to Shopware?
When launching your migration, select the Customer checkbox (Customers) to transfer your Magento (Adobe Commerce) customers to Shopware automatically.
Will my Magento (Adobe Commerce) store data be affected by the migration?
Replatforming does not affect your migrated Magento (Adobe Commerce) e-store. Shopware imports all store data (products, customers, orders, etc.) from Magento (Adobe Commerce) and pastes it into your Shopware platform. As a result, the transfer of data is totally secure for the migrated store, and there is no risk of losing data.
Taking into account everything that's been said, now you're absolutely ready to perform migration from Magento to Shopware. Don't wait till competitors surpass you, make your store profitable today!