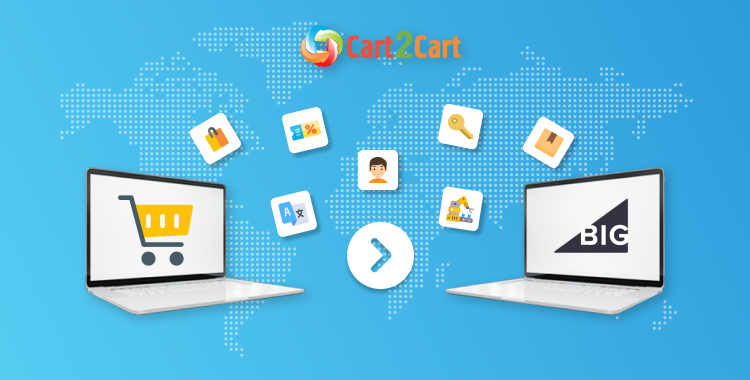 Running a successful ecommerce business is an uphill task, especially in the context of increasing demands to the quality and effectiveness of the services provided. Merchants must do their utmost not just to maintain the balance, but to surpass competitors. Thus, it is essential to keep stores up to date.
This article will be useful for those wishing to handle BigCommerce migration in order to maintain the best functionality. So, read on and find out the advantages and best possible ways of BigCommerce migration.
BigCommerce Facts and Advantages
BigCommerce is the 5th most popular platform among the websites using ecommerce technologies. It's a self-hosted solution that has all the necessary features to keep your store up and running. At the moment, it is being used by 45,467 live websites. This is a universal and user-friendly cart that suits small, medium-sized, and large businesses. Moreover, BigCommerce is the perfect solution for non-tech users who do not want to deal with coding.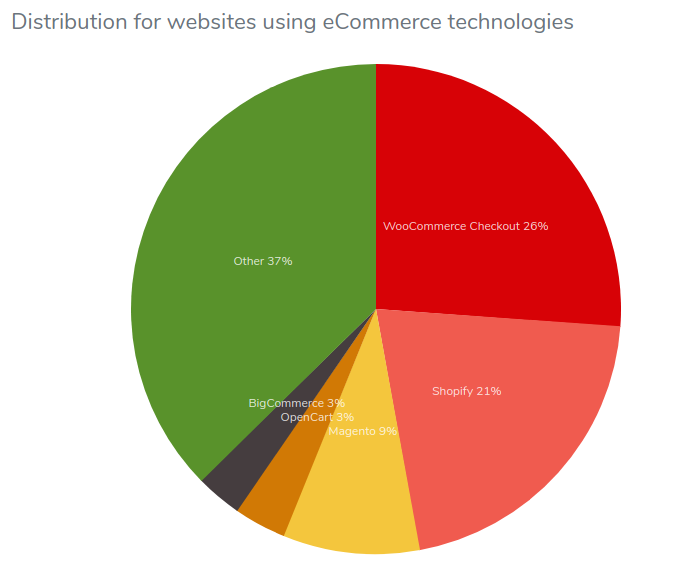 The benefits of using BigCommerce include:
Supreme administrative tools (e.g., product and order management, analytics, reports, etc.)
AdWords-integrated marketing module.
Powerful SEO tools.
Affordable pricing plans (prices range from $ 29.95 to $ 249.95).
Abandoned cart saver that creates several automated emails to return customers.
Wide spectrum of responsive ecommerce themes and templates (including both free and paid ones).
Great variety of free and paid apps to enhance the store's functionality (e.g., apps for marketing, shipping, inventory management, accounting, etc.).
Multiple currencies support.
Level 1 certified PCI compliance.
Numerous payment gateways.
Non-stop customer assistance via forums, phone, email, and live chat.
No additional fees for payment transactions.
There are a few ways to perform the migration of your BigCommerce store: you can either do it yourself by manually copying all the data from the source to the target cart. This scenario will suit those business owners who have at least minimal technical skills, thus they won't damage the store's structure and functionality. Also, there's a possibility to hire a developer, who will do all the job for you. But this might turn to be rather costly. And, finally, the last option is to use an automated migration service (e.g. Cart2Cart) and migrate all the data without spending much time and money.
Automated BigCommerce Migration
So, if you've firmly decided to give your store a fresh start, then Cart2Cart will lend you a helping hand. Our automated migration service can transfer all the data to your new BigCommerce store. Moreover, your old cart will be live during the switching process and it won't impact your business in any way. Hence, to begin BigCommerce migration, you have to follow these simple steps:
To simplify the BigCommerce migration process, you can take advantage of the Store Migration by Cart2Cart App.
Pre-Migration Recommendations
First of all, we advise users to check all the data available on the current shopping cart and delete all unnecessary and outdated information. Secondly, you will need to backup your store. Even though Cart2Cart doesn't delete any information from your store during the migration, it is advisable to save all the necessary data to an external device (also, you may use the backup option provided by our service). And lastly, if you wish to calculate the exact price of your migration, please use our Migration Estimator.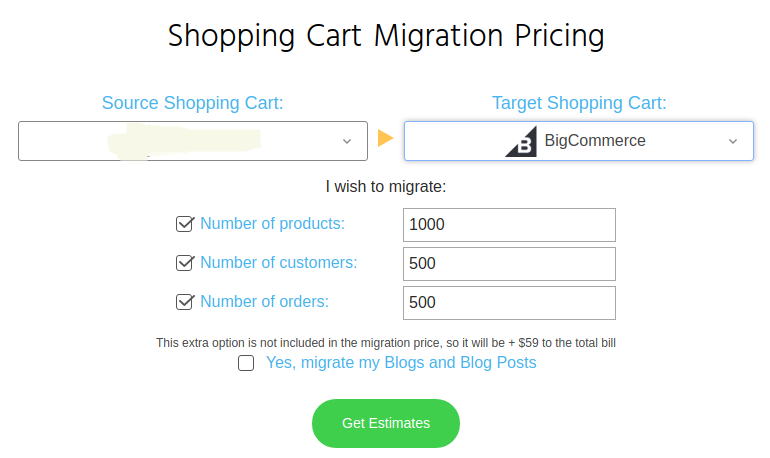 What Are the BigCommerce Migration Peculiarities?
Migration of 301 redirects is only available within one of the paid plans. and in case your Source Cart supports migration of categories and products SEO URLs (these include Magento, OpenCart, CS-Cart, PrestaShop, VirtueMart, WooCommerce and osCommerce).
Standard and Plus plans have a limit of 20,000 API calls per hour, Pro plan features 60,000 API calls per hour and Enterprise clients have unlimited number of API calls. The migration process will continue even if you've already reached the limit. But be aware that it will last a little bit longer.
It is possible to migrate SKU to Bigcommerce store. But if there is the same product SKU on your Source store and Bigcommerce store, the SKU will look like SKU 1, SKU 2, etc after the migration (e.g. SKU #153 will become SKU #153 1).
Cart2Cart can also create redirects. But to do so, it is necessary to choose an additional option "Create the 301 redirects on your target store after migration" on the Migration Wizard.
Prepare for Store Data Migration
Once you've completed the above mentioned actions, it is time to start the migration process. It consists of the following stages:
Set up Source and Target carts
Choose your current cart (Source Store) from the list of supported platforms and provide all the necessary credentials.
Choose BigCommerce as the Target store in the migration wizard.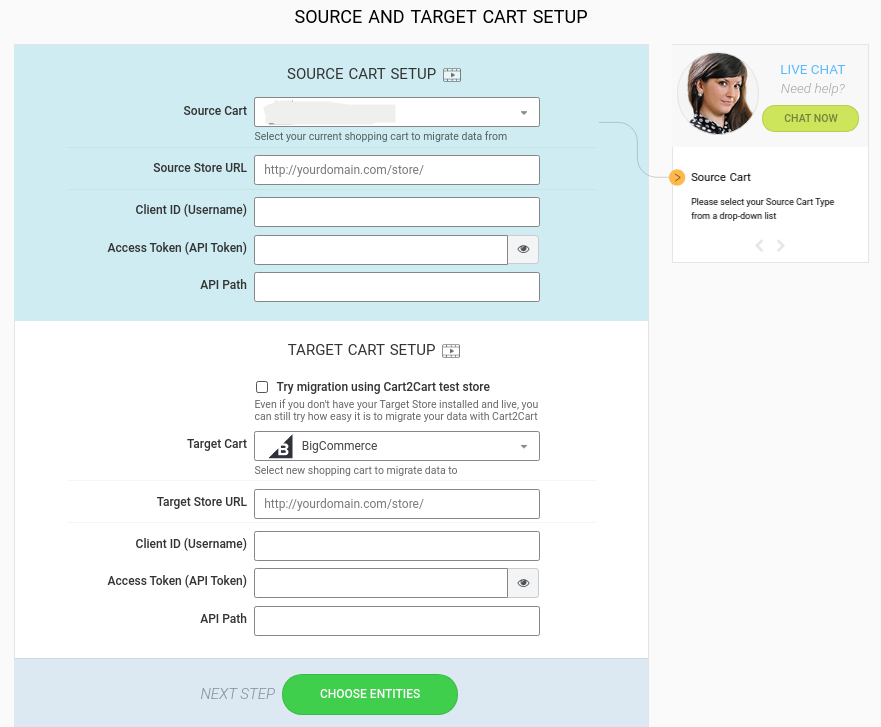 Fill in all the needed details (Username, API Token, and API Path). Detailed instructions on how and where to get this information can be found here. Also, we recommend you to watch the following video tutorial:
Decide on data entities and additional options
Basically, the following entities can be transferred to the new BigCommerce store:
Products
Product categories
Manufacturers
Customers
>Orders
Coupons
Reviews
Blogs
Blog posts, etc.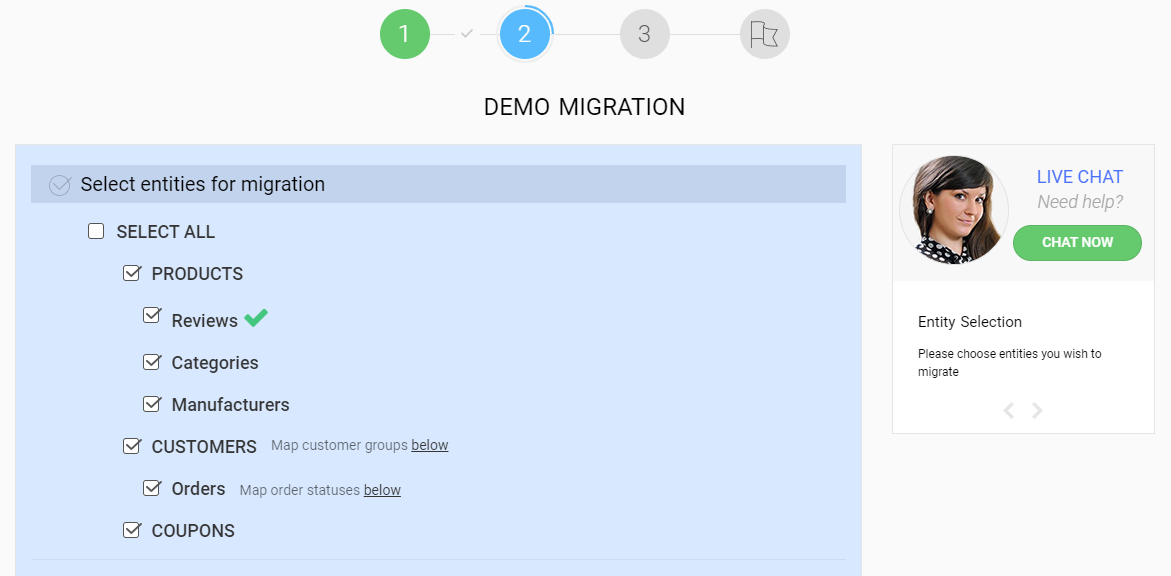 Additionally, you can consider some extra features (it's not mandatory):
Preserve order IDs on Target Store - allows preserving your Source Store order IDs after the migration.
Skip product thumbnail images migration - helps you prevent unnecessary image duplication.
Create 301 redirects on your target store after migration - creates 301 redirects, thus preserving your store's SEO.
Migrate categories and products SEO URLs - assists you in preserving the current links to your products, and saving customers and SEO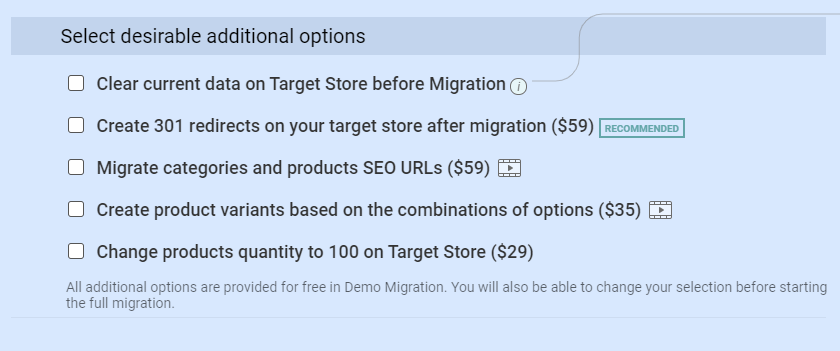 Please note that these are only basic data entities and additional options. They depend on the type of your Source cart.
Begin Demo Migration
The demo migration option is free and doesn't take much time (approximately 30 minutes). It's a perfect opportunity to test our service and take a look at your new BigCommerce store (please note, that demo migration lets you transfer only up to 30 data entities). Although demo migration is not obligatory, we strongly recommend not to skip this step.
Dive into the Full Migration
If you're completely satisfied with the results of Demo Migration, please proceed to the Full Migration. All you have to do is click the Start Full Migration button, and Cart2Cart service will transfer all the data to your new BigCommerce store.
Post-Migration Suggestions
Once you've received the notification that the Full Migration is over, please make sure to:
Check your store for possible errors.
Download and install all the necessary apps and extensions.
Please take advantage of our Recent Data Migration Service in case any new data has appeared on your store during or after the replatforming.
Generally, that is practically all you need to know to transfer to BigCommerce. Don't forget that there is no limit to perfection, so go ahead and perform BigCommerce migration with Cart2Cart!