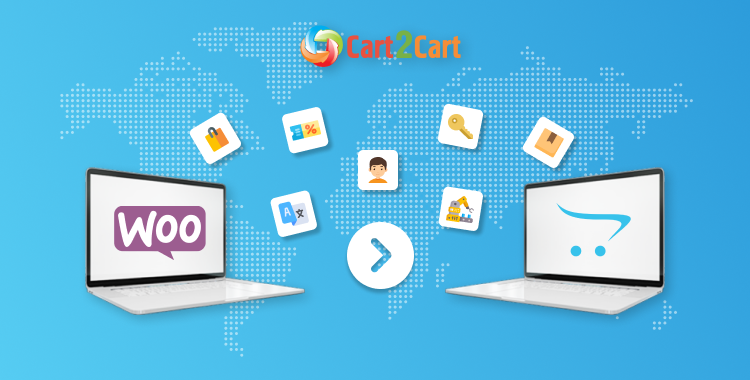 Frequently, the choice of this or that shopping cart solution may bring online merchants into a stalemate. If you find yourself dissatisfied with your current WooCommerce store and wish to replatform to OpenCart - you've landed in the right post.
WooCommerce and OpenCart are both are open source eCommerce solutions that come equipped with all the necessary tools and features allowing to set up a fully-functional online store of any complexity. Basically, OpenCart and WooCommerce both work well for different users. Making the right choice between them is nearly impossible since there's no one-size-fits-all solution.
WooCommerce vs OpenCart. What Sets Them Apart?
While OpenCart is a fully-independent open-source platform, WooCommerce, contrastingly, exists as a WordPress plugin. Therefore, it is used mainly by those WordPress users who want to convert their current sites into online stores. OpenCart doesn't require an existing site and allows to run a fully-functional store using the functionality that comes default.
WooCommerce to OpenCart. Migration Scenarios
eCommerce migration is a complicated task, expecting stellar programming skills. Generally, there are 3 ways to get around the problem:
Manual migration means copying the store data from the source store (in this case it is WooCommerce) and pasting it to the target (e.g. OpenCart).
Assisted transfer involves turning to the 3rd party expert or even agency to get the job done.
Automated switch makes the store database migration accessible for everyone by automating the process of entities transfer.
So, what migration method to choose? Since the differences between various shopping carts are often quite significant, a hybrid approach should be expected. In other words, an automated service can be utilized for database transfer and then finalizing the store configuration manually.
How to Migrate WooCommerce to OpenCart? An Automated Solution
Before You Start
Before moving anywhere the first thing to do is to carefully plan the whole process of replatforming. Basically, it may look like the following:
make a backup of the current store database;
perform the store audit and indicate places for improvement;
find the required access details for both stores.
Besides, if you haven't installed and configured the OpenCart store yet but would like to see how the data from your current store will look like on the new software - you can give a try to the Migration Preview option.
Furthermore, with the help of the Migration Estimator, it is possible to calculate the exact price of your specific migration case. Just fill in the matching fields the number of products, customers, and orders and get the final price estimated in a short time.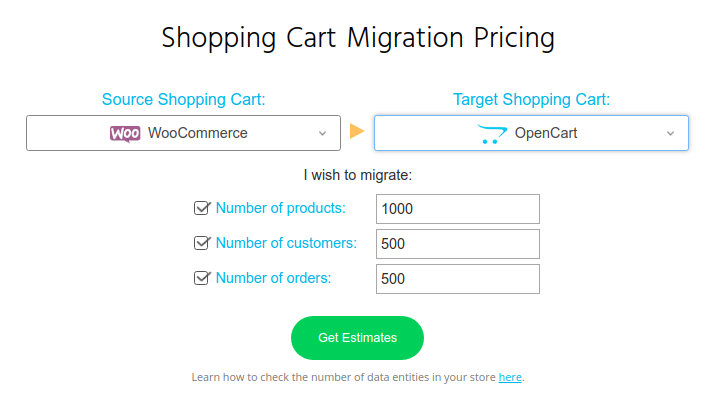 Benefit from the Cart2Cart: WooCommerce to OpenCart Migration Module to make your data migration hassle-free.
Set Up WooCommerce to OpenCart Data Transfer
When you're ready to proceed, it's time for data transfer itself. Let's go through the WooCommerce to OpenCart migration with Cart2Cart for you to have a general idea of how the service works:
Note: Realizing the enormousness of the eCommerce migration, the Cart2Cart has been developed with store owners in mind. It is an automated migration service that allows transferring the store data (customers, products, orders, taxes, etc.) with minimal human involvement in the process.
Check out the WooCommerce to OpenCart page to check what store entities can be migrated and what are the extras (additional migration options):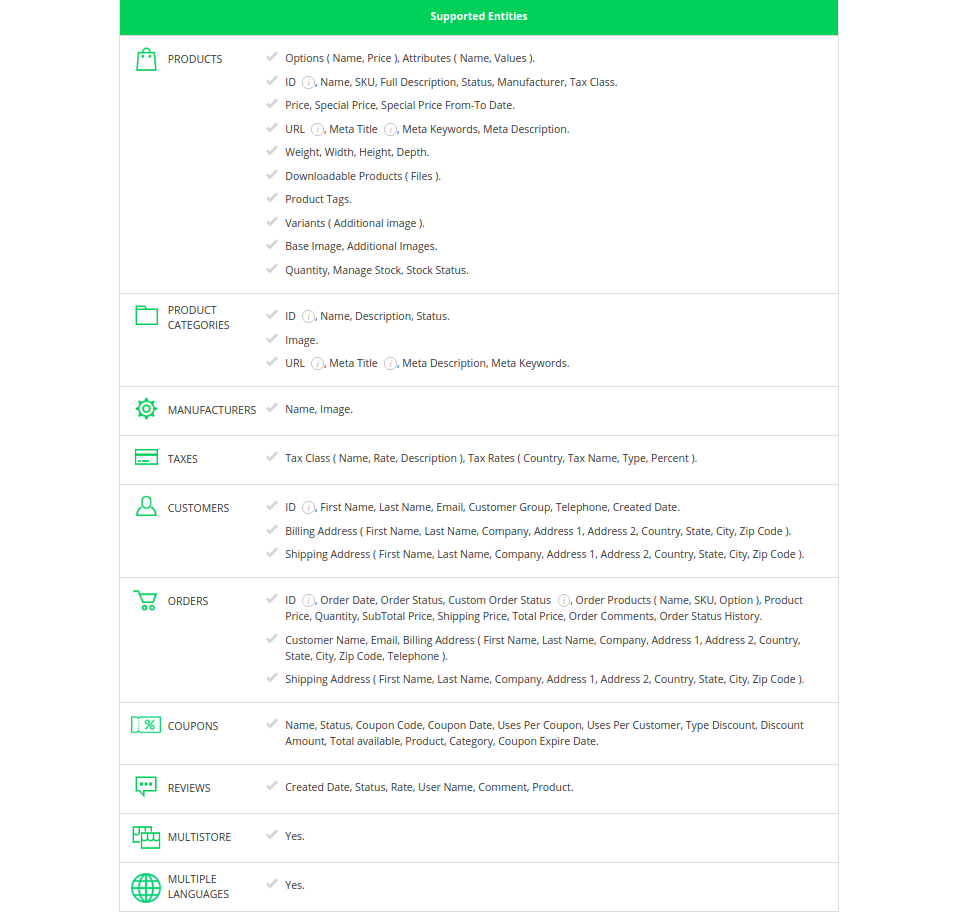 Specify your Source & Target stores
From the drop-down list of provided shopping carts choose WooCommerce as the Source cart and OpenCart as a Target one. When done, connect your WooCommerce and OpenCart by installing the Connection Bridge.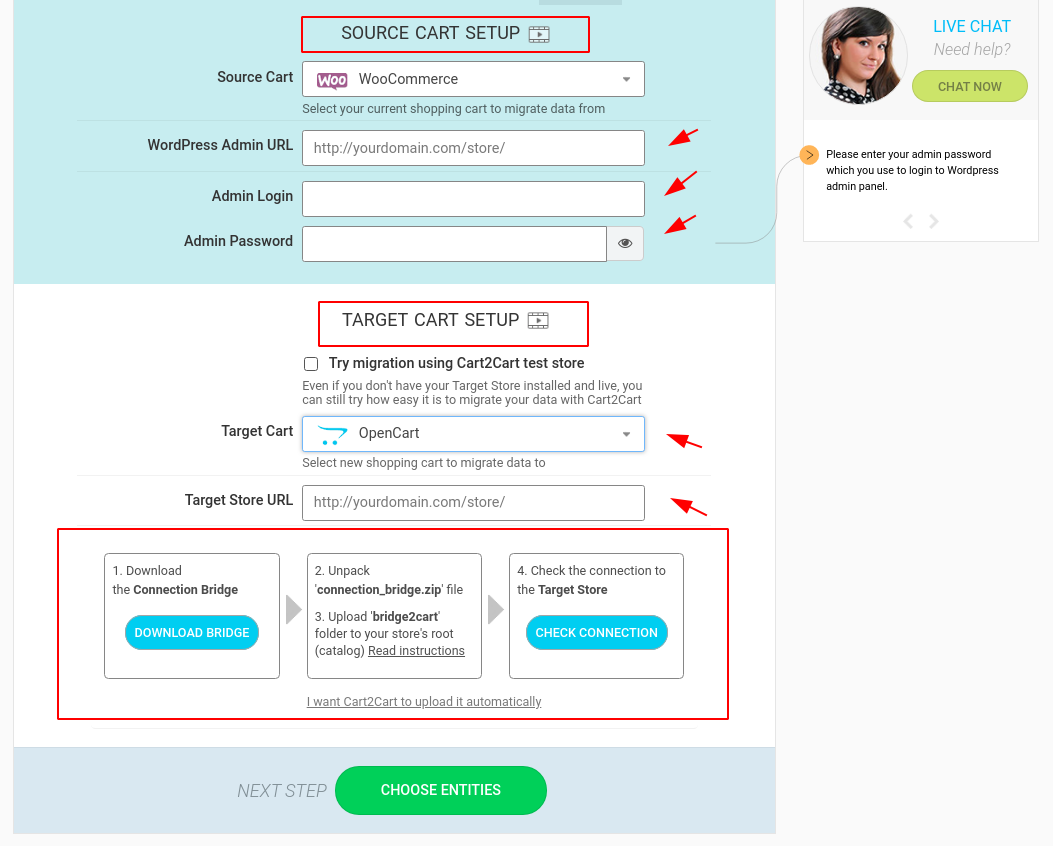 Those who will encounter any difficulties while the installation process, can watch the video:
Select store data and additional migration options
Choose the store entities that you need to be imported to the new OpenCart. Once done, specify the additional migration options to make your specific WooCommerce to OpenCart switch even more seamless:
"Migrate customers' passwords" option makes it possible for customers to log in to your Target store using their Source store credentials.
"Preserve product/category/customer IDs on Target store" option allows saving the Source store product/category/customer IDs on the Target store after migration.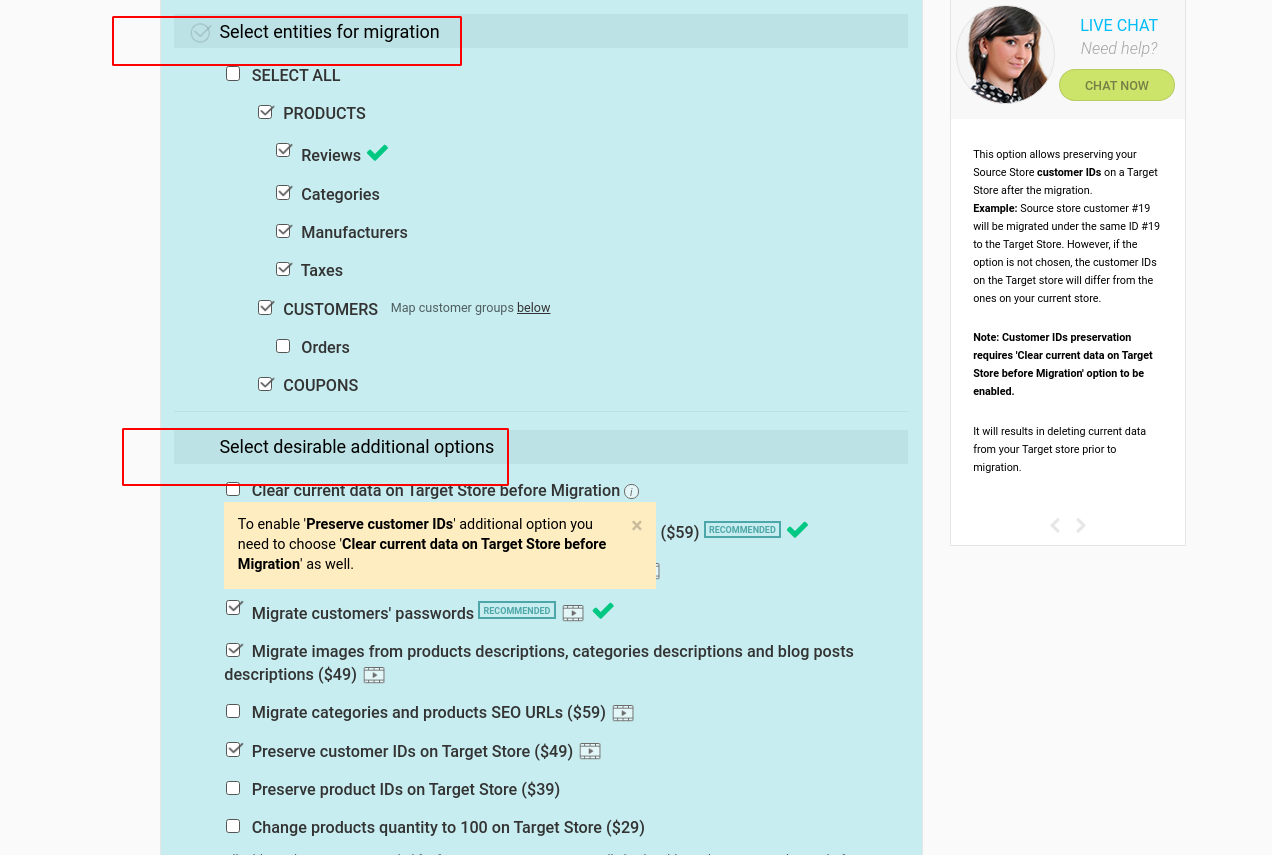 Launch Full migration
Before proceeding with this step, it is highly advised to previously launch the Demo migration. This option allows transferring a limited amount of store data within a short period of time and observe how the service looks in progress.
Once satisfied with the Demo outcome, you're welcome to press the Start Full Migration button. Now you can return to your business running and wait until the email notification from Cart2Cart.
Post-Migration Suggestions
Well, it's not the time to relax yet) Once the store database is imported to OpenCart - take time to test the new OpenCart store in different browsers for any possible issues. Besides, you can expand the initial functionality of the store by integrating the required modules/apps. Don't forget to invite your clients to reactivate their account.
Its Time to Go Live
eCommerce migration can be quite a costly and challenging process. However, when performed with the proper tools - it's not as complex and tedious as it may seem. Give a try to Cart2Cart service to replatform from WooCommerce to OpenCart and see how automation can simplify the complex things.