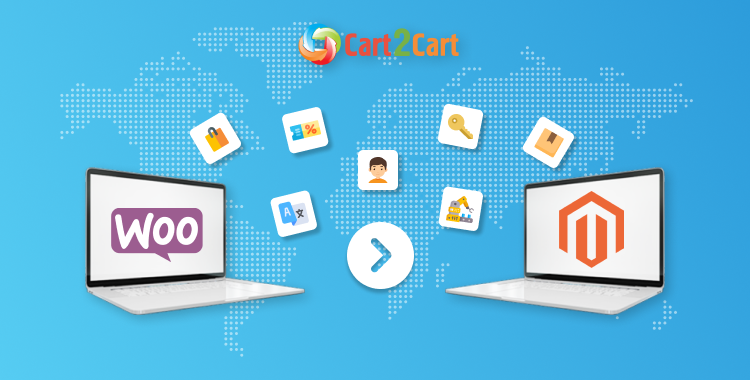 Online business is booming, and it usually happens that even the most popular solutions are not enough to satisfy the needs of store owners. Thus, they start searching for something more convenient and way more advanced.
WooCommerce and Magento are two of the most popular platforms of the ecommerce world. Even though they differ in the underlying framework, these two carts have similar features in terms of customer appreciation and customizability. In general, both carts are suitable for developing an advanced and cost-effective online store. But there's more than meets the eye. Let's dive deeper and take a closer look at why it is worth switching from WooCommerce to Magento.
WooCommerce vs. Magento: What Do the Numbers Say?
WooCommerce is an open-source, free plugin for WordPress. Currently, it is being used by 3,876,748 live websites. Since this solution has a low learning curve, it is an ideal choice for the newbies and owners of small to medium-sized businesses.
Magento is a standalone open-source platform designed to power both small businesses and large ecommerce stores. At the moment, it is home to 168,804 live websites. Magento is considered to be one of the most powerful and secure ecommerce solutions. Therefore it will best suit merchants with at least basic developmental skills.
To understand the difference between WooCommerce and Magento, we recommend you to watch our video, which includes the in-depth analysis of their main features:
Based on the recent Google Trends statistics, both platforms are equally popular among users:
Reasons for Switching from WooCommerce to Magento
If you're an owner of a growing online business and are currently looking for better ecommerce opportunities, more robust functionality, and enterprise-level options, keep in mind that WooCommerce won't be able to fit all of your expectations. Despite all it's pros when compared to Magento, the software has:
Minimal out-of-the-box features.
Weak database architecture for high order volume and scalability.
Poor product data capabilities for massive and complex catalogs.
Requires additional plugins to achieve better functionality.
If you're planning on improving total revenue and providing clients with trouble-free shopping, then Magento should be your first choice.
Magento's advantages over WooCommerce include:
Full customizability and scalability.
High level of security and availability of dedicated security patches.
Strong B2B ecommerce capabilities.
Improved in-built functionality (support of product reviews, grouped items, wish lists, advanced pricing rules, and product personalization).
Ability to up-sell or cross-sell products.
Possibility to operate multiple storefronts from one back-end.
Capability to handle massive and complex catalogs.
Robust Order Management and promotion abilities.
High SEO optimization possibilities.
Cart2Cart Migration From WooCommerce extension will assist you in store replatforming.
Automated Migration From WooCommerce to Magento
Moving from WooCommerce to Magento often seems intimidating, especially if you're an owner of a big store with lots of data. Luckily, Cart2Cart automated service can help you go through the migration procedure without any unnecessary concerns.
First off, please, watch this short video tutorial on WooCommerce to Magento transfer:
How to Prepare Your WooCommerce Store?
In order to be ready for the replatforming, we advise you to follow these steps:
Perform content audit - edit or delete all the unnecessary or outdated data (e.g., product details, categories, passwords, orders, reviews, etc.). Also, you may check out this useful Moz guide on pruning ecommerce sites.
Back-up store's data - please, keep in mind that Cart2Cart service doesn't delete any information from your WooCommerce store in the process of migration. But we recommend our users to back-up all the data, only as a precautionary measure.
Prepare WooCommerce access details - copy store's Admin URL, login, and password.
How to Prepare Your Magento Store?
Install the Magento store if you have firmly decided this platform will suit your needs in the future. Please, be aware that Magento 1 support will end in June 2020, so it is recommended to install Magento 2.x (here is the tutorial on its installation).
If you're still on a look-out for the perfect platform and would like to see how your store looks on Magento, use our free Migration Preview Service. Therefore, you will have the possibility to transfer a limited number of data from WooCommerce to Cart2Cart's test store on Magento and check its front- and back-end. This Magento instance will be live for 3 days.
Magento Store Configuration
Multiple languages
If your WooCommerce store has more than two languages, to migrate them, please, create the corresponding number of Store Views on Magento. Our tutorial will help you cope with this task.
Migration of Passwords
If you wish to save your customer's time and deprive them of password recovery-troubles after the Magento migration, it is recommended to install the free Cart2Cart Magento 2 Passwords Migration Plugin. Please, read our detailed guide on its installation.
The Process of Migration
Setup Source and Target Carts
Copy all the necessary WooCommerce store credentials into the corresponding fields.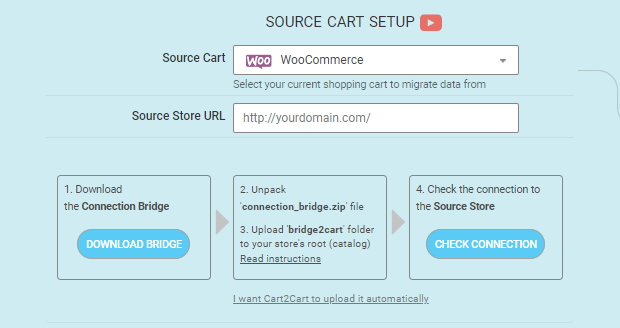 Provide your Magento store's URL, download Connection Bridge, and upload it to the root folder.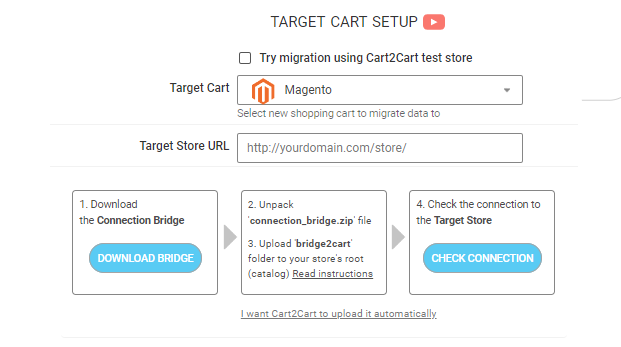 Choose Data and Additional Options
Select all the entities you wish to migrate from WooCommerce to Magento.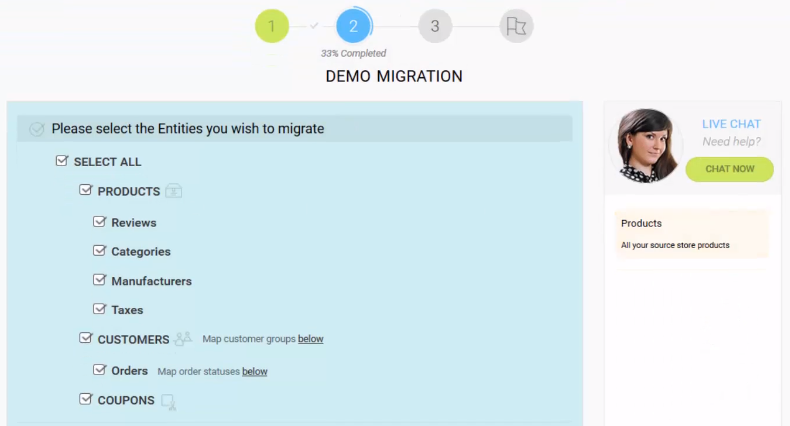 Also consider choosing some of the additional options, which include:
"Migrate customers' passwords" - provides users with the possibility to import passwords to the new Magento store. Please note that this option requires you to install the free Cart2Cart Password Migration plugin.
"Preserve order IDs on Target Store" - allows preserving your WooCommerce Store order IDs on a Magento after the migration.
"Create 301 redirects on your target store after migration" - allows you to redirect old products and category URLs to Magento.
Start Free Demo Migration
Free Demo Migration allows you to transfer a limited number of entities to the new Magneto store in a short period of time (up to 30 minutes). Thus, merchants can check the performance of our service and the overall look of the store after the migration.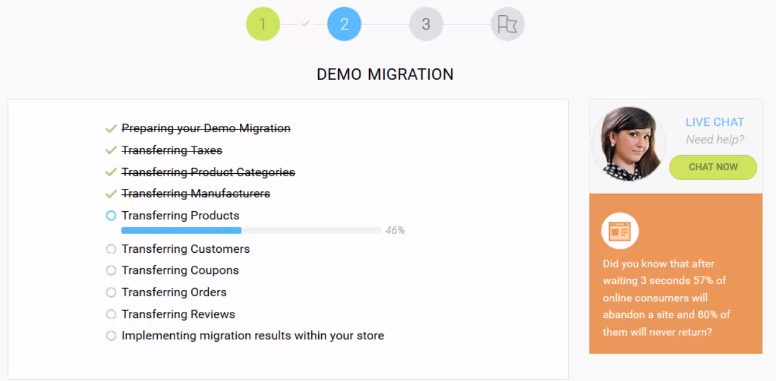 Launch Full Migration
Once the Demo Migration is completed, and you've checked its results, it is time to begin the Full Migration of your current WooCommerce store to Magento platform.
Peculiarities of Magento Migration
Every shop owner should understand that Magento, like any other platform, has its own specific aspects. So, it is advisable to keep in mind the following:
It is impossible to create several customers with one email. Thus, after the migration to Magento, you will get only one customer with a particular email along with all associated orders.
Some of the products are migrated as simple products. But if the product includes a variant, it will be automatically transferred to Magento configurable products.
Magento has an alternative way of building prefixes for order IDs that are based on store IDs. Read our FAQ to get to know more.
So, are you ready to upgrade your current store to a qualitatively new level? Perform the migration from WooCommerce to Magento with Cart2Cart. Our service will save you time, money, and spare you the unnecessary trouble of dealing with it all by yourself.