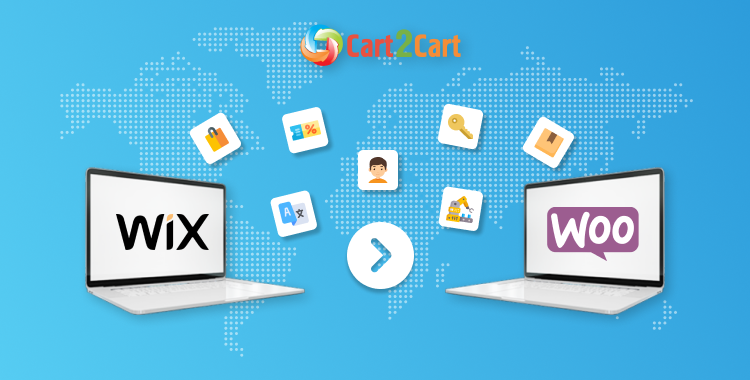 Our post is aimed at those online store owners who wish to expand their eCommerce horizons and migrate from Wix to WooCommerce. Read on to find out about the easiest and most trouble-free 4-step way of data transfer.
How to Migrate from Wix to WooCommerce in 4 steps
Setup your Wix and WooCommerce carts by providing the required access info.
Choose the data you wish to migrate from Wix to WooCommerce.
Run a free demo migration.
Launch the full migration of your Wix store to WooCommerce.
Watch our video tutorial to see how easy it is to automatically migrate from WIX to WooCommerce with the help of the Cart2Cart migration tool:
What is Wix to WooCommerce migration?
eCommerce migration from Wix to WooCommerce is a perfect way to move all the necessary data (e.g., products, customers, orders, and more) from an old platform to the new and more advanced one. Therefore, there's no need to build a WooCommerce store from scratch. Just use the Cart2Cart tool to do it automatically without any tech skills needed.
Don't miss your chance to expand business horizons with WooCommerce! Run the Free Demo migration now!
Wix vs. WooCommerce. What's the Difference Between the Two?
Wix is an all-in-one cloud-based platform that allows users to build their store from scratch. It doesn't require any coding skills and can be used practically by anyone. Thus, one can launch a professionally-looking store with all the necessary features just within a few hours.
WooCommerce is the most popular free WordPress plugin with tons of in-build features and powerful content management capabilities. WooCommerce powers over 28% of all online stores. This solution is perfect for creating sophisticated stores and provides its owners with full flexibility and control.
Best B2B Shopping Cart for Your Business - the post will help you choose the next go-to destinantion
The main difference between these two solutions is the level of technical skills needed to manage your store. While hosting and tech support are included in all Wix packages, WooCommerce is an open-source plugin and requires you to find hosting and domain, handle updates and maintenance by yourself.
Benefits of Switching from Wix to WooCommerce
Both Wix and WooCommerce have their pros and cons, but if you've firmly decided to change your current platform, here's what you'll get:
Exquisite designs and flexibility - with at least minimal coding skills (namely CSS and HTML) and desire to modify templates, you will be able to create the store that would conquer the world. Both free and paid themes can be found on the official WooCommerce store. Additionally, there are thousands of responsive themes online.
Excellent customization possibilities - this option gives you power over every aspect of an ecommerce store. Thus it is possible to edit just about anything to your specific liking.
WooCommerce has a lot more extensions than Wix. They are easy to install come in all flavors and sizes. Also, they will add new features and functionality to your store. All the necessary extensions can be downloaded from the official website.
Better SEO opportunities - there are plenty of plugins that will enhance your WooCommerce store's SEO (Yoast is the most popular of them).
In order to be up to date, your future store will get frequent updates.
You will have the possibility to join its community forum and discuss all the arising questions with its active members.
Ease your data transfer with the Cart2Cart: Migration to WooCommerce extension.
So, if you wish to expand your store's functionality, want to have full control over it, and are ready to use your tech skills, perform the migration from Wix to WooCommerce with Cart2Cart. Our automated service will make the replatforming as smooth and hassle-free as possible, with minimum effort on your side.
Migration from Wix to WooCommerce in Stages
Prepare Your WooCommerce Store
We provide clients with two options - they can either register a new WooCommerce account or use our Migration Preview Service (in case they are still unsure whether to switch to WooCommerce or not and want to check how their store will look on another platform). It's an entirely free option that lets merchants transfer a limited number of data (Demo Migration) from Wix to Cart2Cart's test store.
Please note that this test store will be available online only for three days!
Install Necessary Plugins
Due to WooCommerce's peculiarities, it is advisable (but not obligatory) to install some of the plugins before the migration:
Start Wix to WooCommerce Replatforming
Setup the Source platform
Configure your Wix Cart by copying all the necessary credentials into the corresponding fields.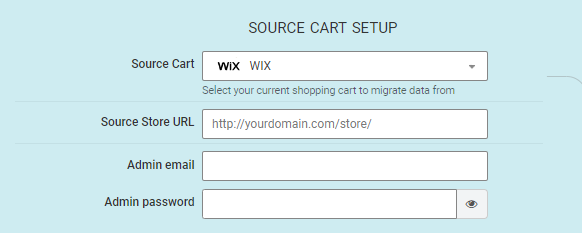 Configure the Target Cart
Provide the WooCommerce Admin URL and install the Connection Bridge.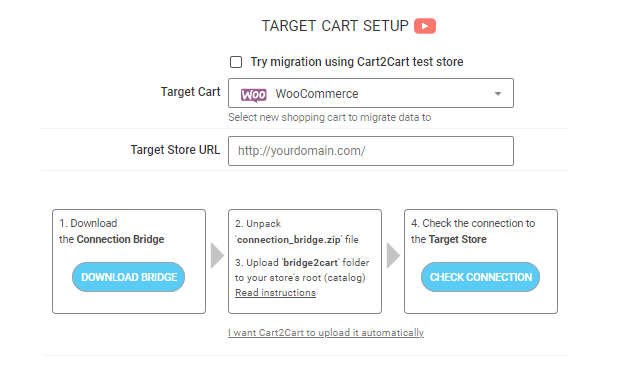 Select transferrable data and additional options
Choose all the data you wish to move from Wix to the WooCommerce store.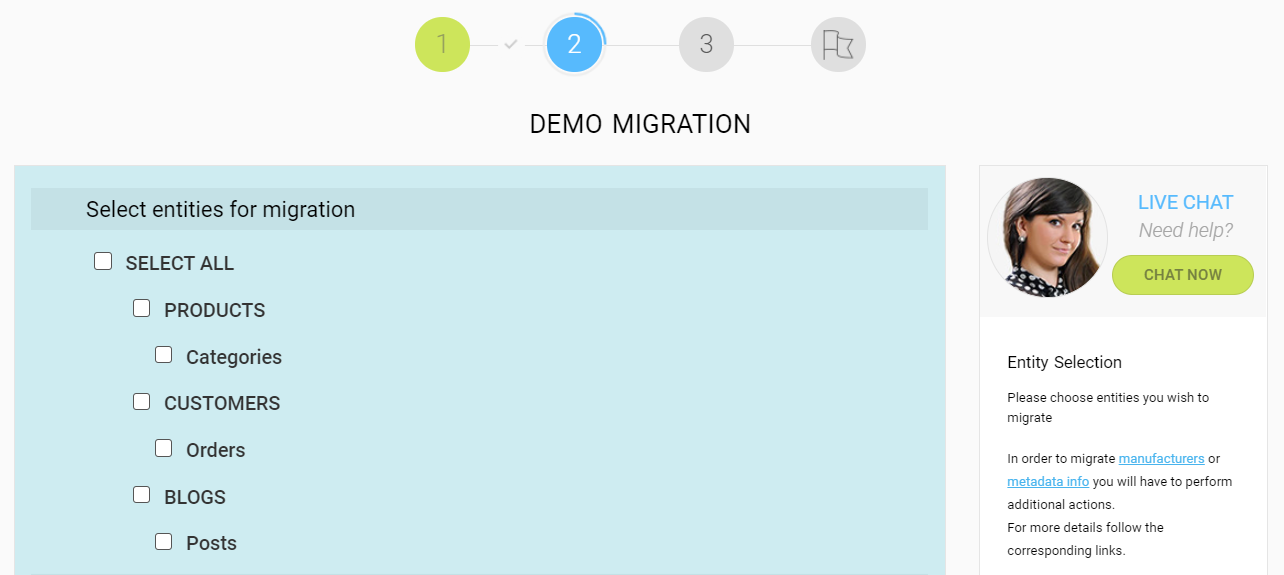 Consider selecting some of the additional options (not mandatory) that will ease the migration process, especially in case you've installed the plugins mentioned above:
Create 301 redirects on your target store after migration.
Migrate images from products descriptions, categories descriptions and blog posts descriptions.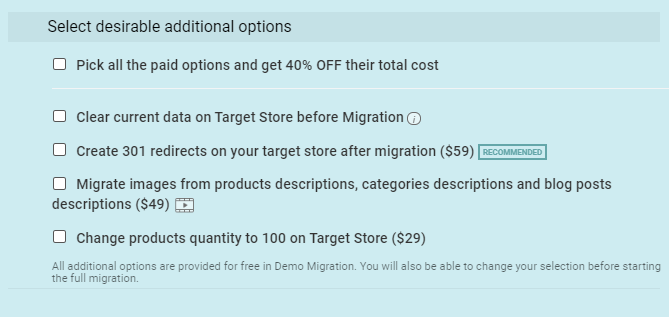 Map the data and run the demo transfer
Map data types and run Free Demo Migration.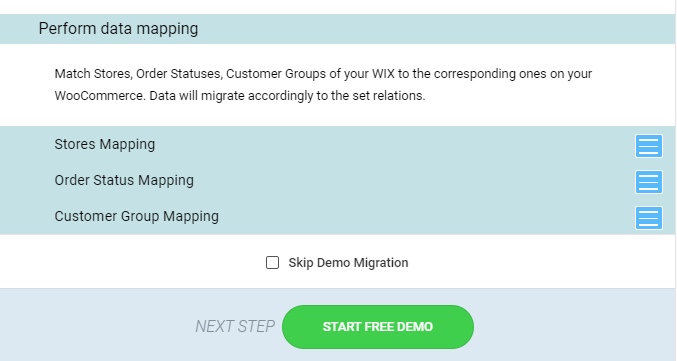 Launch the Wix to WooCommerce migration
Check the results to ensure that data has been transferred correctly. Once done, start the Full Migration process.
Ready to take your e-business a step forward towards success?
Migrate Wix to WooCommerce with Cart2Cart just in a few mouse clicks. No coding skills or developer's assistance is needed.
Migrate now
Check out our infographic to get a better understanding of the migration process via Cart2Cart: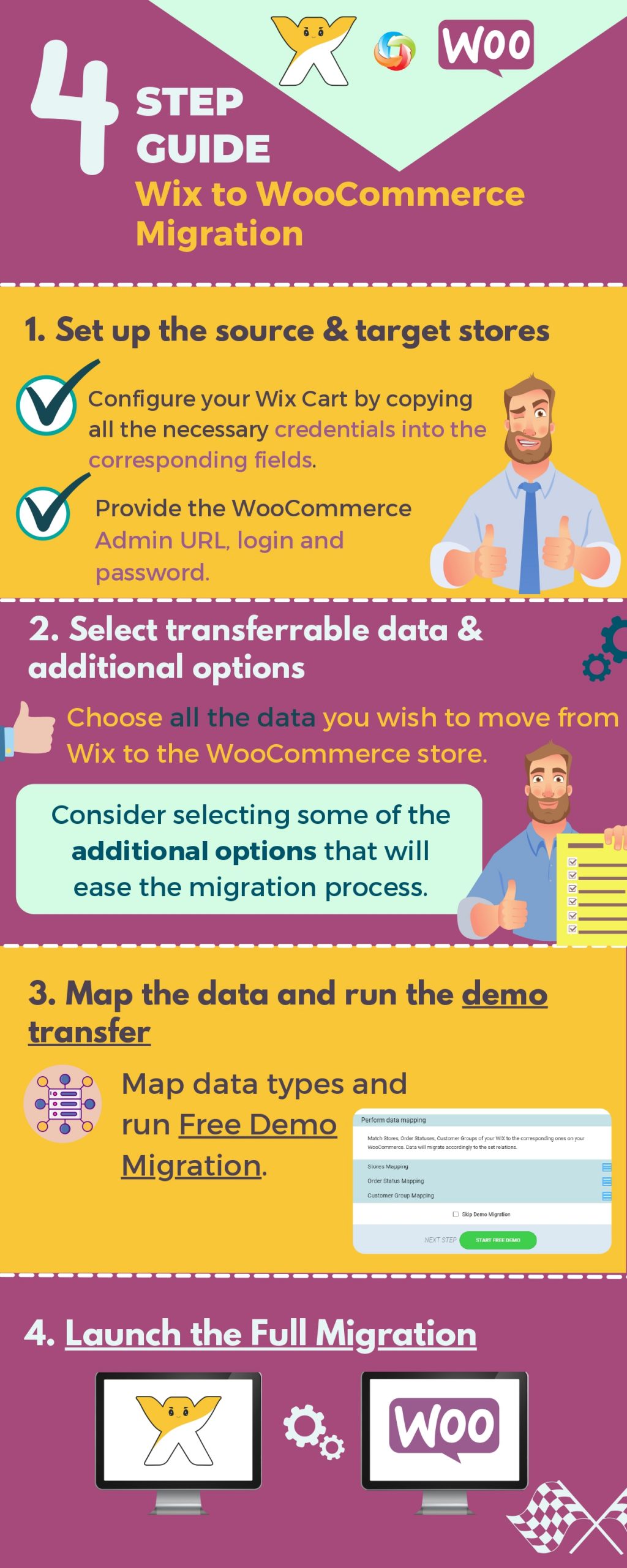 How to Export WooCommerce Orders?
Unfortunately, WooCommerce doesn't have in-built functionality to help you export the store's orders. But this can be easily handled with the help of plugins from the official WooCommerce marketplace. These paid plugins will export orders from your store in CSV or XML formats.
Post-Migration Steps
Once you've received the notification that the migration of your store from Wix to WooCommerce had been completed, we suggest you follow these steps:
Check the performance of your store.
Install all the necessary extensions from the WooCommerce Site.
If new data has appeared on your Wix store during or after the migration, you can use our Recent Data Migration Service. It will help you transfer all the entities to the new cart.
We have gathered all the WooCommerce vs Wix pros and cons into one post. Make sure to check it out!
Wix to WooCommerce Migration FAQ Block
Can I use WooCommerce with Wix?
No, Wix and WooCommerce are the two separate platforms with different functionality. However, you can move the needed data from Wix store to WooCommerce just within 4 simple steps using an automated migration tool Cart2Cart.
How do I transfer from Wix to WooCommerce?
eCommerce Wix to WooCommerce migration is simple:
Configure Wix and WooCommerce carts by providing the needed credentials.
Select the data types you wish to migrate to WooCommerce.
Test the service in action by running a free demo.
Move the data between platforms by launching the full migration.
Is Wix better than WooCommerce?
It all depends on what you're expecting to gain from an online store. Wix is more straightforward and suits smaller stores. WooCommerce, on the other hand, isa perfect fit for growing businesses. It offers more advanced functionality and has a steeper learning curve.
Once your migration is over, make sure to go through our post migration checklist!
Closing Remarks
Now you are absolutely ready to launch your brand new store and make use of all possibilities that WooCommerce provides! But if you're still having second thoughts, remember that the only thing a person can ever really do is keep moving forward. Take that big leap forward without hesitation and perform migration from Wix to WooCommerce.
Grab this unique opportunity to try out our service for free by running a demo migration today!