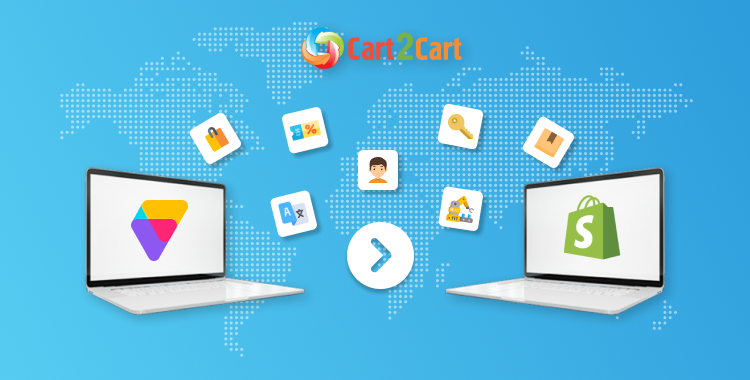 Shopping cart is considered to be the key to an online store's success - that's why it is so important to choose the proper one which will suit your needs and requirements best. When it comes to choosing between Volusion and Shopify - in fact, there's no reason to hesitate.
Volusion shopping cart has been used for powering an online business for 20 years already. It is treated as one of the top eCommerce solutions for those store owners willing to quickly launch an online business without shelling out for a developer. It is quite reasonably priced if compared with other shopping carts, and the support is unmatched for those who get stuck. Despite all the advantages that Volusion comes packed with, those merchants whose online business is rapidly developing, find it impossible to expand their Volusion store as required (mainly because the source code isn't all that accessible). In fact, that's the main reason why so many Volusion store owners are migrating to Shopify with no regrets at all: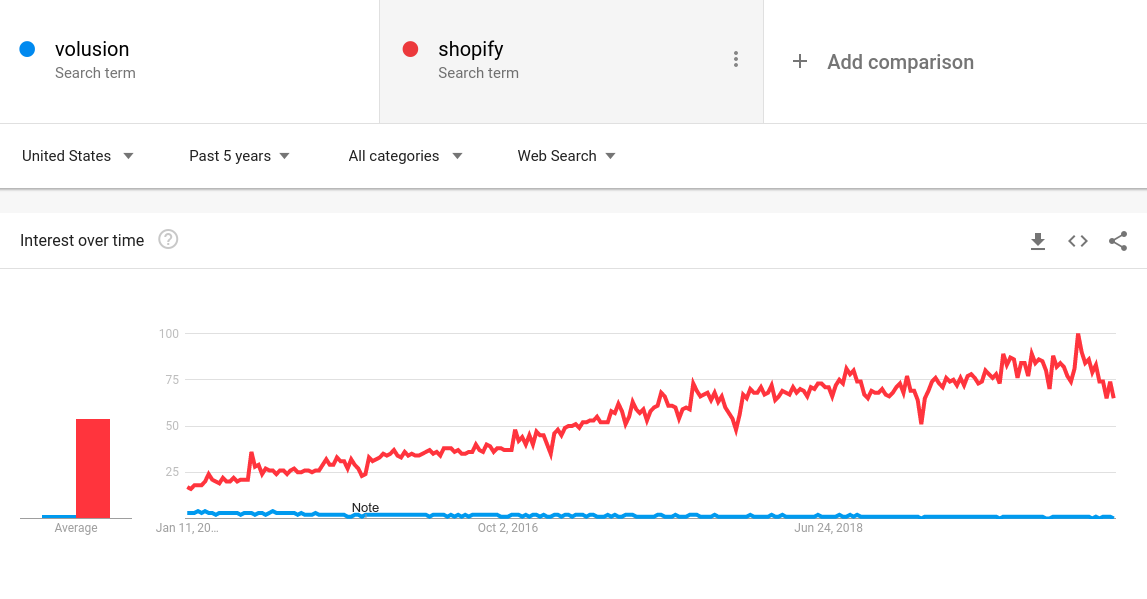 Why Migrate Volusion to Shopify?
Although Volusion is a good eCommerce solution that comes packed with many useful features, it is obvious from the Google Trends illustration that it finds it hard to present serious competition to universal Shopify. The main advantages that make Volusion store owners think over replatforming to Shopify are:
more user-friendly interface;
a wider range of free templates;
no limits on products or sales;
a larger number of available apps;
blogging functionality 'out of the box';
better SEO features, etc.
Watch our video tutorial to see how easy it is to automatically migrate from Volusion to Shopify with the help of the Cart2Cart migration tool:
If your Volusion store doesn't meet your current business requirements and you wish to expand the store functionalities - give a try to more powerful Shopify.
How to Migrate from Volusion to Shopify?
Let's now focus on 3 possible eCommerce replatforming scenarios for you to choose from. The manual way of shopping cart switch is a good way to go for those possessing deep coding skills, much time, and patience. The method involves copy/pasting every piece of the eCommerce data from one store to another. One can hire an experienced programmer and have the job done. Assisted way of website migration is quite reliable and secure, though it may expect huge financial investments. Alternatively, you can try an automated way of migration with the help of online converters (like Cart2Cart) and have all your Volusion store data imported to Shopify quickly, flawlessly and in a totally automated manner.
Note: due to the fact that Volusion and Shopify have quite different ways of data organization, not all features can be transferred across them. Therefore, some content (like landing pages) may require manual configuration. That's why, a hybrid approach is most often required, involving an automated service for transferring eCommerce data (like products, customers, orders, coupons, etc.), and then manually finalizing the new store configuration (tweaking the theme, installing additional modules, etc.).
You can automate the Volusion to Shopify replatforming with the Cart2Cart Store Migration App.
Volusion to Shopify Migration. Cart2Cart Scenario
Estimate the Exact Migration Cost
The prices of service are flexible. The final migration cost depends on the type of the source/target cart and the number and types of the store data (products, customers, orders, etc.). You can calculate the exact price of your Volusion to Shopify migration using the Migration Estimator.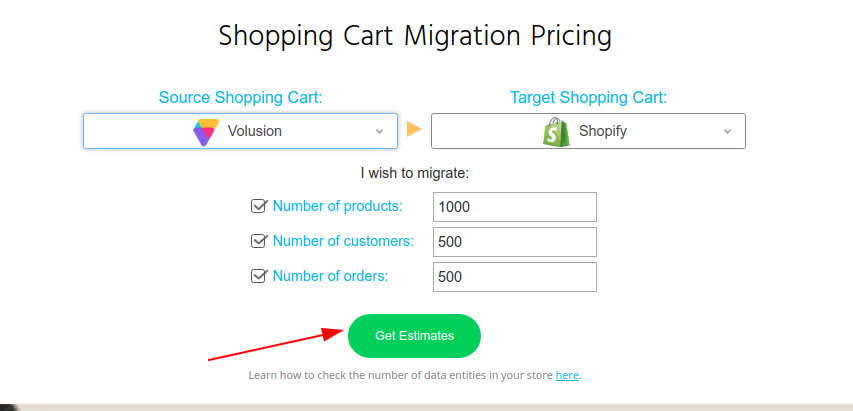 Get Your Source & Target Stores Ready
Install your Shopify store without any additional apps. Make sure to find your current and new stores' credentials.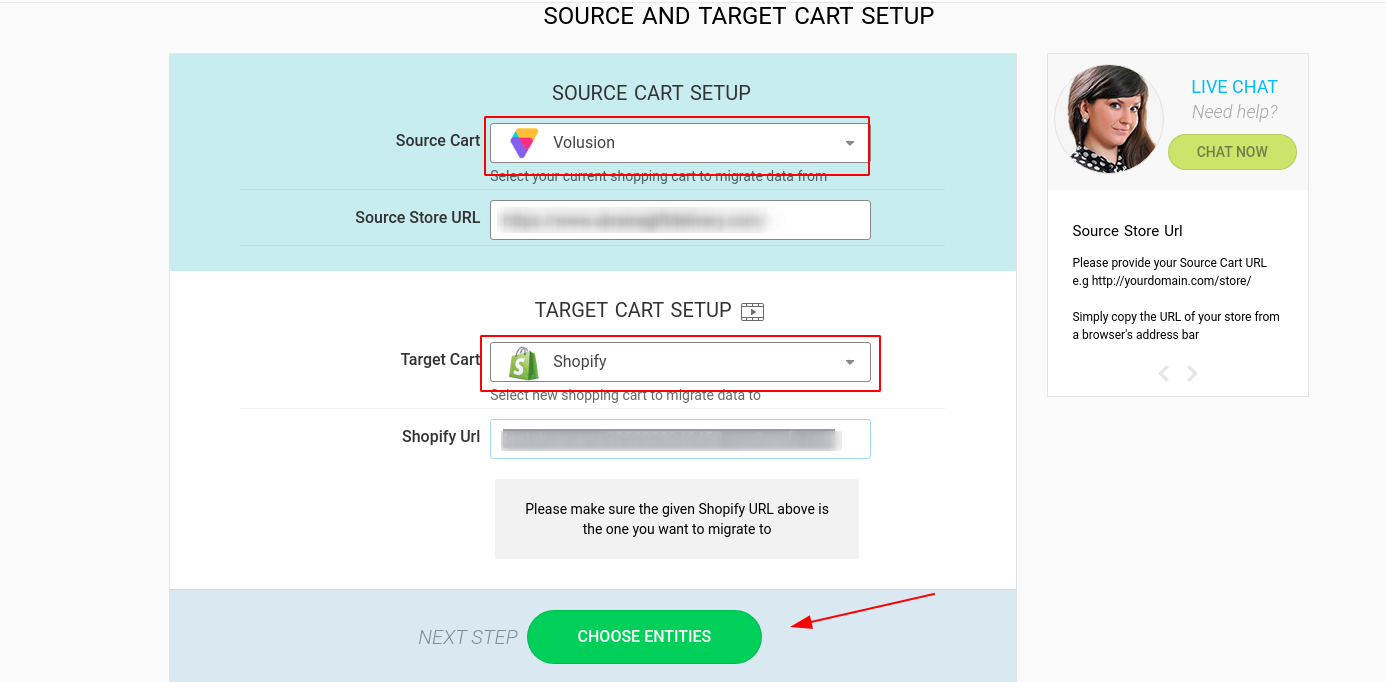 Note: To make the Shopify store available online - take advantage of the free trial at the Shopify store, during which you can perform the migration to the temporary domain (like https:/www.myshopify.com). It's fine if you migrate your data to a trial store using a free Demo migration to see how it works.
Specify Store Data You Want to Transfer to Shopify
Generally, the following store entities can be transferred to Shopify:
goods (product name, images, description, a number of goods in stock, price);
visuals related to the products (color, shape, size of the product);
the total amount of the purchase, a list of purchased goods, payment information;
static pages (like Contacts, About Us, Return Policy, Terms & Conditions);
images;
information about customers (name, email address, phone number, location, etc.);
SEO settings (including 301 redirects);
integrations.
With that in mind, specify the types of the store data that you wish to be transferred from Volusion to Shopify (products, product categories, customers, orders, coupons, blogs, blog posts, CMS pages).
Choose Additional Migration Options
When ready, select the additional migration opportunities that are provided by Cart2Cart to make the replatforming even more flawless. In other words, the following additional migration options can be chosen:
"Migrate Source Store categories into Shopify Automated Collections" option allows to determine a specific product as belonging to several collections and organize your store better.
With the help of the "Create 301 redirects on your target store after migration" option, you can keep old products and categories URLs working at Shopify.
"Migrate categories and products SEO URLs" makes it possible to preserve all the current links structure to your products thus saving your old customers and SEO ranking of your store.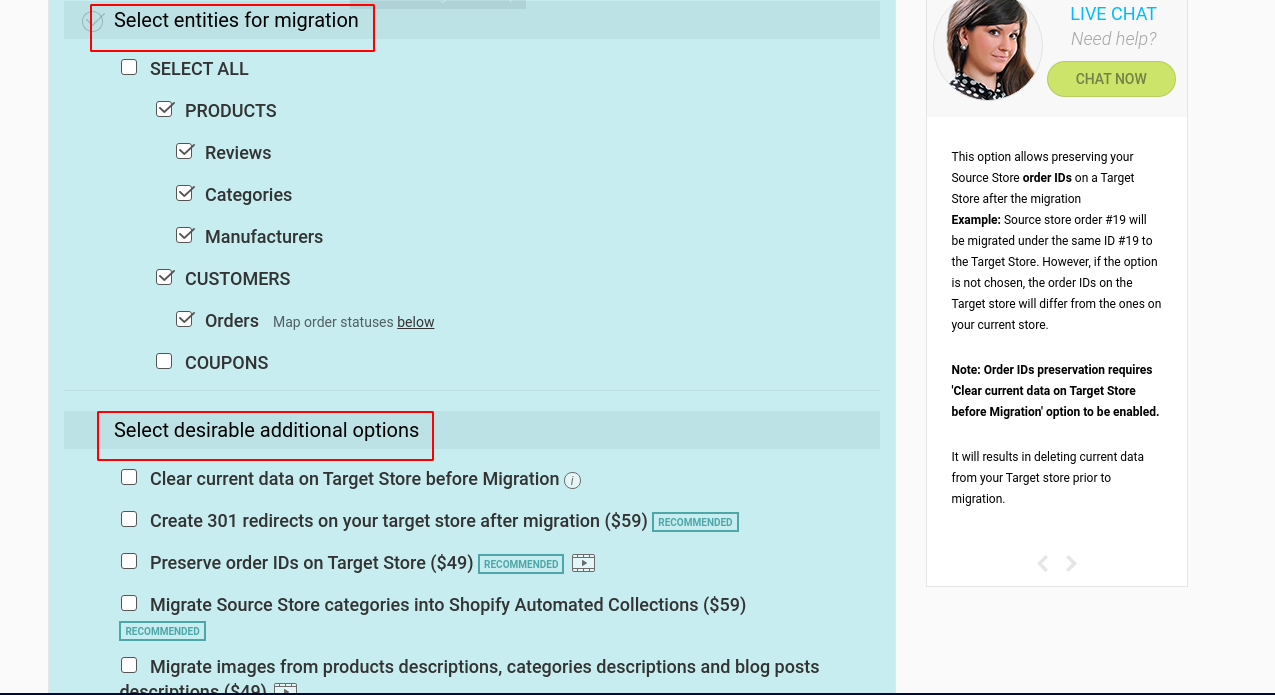 Try Demo Migration
Running Demo migration (that is free of cost) doesn't usually take much time but provides you with a great opportunity to see how the service works. Though Demo Migration is a skippable step, it is strongly recommended to try.

Finalize Full Migration
If you're totally happy with the Demo results, you are now ready to perform Full Migration. Once you've checked the entities and migration options, you can start the process. You'll be notified by email about your migration completion.
Check out our infographic to get a better understanding of the migration process via Cart2Cart: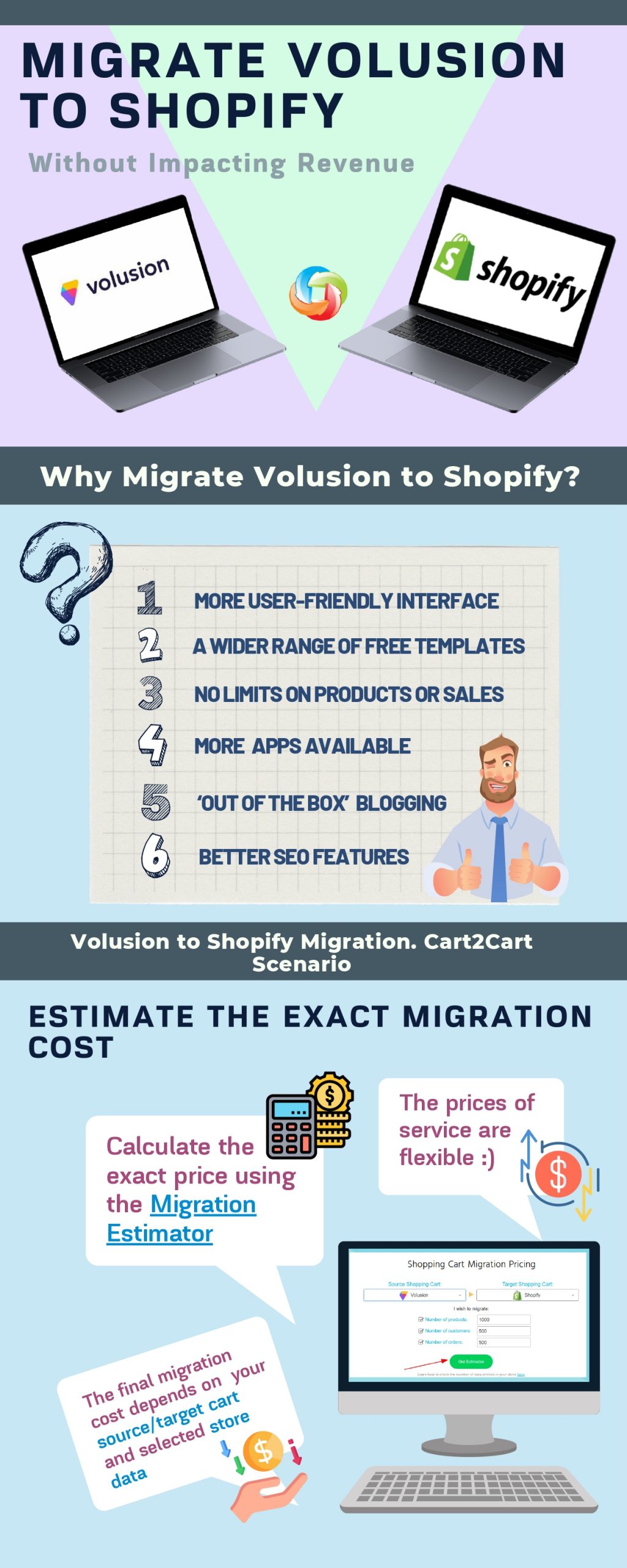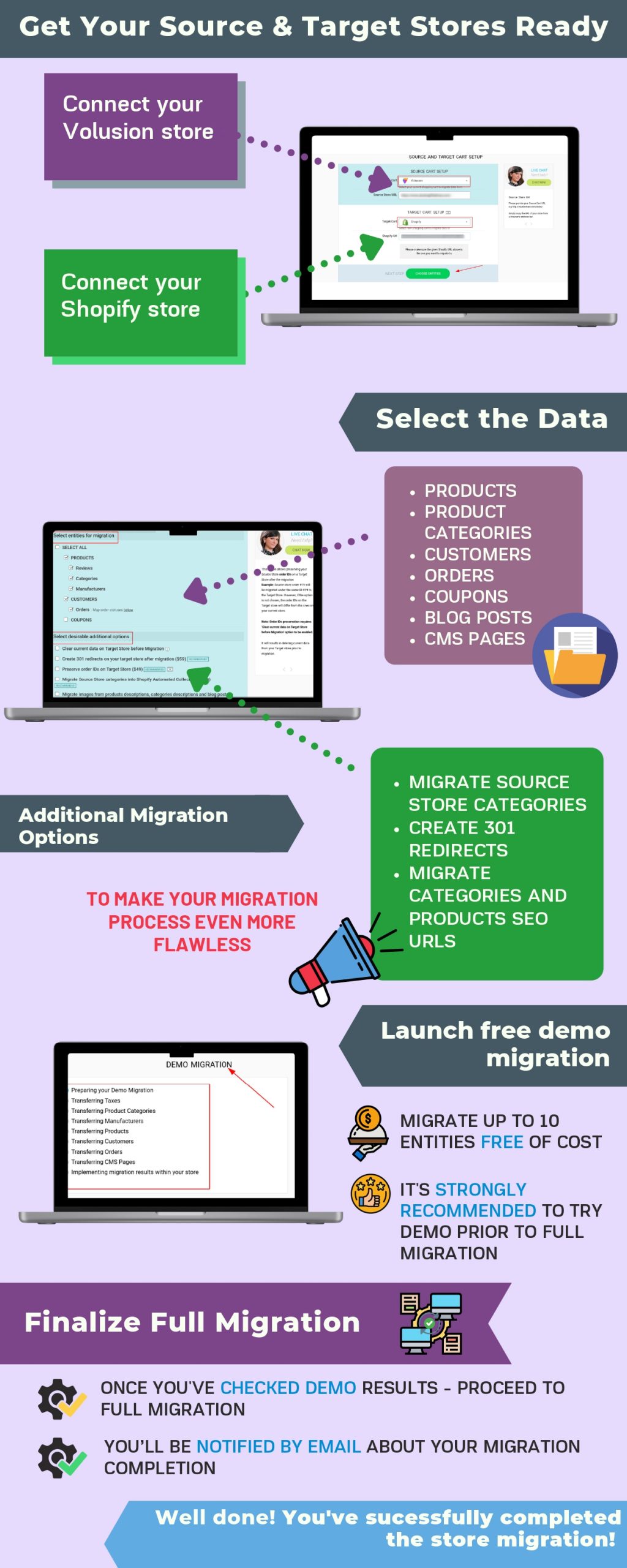 Post-Migration Suggestions
Even when all OpenCart store data is imported to PrestaShop, there are still some tips & tricks that should be performed to make the new online shop work as required. To be more specific, it's the right time to check the store for performance issues and ask your customers to inform you in case smth goes wrong. Besides, with the help of numerous PrestaShop modules/addons, you can expand the new store as required.
Now you may start using all the new possibilities that your new Shopify store has to offer.